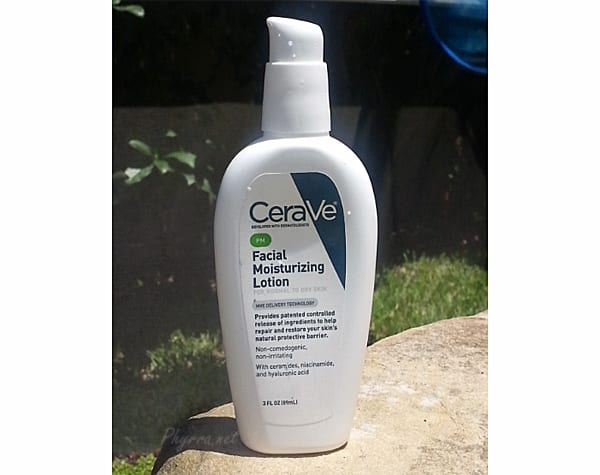 When I first saw my dermatologist almost 2 years ago, she recommended that I check out the CeraVe line. Today I've got the Cerave Facial Moisturizing Lotion PM to show you. I've used this moisturizer on and off over the past 2 years.
CeraVe Facial Moisturizing Lotion PM Review
About CeraVe Facial Moisturizing Lotion PM
This moisturizer was created to help repair damaged skin and maintain the skin's barrier with ingredients not commonly found in other moisturizers. Its patented Multivesicular Emulsion (MVE®) technology releases theses ingredients over time, penetrating deep into the skin to hydrate and nourish.
Ceramides – Helps reduce lipid levels in damaged skin to repair, restore, and maintain the skin's natural barrier.  Essential in preventing water loss from the skin
Niacinamide – Helps the skin produce more natural ceramides and fatty acids essential for repairing and restoring the skin barrier.  Also shown to reduce redness.
Hyaluronic Acid – An essential ingredient (humectant) that attracts water to the top layer of the skin and ensures that the skin remains hydrated.
Cruelty free
Price
$10 to $13.99, varies by location but is currently on sale at Drugstore.com and it's BOGO at Ulta.
Availability
Drugstore.com, Dermstore, Amazon, Ulta, Walgreens, Target
Ingredients
Water (Purified), Glycerin, Capric/Caprylic Triglyceride, Niacinamide, Behentrimonium Methosulfate (and), Cetearyl Alcohol, Ceteareth 20 (and), Cetearyl Alcohol, Ceramide 3, Ceramide 6 11, Ceramide 1, Phytosphingosine, Hyaluronic Acid, Cholesterol, Dimethicone, Polyglyceryl 3 Diisostearate, Potassium Phosphate, Dipotassium Phosphate, Sodium Lauroyl Lactylate, Disodium EDTA, Methylparaben, Propylparaben, Carbomer, Xanthan Gum
My Thoughts
This product contains Niacinamide, Ceramide 3, Ceramide 6 11, Ceramide 1 and Hyaluronic Acid, all of which are important for the skin. If you saw my Top 10 Eye Creams post, you'll know that hyaluronic acid and ceramids are good ingredients that help the skin retain moisture, reduce fine lines, etc. Niacinamide is a form of vitamin B3 and it's supposed to be an anti-inflammatory, making it ideal for sensitive skin.
It comes in an airless pump, which is great for keeping the ingredients stable, and it's way more hygienic than a jar. Longtime readers know that I hate jar packaging.
I purchased my most recent bottle of CeraVe PM in a 3 pack from Amazon for $28, which works out to less than $10 a bottle and is a great price. This is one of the most affordable night time moisturizers that I've ever used. You get 3 oz per bottle, which is great. In addition to being budget friendly, it's very easy to find since you can get it online from several retailers as well as locally from Walgreens or Target.
The big thing that this moisturizer is missing is anti-oxidants. So when I use it, I put Paula's Choice Super Antioxidant Serum underneath it and sometimes I add tarte maracuja oil, too. This is what keeps it from being a perfect product in my book.
It doesn't irritate my skin or my eyes. I apply it to my face, eyes, neck, décolleté and hands. I love that this moisturizer has no scent.
Overall, I really like this night time moisturizer. It's good, but it's not perfect. If you're looking for a budget friendly, easy to find moisturizer, this might be a great option for you. I keep repurchasing it because I like it. I do recommend that you use an anti-oxidant serum underneath to make it perfect. I can really see why my dermatologist recommends it so frequently.
What do you think of the CeraVe Facial Moisturizing Lotion PM?
Pros
Cruelty free
Affordable
Great value for the price
Non irritating
Cons
Doesn't have antioxidants
Last Updated on