Back in December I reviewed the Boots No. 7 Radiant Glow Concealer in I. Everywhere I've seen these concealers they're referred to as I – Light & II – Medium. After talking to the lovely Grey, she said she spoke to a Boots rep who said that they were I – Cool & II – Warm. I was determined to try out II so I could compare it to I and see the difference. I went to my local Target to try and pick it up several times. Every time I was there, II was sold out, or, like the last time, it was opened, used and put back on the shelf and marked to be sold without a box. Ewww. I contacted Target at their email address of guest.relations@target.com to complain about that, because it's not hygienic! (And it was very hard to find the Target email address, as they don't have one listed on their website, but that's a rant for another day.) I then ended up ordering II online from Amazon.com. On the invoice from Amazon they called it II – Medium. However, when you see it swatched, you'll see that it is anything but a medium shade compared to I!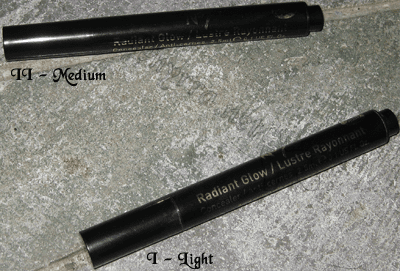 You can see both of the pens here.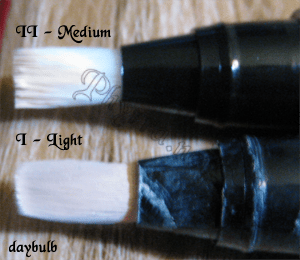 You can see the brush tips  here, and you can tell that I've just barely used II at all in comparison to I.

This picture with flash shows the biggest difference to me. II is yellow/beige / warm to me, while I is salmon / peachy-pink / cool to me.

You can see that they're both brightening products.

You can see the cool salmon – peachy – pink clearly here, as well as the yellow – beige.

Here they are blended out. It's hard to even see them.
I thought you would enjoy seeing these two together.
II – is indeed warmer to my eyes.
I – is indeed cooler to my eyes.
I still think this is a great undereye brightener and I like the two tone options. I'll be trying to decide which I like better!
How about you? Have you tried either of these yet?
Products purchased by me. All opinions are my own.