Recently I purchased the Too Faced Teddy Bear Hair brush set from Apothica. I had a gift card for the site, so figured I should get something I'd always been curious about. I also picked up the Too Faced Primed & Poreless Skin Smoothing Face Primer and the Too Faced Lip Insurance Lip Primer. Shipping was free, as it is for all orders over $49 on Apothica.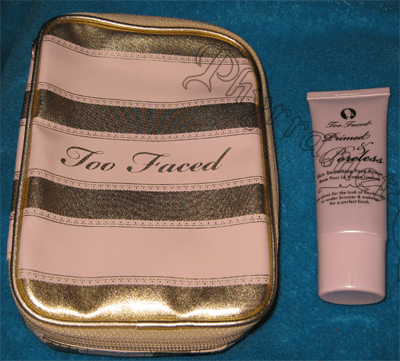 The Website Claims:
Teddy Bear Hair brushes were created using the worlds most luxurious synthetic hair that grabs and blends pigments perfectly. They last longer than real hair brushes and won't spread bacteria.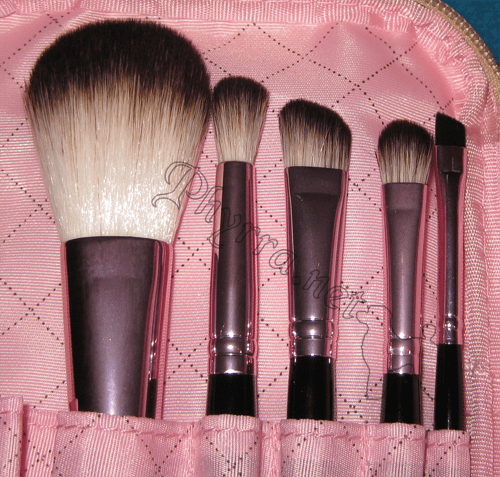 From L to R: Blush – Eye Definer – Angled Shadow – Fluff Shadow – Angled Liner
The brush set contains (and what the website says they're for):
1. Powder Blush brush
2. Angled shadow brush for lid and crease
3. Fluff shadow brush for blending
4. Eye Definer brush for crease or darker defining color near liner
5. Angled liner brow brush for precision eye lining and brow defining
Price:
$65 for 5 brushes and a carrying case. That breaks down to roughly $12 a brush & $5 for the case.
Does it live up to its claims?
Yes! I love the brushes. They're soft, yet they're firm, so they're perfect for application by my standards. They work well with pressed or loose shadows alike. The handles are just the right length for me, not too long and not too short, as I tend to prefer shorter brushes.
I LOVE the Blush brush and have been using it to apply Sobe's Icing on the Cake. It works perfectly.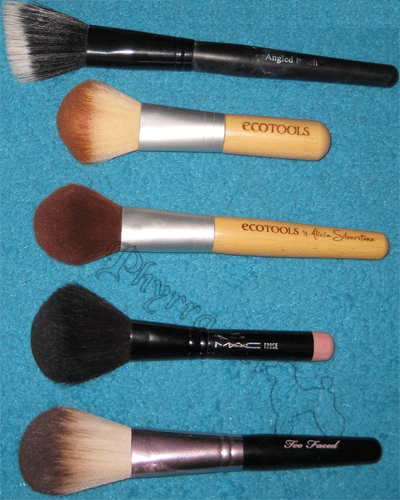 The Too Faced Blush, MAC 129, ecoTools blush brushes, and an angled duo fiber blush brush.
The Eye Definer works surprisingly well for outer lid and crease work. It applies and blends easily. It has enough flex to allow you to be precise when you deposit the color, but also enough bend to blend it out.


The Eye Definer with two Urban Decay crease brushes.
The Angled shadow works well for crease work or lid work, though I prefer brushes in this style for crease work. As it's denser than other brushes I own with this shape, it does allow for you to easily apply color on the lid.


The Angled shadow, Sigma E70 and ecoTools angled brush.
The Fluff Shadow is great for application on the lid and you can blend with it. I prefer to use it to apply color to the lid, or lid and crease, then take the Eye Definer and use it for the crease and outer corner of the lid. You can also use this for an all over color wash, or to dust a bit of a highlighter on the browbone.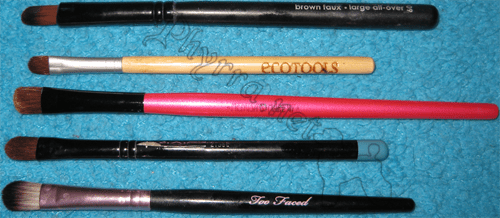 The Fluff Shadow, MAC 213, Medusa lid, ecoTools shade, and taklon lid brush.
I like using the Angled liner brush along the lower lash line and it does work to define the brows as it is is small and precise in shape.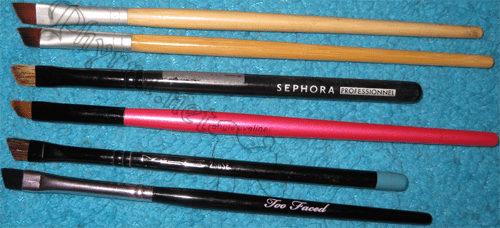 The Angled liner, MAC 266, Medusa Angled liner, Sephora Angled liner & ecoTools angled liner.
Would I purchase again?
Yes. In fact, I found myself looking to see if Too Faced sold any other types of brushes. I love the fact that the brushes are vegan. I prefer synthetic brushes to real hair brushes and I wish that all companies offered their brushes with synthetic bristles. I think these are fantastic brushes from Too Faced. The blush brush has become my go-to blush brush, as it seems to be the perfect shape for my cheeks. Additionally, I would recommend this brush set if you're wanting a nice set of quality brushes. I feel that they're definitely worth the $12 each, especially since they're cruelty free brushes. I was really impressed with the quality of the brushes and I'm surprised that I've not heard more people raving about them. They're really awesome to me!
Have you tried Too Faced Brushes? Do you prefer synthetic or natural hair brushes?
Product purchased by me. All opinions are my own.