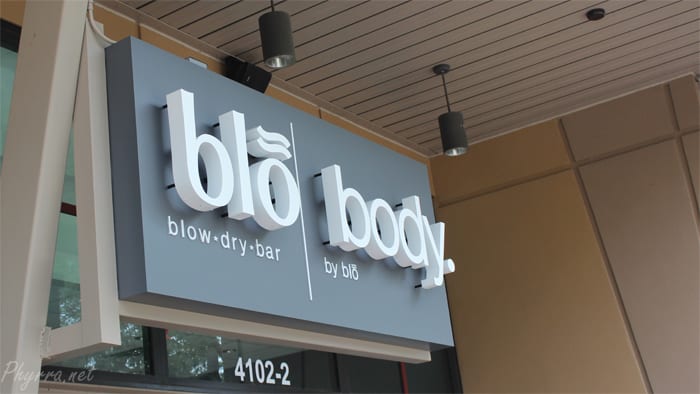 Saturday I went to Blo Body Blow Dry Bar Tampa. I met up with Eugenia, Judi, and Anna from the Central Florida Beauty Bloggers group. We each received complimentary treatments. Judi got her brows waxed. Eugenia and Anna both got blow outs. I got my nails done.
Blo Body Blow Dry Bar Tampa
If you're unfamiliar with the blow dry bar concept, blow dry bars are places that specialize in washing your hair and blowing it dry into a specific style of your choice. There are no cuts and no colors. Manis and pedis are icing on the cake.
You can find Blo on Instagram.
They're open 9 am to 6pm Monday through Saturday.
They're open on Sundays from 11am to 5pm.
You can also call and schedule appointments for as early as 7am or as late as 9pm if you need to get in before or after work.
Ideally, if you've got an important meeting for work or a hot date after work, you'd hit the blow dry bar.
Here are some of the styles that they offer
Holly Would – super voluminous waves
Executive Sweet – super straight
Pillow Talk – tousled waves
Red Carpet – smooth tresses with lots of body and gentle arcs toward the neckline
Hunt Club – polished puffed up ponytail
High Society – big bun
Go Fish – large plait
Blo Body Blow Dry Bar Tampa is located at West Boyscout Boulevard, literally next door to Cooper's Hawk Winery. If you're unfamiliar with the winery, it's next to Texas de Brazil and across from International Plaza.
As I mentioned, I got a manicure. I felt like my hair was too short to properly enjoy a blow out. I'm soo glad I chose a mani. They use Morgan Taylor (cruelty free) nail polish at the salon. Since I didn't know, I brought my own. I brought OCC Technopagan, Cirque base and top coat.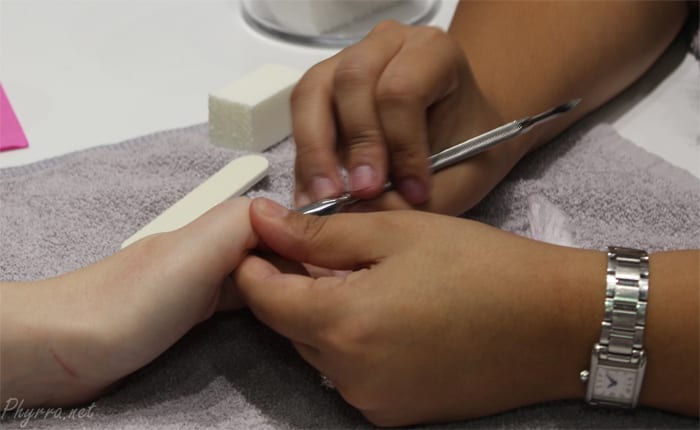 Amparo was the awesome lady who did my nails. If you go to Blo ask for her! She started by removing my nail polish. Then she worked on my nails and shaped them. She also gave me one of the best hand and arm massages I've ever had. She said my cuticles looked great (Yay, thank you KBShimmer Cuticle Oil and Rainbow Honey Cuticle Balm).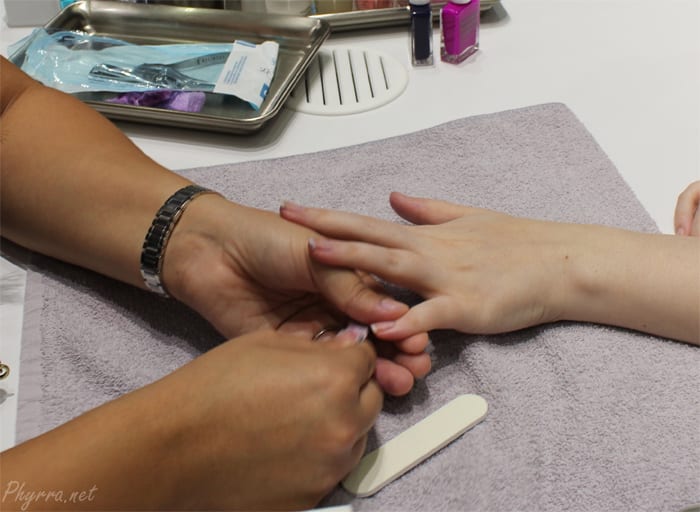 I broke down and had my first diet soda in over a year (couldn't finish a whole can), because I desperately needed some caffeine.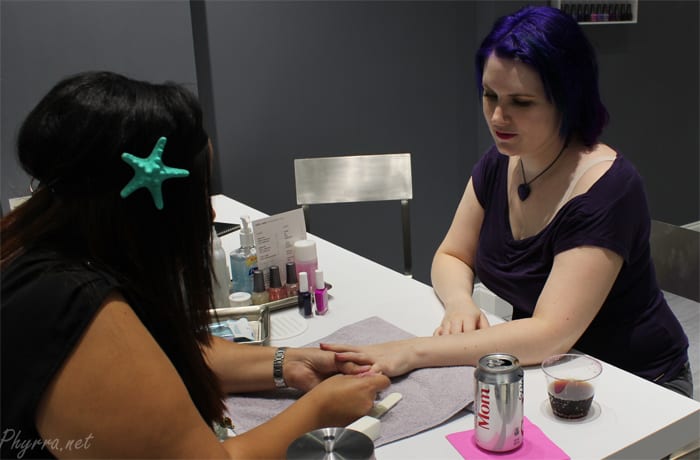 Sadly I didn't get any pictures of Judi getting her brows done. She was done by the time we arrived. However, she was kind and went around snapping some shots for me while I was getting my nails done.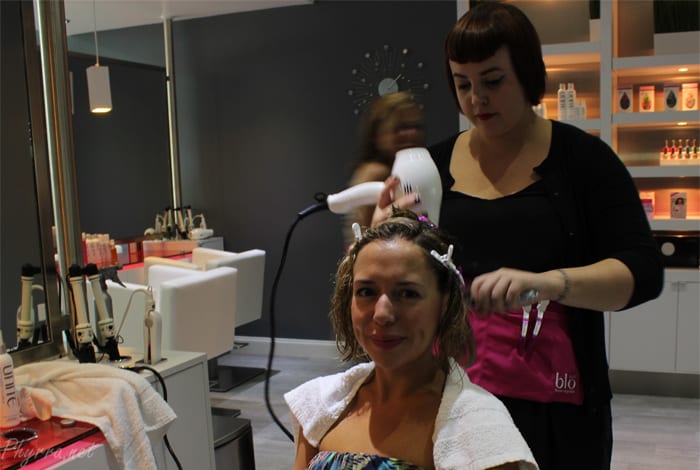 Here's Anna getting her blow out.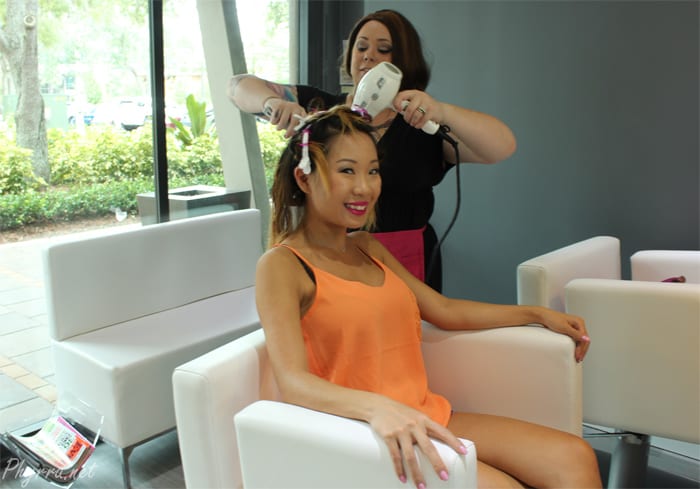 Eugenia is loving her blow out.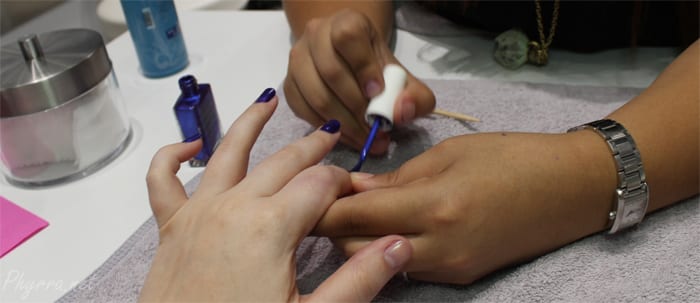 Getting my tips painted with OCC Makeup Technopagan.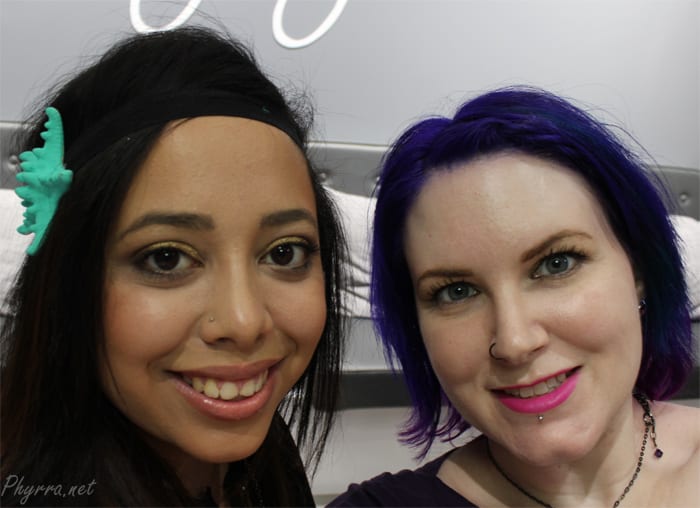 Me with the lovely Amparo. She had a cute starfish in her hair!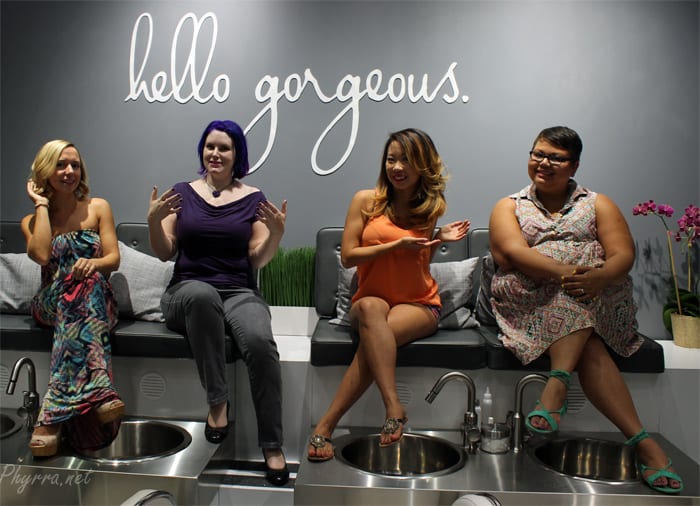 Us showing off our new hair, nails and brows.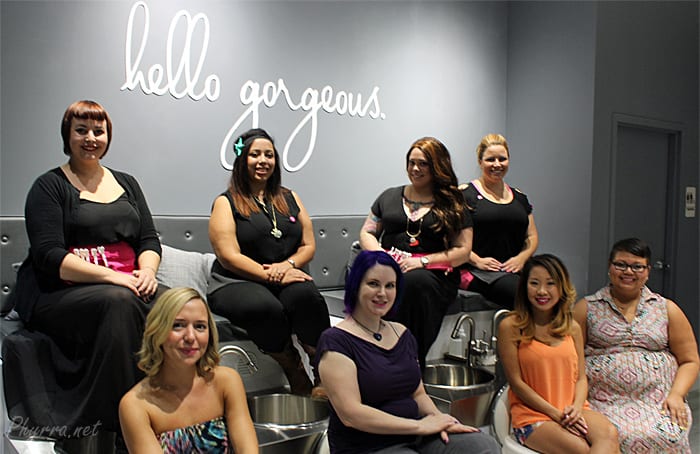 Each of us with our stylists.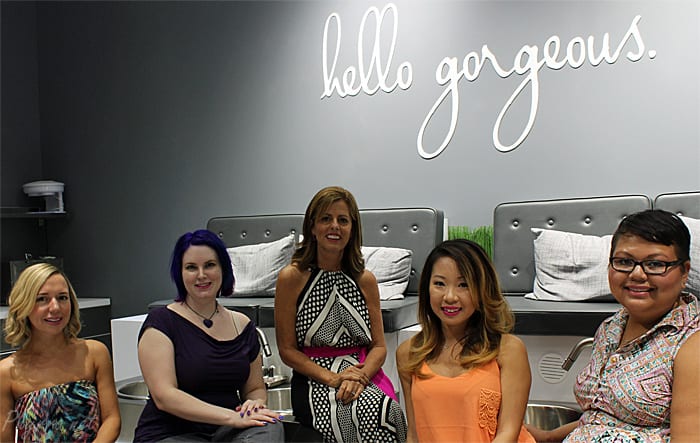 Us with Cynthia, the owner of Blo Body Blow Dry Bar Tampa.
The spa itself is gorgeous and relaxing inside. It's a lovely charcoal grey with white furniture. There are accents of hot pink, too. The pedi stations are stainless steel bowls. It's serene and relaxing.
If you're looking for some pampering with a mani pedi or for a magnificent mane for an important date, check out Blo Body Blow Dry Bar Tampa. You'll be in good hands.