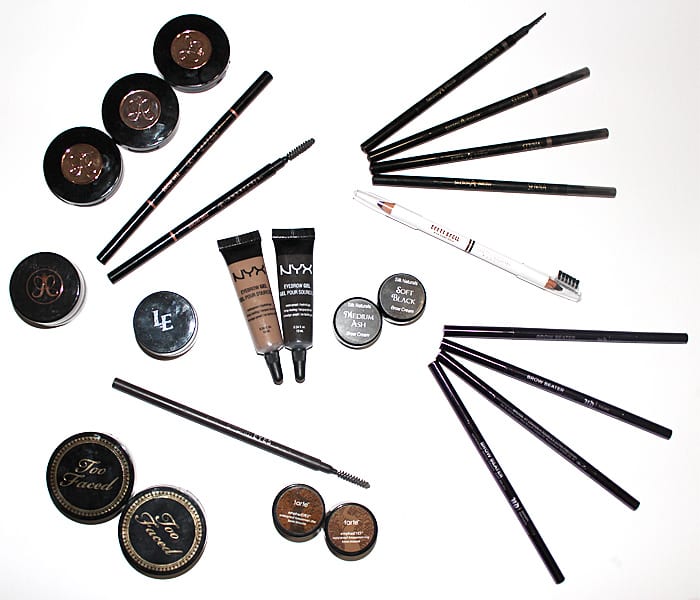 I've been really annoyed by this for a while now. We need more black and cool tones for brows, please! There's a dearth of cool toned and black brow products. I have a ton of brow products and the majority of them lean warm. I mean some of them look flat out orangey on my neutral skin. Orange is not a good look on me. Really. Anyway, I thought I'd bring you a swatchfest of brow products (just about every single brow product that I own, I think) so that you can find your next perfect brow product or color.
Black and Cool Tones for Brows, Please!
This post contains a mix of press samples and products purchased by me.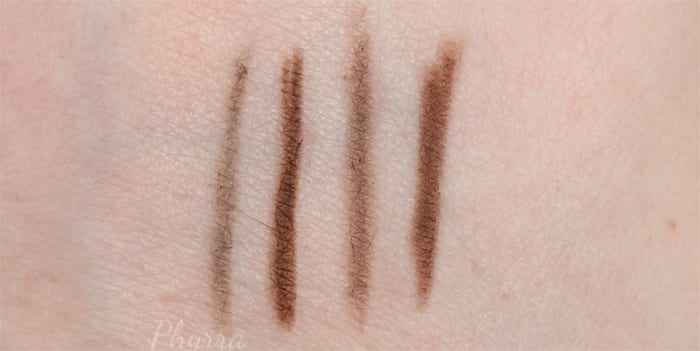 Of these, Senna Cosmetics Sketch a Brow in Ash Brown is the most neutral toned.
Anastasia Beverly Hills Brow Wiz in Medium Brown is warmer than Senna Ash Brown, but still workable.
Urban Decay Neutral Brown looks more warm-toned to me, like chocolate.
Urban Decay Warm Brown is definitely warm-toned.
I want to point out that I love the texture of the Senna Brow pencils. They're really easy to use and hard to overdo. Urban Decay's pencils are really nice too. The Anastasia Brow Wiz is nice but the Perfect Brow Pencil is really easy to overdo.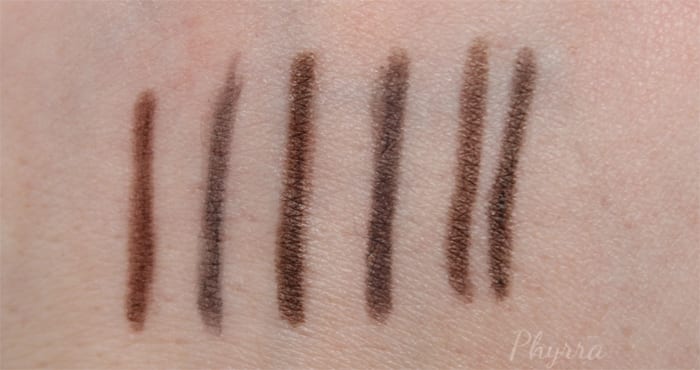 Senna Cosmetics Sketch a Brown in Mink is a dark neutral brown, but when compared to Granite it looks warm.
Anastasia Beverly Hills Granite is the most cool-toned dark brown.
Tarte Rich Brown is a slightly less cool-toned dark brown when compared to Granite.
Urban Decay Dark is warmer than Granite and Rich Brown but more neutral than Mink.
Brett Freeman's Dark Brunette duo has one side that's slightly warmer and one side that's slightly cooler. (Brett just came out with a cool brow palette!)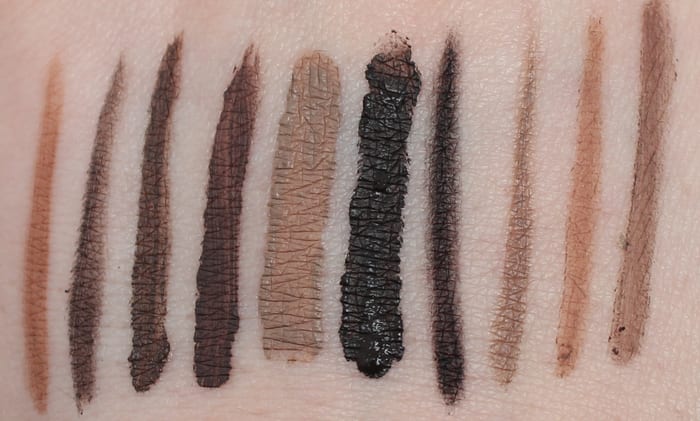 Tarte Brow Mousse in Taupe is a warm orangey taupe on me.
Tarte Brow Mousse in Rich Brown is a deep cool brown.
Anastasia Beverly Hills Dipbrow in Dark Brown is a deep neutral brown.
Life's Entropy Brow Theory in Dark Brown is a deep neutral brown.
Nyx Eyebrow Gel in Taupe is a cool-toned taupe.
Nyx Eyebrow Gel in Black is a deep dark black-brown, and it turns brown on me.
Silk Naturals Brow Cream in Soft Black is a deep cool black.
Silk Naturals Brow Cream in Medium Ash is a midtone cool taupe.
Too Faced Bulletproof Brows in Universal Taupe is an orangey taupe on me.
Too Faced Bulletproof Brows in Universal Brunette is a midtone neutral taupe.
While I absolutely love the Nyx Eyebrow Gel formula, it's got a bit of a learning curve because you need to use the tiniest amount possible. It's still easier for me to use than the Anastasia Dipbrow, which is just way too easy for me to go overboard with. I find that the Too Faced Bulletproof brows is probably the longest wearing of all my brow products.
What's completely missing in my gigantic brow product collection is a lot of black brow products. Yes yes I know that people say 'you shouldn't use black for your brows'. I get that straight up sharpie brows are not cute. However, some of us, who have naturally dark or black hair, or who dye our hair, would prefer black brows.
I did just receive the Nudestix Eyebrow Stylist Pencil and Gel in Brown Black, which rivals Nyx Eyebrow Gel in Black & Silk Naturals Brow Cream in Soft Black for the blackest brown-black that I own. I also bought Senna Brow Powder in Noir to test out. (Update, holy crap I love the Nudestix pencil shape and the color is great. Video soon!)
If you decide you don't like any of theses options, one thing that I love to do is use matte or semi-matte eyeshadows to fill in my brows. I actually love Sugarpill eyeshadows for this and my friend Cin loves Darling Girl. For purples, I like Sugarpill Elemental Chaos or Poison Plum.
So tell me, what do you prefer to use for your brows? Do you go for a natural look or unnatural brows?