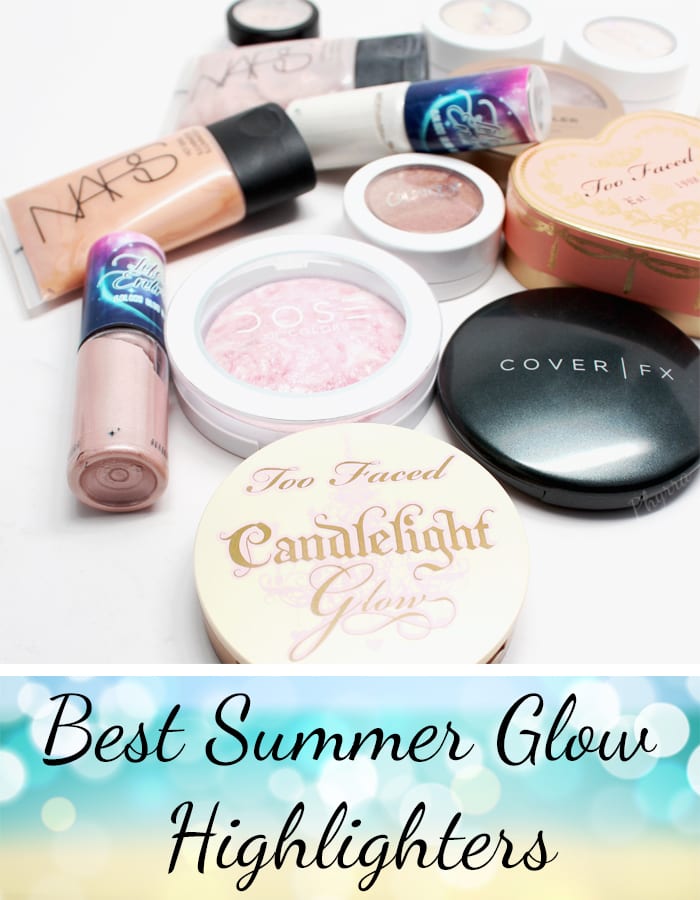 Happy Makeup Wars Monday and Memorial Day too! Today we've got our best summer glow highlighters to share with you. All swatches are on my pale skin. Real talk here – I rarely use self-tanner or bronzer. I embrace my moonlit glow rather than sunkissed skin. Some people use bronzer daily, I feel incomplete without a highlighter on. I've still got plenty of beauty products to share, regardless!
PR + purchased by me.
Best Summer Glow Highlighters
If you're looking to get a healthy faux tan, I recommend the self-tanner by Beautisol.It's vegan. (see me with a tan)
I've got liquid highlighters to share with you first. These tend to be on the more subtle side to me, so I don't reach for them as often as I do powders. A few of these make nice blushes on my skintone.
BECCA Shimmering Skin Perfectors
Pearl – white pearl (so subtle it's really hard to see on my skintone, way too subtle for my taste)
Opal – golden opal pearl (peachy gold)
Champagne Gold – yellow gold
Life's Entropy Galaxy Glow Illuminators (vegan)
Light Year – bright pearl white (barely visible on me)
Celestial – pearl white with gold/copper/red shift
Nebula – pearl white with pink/silver/green shift
Comet – opal peach
Aurora – a pale pink
NARS Illuminators
Copacabana – glistening pearl
Hot Sand – peach champagne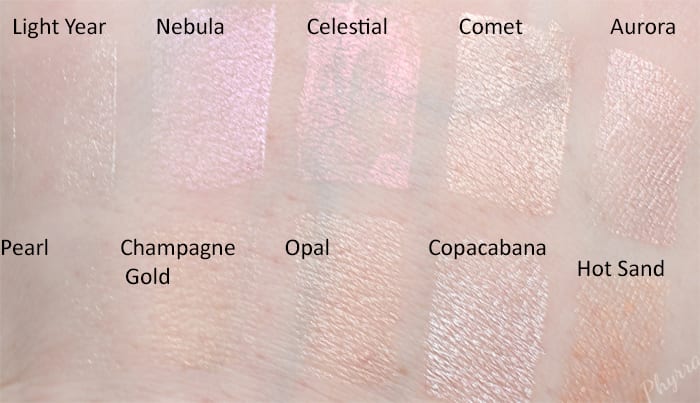 The above shot is slightly blurred to show Pearl a bit, you can just barely see it on my skin.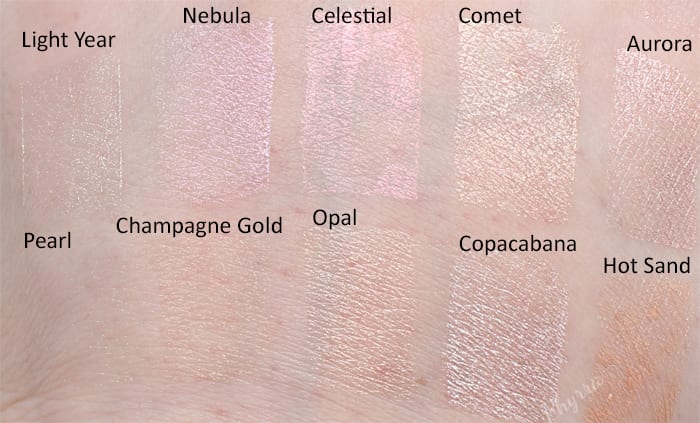 BECCA Pearl is whiter than Life's Entropy Light Year and far more subtle (seriously it looks like I swatched NOTHING where I swatched Pearl). Nebula has a pretty pink shift. Celestial has a pretty red shift. Comet is a gorgeous opalescent peach that I actually like to use as a blush. Aurora would work as subtle blush on me too. BECCA Opal is similar to Life's Entropy Comet. NARS Copacabana is a gorgeous pale pink with white iridescence that really catches the light. NARS Hot Sand is a pretty peach that is similar to Life's Entropy Comet and BECCA Opal.
Of these shades, Copacabana, Celestial, Nebula, Comet and Aurora are the  most obvious, and they're my favorites. I definitely feel like the Life's Entropy Galaxy Glow Illuminators are better for me than the BECCA Shimmering Skin Perfectors because they're more obvious on the skin, less subtle.
Now on to the powders! I typically prefer powders because they're more obvious on my skin.
Notoriously Morbid Highlighters (vegan)
Osteomancy – white with silvery blue shimmer
Power of the Fae – white with golden shimmer
Dose of Colors Highlighters
Pearl Dust – ethereal pink
Too Faced Highlighter
Candlelight Glow Duo – white with golden sheen, golden rose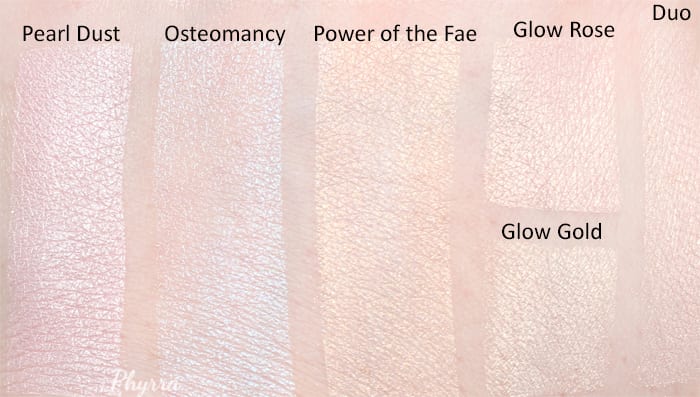 Pearl Dust – Osteomancy – Power of the Fae – Glow Duo (rose top / gold bottom) – Glow Duo (blended)
Pearl Dust is a new highlighter that I bought recently but fell in love with immediately. I just find it so alluring. Osteomancy is my perfect cool-toned ethereal silvery-white-blue highlighter. I have worn it for weeks straight because I just think it's stunning. Power of the Fae is a pretty white with yellow gold sheen. Candlelight Glow Duo has been my holy grail highlighter for years. It's a white-golden-pink that I find utterly beautiful.
Colour Pop Highlighters (vegan)
Stole the Show – Light cool-toned gold with luminous flashes of pink, silver and gold.
Spoon – A light silver champagne with multi-dimensional silver flecks
Monster – light pink with highly opalescent duo chrome finish
Butterfly Beach – Soft peach with highlights of gold and silver
Too Faced Sweethearts Blush (vegan)
Peach Beach – shimmering peach/ rosy pink/ shimmering light golden bronze
Cover FX Highlighters (vegan)
Moonlight – peachy beige with silver shift
Sunkissed – golden glow
Laura Geller Balance-n-Brighten
Porcelain – pale beige with soft pink glow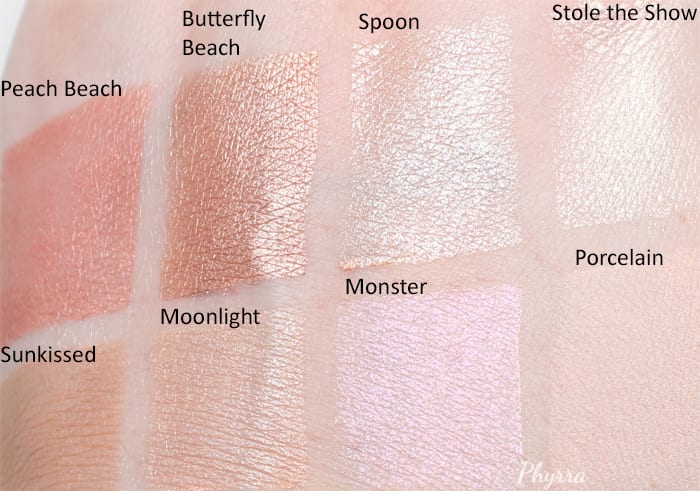 I love Porcelain as a foundation mixed with Cover FX Pressed Mineral Foundation in N10. On its own, Porcelain is too pink, but mixed with N10 it gives my skin a gorgeous glow. I love this for a glowy complexion. If you're adamantly against powders, you can achieve a similar glow by using the Cover FX Illuminating Primer.
While the Colour Pop shades are new to me, I'm pretty sure that I'm going to fall in love with Monster (it is similar to Nebula). I love Peach Beach as a blush to give me a bit of a golden glow without going overboard on my complexion. I think Butterfly Beach will work in a similar way. Moonlight is really pretty, and it can be worn on its own or paired with Hot Sand to really amp up the shine. Of all the shades I've shown, Spoon is the only one with glitter, though it's very fine glitter.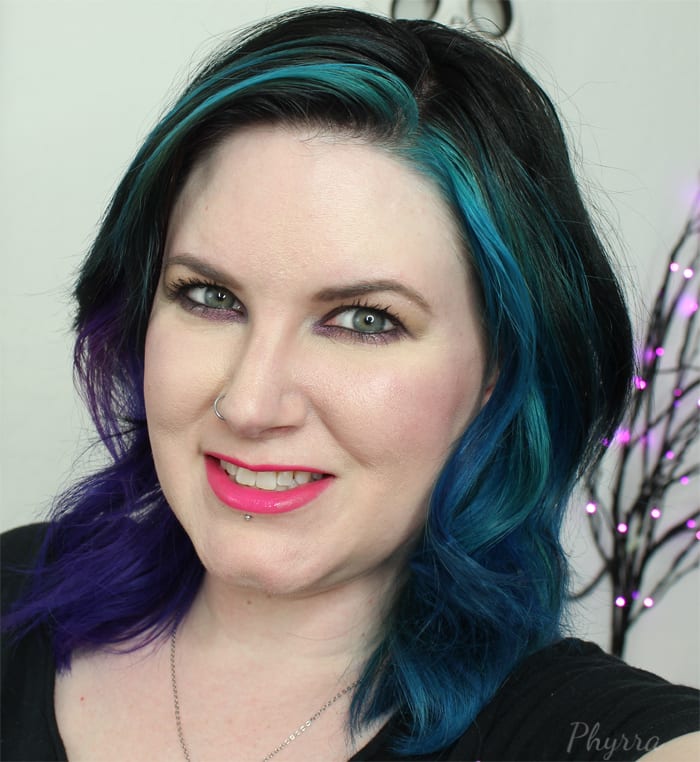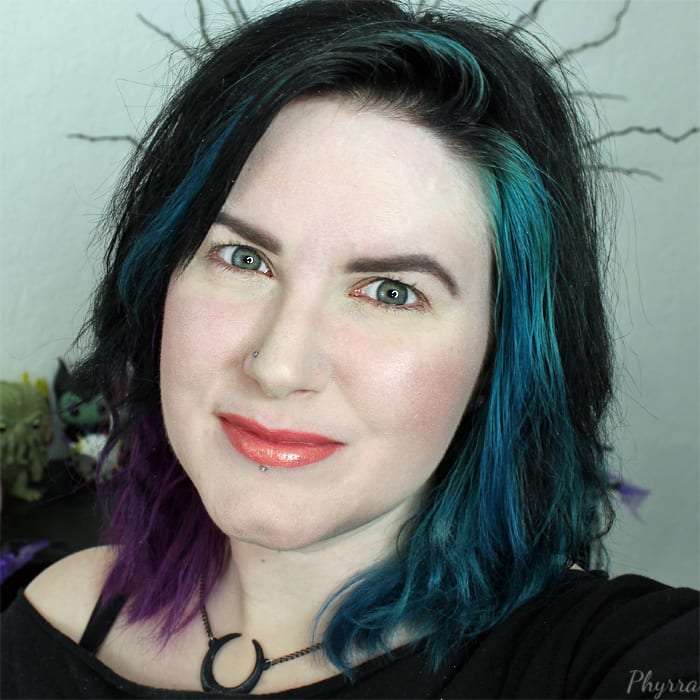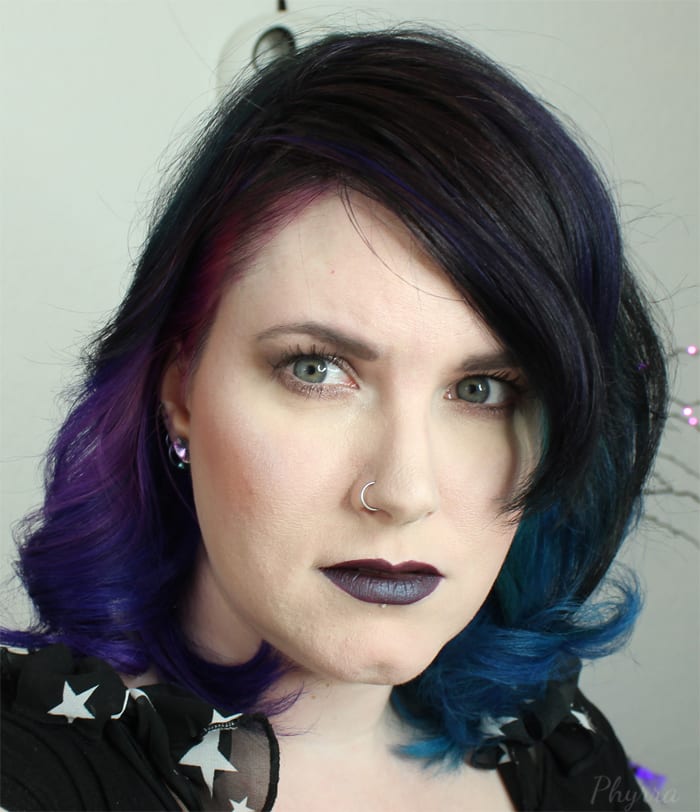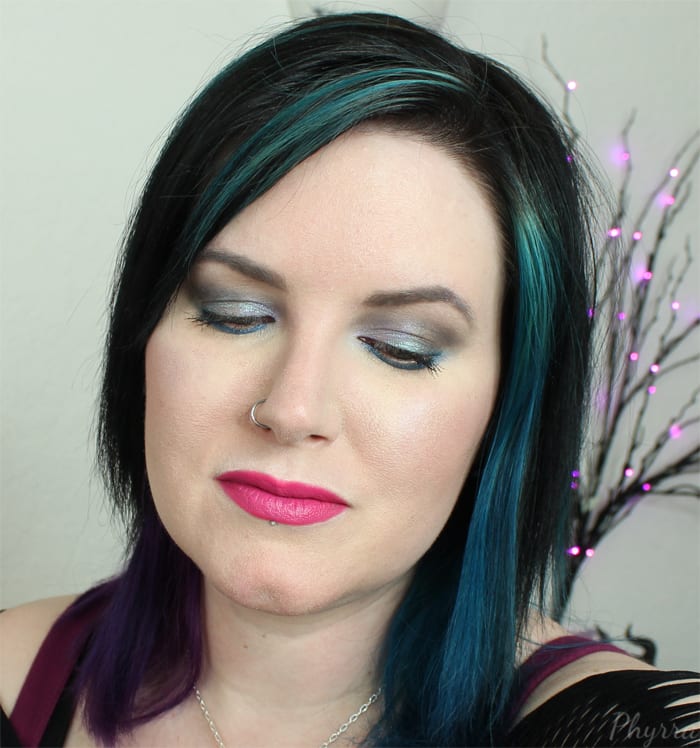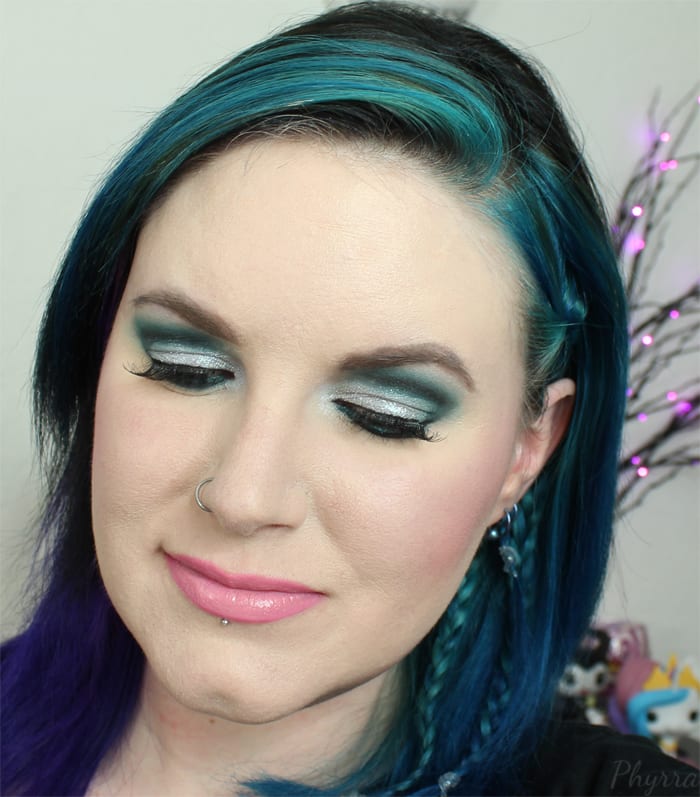 Shades like Peach Beach, Hot Sand, Butterfly Beach, and Comet really work best as blushes that fake a summer golden glow on me rather than me wearing bronzer all over, which just looks unnatural.

How do you prefer to get your glow on – powder, liquid or cream? What are your favorite products for getting a glow?

Looking for more? Check out the Pale Girl's Guide to Highlighting & Contouring.

[inlinkz_linkup id=515905 mode=1]