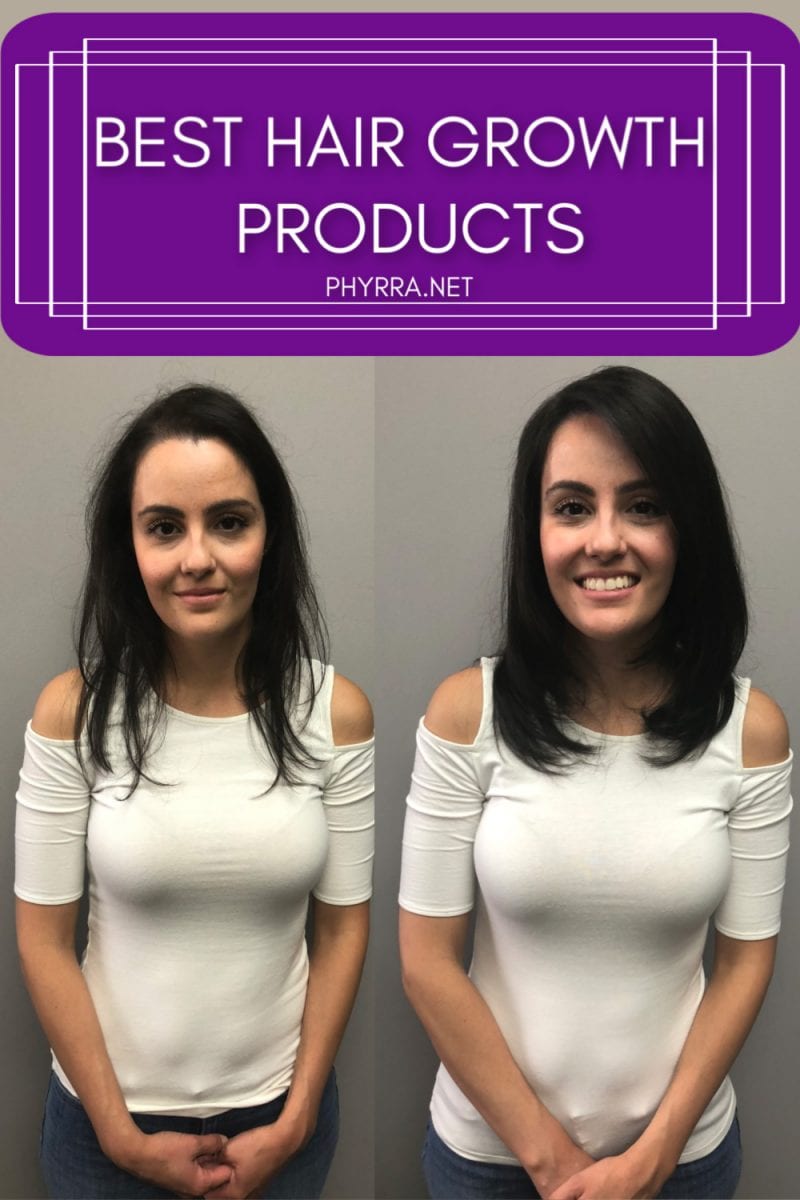 This is a sponsored conversation on behalf of Invisablend Microstrand Hair. 
Best Hair Growth Products
Hey friends, today I wanted to talk to you about the best hair growth products for when you're dealing with hair loss. Approximately 35 million men and 21 million women are affected by hair loss in the USA, so there's a good chance someone you know and love is dealing with this problem. I have actually had more female friends than male dealing with this the past few years, which is why this issue is often on my mind. I know that hair can affect people's confidence, so I wanted to address hair growth today. It broke my heart to hear some of my female friends say 'well, my mother's hair is thin like this, so I've resigned myself to having thin hair.'
Why Women's Hair Can Become Thin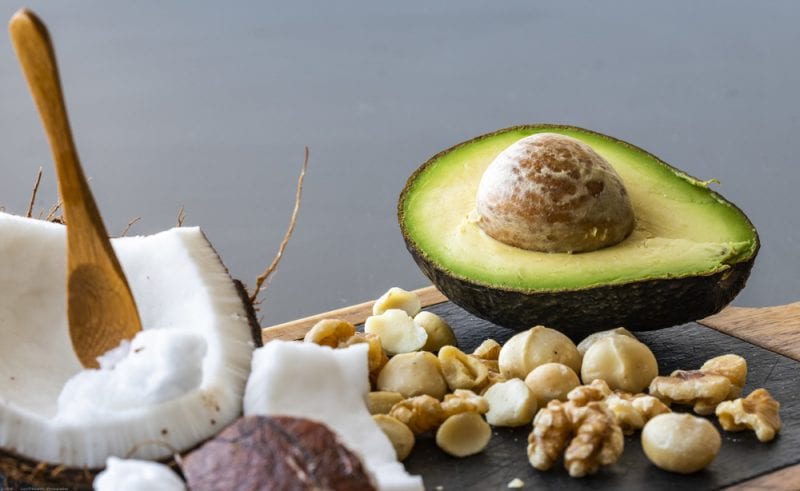 If you're eating a healthy diet with high healthy fats like avocado and macadamia nuts, you will see your skin and hair improve. But if you're eating a healthy diet and still experiencing hair loss, there are many reasons why women can experience hair loss.
Women can have their hair become thin for a wide variety of reasons including age, poor nutrition, too much heat styling, too much chemical processing, post-pregnancy hair loss, genetics, environmental damage, too much vitamin A, Vitamin B deficiency, lack of protein, anemia, androgenetic alopecia, female hormones, physical stress, emotional stress, hypothyroidism, autoimmune-related hair loss, lupus, dramatic weight loss, chemotherapy, polycystic ovary syndrome, trichotillomania and even some medications. Women are looking for the answer on how to stop hair loss and improve hair growth, which is why they want to know about the best hair growth products available.
See my keto lifestyle tips!
Why Men's Hair Can Become Thin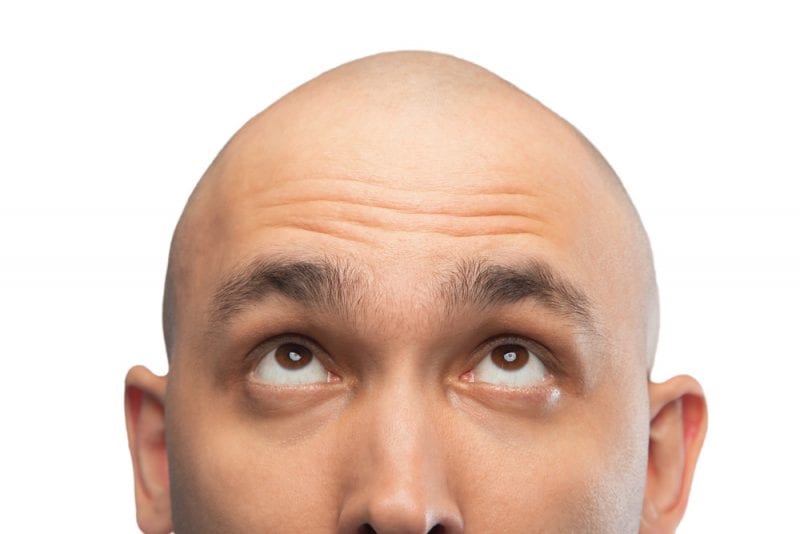 Men often are looking for the baldness cure because of male pattern baldness. Male pattern baldness is caused by the stem cells in the scalp losing their ability to develop into the type of cells that make hair follicles. 95% of the hair loss in men is caused by this androgenetic alopecia.
Male pattern baldness affects a lot of men in the world. According to the American Hair Loss Association 25% of men who have hereditary male pattern baldness start losing before they turn 21. By 35, 66% of men will have experienced some hair loss. By 50, 85% of men will have significantly thinner hair. The hair loss cure is on the mind of many men. It influences their search for hair growth products. The hair loss treatment market is huge, too. It's a 3.8 billion dollar industry in the USA in 2020.
Best Methods of Hair Growth Treatment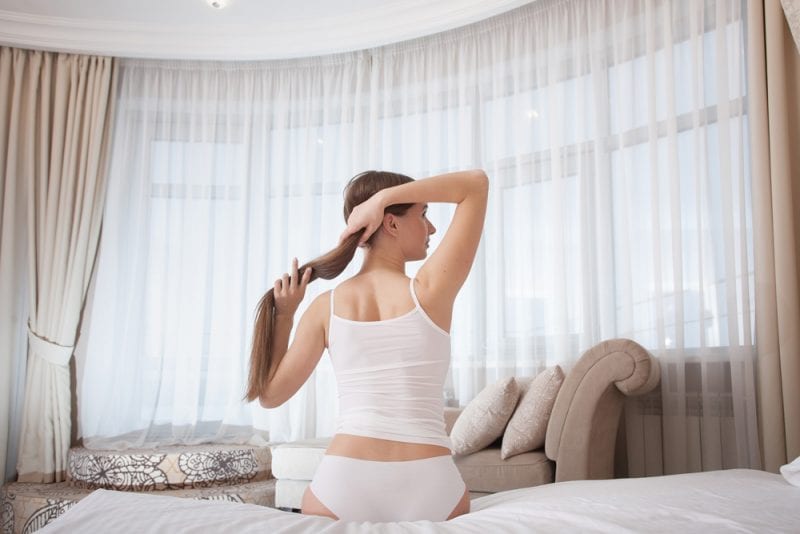 Medication – if the person's hair loss is caused by an illness, medication may be the best answer. Some medications include Rogaine (minoxidil) and Propecia (Finasteride). You must get a doctor to write you a prescription for medication.
Hair Transplant Surgery – a doctor will move hair from one section of the person's head to another to implant the follicle in the thinning section.
Laser Therapy – the FDA has approved some laser devices to help with hereditary hair loss in men and women based on a few studies that have shown it helps improve hair density. I have several friends who swear by the HairMax LaserBand.
Wigs – There are many wigs available these days. I always recommend lace front wigs for the most natural looking wigs.
Extensions – There are many ways to do extensions from clip ins to tape ins.
Synthetic Skin Toupees – these are glued on by hair stylists and changed every 2 to 4 weeks.
Makeup – Things like roots filler are common for covering up smaller spots and darkening roots.
Hair Stranding – Invisablend Microstrand Hair, which allows for a person to have 'their natural hair but better'.
Both men and women are looking for the best hair growth products, hair regrowth, and hair loss treatment to help prevent the loss of hair.
A Note About Wigs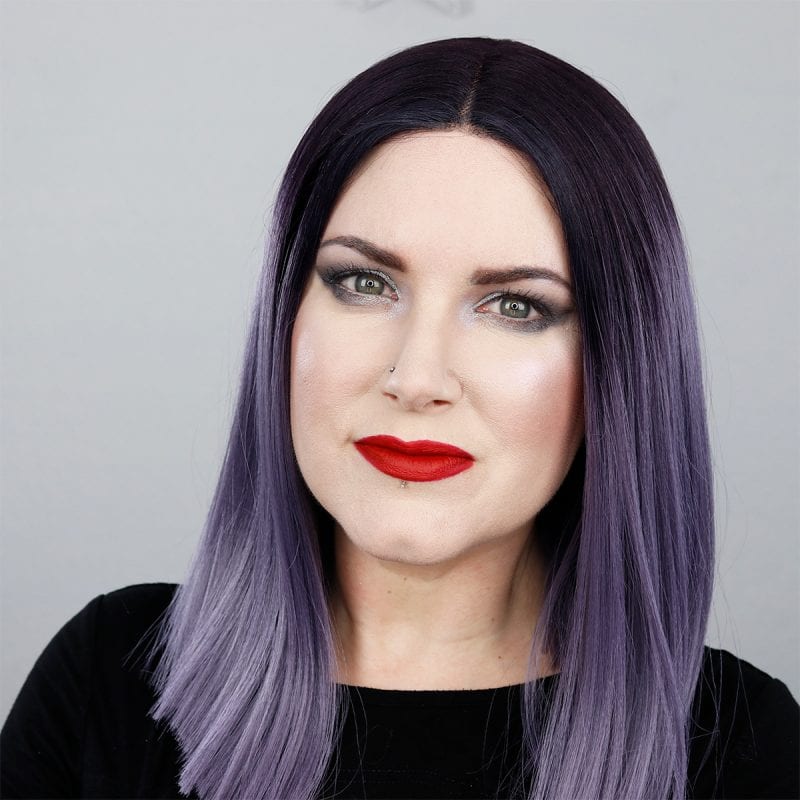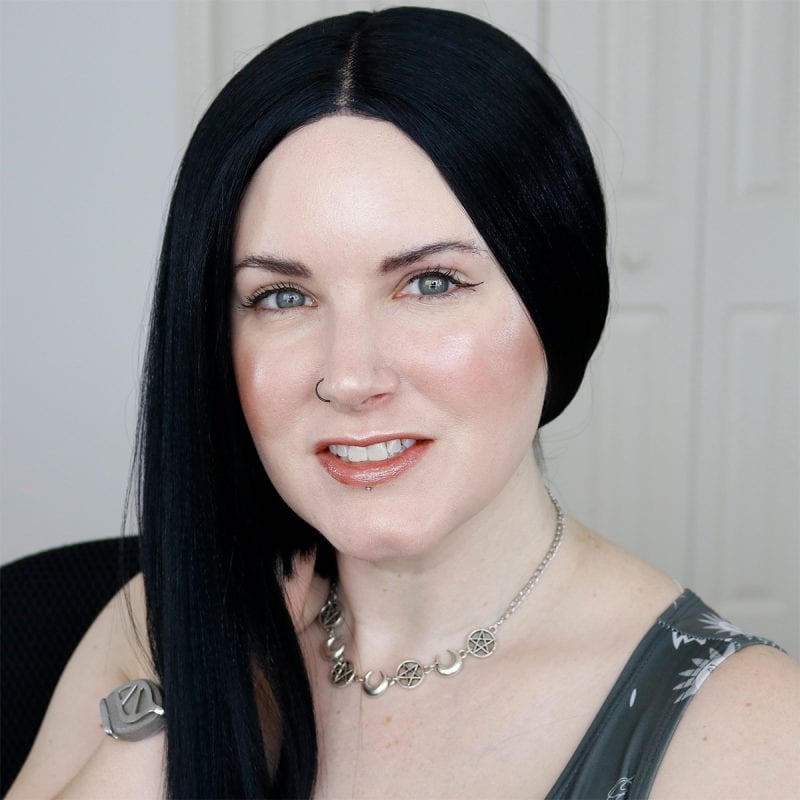 I'm wearing the Bobbi Boss Yara Lace Front Wig in the two photos above.
While high quality wigs should not damage hair, wigs can cause hair damage to fragile hair if not worn properly. If wigs are too tight, they can tug on the scalp and break strands. You should always wear a wig cap with wigs. And make sure to give your head a good massage after wearing one to stimulate blood flow on the scalp. Finally, if it's something you're going to wear daily, invest in a high quality lace front wig.
What is Invisablend?
Invisablend is a 'my natural hair but better' hair product that does not cause hair loss. Invisablend is a way of adding additional human hair in between your existing hair that keeps your own hair and scalp safe and healthy. It allows you to continue to do topical treatments for hair growth as desired. This is possible because of the patented Micro Strand. A Micro Strand is a filament as fine as a single human hair and translucent. It does not damage your hair, as it uses a diamond pattern netting to provide enough tension to stay on your head. You can easily put it on or take it off.
The Micro Strand Hair size is the same size as a real strand of hair. It can be made to match any color and texture of hair. This Micro Strand is fully customizable and comes in any shape or size. The objective is to be able to have full access to your scalp. This keeps your own hair safe & healthy, making you hair fuller.
The Micro Strand is ten times stronger than human hair and translucent, so it disappears upon contact of the skin or scalp. Many of these micro strands are networked together to form an open diamond pattern. The diamond pattern has smaller openings for thinner areas and larger openings for less thinner areas. The Invisablend hair process is to use a microscopic tip instrument to fill the hair piece and customize it for each head of hair.
To wear the Invisablend Micro Strand Hair piece, you simply comb or pick your natural hair through the diamond openings. The micro strands form to the shape of your head and blends with your natural hair. When you look at your scalp you will see and feel nothing.
What are the Options for Application?
Invisablend has two different options for application. You can choose to self-apply and do maintenance yourself. Or you can have your Invisablend Micro Strands professionally applied and maintained by a Hair Professional. Invisablend Micro Strands last 3 to 4 years. They do require one hour touch-ups every 4 to 8 weeks either by yourself or a Hair Professional.
How Long does Invisablend Last?
Invisablend Micro Strands hair pieces last 3 to 4 years. During this time, the Invisablend Micro Strands will occasionally require adjustments to add additional Micro Strands to keep it looking the way you want it.
What Does Invisablend Micro Strand Hair Cost?
Invisablend Micro Strand Hair ranges in cost from $800 to $3900 for a custom hair loss treatment. The price is determined mainly by the size of the area being filled in.  It has been touted as a baldness cure, since it allows a person to use the hair that they have with the micro strands. It also allows for any sort of topical treatment to be applied while using it.
Invisablend Before & Afters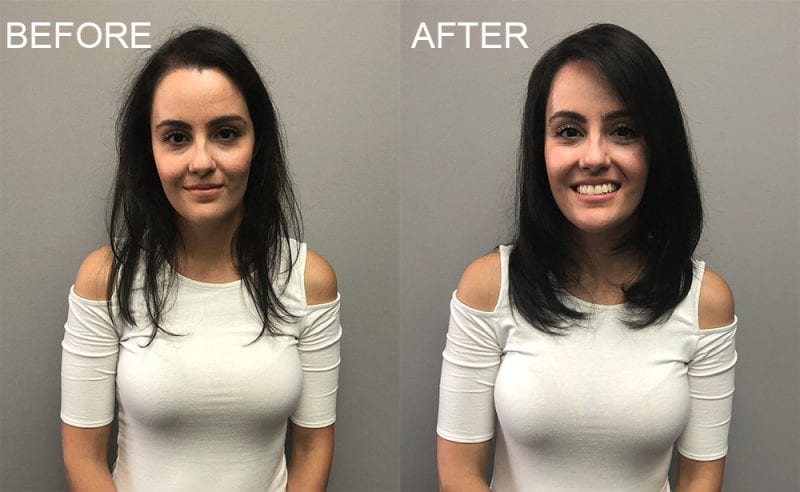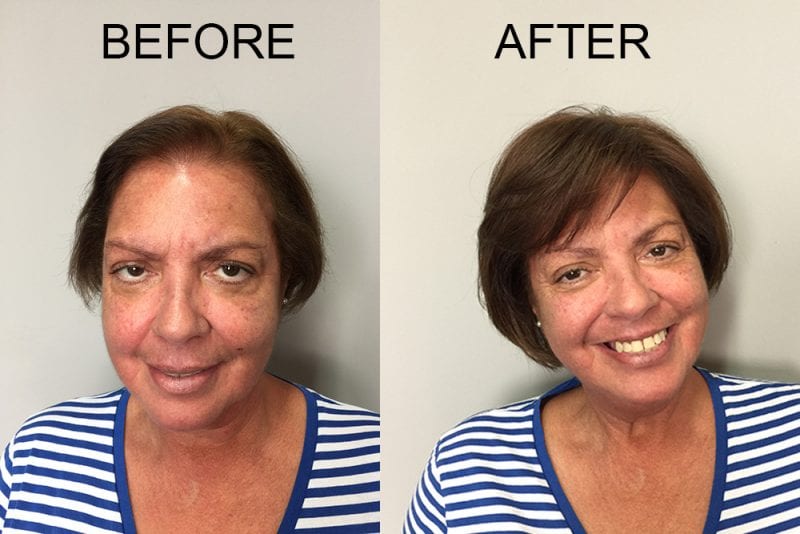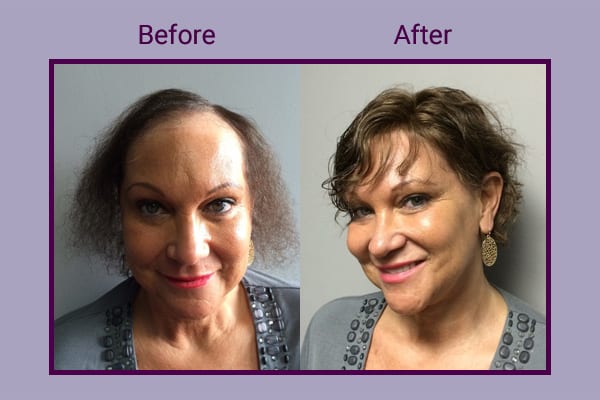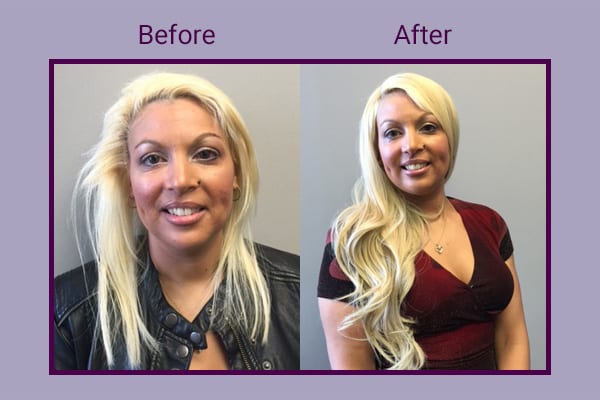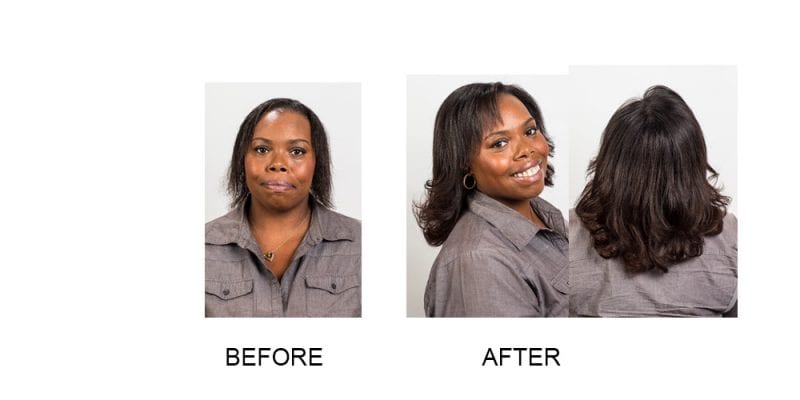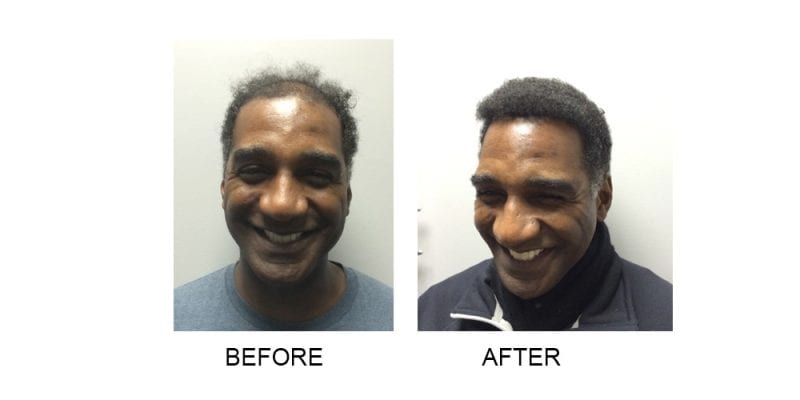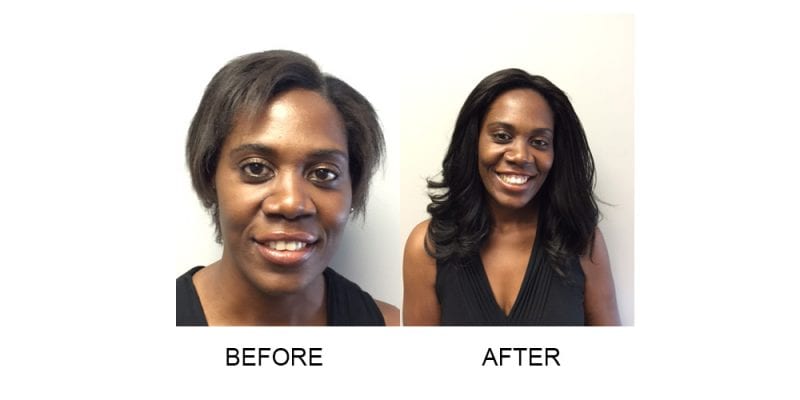 I wanted to share some of the before and after photos of people wearing Invisablend with its Micro Strand component. This allows for their natural hair growth without any damage to the hair.
How Do I Get Invisablend Right Now?
While salons are shut down during the COVID-19 global pandemic, a client can have a virtual try-on of the product via Facetime, Skype, WhatsApp or whatever video software you choose. The Invisablend specialist shows the client the Micro Strand Hair, samples of different styles, and they explain how it works. Then the client can place an order and be emailed their order form. After the client receives the hair, Invisablend will be available for another video call to help with application and maintenance.
Best Hair Growth Products
Now that you know more about hair loss in men and women, as well as the best hair growth products for treatment options, you should feel prepared should the situation ever arise for you to deal with hair loss yourself or someone you love. I also hope that by talking about hair loss in women, as well as in men, it helps to reduce the stigma associated with discussing it.
What do you think about Invisablend Micro Strand Hair? Have you heard of the product?