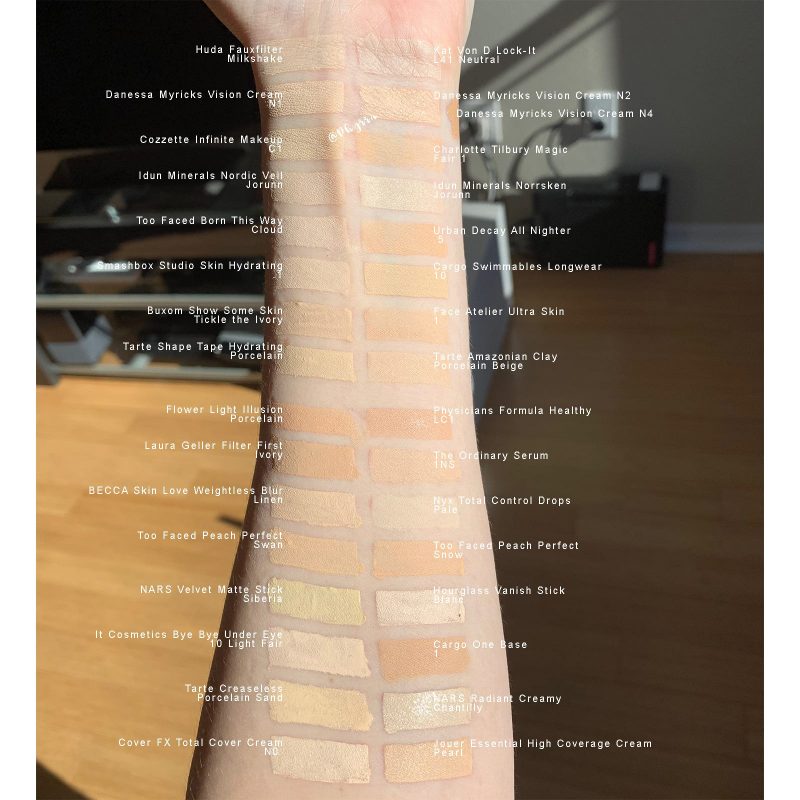 Best Foundations for Pale Skin
You asked for it, so here it is! Here are some of the best foundations for pale skin. I took photos in 3 different lighting conditions – inside in direct sun by a window, outside in direct sun, and outside in the shade. These are all cruelty-free foundations. Many are vegan foundations, too. NARS is not cruelty-free but was included for reference points. If you find these sorts of posts useful, please share!
Fair and Pale Skin Foundation Swatches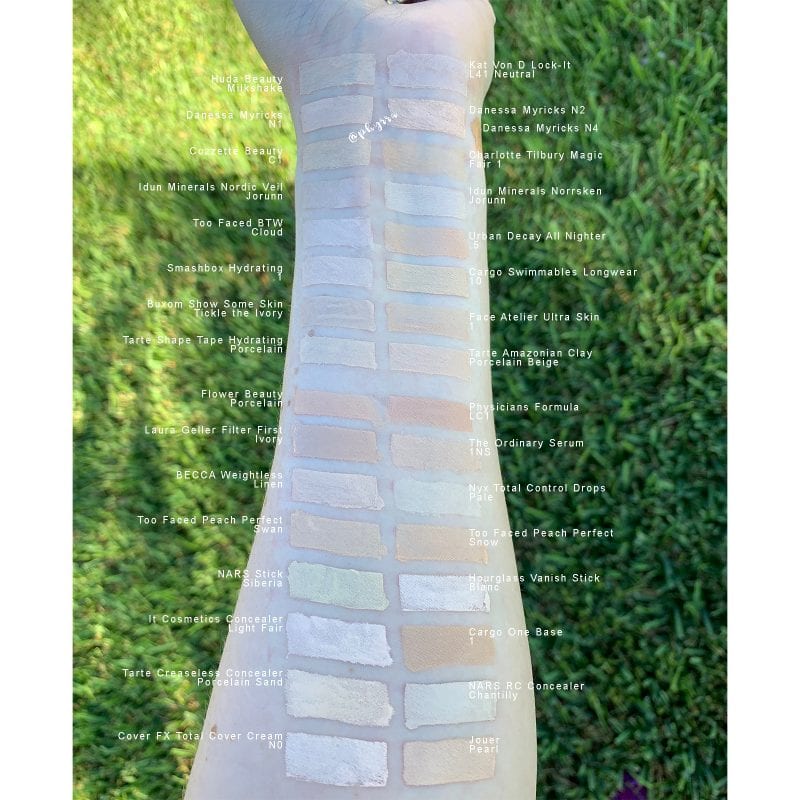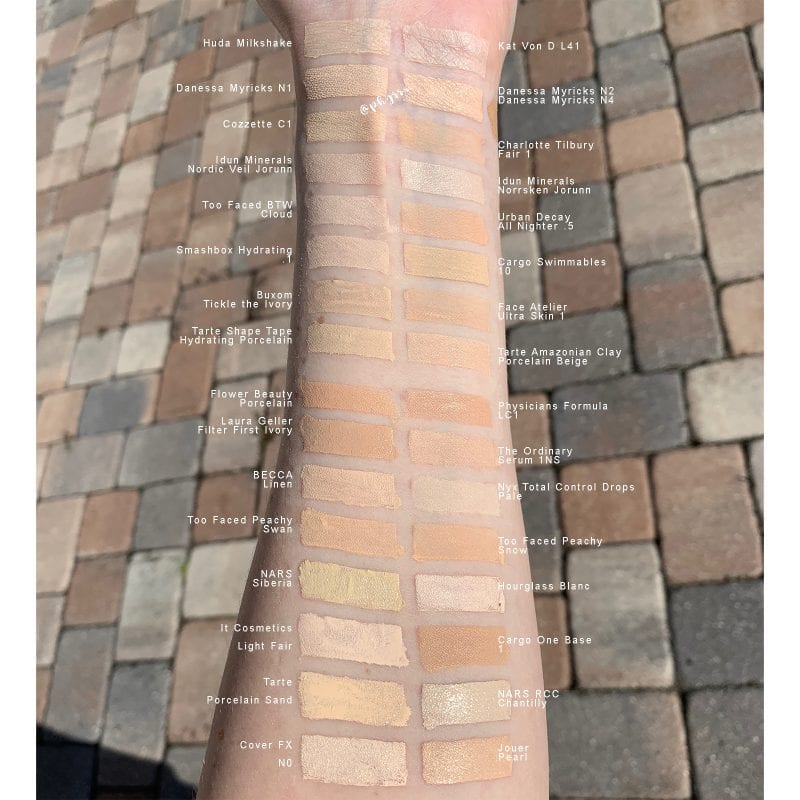 Best Customizable Coverage Foundations
I prefer customizable coverage foundations because they are multi-purpose. They function as foundation and concealer all in one. You can sheer it out where your skin is good, build it up where you need more coverage, and still have it blend together with ease.
I find the Danessa Myricks to be the easiest to work with of these. It's a very thick liquid, so you only need a tiny bit and I mix it about 50/50 with the Danessa Myricks Prism FX, which lets it blend out flawlessly on my face. With the Cozzette and Cover FX, you can take a tiny amount from their packing and mix with Prism FX or another product, but it's not quite as easy. The Hourglass Vanish Stick
Best Light Coverage Foundations
The Ordinary Serum foundation was finicky for me. The low price point makes it attractive to many ($6.70), but I found I had to use the Ordinary primer with it, and set it with setting powder & spray. Not to mention I had to use a white mixer to make it match my skintone. I'm so over using white mixers at this point that I rarely do it.
Both the Buxom and Face Atelier are great for dry skin, as they're light and hydrating. I also really love the Nudestix Nudies Tinted Blur Stick, which is very light coverage as well.
Best Medium Coverage Foundations
Nyx's Total Control Drops in Pale are the best foundation shade match I've ever personally found at the drugstore. Unfortunately for me, the formula hates my dry skin. It emphasizes dry patches and lines I didn't know I had. If only this shade was offered in a formula that worked for my dry skin!
Idun Minerals Norrsken is the most hydrating foundation I've ever found to date. If you get super dry skin in the winter, you will love this one. I think I love the formula for the Smashbox Studio Skin Hydrating foundation but I need to do a wear test with it. Same with the Tarte Shape Tape Hydrating foundation.
I've had a lot of you ask me to test out the Physicians Formula Healthy foundation, even though I don't have a shade match, so I will do that soon.
Best Full Coverage Foundations
As I mentioned, I'm not a full coverage foundation fan. I have to thin out full coverage foundation to make it work for me. Since my skin is dry, a lot of these just cling to dry patches in a very unflattering way. The Huda Beauty works the best for my dry skin out of all of these, even though it has a VERY strong fragrance that I detest. The Idun Minerals Nordic Veil is also a very good formula, too. Kat Von D's Lock-It is terrible on my skin, though I've tried over and over to make it work. Too Faced Peach Perfect is a nice formula but it has fragrance in it that I suspect caused me to break out. It unfortunately doesn't have a shade match for me. The Jouer Essential foundation now comes in lighter shades than the one I bought, but I didn't like the formula.
Concealers
These are just two of the most recent concealers I purchased. I actually haven't been using them because I've been relying on the Danessa Myricks foundation as foundation and concealer.
About My Skintone
My skintone is a neutral to cool yellow olive. My preference for pale skin foundation is for a neutral-toned or neutral-cool-yellow-toned shade, since those match me best. Pinks don't work on me, but neutral cool can work. I like light to light-medium coverage, as opposed to full coverage. I feel like full coverage emphasizes fine lines and dry patches.
All of these brands (except the NARS) are cruelty-free. Many of these foundations are vegan. While I was on my layover in NYC at JFK airport, I went into the MAC store to see if they could shade match me to anything (not to buy from MAC, just to get a shade reference for you). The Pro Longwear Nourishing Waterproof Foundation in NW13 seemed like it might match me the best, but no idea if it would oxidize or what it looks like in daylight. Everything else I swatched was too pink, too orange, too yellow, etc.
Favorite Foundations for Pale Skin
Right now I'd say my best shade matches are Huda Beauty Milkshake, Danessa Myricks N1 (I thought N2 worked but then saw photos where you can see it makes my face darker than the rest of me), Cozzette C1 (this is a cool yellow olive), Idun Minerals Jorunn, Smashbox Hydrating in .1, Nyx Total Control Drops in Pale, Cover FX N0 and Kat Von D L41.
Formula wise, I'm loving Danessa Myricks, Cozzette, Idun Minerals and Smashbox. I've been mixing my foundations with the Danessa Myricks Prism FX lotion or the Flower Beauty Supernova Celestial Skin Elixir, both give me a gorgeous glow. You can see in the photo above from Jen's wedding that my skin looked amazing in Danessa Myricks!
Long-time Phyrra friends will know, I'm constantly on the hunt for the perfect foundation for my dry skin. I want a light to light-medium coverage product that blurs my imperfections, counteracts or hides the pink overtone to my skin from rosacea, is long-wearing, won't transfer, and one that I don't have to add white to it to make a match for my skintone. Do you know of a foundation like this? Let me know!
What are you looking for in a foundation?