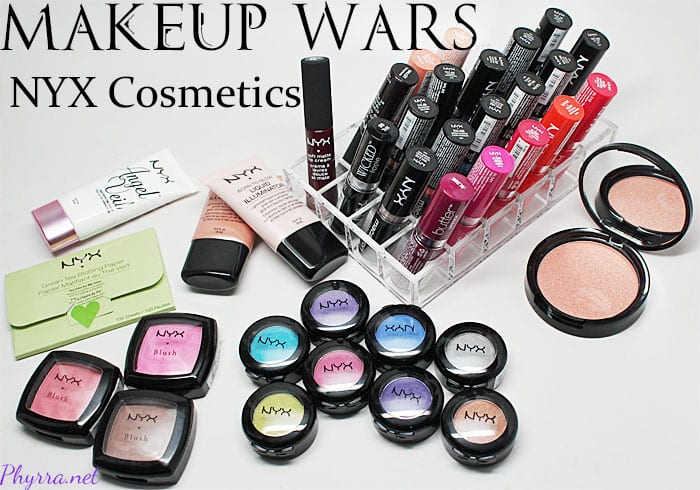 Happy Makeup Wars Monday! Today we're sharing our picks for the best drugstore makeup brand. I picked the cruelty free brand Nyx Cosmetics! All products purchased by me except the Wicked lippies, which are press samples.
Best Drugstore Makeup Brand Nyx Cosmetics
Nyx Cosmetics is cruelty free, though their parent company L'Oreal is not.
All the eyeshadows I'm showing you are swatched on primer. Some are more pigmented than others. However if you're looking to experiment with a color you've never tried before, it's easy to head to Ulta Beauty and pick up that color in Nyx's Hot Singles line.
Hot Single Eyeshadows
Psychedelic – matte yellow green
Money Maker – shimmery lime
Dare – shimmery turquoise (leans green)
Turnt Up – bright turquoise bue
Electroshock – matte indigo
Gold Lust – metallic bronzey gold
Addiction – deep brown with red tones
Sex Kitten – peachy pink shimmer
Sin – beige with multi-glitter
Vixen – matte peachy-nude
Bad Seed – red
Pink Lady – dark pink
Harlequin – radiant orchid purple
Epic – violet
Ultraviolet – matte violet
Raven – matte black
Sun Glow – metallic yellow
Spontaneous – smoky gold pearl
Dayclub – peachy gold
Hypnotized – metallic copper gold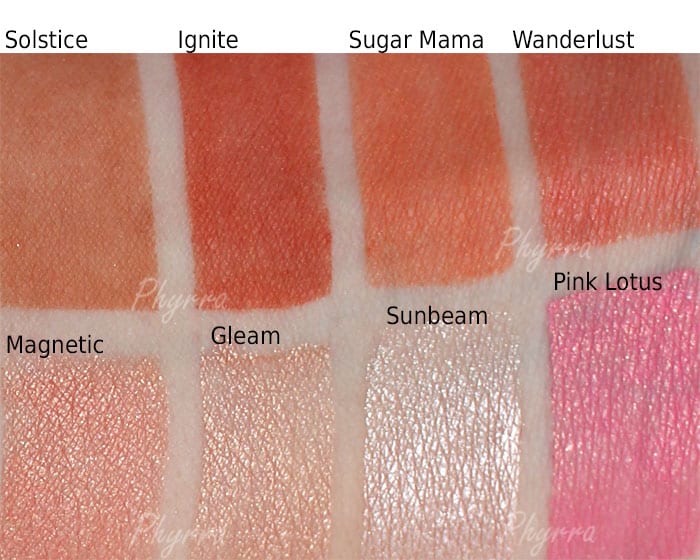 Baked Blushes – Solstice, Ignite, Sugar Mama, Wanderlust
Blush Stick – Pink Lotus
Liquid Illuminators – Sunbeam, Gleam
Illuminator – Magnetic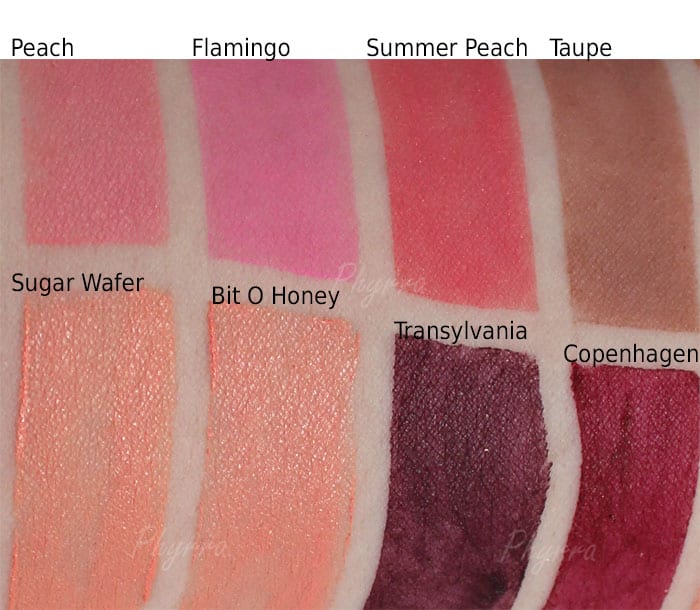 Blushes – Peach, Flamingo, Summer Peach, Taupe
Butter Lipsticks – Sugar Wafer, Bit o' Honey
Soft Matte Lip Creams – Transylvania, Copenhagen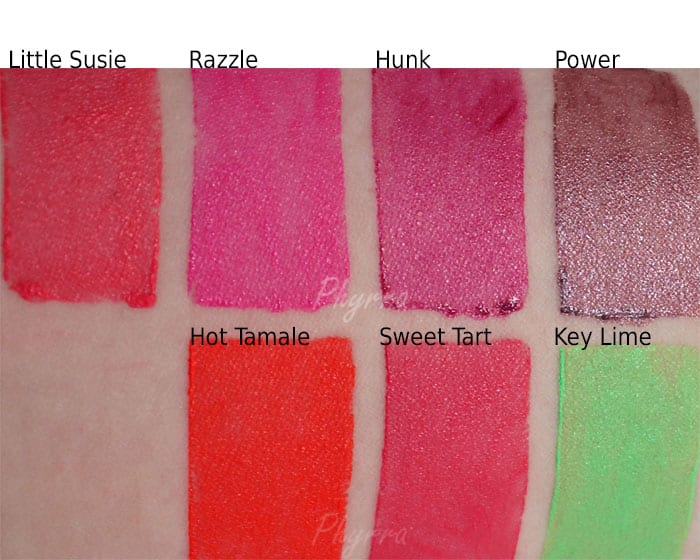 Butter Lipsticks – Hot Tamale, Sweet Tart, Little Suzie, Razzle, Hunk
Macarons – Key Lime
Wickeds– Power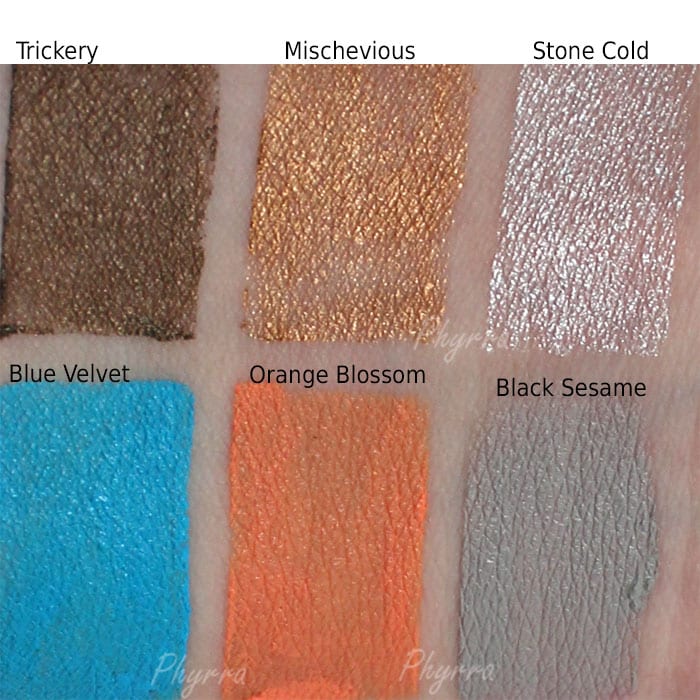 Wickeds – Trickery, Mischevious, Stone Cold
Macarons – Black Sesame, Orange Blossom, Blue Velvet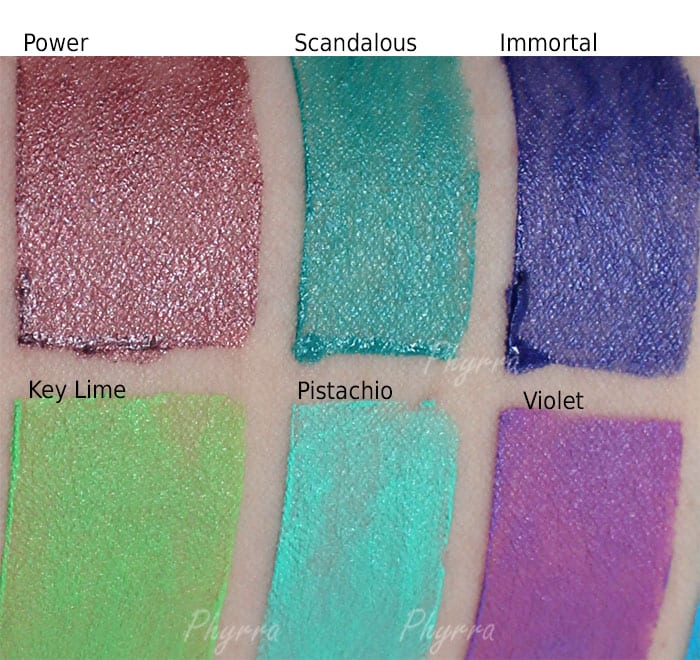 Wickeds – Power, Scandalous, Immortal
Macarons – Key Lime, Pistachio, Violet
I picked Nyx Cosmetics because they have such a wide variety of good products. They've been killin' it lately with the fun lipsticks from the High Voltage (which I ordered Twisted, Privileged, Dahlia and Beam from Ulta, but they didn't arrive in time for this post, boo) to the Wicked to the Soft Matte Lip Creams, Simply Lip Creams, Macarons, Mattes and Butter lipsticks. While the opacity can be hit or miss, I like that these are easily found online or in stores at Ulta Beauty so that if someone wants to try an unusual lipstick shade, they can do that with Nyx.
I have a ton of their Hot Singles eyeshadows, as I bought a bunch in 2014. I'm a fan of their powder blushes as well as their liquid and powder highlighters. Their retractable eyeliners are great and they stay on the waterline nicely. The slide on pencils are awesome, come in a ton of colors, and they're very similar to the UD 24/7s in performance.
They make some fantastic primers and their Angel Veil primer was a favorite of mine last year. They make a lot of mascaras but I think their Doll Eye Mascara is the best. And I swear by their Green Tea Blotting papers. Also, if you love the strong brow look, you MUST try their eyebrow gel. Many of my friends swear by the HD eyeshadow primer, too.
Because of the wide variety of their blushes (both creams and powders), as well as the large shade range, I think there are blushes for every skintone.  I feel the same way about the highlighters, especially the liquid illuminators.
They have several different foundation formulas that have anywhere from 6 to 20 foundation shades in them. However, they lack shades for deeper, richer skintones (and they don't have a pale enough shade for me, but that's a different issue). (In case you missed it, I recently interviewed makeup artist James Vincent and he talks about the White Beauty Myth, foundations, models and more).
Their makeup remover is nice, too, and it was a staple for me for a long time.
Nyx recently released a slew of new products at Ulta Beauty including
Prismatic eyeshadows (I ordered a few to review)
Tame & Frame Tinted brow pomade
High Voltage lipsticks
HD blush
Lavender, Peach and Green CC Creams
Color Correcting Concealer
Contour Palette (looks really warm toned)
Tres Jolie Gel Eyeliner pencil (I also ordered this to try)
Micro brow pencil
Black Eyeshadow base
Looking for more? Check out

What cruelty free drugstore brand would you pick as the best? Let me know!

[inlinkz_linkup id=491360 mode=1]