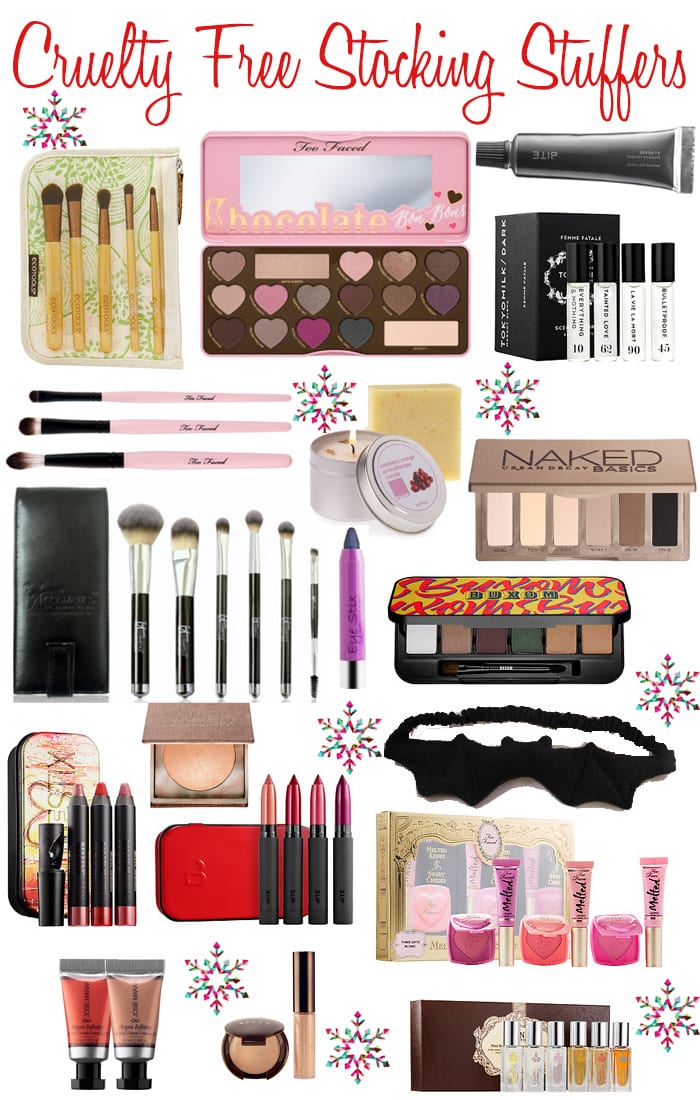 It's a Makeup Wars Monday! I've got the best cruelty free stocking stuffers to share with you. Growing up, I always got a mix of practical and fun things in my stocking, plus something sweet. We always had chocolate oranges in the very bottom, the type you smack on the table and it breaks apart into multiple sections. This post contains a mix of press samples and products purchased by me.
Best Cruelty Free Stocking Stuffers
$19 and Below
EcoTools Essential Eye Brush Set – $9.99
I've gifted this set many times. I still use the lid brush and highlighting brush in this set. Love it! This is the best starter brush set for someone because it's easy to find at Target or Walgreens and has great brushes that really last.
Michael Todd Eye Stix – $14
Available in steel blue, emerald, champagne and copper, these are cream eyeshadow sticks with collagen boosting peptides. The steel blue looks so pretty!
Lather Soap and Candle Sets – $16
These are available in vanilla, orange, lemongrass and lavender. This is perfect for lighting a candle and taking a hot bath to relax.
Josie Maran Argan Infinity Lip & Cheek Creamy Oil Duo – $16
These are so cute! Timeless Coral (coral) & Everlasting Honey (pinky nude). I love these as blushes. They do add nice moisture to lips.
TokyoMilk Dark Femme Fatale Collection – $18
A set of 4 fragrances – Tainted Love, Everything & Nothing, La Vie La Mort, and Bulletproof. Tainted Love is my favorite mainstream perfume. It smells so delicious!
$20 – $29
BECCA Shimmering Skin Perfector Opal Glow on the Go Set – $20
Opal (golden opal pearl) in pressed and liquid form, perfectly purse sized for touch ups.
BatGirl Designs Bat Relaxation Face Mask – $22
This is a great bath and body / spa type gift that you can have customized with any tea scent.
Nudestix #Toocute 3 Mini Lip / Cheek Pencil Set – $24
Mystic (nude), Satan (red), Sin (rose gold), such a cute lip and cheek pencil set. It comes in a really cute reusable tin too.
Bite Beauty Best Bite Rewind Set – $25
A set of 4 deluxe-size Mini Matte Crème Lip Crayons – Café (peachy-brown nude), Torte (brown-toned rose), Coulis (raspberry red), Aubergine (eggplant).
Bite Beauty Agave Lip Mask – $26
This is seriously my holy grail lip mask. Nothing that I have tried leaves me with moisturized lips the way this does. I've tried pure lanolin and all kinds of things to cure my dryness, and this is the only product that does it. Available in clear, Smashed (red wine) and Champagne (golden pink).
Urban Decay Naked Basics Palette – $29
I LOVE this palette. It's my staple neutral palette (hello, Walk of Shame) and it's a steal for the price. 6 full size eyeshadows are normally $18 each and you get it for only $29. 5 are matte and 1 is demi-matte. See my swatches.
Buxom Look All You Want Set – $29
This is such a cute set! Eyeshadow in Opal Opulence (iridescent ice), Sequin Sparkle (sparkling pewter), Top Shelf (shimmering plum), Penthouse (metallic evergreen), Style Icon (metallic taupe), Gimme Gorgeous (matte camel), Buxom Lash Mascara mini, and Hold the Line eyeliner in Call Me.
$30 – $39
Urban Decay Naked Illuminating Shimmering Powder – $30
Available in 3 shades – Luminous (champagne shimmer), Aura (golden pink shimmer), and Lit (golden bronze shimmer). This adds the perfect amount of holiday sparkle.
Too Faced Melted Kisses and Sweet Cheeks Set – $36
I LOVE LOVE LOVE this site! 3 chibi blushes and melted lipsticks. Blushes – Love Hangover, Justify My Love, Your Love Is King. Lipsticks – Nude, Peony, Fig. See  my swatches.
LAVANILA 6 Piece Mini Rollerball Set – $36
6 x 0.17 oz eau de parfum rollerballs in Pure Vanilla, Vanilla Grapefruit, Vanilla Coconut, Fresh Vanilla Lemon, Vanilla Lavender, & Vanilla Blackberry. This is perfect for a perfume lover.
Too Faced Essential 3 Piece Brush Set – $39
This brush set features a liner / smudger brush, a lid / smoker brush and a crease blender brush. It's perfectly giftable and I love the brushes.
$40 and Above
Too Faced Chocolate Bon Bons Palette – $49
This is an absolutely adorable eyeshadow palette that smells like chocolate! I'll be reviewing it for you soon. It has pinks, purple, taupes, browns and grey.
It Cosmetics Brushes Your Superheroes Brushes Set – $50
This is a GREAT set of luxury brushes! Powder, foundation, crease, concealer, shadow and liner. See my review.
These are all super cute and they will literally fit into a stocking!
What do you like to find in your stocking?
Loading InLinkz ...
Last Updated on