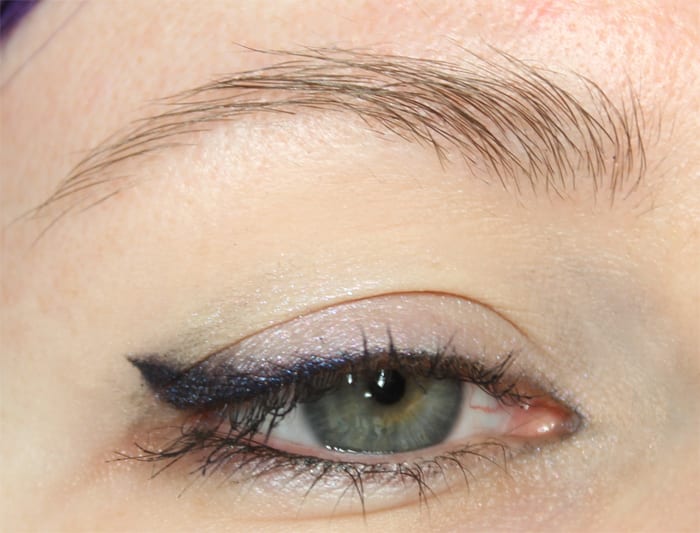 This is my quick go-to makeup look lately. If I'm in a hurry, I slap this on and head out the door to do whatever I've got to get done. This post contains a mix of press samples and products purchased by me.
Quick Go-To Makeup
The only thing I vary with this go-to look is what shade I smudge on top of Black Valley. Sometimes it's a basic black like Makeup Geek Corrupt, sometimes it's a sparkly black like Sugarpill Stella.
Eyes
Too Faced Shadow Insurance
Urban Decay Walk of Shame – base shade all over
Darling Girl The Tragic Death of Mr. Stay Puft – lid
NARS Eye Paint in Black Valley – upper lash line slightly winged out and outer lower lash line
Fyrinnae Birb of Paradise – smudged on top of Black Valley
Physicians Formula Sexy Booster Cat Eyes Mascara
I'll throw on a bit of Cover FX Pressed Mineral Foundation just to cover up my facial redness, add a tiny bit of glow to my cheeks with Notoriously Morbid Osteomancy,  skip my brows and blush, and then fill in my lips with an OCC Lip pencil. Lately I've been favoring Lydia (plum) and Sebastian (plum taupe). Sometimes I'll also throw Bite Beauty Agave Lip Mask in Smashed on top.
I didn't have time to snap a full face shot, just the eye, because I was off to get my hair trimmed. I later took off this  makeup and did a makeup tutorial (the taupe duochrome one).
What's your current quick go-to look?