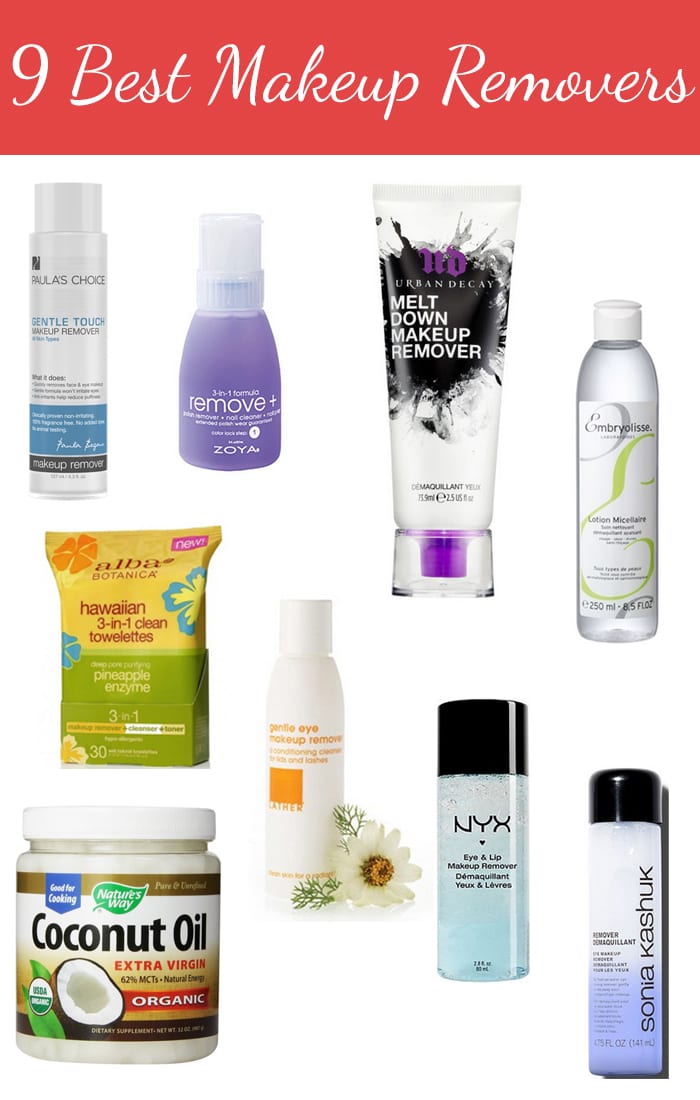 Happy Makeup Wars Monday! Today I'm sharing my picks for the 9 best cruelty free makeup removers. These are the products that I recommend and repurchase. All are cruelty free and several are vegan. This post contains a mix of press samples and products purchased by me.
9 Best Cruelty Free Makeup Removers
Paula's Choice Gentle Touch Makeup Remover
My #1 all time favorite makeup remover is the Paula's Choice Gentle Touch Makeup Remover. This is gentle on my eyes and effective at removing mascara, waterproof eyeliner etc. While I will try other brands from time to time, this is the one that I've fallen in love with for how well it works and how gentle it is. It really lives up to its name for me. (vegan)
Embryolisse Micellar Lotion
My review for this product will be up this week. I'm on my second bottle of this and I find it incredibly useful. I use it on a cotton round to remove makeup on my face gently.
Nature's Way Extra Virgin Organic Coconut Oil
While you can certainly use any coconut oil you like, I love this one and use it in a ton of different ways. I like to use it to remove makeup and moisturize in between swatching products on my hands and lips. I also will end a swatching session by using it to remove the makeup, washing my hands, and then applying more coconut oil to the skin. It's good for my cuticles and hair. It's gentle on the eyes, lips and face. (vegan)
Alba Botanica Hawaiian 3-in-1 Clean Towelettes
I am not normally a fan of makeup wipes because they cause me to break out. I've been experimenting with these towelettes from Alba Botanica and genuinely like them. It's good at removing foundation. These are supposed to clean to remove makeup, refine the pores with pineapple and papaya enzymes, and then tone with aloe and awapuhi. (vegan)
Urban Decay MeltDown Makeup Remover
I love UD and their makeup remover is no exception. It gets off long wearing makeup without any issues. It's also nourishing and anti-inflammatory.
LATHER Gentle Eye Makeup Remover
This is another new product that I'm testing out. It works very well at removing eye makeup without irritating my sensitive eyes. It's water-based and it contains chamomile, witch hazel and aloe.
Zoya Remove Plus
Absolutely nothing compares to Zoya Remove Plus for nail polish remover, nail prep and nail conditioner. It cleans the nails and preps them, along with moisturizing them, so that it helps to extend your nail polish wear. It also removes nail polish quicker and more effectively than anything else I've tried. It is a MUST HAVE product! I buy the large bottles and refill my smaller flip top bottle.
Nyx Eye & Lip Makeup Remover
This was my go-to makeup remover for a long time. It's dual-phase and infused with oils, rice and soy extracts.
Sonia Kashuk Remove
This is a water and silicone based makeup remover. It was also a go-to makeup remover for me for a long time. It's only available at Target.
Looking for more? Check out
What are your must-have makeup removers? Any cruelty free ones I need to check out?
Loading InLinkz ...
Last Updated on