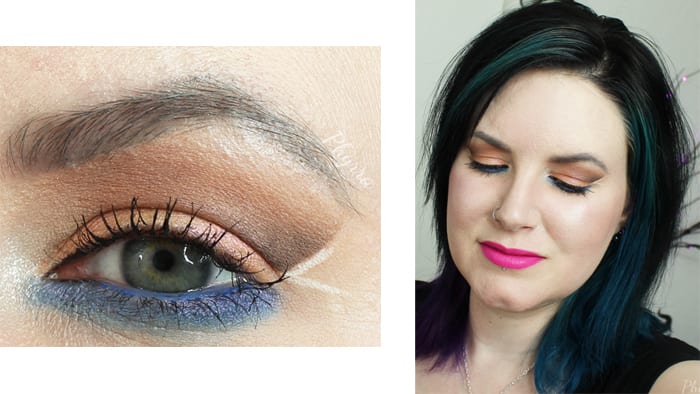 Happy Friday! Today I've got my Urban Decay Fireball Riff tutorial for you, featuring some of the new Urban Decay Summer Nights colors and the Naked Basics palette. This look is outside of my comfort zone since I used so many warm and orangey shades. I hope you enjoy it!
Urban Decay Fireball Riff Tutorial

If you like this tutorial please give it a thumbs up and share!
Eyes
Urban Decay Primer Potion in Eden
Urban Decay Walk of Shame – base shade on browbone and crease (applied with Sugarpill Large Eyeshadow brush), to blend out lowe rlid
Urban Decay Riff – crease (makeup geek soft dome brush), (goss 6 brush to blend)
Urban Decay Faint & Crave – mixed together for outer crease (makeup geek small crease brush) (blend with goss 6 brush, soft dome brush)
Urban Decay Fireball – lid (goss 18 brush)
Urban Decay Dive Bar – lower lid (ecotools smudge brush)
Anastasia Beverly Hills Granite – outer brow
Senna Cosmetics Ash Brown – inner brow
Urban Decay 24/7 Pencil in Chaos – lower waterline
Urban Decay Cosmic – inner lid, under brows (goss 5 brush)
Urban Decay Venus – under brows (goss 5)
NARS Eye Paint in Black Valley – upper waterline (goss 8 brush)
Urban Decay Perversion Mascara
OCC Feathered – sideways V in outer crease
Face
Embryolisse Lait-Creme Concentrate mixed with Cover FX Custom Cover Drops in N10
Urban Decay Afterglow Blush in Kinky
Notoriously Morbid Osteomancy – highlighter
Lips
Colour Pop Scandy lip pencil
Colour Pop Scandy Lippie stix
Jewelry
Bunny Paige Spiked Heart Necklace and Statement Ring
Rogue & Wolf Black Rings
My lighting was off for this video and for my photos, which I didn't realize because lights are still BRIGHT for me. I did have fun playing with the warm and orangey colors, even though they're not my favorite, but I loved being able to cool this look off with Dive Bar. The duotones from UD are fun! See more of the new UD eyeshadows here.
I left in more blending, slowed the blending down, and made sure to show every brush and how I used it in this video. I also have no music, all per your request.
What do you think of Fireball, Riff and Dive Bar?