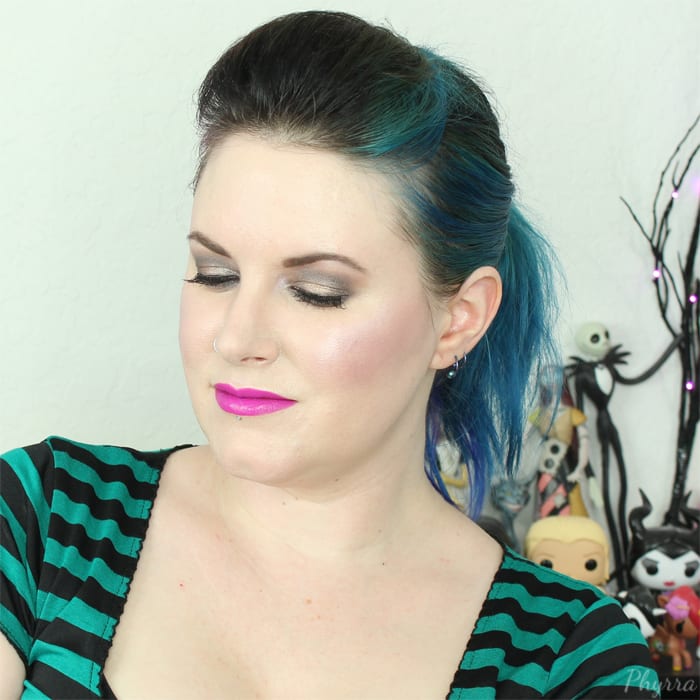 Are You Warm, Cool, Olive or Neutral Toned? What colors do you gravitate towards? I consider my skintone to be pale and neutral, between N0 and N10. I have redness from rosacea, which means 99% of the time I have a bit (or a ton) of pink to my skin. Lately I've really noticed that my neck and chest are flushed slightly pink / cool-toned. I should point out that when I go to match foundation, I match the tone to my neck and chest, rather than my face. My face is always slightly darker / redder than my neck and chest. And yes, I wear SPF on all of it daily.
Are You Warm, Cool, Olive or Neutral Toned?
This post contains a mix of press samples and products purchased by me.
I prefer neutral foundations with a balance of pink and yellow tones. If I wear a super pink-based foundation, I usually look like I'm sunburnt. If the foundation is too warm, I look orange. In Sephora's Color IQ system I came up as 1y01 (see my experience) and currently match following cruelty free brands –  Kat Von D Lock It Foundation #42, Cover FX Total Cover Cream N0, Too Faced Beauty Balm Snow Glow and Tarte BB SPF 30 Fair. There are other matches but they're not cruelty free. Also interestingly enough, NARS Siberia didn't pop up on this list.
As you know, Cover FX makes my favorite foundations because their N10 is usually a great match for me, plus they're vegan. I've been loving mixing the Custom Cover Drops in N10 with different sunscreens and skincare products of mine to make a DIY foundation. Sometimes it's nice not to have to mix though.
One of my recent successful experiments started with me applying the Nyx CC Cream Green in Light on my redness. Once that dried down, I stippled a mixture of Cover FX Pressed Mineral Foundation in N10 mixed with Laura Geller Balance-n-Brighten in Porcelain, only on top of the CC Cream, and to blend with the rest of my face. The result was me wearing far less foundation than normal but I had great coverage.
My current go-to 'I don't want any redness to be seen' winning combination is the Nyx CC Cream Green with Cover FX Custom Cover Drops N10 mixed with Glossier Perfecting Skin Tint Light, set with NARS Light Reflecting Loose Setting Powder.
Current Foundations
Cover FX Shade N10 (Pressed Mineral Foundation, Total Cover Cream, Custom Cover Drops, CC Cream + Life's Entropy White) (vegan)
Buxom Show Some Skin Weightless Foundation in Tickle the Ivory (testing this out, worn above)
Laura Geller Balance-n-Brighten in Porcelain (mixed with Cover FX Pressed Mineral Foundation in N10)
Life's Entropy Foundation Elixir White (to make any liquid or cream lighter, total life saver for pale skin) (vegan)
Nyx CC Cream Green in Light (to cover redness, has to be worn under foundation, too dark on its own)
Perfekt Beauty Skin Perfection Gel in Luminous + CCDs N10
bareMinerals Complexion Rescue Tinted Hydrating Gel Cream in Opal mixed with Cover FX CCDs N10 & LE White
Glossier Perfecting Skin Tint Light + Cover FX CCDs N10
Illamasqua Skin Base 2 (no mixing needed) (vegan)
Too Faced Beauty Balm in Snow Glow mixed with CCDs N10 & LE White  (vegan)
Lately, I've been going for cool tones in a lot of  my makeup. I'll explain more below.
I've noticed for my brows that I hate warm-toned orangey brow gels or pencils. I always reach for neutral or cool tones to fill them in. Also, I'm sad to say that only one of my brow products is vegan, as far as I'm aware.
Brow Products
Senna Sketch-A-Brow in Ash Brown & Mink
Anastasia Beverly Hills Brow Wiz in Medium Brown & Granite
Anastasia Beverly Hills Tinted Brow Gel in Granite
Nyx Eyebrow Gel in Black
Too Faced Bulletproof Brows in Universal Brunette
Silk Naturals Brow Cream in Soft Black (I picked up their Medium Ash Brown shade and  need to remember to try it) (vegan)
For blushes I flex warm or cool, trying to work with whatever lip color or makeup look I'm wearing. Honestly, I've been lovin' the hell outta UD Bittersweet and Makeup Geek Secret Admirer. They both lean cool and purple and I think they're perfect on me. I've been told by friends I should wear Rapture more often, too.
Recent Blush Obsessions
Urban Decay Afterglow Blushes – Rapture (worn above, mauve), Kinky (peach), Bittersweet (purple), Score(pinky peach) (see all the blushes here)
Makeup Geek Blushes – Secret Admirer (orchid), Honeymoon, First Love, Romance (see them all here)
butter LONDON Cheeky Crème Blush in Naughty Biscuit (rosy nude)
Too Faced Sweethearts Blush in Peach Beach and Candy Glow
For contouring products, I'm pretty sure I lean towards using cool, but I have a few neutral and warm shades too. While you can see all of my contouring products for pale skin here, as well as recommendations for light to medium skintones, I definitely have a few key ones that I reach for over and over. Now I don't contour my full face. I will usually only contour the hollows of my cheeks. That's it.
Contouring Products
Notoriously Morbid Blush in Necromancy (worn above) (vegan)
Silk Naturals Shady Lady Contour Powder in #1 (vegan)
Life's Entropy Particle Contour Sticks in Proton or Alpha  (vegan)
NARS Contour Blush in Olympia
With highlighting products I know I leaned warm or neutral for a long time, but I've been leaning cool for a few months now. I keep reaching for Pearl Dust over and over, and before that it was Osteomancy. However, for years it was Candlelight Glow Duo non-stop, which is neutral/warm.
Highlighters
Dose of Colors Highlighter in Pearl Dust (worn above)(ethereal iridescent pink)(see my review)
Notoriously Morbid Blush in Osteomancy (ethereal silvery blue white) (vegan)
Too Faced Candlelight Glow Duo
I know with eyeshadows that I love warm, neutral and cool tones, but I've been snapping up palettes with cool tones because I feel like there's a dearth of them! Warm eyeshadow palettes are a dime a dozen! People who love warm eyeshadow palettes are certainly  not hurting for options! There are so many palettes available right now, so I've listed a few below.
Cool Eyeshadow Palettes
Kat Von D Shade + Light Eye Contour Palette – I love the cool quad in this, see my review.
Urban Decay Naked Smoky Palette – has several cool toned colors, see my video
Kat Von D Innerstellar Palette – cool tones and purples, see my review
Saucebox Etude Palette – over half the colors are cool toned, see my review
bareMinerals the Posh Neutrals – I have this in my to-review pile and I bought it ages ago.
Urban Decay Electric Palette – this has some cool tones! It's also the brightest palette I own, see the review
Warm Eyeshadow Palettes
tarte Tartelette Amazonian Clay Palette – warm and mattes
Too Faced Love Palette – new, looks to be full of 15 neutrals and warms.
Too Faced Chocolate Bar – lots of warm shades, see my review
Too Faced Semi-Sweet Chocolate Bar – lots of warm shades, see my review
Colour Pop Metamorphosis – pretty and warm (some shades vegan)
Colour Pop Where the Light Is – gold and smoky warm (some shades vegan)
Colour Pop Rebound – warm and peachy (some shades vegan)
So tell me, are you cool-toned, neutral or warm-toned? What do you reach for with your makeup? Have you ever noticed yourself leaning towards warm or cool? What palette are you using the most lately?
Last Updated on