I've finally got the Anastasia Beverly Hills Tamanna Palette review for you. This is a gorgeous Fall themed palette that's available now from Nordstrom, Sephora, and Anastasia's website. This palette was created for Tamanna @dressyourface. In addition to my review, I have this palette compared to the Maya Mia and Amrezy, as well as a tutorial with it.
Anastasia Beverly Hills Tamanna Palette Review
You can see my Maya Mia, Amrezy and Catwalk reviews. You can also see my reviews of the Lavish Set and Hypercolor Brow Powders.
About the palette
This collection of versatile shadows constitutes Tamanna's "must have" shades to achieve her most requested looks on any skin tone. The combination of warm and cool tones combine to create anything from smokey eyes to intricate cut creases, all from a single palette. Specially formulated, high-impact pigments in rich neutrals and shimmering jewel tones go on smoothly and eliminate the need for overbuilding when applying.
10 x 0.025 oz Eye shadows in Sangria, Venezia, Custom, China Rose, Fresh, Chocolate, Bengal, Noir, Gilded, Blush
Cruelty free
Price
$29
This palette does contain carmine.
It comes with 5 look cards.
All eyeshadows are swatches on Coastal Scents Step One primer.
Fresh
pale peachy pink matte. To me this is great for a matte highlight or a base shade. Nude from Maya Mia is deeper and more tan toned.
Blush
pale icy peach shimmer. Glisten from Maya Mia is deeper toned.
China Rose
orange-toned coral with gold shimmer. Fresh Peach from Maya Mia is similar, but China Rose has better color payoff and strong gold iridescence.
Gilded
gold with brown tones shimmer. Topaz from Amrezy is more brown toned.
Custom
taupe with purple tones shimmer. Warm Taupe from Maya Mia is more brown toned and matte 

Venezia
light metallic teal. Aqua from Maya Mia is lighter and more matte.
Bengal
satiny caramel. Caramel from Maya Mia is deeper and more matte.
Sangria
burgundy metallic. Nothing like it in Amrezy or Maya Mia.
Chocolate
smooth dark chocolate brown matte. Lighter than Deep Brown from Maya Mia and lighter, less plum toned, than Deep Plum from Amrezy.
Noir
soft black matte. LBD from Amrezy is very similar. Can be built up to a more solid black.
You can see that Fresh (Tamanna) is much lighter than Nude (Maya Mia). Blush (Tamanna) is much lighter than Glisten (Maya Mia and Amrezy). China Rose (Tamanna) has strong gold iridescence that Fresh Peach (Maya Mia) does not.
Gilded (Tamanna) is like a lighter version of Topaz (Amrezy). Custom (Tamanna) and Warm Taupe (Maya Mia) are nothing alike.
Venezia (Tamanna) is metallic and deeper in tone than Aqua (Maya Mia), which is a matte. Bengal (Tamanna) is satiny and lighter than Caramel (Maya Mia).
Chocolate (Tamanna) is lighter and more brown than Deep Plum (Amrezy) or Deep Brown (Maya Mia). Noir (Tamanna) and LBD (Amrezy) are very similar.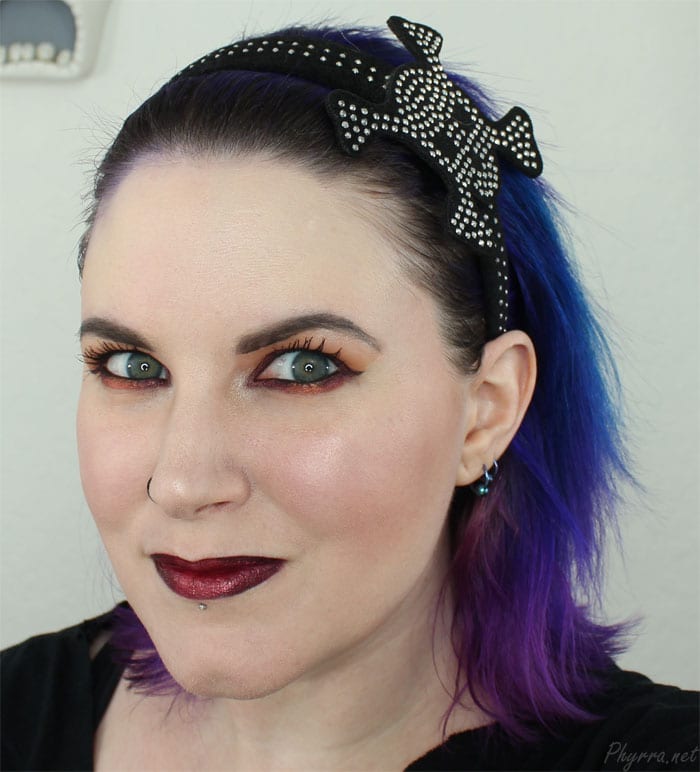 I used Fresh, Noir, Sangria, China Rose, Bengal and Blush for my tutorial.

If you like this tutorial please subscribe!
Just like with the Maya Mia and Amrezy palettes, you're paying $29 for 10 eyeshadows that are .025 oz each. Your average single eyeshadow is .05 oz. In Urban Decay, you would pay $90 for 5 eyeshadows that added up to .25 oz of product. With this palette you're getting .25 oz of total product for only $29. I think this is a pretty good deal for the price, even if I do wish the shades were larger.
I do like the packaging for the Tamanna palette, but I definitely think that the Maya Mia is more to my taste. The brush included is soft. You can use one side to apply shadow to the lid and the other for the crease, or use it to highlight.
Overall, I feel this palette has the least amount of similar shades between the Amrezy, Maya Mia and Catwalk palettes. I feel like the colors in this palette, which leans warm, to be really pretty. The colors blended together easily. I really liked that I could laye Sangria on top of Noir to create a sort of metallic burgundy shade. China Rose blended into Sangria without effort.
I really like that you get 5 look cards to get you started and give you ideas on what to wear and how to coordinate the shades.
The colors had good pigmentation to me and my look wore for 12 hours on primer before I took it off with no creasing or fading. I felt like this palette didn't have any shades that lacked pigmentation.
I do wish that Custom was a jewel toned purple. I also wish that Gilded was a slightly more golden shade. I also wish that Venezia was a deeper teal, because it feels too much like a summer teal to me.
You can buy this palette now from Nordstrom, Sephora, and Anastasia's website. I believe Nordstrom has a sale going on.
Pros
Cruelty free
Nice mix of shades
Nice mix of textures
Great for travel
Cons
Leans warm. If you don't like warm palettes you may want to skip this