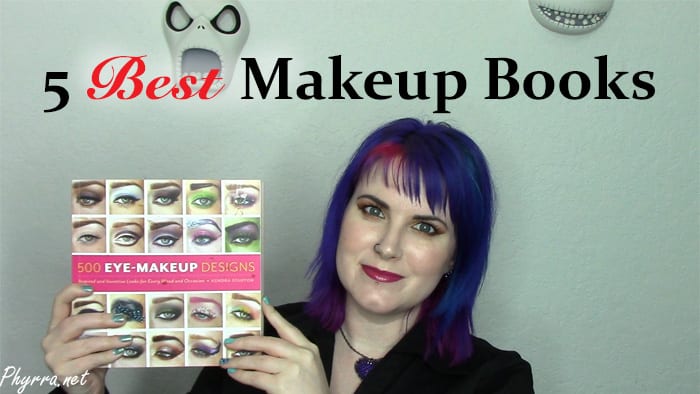 Today I'm sharing my 5 Best Makeup Books with you. This was a reader request. I own a lot of makeup books, some good, some bad, but these are my favorites. I feel the need to point out that 99% of the books that I buy, I buy in kindle format. The notable exception are my makeup books. I buy physical books for makeup because I find that easier to flip through them than trying to flip through looks on my kindle fire. I also share which books I would avoid like the plague.
5 Best Makeup Books
All books purchased by me except Kendra's book, which was sent for consideration.

If you like this video please give it a thumbs up, share and subscribe!
5 Best Makeup Books
1. Makeup Is Art by Academy of Freelance Makeup
These experts offer imaginative ideas, inside knowledge, and a wealth of advice for aspiring artists, along with instructions for a range of inventive looks using specialist techniques-from retro styles and Lady Gaga-inspired designs to underwater makeup and body painting.
2. Makeup Your Mind: Express Yourself by François Nars
I really love the before and after pictures with the overlays in this book. I also like that it tells you what products to use to achieve the looks.
3. Making Faces by Kevyn Aucoin
Still relevant today! Kevyn explains makeup techniques, shares tips, and lots of beautiful looks.
4. Jemma Kidd Make-up Masterclass: Beauty Bible of Professional Techniques and Wearable Looks by Jemma Kidd
This covers a lot of different makeup looks. It also has a helpful contouring and highlighting section.
5. 500 Eye Makeup Designs: Inspired and Inventive Looks for Mood and Occasion by Kendra Stanton
My friend Kendra (Citizens of Beauty) created this book and I love it! It's got so many different eyeshadow looks in it. I find it helpful because it gives me ideas on how to wear colors that I might not normally reach for. This is what I think makes a great makeup book because I want a ton of looks for inspiration! You can find Kendra at Youtube.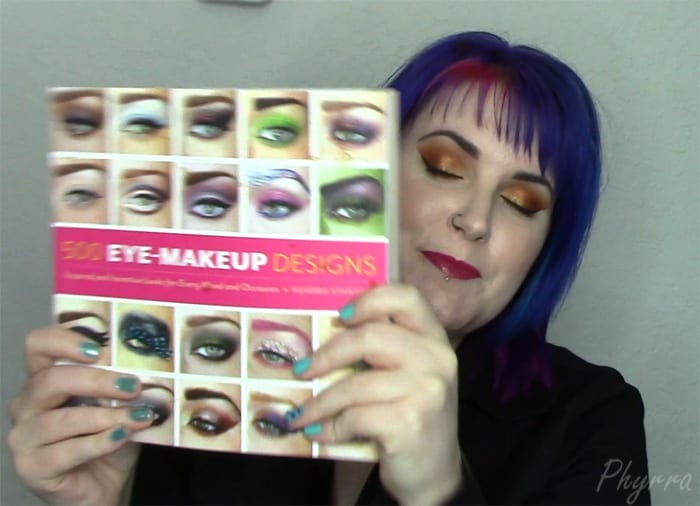 I thought this was kind of cute. Don't miss out on seeing my eyeshadow hoard.
My Other Makeup Books
Makeup: The Ultimate Guide by Rae Morris
I was hard pressed to decide between this book and the Jemma Kidd book in my top 5, because I love this one a ton, too. I feel like Rae Morris is more edgy with her looks than Jemma Kidd. This book has a lot of great techniques.
Express Makeup by Rae Morris
I like the quick tips in this book. I also think the photography is beautiful.
Eye Candy: 50 Easy Makeup Looks for Glam Lids and Luscious Lashes by Linda Mason
This was the first book I bought solely for eye makeup inspiration.
Face Forward by Kevyn Aucoin
Kevyn Aucoin was incredibly talented and his books are all amazing.
Asian Faces: The Essential Beauty and Makeup Guide for Asian Women by Taylor Chang-Babaian
I picked this up to study techniques for different eye shapes. This is when I realized that hooded eyes and monolids could use some of the same techniques (aka faking a crease on the browbone to add depth).
The Beauty of Color by Iman
This is a beautiful book. I picked it up so that I could answer reader questions and offer better recommendations.
Makeup Makeovers in 5, 10, 15, and 20 Minutes: Expert Secrets for Stunning Transformations by Robert Jones
I found this helpful to see what a makeup artist considers 5 / 10 / 15 / 20 minute looks.
The 5-Minute Face: The Quick & Easy Makeup Guide for Every Woman by Carmindy
I picked this up because it's helpful for when my friends who don't wear a lot of makeup ask for recommendations.
Get Positively Beautiful: The Ultimate Guide to Looking and Feeling Gorgeous by Carmindy
This book was recommended to me on Reddit and I found it to be an enjoyable read, but nothing groundbreaking.
Color Me Beautiful Make Up Manual by Colour Me Beautiful.
I liked the seasons for color classification in here. It makes sense when it talks about skintone and coloring by season to make recommendations.
Jemma Kidd Make-Up Secrets: Solutions to Every Woman's Beauty Issues and Make-Up Dilemmas by Jemma Kidd
I really like the making makeup work for you section in this book.
Other Beauty Related Books
Don't Go to the Cosmetics Counter Without Me by Paula Begoun
I love Paula's books even if I don't agree with them 100% of the time. I also love her skincare line and makeup. Her books are an interesting read. Just take everything with a grain of salt.
It's OK to have Lead in your Lipstick by Perry Romanowski and Randy Schueller
I love their blog, so I had to buy their book.
Plastic Surgery Without the Surgery: The Miracle of Makeup Techniques by Eve Pearl
I picked this book up but have only flipped through it. It didn't really grab my attention.
Life in Color: The Visual Therapy Guide to the Perfect Palette–for Fashion, Beauty, and You! by Jesse Garza
I picked this up but haven't had a chance to read it yet.
How Not to Look Old: Fast and Effortless Ways to Look 10 Years Younger, 10 Pounds Lighter, 10 Times Better by Charla Krupp
Another book I picked up but haven't yet read. I'm often fascinated by what people think is good advice to offer.
Books I own that I would Skip
Bobbi Brown Makeup Manual: For Everyone from Beginner to Pro by Bobbi Brown
Initially I was excited by this book. I think I just don't like Bobbi Brown's style, so it didn't do much for me.
Makeup Makeovers Beauty Bible: Expert Secrets for Stunning Transformations by Robert Jones
This book is ok, not great.
Face to Face: Amazing New Looks and Inspiration from the Top Celebrity Makeup Artist by Scott Barnes
This book has pretty pictures but was a letdown because of the lack of instructions.
About Face: Amazing Transformations Using the Secrets of the Top Celebrity Makeup Artist by Scott Barnes
Nice pictures but I didn't find the step-by-steps that useful.
Everything Eyes: Professional Techniques * Essential Tools * Gorgeous Makeup Looks by Bobbi Brown
I had high hopes for this book but it sucked. It was very few looks, lots of glasses. As someone who has to wear either contacts or glasses, I don't usually consider wearing glasses for fashion. They're more of a necessity if I want to see. I just didn't like this and would absolutely not recommend it.
People I Wish Would Write a Makeup Book
Finally, I wanted to include a section on people I wish would write a makeup book, because I'd buy their books!
What are your favorite makeup books? Who would you love to see make a book?