A while ago I picked up the Yes to Blueberries Smoothing Daily Cleanser to try out. Target had a bunch of stuff on sale in the Yes to line, and this looked good. Plus, I love blueberries. Blueberries are awesome.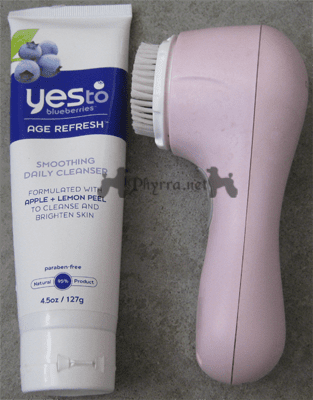 The Website Claims:
The collection features products that help improve skin firmness, protect skin, diminish fine lines and wrinkles, and nourish age-damaged skin.
Paraben-free
The Ingredients are:
Water, Vaccinium Cyanococcus Juice (Blueberry), Butyrospermum Parkii (Shea Butter) (Shea Butter), Ethylhexyl Palmitate, Cocos Nucifera Oil (Coconut), Beeswax (Apis Mellifera), Glycerin, Glyceryl Stearate Citrate, Helianthus Annuus Seed Wax (Sunflower), Citrus Medica Limonum (Lemon) Extract (Lemon Peel Extract), Pyrus Malus Fruit Extract (Apple), Cetearyl Alcohol, Xanthan Gum, Phenethyl Alcohol, Cetearyl Glucoside, Glyceryl Caprylate, Fragrance
Price:
$9.99 for 4.5 fl. oz.
Does it live up to its claims?
For me, yes. This is a super creamy cleanser that I feel worked really well on my skin. It didn't irritate it at all. After washing with it, my skin felt really smooth. I liked the results. I've had really upset skin due to winter and allergies, so I'd been using straight shea butter under my eyes and anywhere I've been sore and it really helps my skin when it's dry or agitated, so I think the shea butter in this product is really fantastic. Mostly I've used this cleanser with my Clarisonic Mia and they pair together nicely.
Would I purchase again?
Yes, I would. I think it's a great cleanser for the price and it's my favorite cleanser out of all the ones that I've tried in the past six months. I'm really surprised by all the negative reviews it's received on Drugstore.com and Amazon.com. I can only think that perhaps most people aren't used to creamy cleansers. I know I certainly haven't used very many (I think this may have been the first that I tried), but I really love the results from this one. Using this led me to try other products in the Yes to Blueberries line, which I'll be reviewing.
Have you tried any of the Yes to line, be it Carrots, Blueberries or something else? If so, what was your favorite?
Product purchased by me. All opinions are my own.