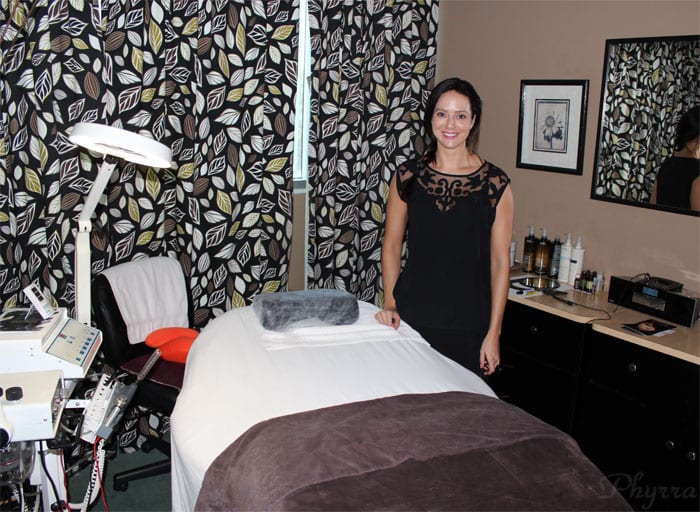 When I was at the Makeup Show Orlando I had the opportunity to meet with the vivacious Jo Mousselli, founder of Xtreme Lashes Eyelash Extensions. We discussed how Xtreme Lashes came to be, her background as an RN, and clients. She was one of the first lash extension companies on the market and her stylists are very extensively trained. Xtreme Lashes is one of the most respected lash companies doing lash extension installations.
PR Sample.
Xtreme Lashes Eyelash Extensions Experience
Since I'm extremely twitchy about having people touch my eyes, I couldn't fathom getting extensions done on myself, but my friend Melissa volunteered to get lashes installed on behalf of my blog.
When you hear nightmare stories about eyelash extensions, it's always about the budget places, never Xtreme lashes. This is one of the reasons I was terrified at the idea of doing this myself.
Xtreme lashes are semi-permanent luxury cruelty free eyelash extensions that are applied one at a time to each of your individual natural lashes. They're already curved, so you don't have to curl your lashes or apply mascara. They save you a lot of time and some money in that respect, because it gives you an automatic eye opening and brightening look without spending money on mascara or a curler. You're saving time because you're not curling your lashes, then applying mascara. Jo and Jen both explained that some women don't enjoy spending the time on makeup in the morning. They want to just be able to roll  out of bed and get ready and still look rested.
The initial installation can take 2 to 3 hours and normally costs up to $300. The maintenance fill ins are between $70 and $100. You can expect to spend up to $2000 / a year on these lashes. These are definitely a luxury item and they're for busy women.  Lashes will last for up to 6 weeks before they need a refill. People normally get refills done every 4 to 6 weeks, depending on their lash shedding cycle and the length of lashes. Refills can take anywhere from a half hour to an hour. It's not as long as getting the initial fill and consultation done. (Edit: I ran the numbers based on what Jen charges and I think it would be more like $1k / year in Orlando, Florida. $200 to $300 for the install and $70 per touch up. So if you get touched up every 4 weeks instead of every 6 weeks and you pay $200 for the install you would pay $970 a year. If you get touched up every 6 weeks it would be $830. Obviously the price is going to vary by city. I would bet that New York City and Los Angeles are more expensive than Orlando.)
Before you can begin getting your lashes installed, you will have a very thorough consultation with your stylist.
I was with Melissa through the entire procedure. Jen was the name of our stylist. She was very sweet. She went through the entire consultation process with Melissa. Jen asked Melissa what she was looking for, and Melissa said extreme party lashes. Jen evaluated Melissa's eye shape to determine where to place the 'accent' lashes that help to open up the eye.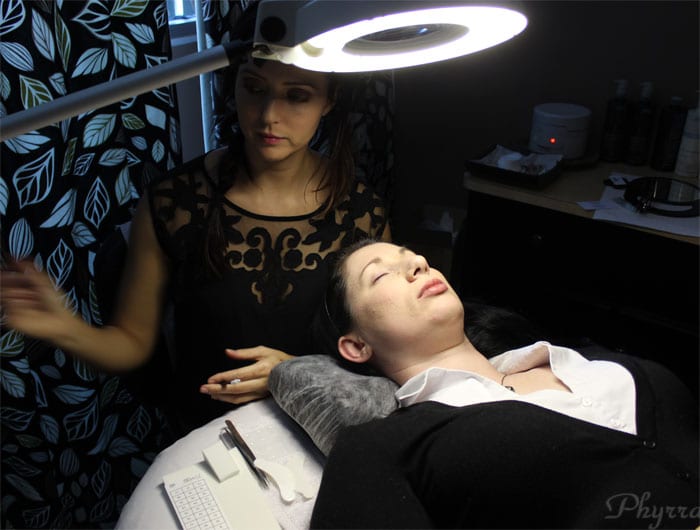 Jen determined the length of Melissa's natural lashes. Then the two of them hashed out how long they could make Melissa's lashes for party lashes vs. what Jen would typically do for lashes so as not to compromise the integrity of the lashes.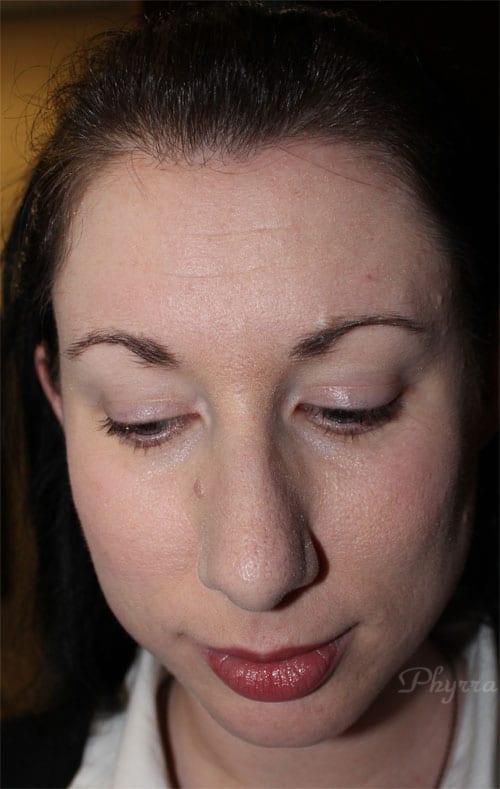 These are Melissa's natural lashes. She's got lovely lashes, but she often wears false lashes several times a week because she likes that extra kick.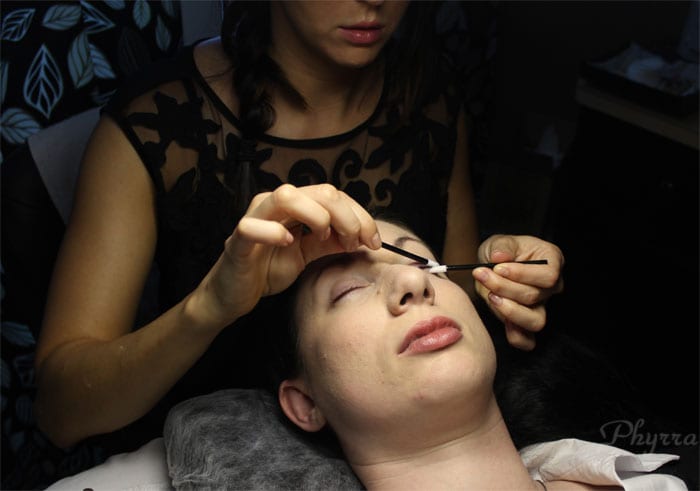 After the consultation was finished and the lash sizes decided, Jen cleaned Melissa's lashes thoroughly.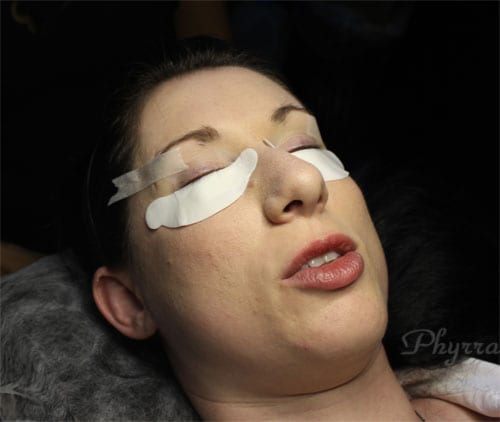 Then Jen prepared Melissa for the installation process.
The initial installation process takes 2 or more hours because the stylist is literally taking high quality lash extensions and using surgical grade special adhesive to attach them to each individual lash.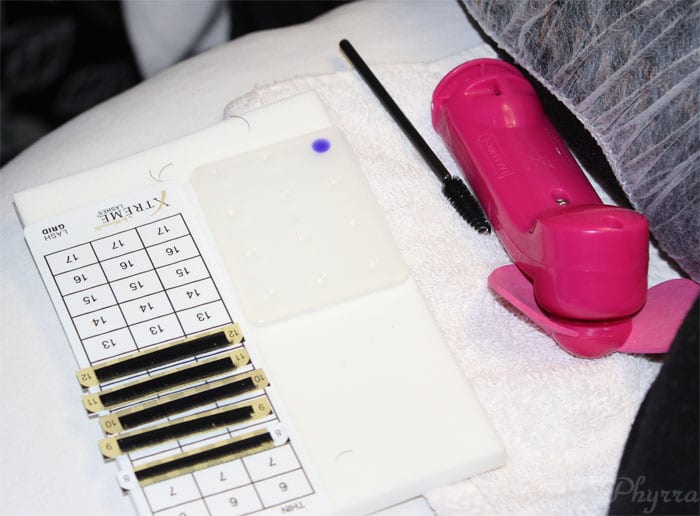 You can see the different lash sizes that are attached to Melissa's natural lashes to create a natural lash look (even if they are long party lashes). The blue dot is the adhesive that the very tip of the lash is dipped into, then wiped off, before it is attached to the individual lash. Jen freshened her glue and tools twice during the process, to make sure that she was working at optimum efficiency.
Jen applies lashes of different lengths to account for natural variation in human lashes, making sure that she had the two focal point accent lashes be the longest so that it really opened Melissa's eyes and flattered them.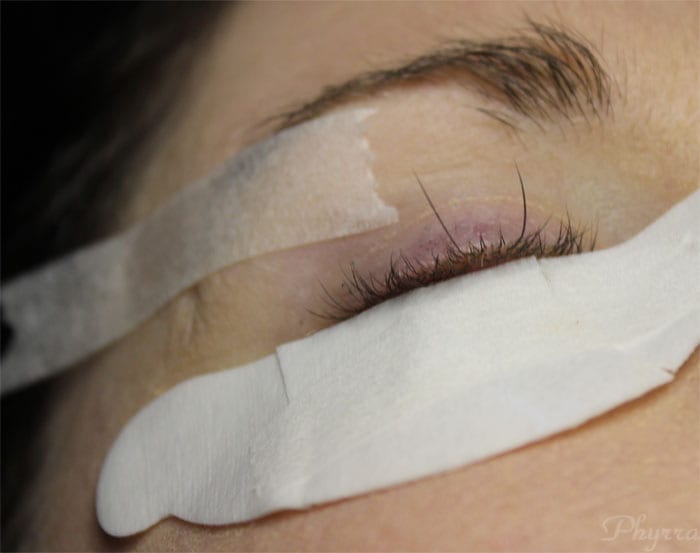 You can see some of the initial lashes attached.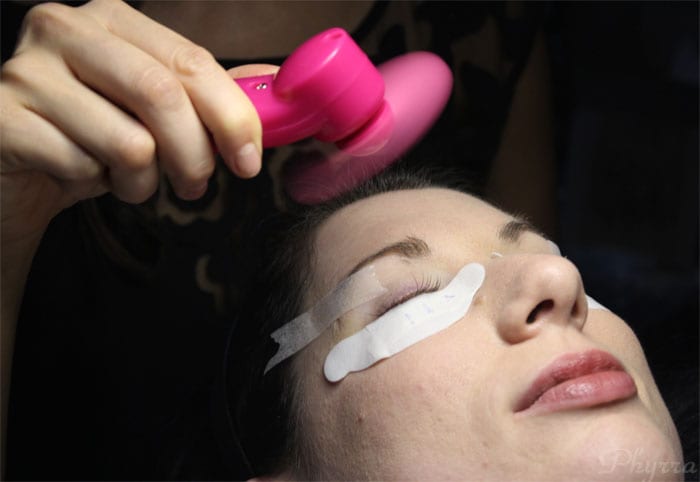 During the procedure, most clients relax or fall asleep! Because we were talking the entire time, the time we were there really flew by.
Melissa said the entire process was painless. She said it was a bit odd to feel her lashes getting moved around, but definitely not painful.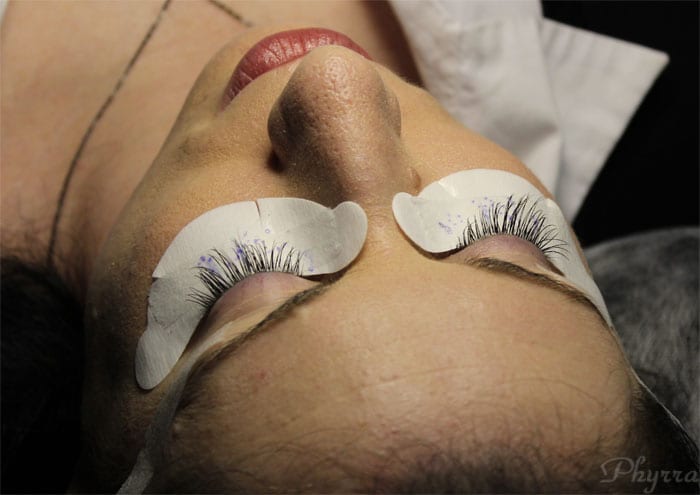 This is what it looked like when Melissa was nearly done.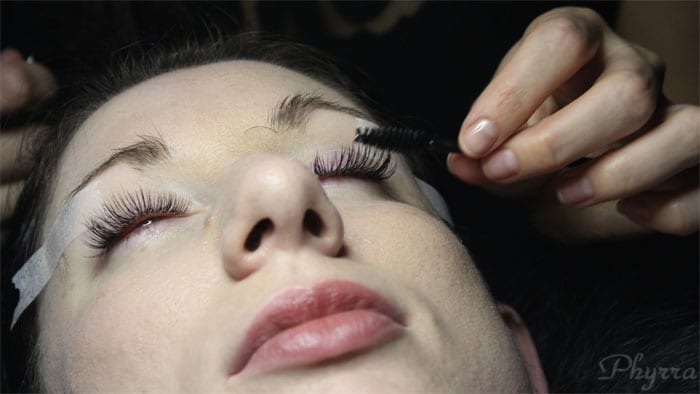 Jen's putting the finishing touches on Melissa's lashes.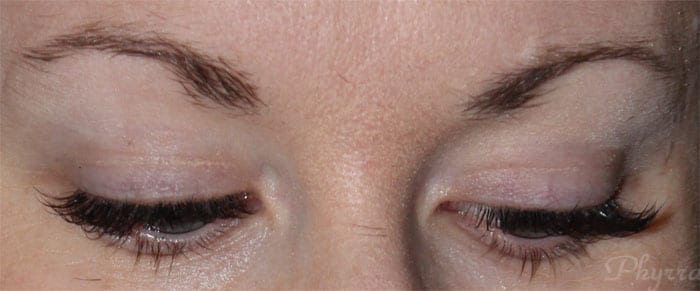 These are Melissa's finished Xtreme lashes. You can see that they have perfect curve! Xtreme lashes are made with a curve and when attached to the natural lash they keep them in shape.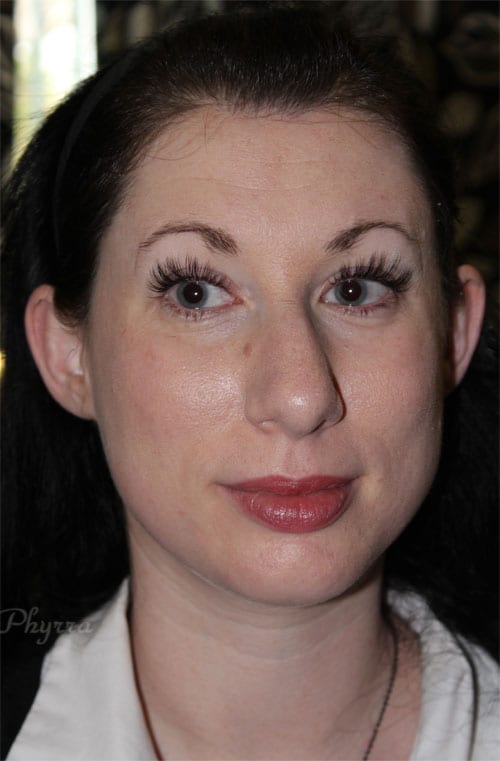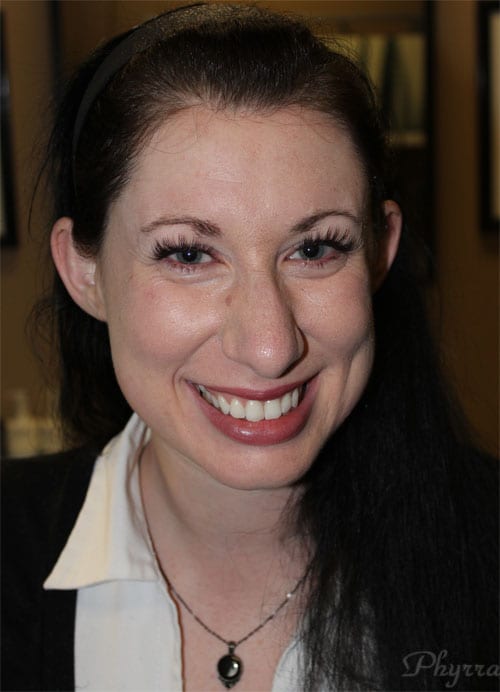 Melissa is ecstatic with her new lashes! Check out how gorgeous they look!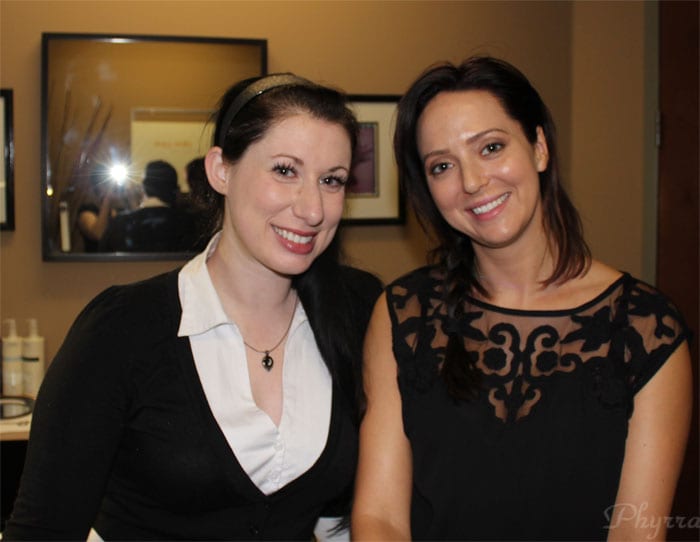 Melissa and Jen together.
Xtreme lashes typically last up to 6 weeks before they need to be filled. If you get more extreme party lashes, like Melissa's, they may not last as long. The reason the lashes come out are that your natural lashes shed, much like the hair on your head.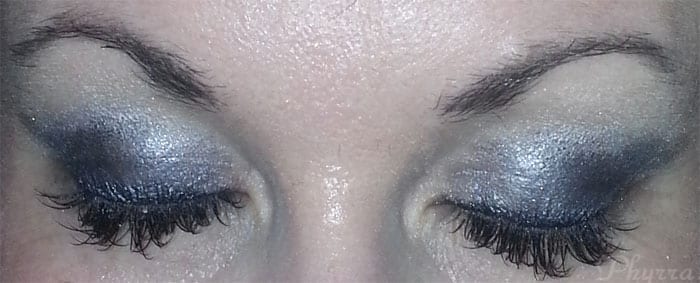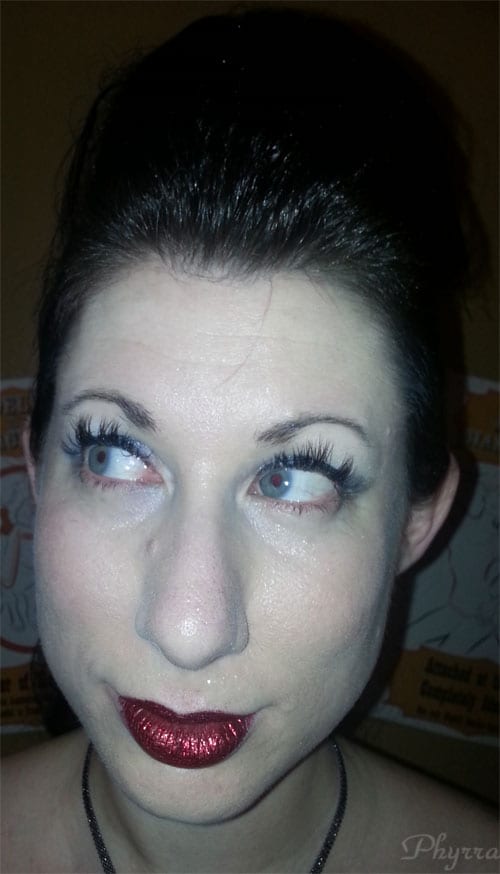 This is what Melissa's lashes looked like 1 week after the installation for her Halloween party (where I wore my mermaid costume). Please keep in mind that they had not been groomed into shape in several hours (it was a party). After vigorous activity of any sort you have to use a spoolie and groom them into shape.


These are Melissa's lashes two weeks after her installation. She said she's experienced minimal shedding. This was taken after she got home from work.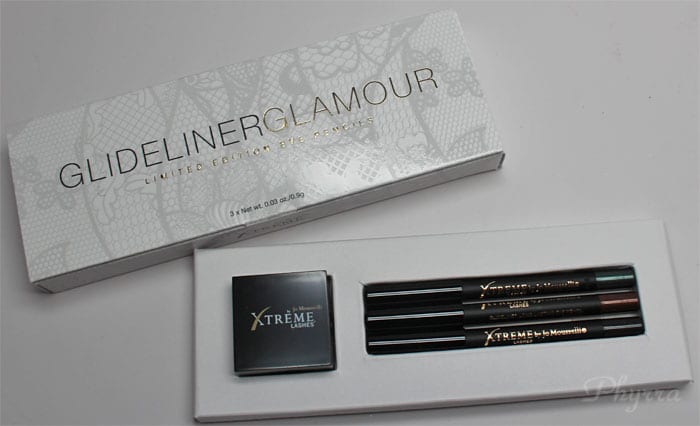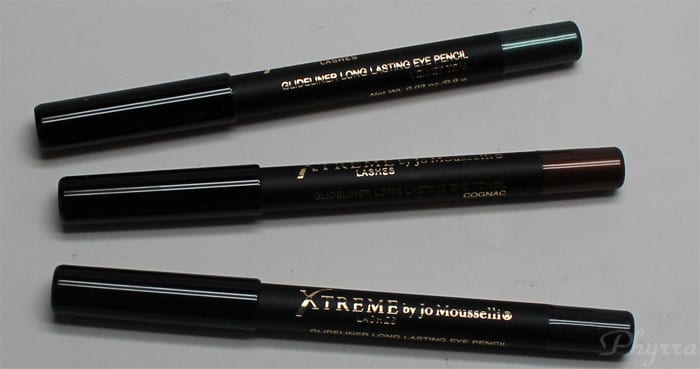 Jo gave me her Glideliner Glamour Holiday Trio ($34) to go with the lash extension for Melissa. I swatched the colors before giving them to Melissa for her to use.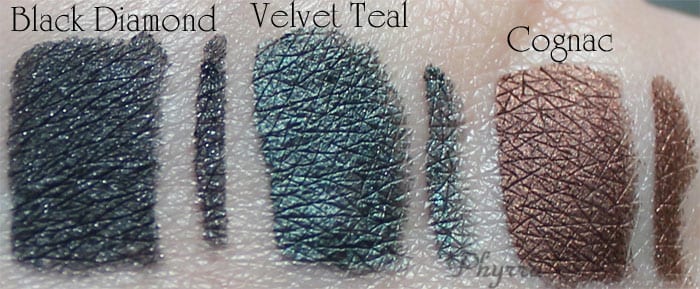 Black Diamond – soft black with silver shimmer
Velvet Teal – deep teal green with a blackened base
Cognac – rich coppery brown
Melissa says that overall she's experienced very minimal shedding and she's very happy with the lashes. She's constantly getting asked if she has falsies on. She loves the fact that it's so low maintenance! She doesn't have to put on mascara in the mornings before work, yet the lashes make her appear well rested and bright eyed.
With Xtreme lashes you need to avoid using an oil based makeup remover so that it doesn't interfere with the lash adhesive. You also don't have to use mascara or a lash curler, since your lashes are always perfectly curled. You use a little spoolie to groom your lashes carefully into place.
Xtreme lashes recommends using their eyeliners since they're specifically formulated not to interfere with the lashes or adhesive.
Overall, Melissa is very pleased with her lash extensions and is considering getting them filled once she hits the 6 week mark, this time with lashes that are not quite as long (though she loves the Party Lashes because she loves extreme lash lengths).
She has found the lashes very comfortable to wear and loves that she's constantly receiving compliments on her eyes. She says it makes her smile every time she feels her lashes fluttering in the wind.
I'm still not sure that I could handle the procedure though I really love the results! I really like the idea of not having to curl my lashes or apply mascara.
Edit: Visit www.xtremelashes.com for 20% off your purchase using promo code PRHOLIDAY20 until 1/5/2014.
I'm sure you'll love the Beginner's Guide to Eyelash Extensions!
What do you think of the luxury Xtreme Lashes Eyelash extensions? Would you try lash extensions? Have you tried them? Let me know what you think!
Last Updated on