Recently I had the opportunity to try out Whip Hand Cosmetics. Whip Hand Cosmetics is a cruelty free company. They've been raved about by makeup artists such as Kevin James Bennett. They've worked with Adrienne and Stephanie Vendetti of How to Be a Redhead to formulate a redhead specific collection. They offer a wide variety of makeup products.
PR sample.
Whip Hand Cosmetics Review
Whip Hand Cosmetics was founded by Riese Lauriat, a professional makeup artist. All of her products are made in Detroit Michigan by Whip Hand or with other companies that they've partnered with including Muse Beauty, Kett Cosmetics (a James Vincent favorite) and Esum Brushes.
I had the pleasure of speaking to Riese on the phone and she was amazing! She's a very sweet, creative person. She handpicked out the products that Whip Hand sent to me.
Price
$9 for .088 oz. Crème Eyeshadow
$14 for .10 oz Pure Pigment Loose Eyeshadow
$20 for .08 fl. oz. LIP HIT™ Long Wear Lip Veneer
$38 for 1 fl. oz. Give Good Face Rosewater Tonic™ and Skin Toner
$39 for 1 oz Set the Stage Makeup Primer
About Give Good Face Rosewater Tonic & Skin Toner
A moisturizing, alcohol-free rosewater face tonic & toner with hyaluronic acid that hydrates the skin, plumping and toning your complexion.
Ingredients
Rosa Centifolia Flower Water, Aloe Barbadensis (Aloe) Leaf Juice, Aqua, Glycerin, Sodium Hyaluronate, Phenoxyethanol, Methylparaben, Isopropylparaben, Isobutylparaben, Butylparaben.
My Thoughts
I'm really not a toner girl. I don't use toners on a daily basis and they're not a part of my beauty routine. So speaking as someone who's not into toners I think this toner is ok. I do like the fact that it's not alcohol-based or drying. It does have parabens, so if you dislike those, I would avoid it. For what it's worth, it felt nice on my sensitive, rosacea skin.

About Set the Stage Makeup Primer
Set The Stage Makeup Primer fills, smooths and re-texturizes the skin in preparation for applying foundation. This unscented, ultra light-weight (but professional-strength) face primer goes on silky smooth before transforming into a light, matte micro-powder that provides exceptional binding properties beneath a wide-range of foundations, including cremes, powders and high-definition foundations.
Ingredients
Cyclopentasiloxane, C30-45 Alkyl Cetearyl Dimethicone Crosspolymer, HDI/Trimethylol Hexyllactone Crosspolymer,Silica.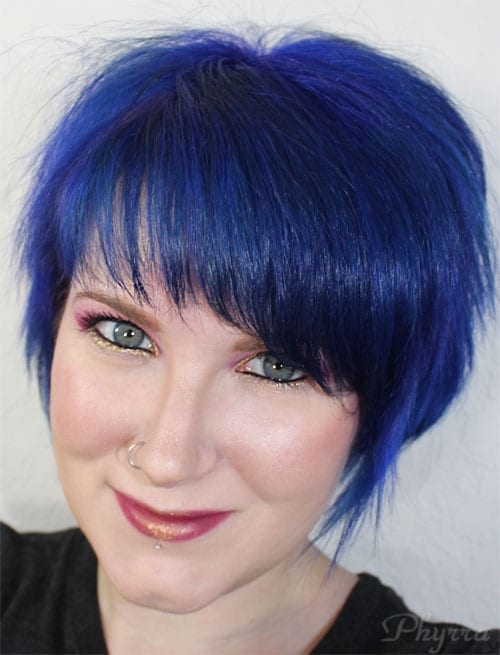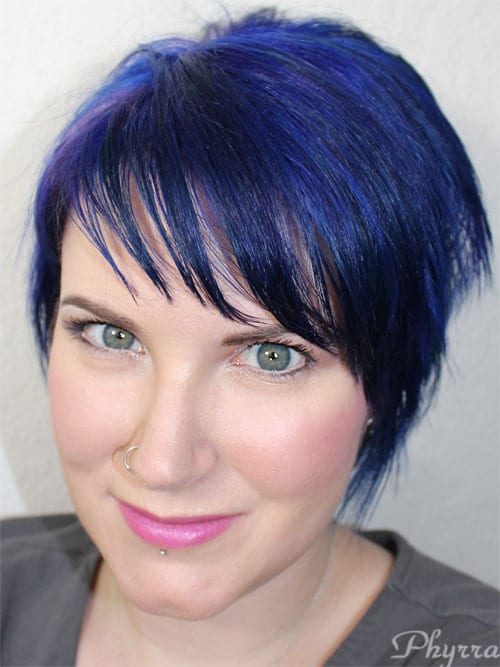 My Thoughts
I love the primer! I've tried it with powder foundation, liquid foundation, cream foundation, and cc creams. It does an EXCELLENT job of preparing the skin for foundation. A tiny bit goes a long way. Depending on the foundation I use, I see 9 to 12 hours of wear, which is great for me. I do think it's on the expensive side, as far as my indie face primers go. With my It Cosmetics powder foundation it ends up wearing off closer to 9 hours. With liquids or creams that I set with powder I see 12 hours.
All eyeshadows swatched on Coastal Scents Step One Eyeshadow Primer.

Starfish
deep blackened navy matte
Manor
charcoal black with turquoise shimmer
Action
Black with strong pink and violet shimmer. This is my favorite of the bunch.
Blacklight
grape purple with subtle turquoise shimmer
Lights
charcoal black with red and gold shimmer. This reminds me of UD Blackheart. I really like it.

Rocket
brown with red undertones and turquoise green shift, very smooth. Similar to many browns with turquoise green shift.
Pure Pigment Loose Eyeshadows
First, I'm torn on the packaging. I love the large pigment containers, BUT I think the mouth of the tube needs to be twice as wide (more like the size of the newer MAC pigment style), because the narrow mouth opening leads to a bit of a mess. While my small lid brushes can fit in it ok, it's hard to fit it n and tap off excess with the narrow mouth. A larger mouth makes that much easier. The narrow size makes it ideal for storage, especially for travel.
Second, I do like the formula and colors. I was especially impressed by the lack of fallout in Action. When I apply black eyeshadow, I typically end up with some fallout to clean up. It just happens. I went slow upon application and had no fallout to clean up. That is such a rarity. The rest of the pigments I tried were nice like this, with the exception of Starfish. Starfish (a matte), had a bit of fallout that was easy to clean up. I didn't feel like Starfish blended out as easily as the other shades, but it was pigmented.
Overall, I really like the eyeshadow formula by Whip Hand. I'm definitely interested in playing with some other shades, including Colada, Swamp, wink, Grouch, Boss and Gotcha. To me, Action and Lights are standout shades and worth checking out.


Axe Handle (creme)
sheer black

Witness (creme)
sheer light grass green

Tarot (creme)
sheer hot pink

Cheers (creme)
sheer white. This barely shows up on my skin.


Manor on top of Witness.  Action on top of Axe Handle, Tarot and Cheers. I layered the colors on top of each other to show how you could use them. The powder can set the cremes. The green of the turquoise green in Manor is enhanced by the Witness creme eyeshadow. Action was subtly changed by Axe Handle, Tarot and Cheers.
Creme Eyeshadows
The Cream eyeshadow formula was really sheer. I had to make several passes to build it up onto my skin. I did not like it and found it overall disappointing, except for Tarot (the pink). Cheers was the most disappointing because you couldn't really see it on my skin, so it just felt useless. I couldn't use it as a highlighter, nor could I use it like a white eyeshadow base (think like Nyx Jumbo Milk pencil). I'm still curious about trying the Creme shade Induction, described as purple, black, graphite and olive mixed into one. I'm also curious about Martini (smoky purple) and Corset (smoky brown with a hint of green).



Eyes
Too Faced Shadow Insurance
Whip Hand Action – lid, blended upwards into crease
Urban Decay Faint – crease, lower lash line
Urban Decay Naked2 – upper crease
Urban Decay Walk of Shame – browbone and inner corner of eyes
Fyrinnae Sled Puppies – center of lid
Tarina Tarantino Broken Doll – waterline
Tarte Rich Brown Brow Pencil
Too Faced Better Than Sex Mascara
Face
Whip Hand Set the Stage Face Primer
It Cosmetics Celebration Foundation in Fair
Lips
Whip Hand Itch (which I think is supposed to be Crave) Lip Hit


Yearn
Officially described as a soft nude pink. To me it's a soft baby pink. On my complexion it washes me out.

Itch
Officially described as a stunning lavender.  To me it's a soft mauve rose pink. I think my tube is mis-labeled because it's supposed to be a lavender color. I think my tube might be Crave (nude mauve pink)

Urge
Officially described as a purple with a green undertone. To me it's a deep purple and it has microscopic blue and violet shimmers. This color leaves a hint of a stain behind when I take it off, which I really like.

The Lip Hit Long Wear Lip Veneers come in a cool twist pen dispenser with a spatula tip, which I really love. What I dislike is the amount of product that you get for the price. At .08 oz for $20, it's on the expensive side of indie lip products to me. It does feel like a lipstick, not a lipgloss. It's not sticky at all. Instead it's very smooth on my lips. The colors are quite pigmented. It also feels moisturizing on the lips, yet it doesn't feather or fade on me. I got 5 hours of wear before I needed a touch up. If I don't use a clear lip pencil I experience a tiny bit of feathering at my lip line.  If I drink or eat I need to touch up sooner. The lip veneers stay moisturizing and feel good to wear for hours, but they do transfer if you go to kiss someone.
My favorite is Urge. It's an amazing purple shade. I'm not really fond of how Yearn and Itch (most likely Crave) look on me, but I think if you like shades like this  you'll like them on you. I think they all have nice texture and they feel good on the lips. I'm curious about Covet (nude peach) and Frenzy (blood red).
Overall, I really like the products that I tried from Whip Hand Cosmetics! I think the pigments are nice, especially Action and Lights. The Lip Hit Long wear Lip Veneers are interesting, both in the packaging and the formula. I like that it's moisturizing for hours, as well as pigmented. The primer is nice. I wish the creme eyeshadows were more pigmented, but maybe it's just the shades that I tried.
If you're looking to try a new indie company, I definitely think you should see what Whip Hand has to offer. They always offer free shipping, no minimum order.
What do you think of Whip Hand Cosmetics? Have you tried them?