Saturday Ray and I drove to Orlando to meet Kelly from Vampy Varnish for the firs time face to face. If you're stalking me on Instagram you already know this 🙂 Maria (Cult Nails you NEED to see her awesome Outfit of the day posts), Cristina (Let Them Have Polish) and Mr. LTHP, Kari (Once Bitten – she blogs completely on Instagram now) and Steph (Imperfectly Painted) also joined us. We went to the Earl of Sandwich at Downtown Disney and spent several hours hanging out and chatting. It was so nice to be able to do that!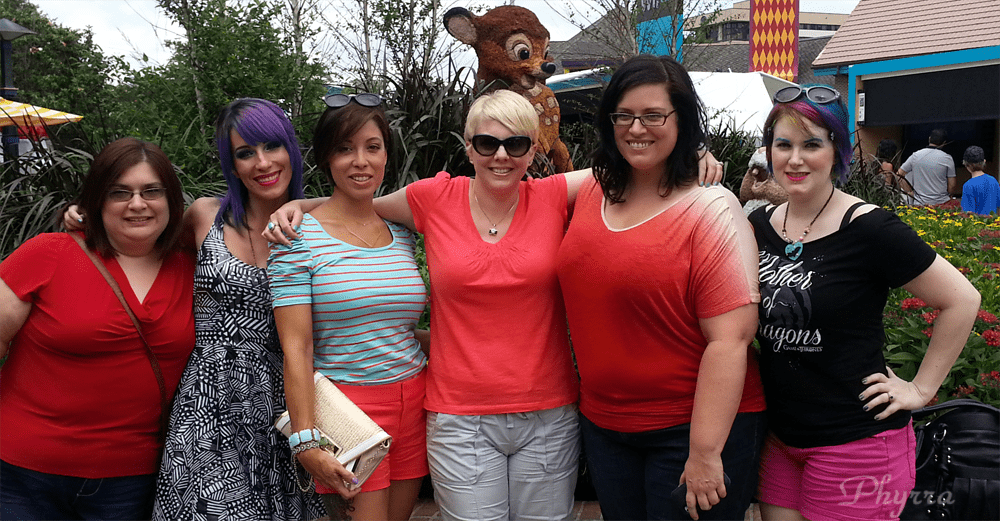 L to R – Steph, Cristina, Maria, Kelly, Kari and me
Steph was wearing red. Cristina was in her new love, Black Milk. Maria was in a gorgeous mint and coral number. Kelly also wore coral. Kari was wearing an orange ombre type shirt.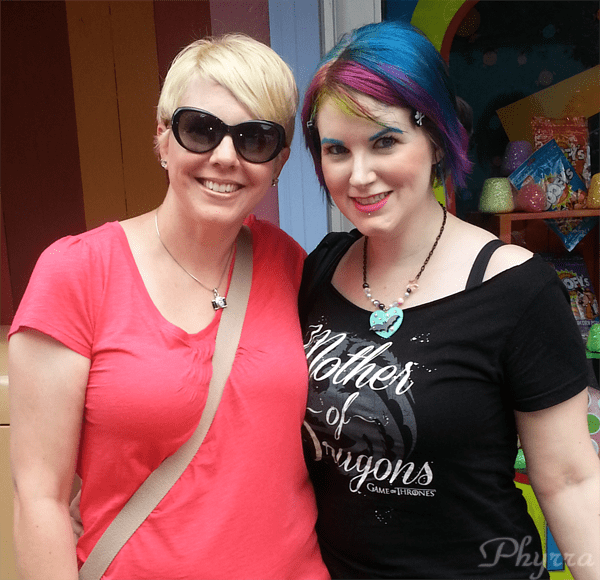 Kelly and me 🙂 She was wearing a beautiful coral shirt.
Ray's Shirt – Winter is Coming
My Shirt – Mother of Dragons
My Shorts – Denizen Levis in Fuchsia
My Shoes – Crocs Molalla II
Sandal
My Hair – tokidoki hair clips
This is, in my opinion, the best way for people to match. Wearing shirts in the same fandom that aren't the exact same shirt is kind of cute 🙂
Products Used
PCA Skin Weightless Protection SPF 45
It Cosmetics Celebration Foundation in Fair
Kat Von D Everlasting Blush in Wish
Kat Von D Everlasting Love Liquid Lipstick in Backstage Bambi
Anastasia Hypercolor Brow Powder in Electric Blue
Jesse's Girl Waterproof Liquid Liner – upper lash line
Kat Von D Waterproof Autograph Pencil in Puro Amor – lower waterline
Physicians Formula Organic Wear Mascara
Physicians Formula Fake Out Mascara
Anastasia Lash Genius
I need to tell you the KVD pencils lasts well in my waterline and does not come off on my contacts and make them cloudy indoors. However, in the Hot humid summer Florida heat after being outside for 4 hours the pencil came off of my waterline and smudged under my eye a bit. Still a vast improvement over anything else that usually comes off on my contacts instead, making them cloudy and impeding my vision when my allergies strike.
That said, my liquid eyeliner, my mascaras, brow powder, and lipstick did not budge. At all. They withstood the brutal Florida heat and humidity outside with no AC for about 4 hours.

Base coat – JINSoon Power Coat
Main Color Left Hand – Wing Dust Sleepless Summer Nights
Main Color Right Hand – Nubar Hot Blue
with a coat of Wing Dust Sleepless Summer Nights on top
Accent – Wing Dust Night Fury
Top Coat – KB Shimmer Clearly On Top Quick Dry Top Coat
Makeup Bag – tokidoki 24 Karat
makeup bag
I've got a thing for jelly nail polishes these days, especially jellies with interesting shimmer.
What did you do on Saturday? What did you wear?
Last Updated on