I wanted to share my before and after with Valspar Rushing Stream with you. I've mentioned that I have a lot of paint projects planned, and so far my MIL and I have completed two of them. We have 3 more on the list.
Before and After with Valspar Rushing Stream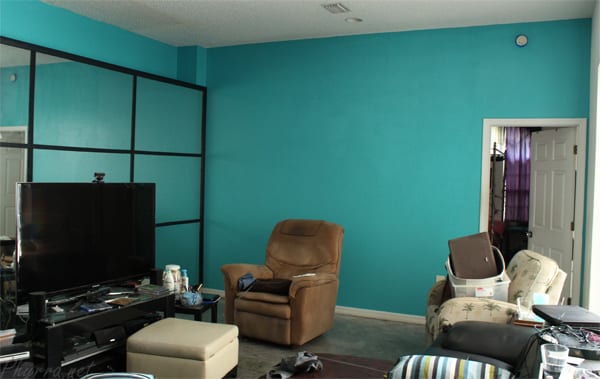 We bought 2 gallons of Rushing Stream Ultra Interior Satin Base B, Paint + Primer. To do the main wall and the tiny strip above the mirrored wall it was just about 1/2 (maybe slightly less) a gallon. I was very impressed as this particular color only needed one coat. I thought we'd have to do 2. Rushing Stream is the perfect color to brighten the room and it looks so crisp with the black.
In the background you can see into the master bedroom and peek at the curtains I made for my upside down U window in there.
I finally decided on a white paint for the rest of the living room. I'm using 85% white with 15% being a tint of Rushing Stream. However, my next paint project will be my master bathroom. For that room I chose Valspar Pantone Peacock, which is a deeper teal blue.
I definitely feel like everything looks better with color. Hope you enjoy seeing my projects!
Last Updated on