Today I'm excited to bring you the all new Urban Decay Vice 3 palette! Urban Decay has teased us mercilessly on Instagram with promos for this palette that have left us panting. Now they finally are releasing the palette. I created video so you could see the colors in action. The Vice 3 palette is part of Urban Decay's Holiday 2014 collection.
Urban Decay is cruelty free and Leaping Bunny certified.
About the Urban Decay Vice 3 Palette
20 all-new shades make up this perfect go-to palette. Every shade has a metallic finish that echoes the iced-out metallic look of the palette itself.  We developed 50 shades to bring you the perfect 20 in the perfect order. We arranged the shades in columns, neutrals on the left, jewel tones in the middle, and smoky shades on the right. Pair up the vertically color-coordinated quads or go wild and mix them up.
cruelty free
extra slim case
double ended makeup brush (shadow and crease) included
matching makeup bag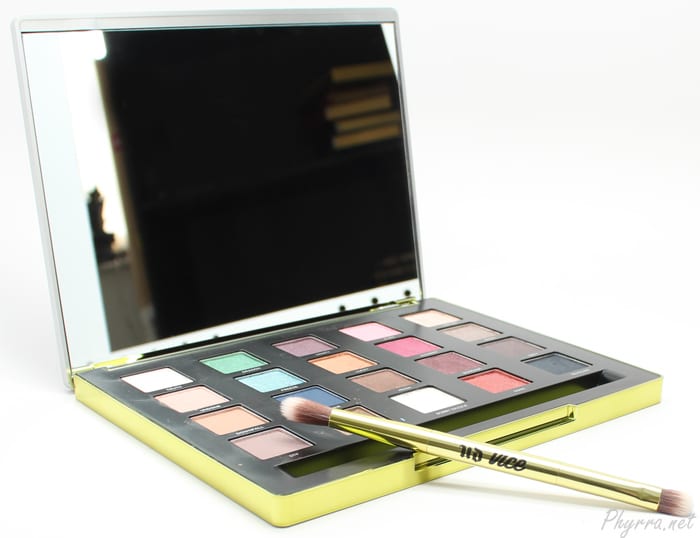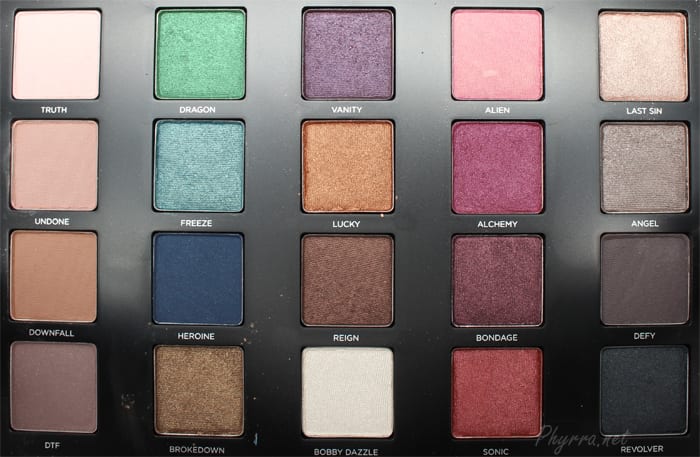 Price for the Vice 3 Palette
$60 for 20 x .03 oz each

If you like this video give it a thumbs up, share and subscribe!
Availability
UrbanDecay.com, Sephora, Ulta, Macys, Beauty.com starting Sept. 13, 2014.
I swatched the Vice 3 Palette on eyeshadow primer.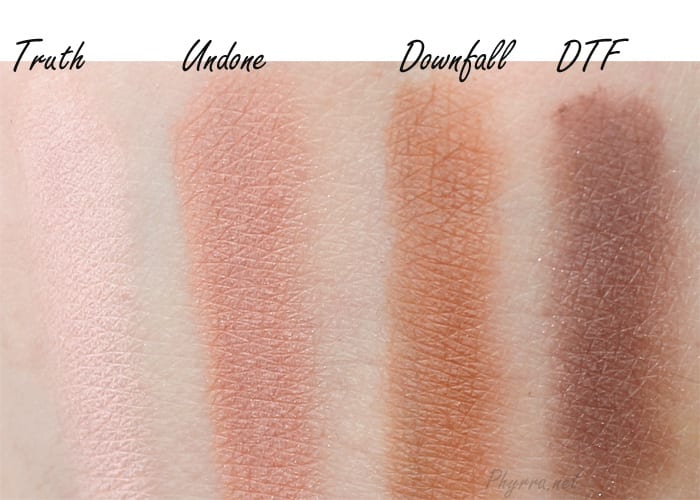 Truth
pale pink-nude matte
My Take
pale pinky peach matte, powdery
Undone
pink-beige matte satin with subtle floating tonal pearl
My Take
light beige with pink undertones satin, powdery
Downfall
warm light brown matte
My Take
light warm brown matte
DTF
taupe matte with subtle floating pearl
My Take
midtone taupe matte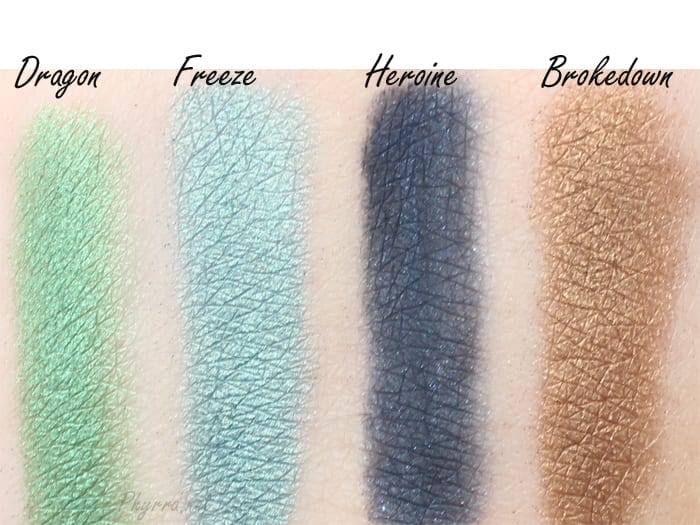 Dragon
bright metallic green shimmer
My Take
beautiful metallic green
Freeze
metallic medium blue with multidimensional micro-glitter
My Take
awesome mermaid blue
Heroine
deep navy blue with subtle tonal floating pearl
My Take
rich deep navy blue satin
Brokedown
metallic golden brown shimmer with gold micro-glitter
My Take
golden brown topaz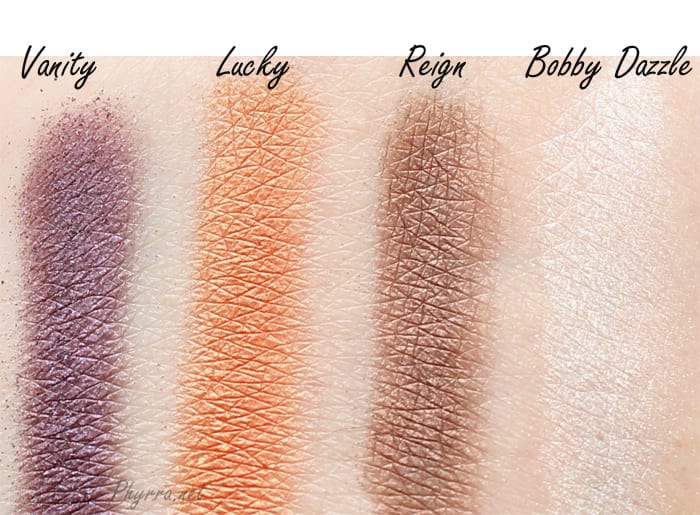 Vanity
smoky metallic eggplant with multidimensional micro-glitter
My Take
red-toned purple mtallic
Lucky
metallic bronze
My Take
orangey bronze metallic
Reign
rich brown satin
My Take
midtone brown
Bobby Dazzle
metallic white with pale gold micro-glitter
My Take
white with gold glitter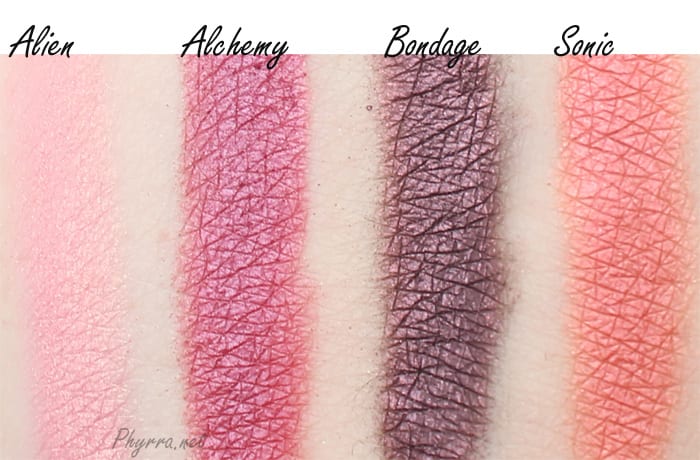 Alien
pink-peach with golden shift
My Take
gorgeous pink with golden shift, a glowy shade
Alchemy
deep fuchsia satin
My Take
rich burgundy satin
Bondage
deep smoky burgundy shimmer
My Take
dark smoky burgundy
Sonic
metallic red-copper
My Take
metallic red copper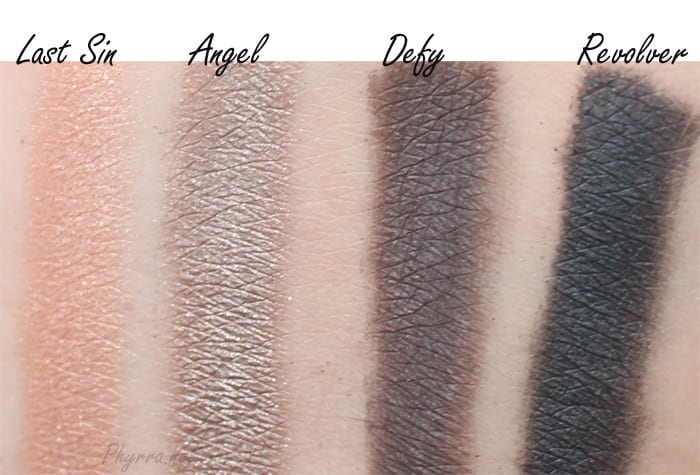 Last Sin
champagne shimmer with silver microglitter
My Take
peachy champagne shimmer
Angel
light taupe with silver micro-glitter
My Take
light grey taupe
Defy
smoky taupe satin
My Take
deep grey taupe satin
Revolver
soft black satin with subtle floating iridescent pearl
My Take
soft black satin. I wish this had been a black with strong blue iridescence or a blue-black pearl shade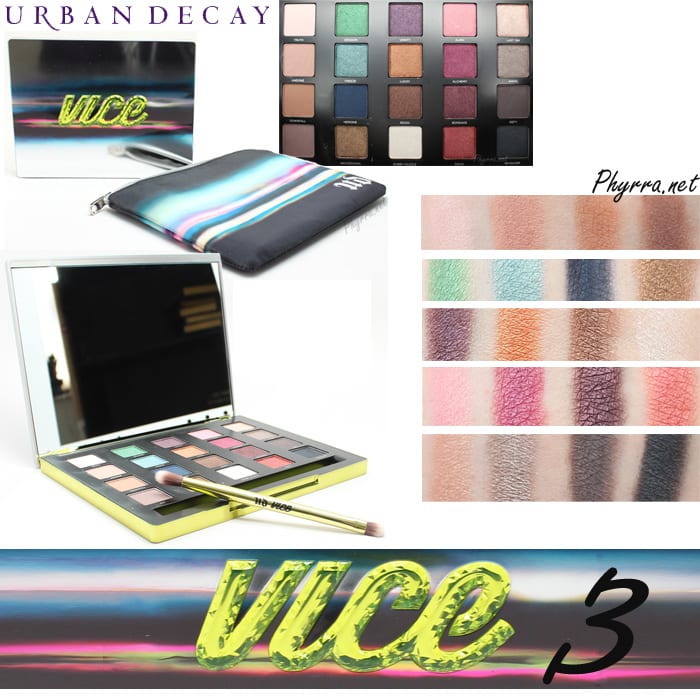 Urban Decay Suggests these combinations for the Vice 3 Palette
Truth, Undone, Downfall, DTF
Dragon, Freeze, Heroine, Brokedown
Vanity, Lucky Reign, Bobby Dazzle
Alien, Alchemy, Bondage, Sonic
Last Sin, Angel, Defiy Revolver
My Shade Recommendations
Lucky, Sonic, Bondage
Freeze, Vanity, Defy
Bobby Dazzle, Dragon, Heroine
Last Sin, Undone, Downfall
Check out my original Vice Palette Review, or see my Vice 2 Palette Review.

My Thoughts on the Vice 3 Palette
The packaging is cool. I love the chartreuse back. I love how chartreuse Vice is raised in the cut gem style on the front. It's definitely the brightest, most unusual packaging that I've seen from Urban Decay.
The Vice 3 palette contains .60 oz of eyeshadow (.03 oz each x 20). A typical Urban Decay eyeshadow single is $18 for .05 oz. For .6 oz of product, that's 12 full size eyeshadows, which would cost you $216. Instead of 12 full size, you're getting 20 (slightly more than half sized) shades. The brush is probably valued at around $20, since that's what the Naked Basics Double Ended brush sells for. So for $60 you're getting a great deal, in my opinion.
Aside from a few of the shades being powdery, I liked the formula of the colors. While I felt like there were more neutrals and taupes than necessary, the brights more than make up for it. I am surprised that there's not a teal blue in the palette. I do wish that Revolver was a blue black. I'm in love with Alien, Alchemy and Bondage. Dragon, Freeze, Heroine, Vanity, Bobby Dazzle and Last Sin are pretty. I think I could love Sonic for a Fall look, especially if paired up with Lucky.
I'll be taking this palette on my trip with me. I can't wait to create looks with it!
What are your thoughts on the new Vice 3 Palette? Is it a must have?