Urban Decay was inspired by the new Disney film, Oz The Great and Powerful to create the Theodora palette. One of my favorite actresses, Mila Kunis, plays Theodora. (Check out my review of the Glinda the Good Witch Palette.) This limited edition palette is all about the bad witch! This set includes "duo-shades" that are split in half, with a different color on each side of the pan. They also come with a travel-size 24/7 Glide-on Eye Pencil and a Super-Saturated High Gloss Lip Color pencil.

The Theodora palette has design of darkness around the edges, encroaching on the bright skyscape in the center.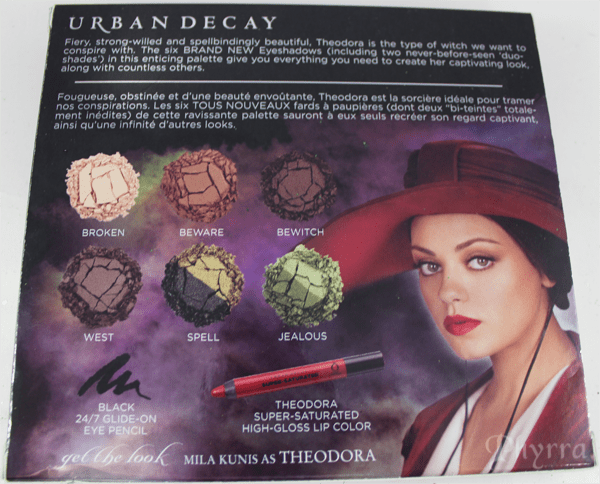 The Theodora Palette – $49.00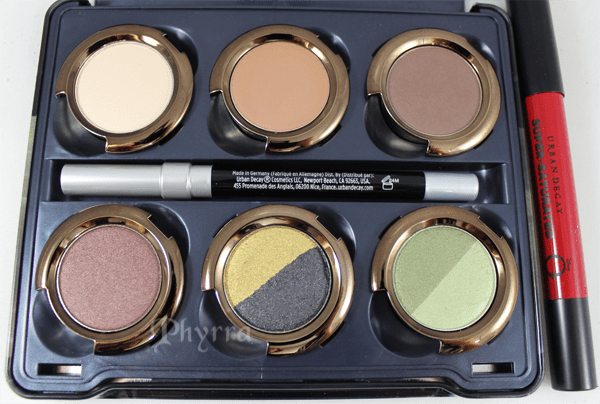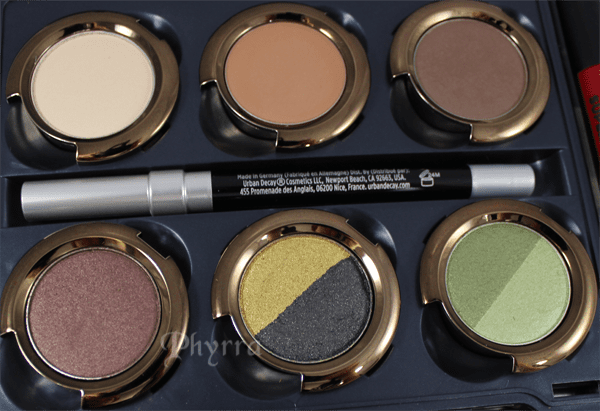 Top Row: Broken, Beware, Bewitch, Theodora lip pencil
Middle Row: Zero eyeliner
Bottom Row: West, Spell, Jealous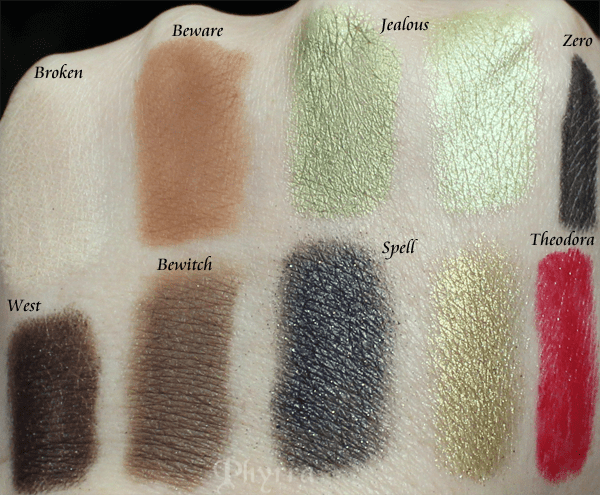 Broken
Pale cream satin
My Take
Light creamy beige.
Beware
Warm brown matte
My Take
Deep warm caramel brown matte. Of the mattes, this is my favorite shade.
Bewitch
Dark charcoal brown satin
My Take
Deeper neutral brown.
West
Deep metallic brown shimmer
My Take
Dark metallic brown.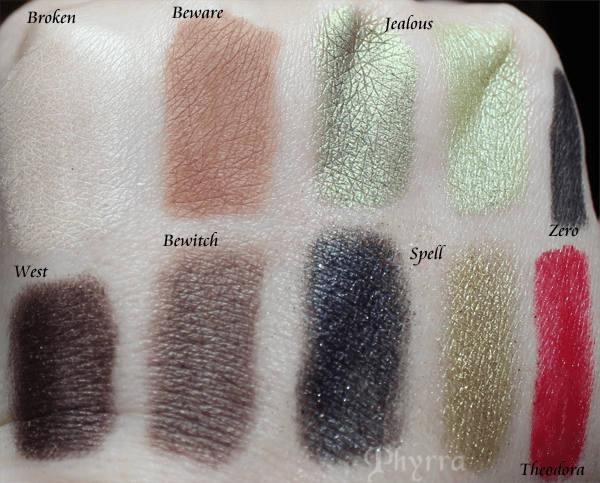 Spell
Black satin with green and gold shimmer
Gold metallic with tonal glitter
My Take
Satiny black with green sparkles and slight golden-green iridescence. I really like this shade!
Yellow-toned gold, reminiscent of El Dorado, with gold glitter. Sadly, it had fallout.
Jealous
Pale green pearl
Dark green pearl
My Take
Iridescent green. This is fun when you layer it on top of the black Spell shade.
Midtone green with yellow undertones.
Theodora Super Saturated High Gloss Lip Color (.10 oz)
Bright red cream
My Take
Glossy red.
Zero 24/7 Glide On Eye Pencil (.03 oz, Travel-sized)
Black
My Take
Matte black liner.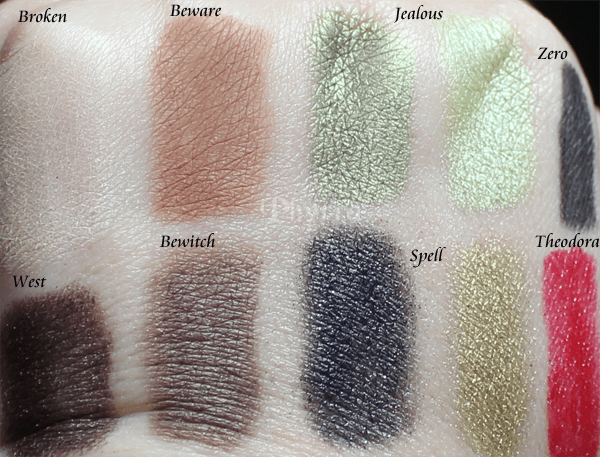 The eyeshadows total $108 for .05 oz each. The lip pencil is .10 oz for $19. The travel size pencil is .03 for about $14. Typically the Build Your Own Palette costs $18 and comes with the Walk of Shame eyeshadow (a great nude skintone shade for blending out the edges of color) and a travel size eyeshadow brush.  Depending on the value that you assign the LE palette packaging, the total value for each set is between $141 – $159. To me, this is a great deal for $49, especially if you're a fan of the Wizard of Oz and love the packaging.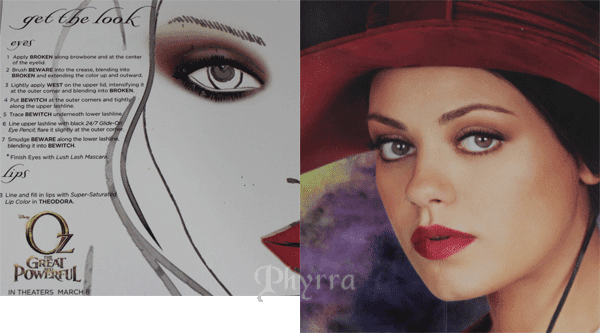 This set also comes with a sultry tutorial to evoke the bad girl, Theodora.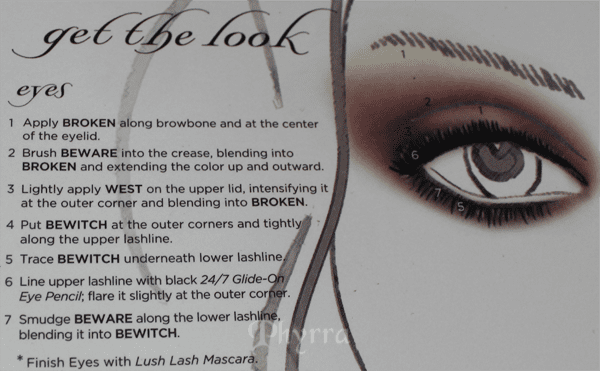 Do you need this palette?
I have a feeling that between the two palettes, Glinda and Theodora, this is the palette that will be the most popular. It's got a ton of brown shades. If you're a fan of Urban Decay, of the Wizard of Oz or brown shades, you need this palette! The only color I'm not fond of is the gold Spell shade that has gold glitter with icky fallout. Additionally, in my opinion, this set is a great value for the price of $49.
With this palette, my favorite shades are the black Spell shade and both shades of the Jealous shade. When you layer the lighter, iridescent Jealous green on top of the black Spell, it really brings out the iridescence in Spell. I also like the Theodora lip pencil. And of course, the tutorial is great! I am so pleased that Urban Decay included 'Get the Look' cards. I really love those!
What do you think of the Urban Decay Theodora Palette?
Product sent for consideration. All opinions are my own.