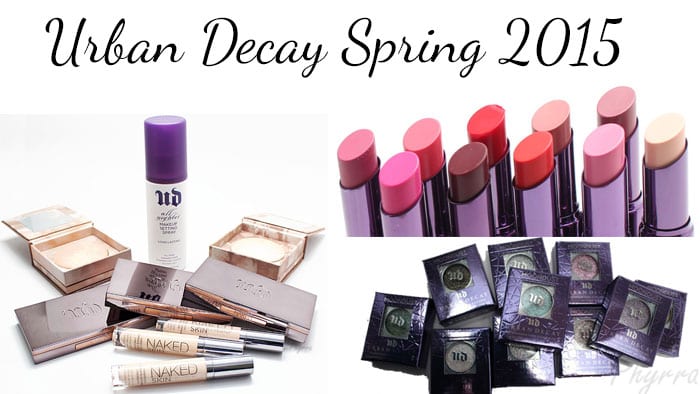 Happy Monday! The Urban Decay Spring 2015 collections will soon be available from all the places you normally get your UD fix. I wanted to share my thoughts on the new releases with you. This is a very picture heavy post.
Urban Decay Spring 2015
The Urban Decay Spring 2015 collection is made up of 4 new Moondust eyeshadows, 10 new Sheer Revolution Lipsticks, 8 new Naked Skin Weightless Complete Coverage Concealers, 14 new Naked Skin Ultra Definition Powder Foundations and the Mascara Resurrection.
Urban Decay is cruelty free and Leaping Bunny Certified.
Don't forget to enter my New Year Giveaway!

If you like this video please give it a thumbs up, share and subscribe!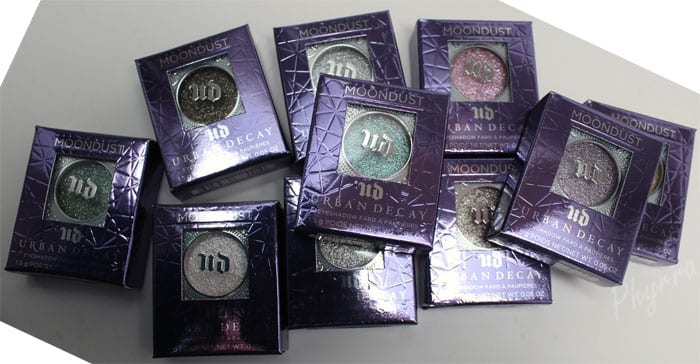 I'm an eyeshadow fiend so I've got the Moondust eyeshadows up first. These are glittery eyeshadows. To prevent fallout, spritz products like e.l.f. Studio Makeup Mist & Set or UD's All Nighter Spray on your eyeshadow brush, then apply the Moondust. Or, use UD Bondage on top of your eyeshadow primer to lock in the sparkles for all day wear.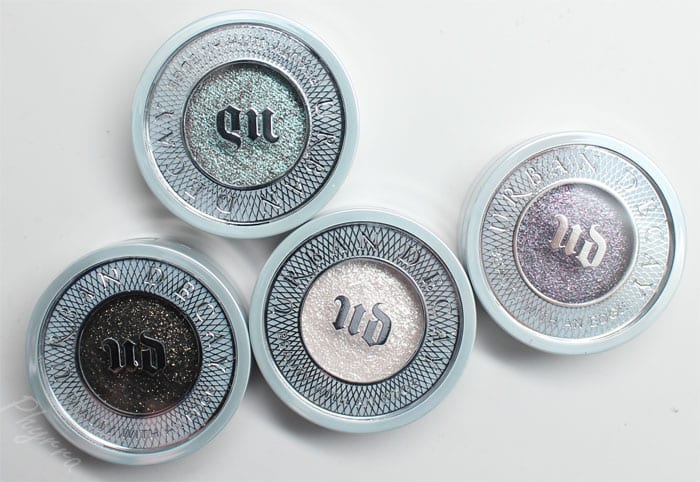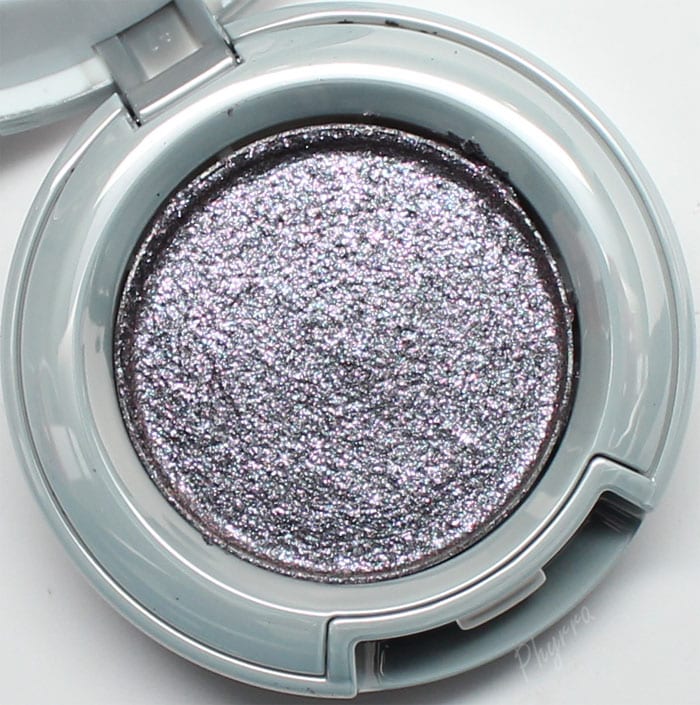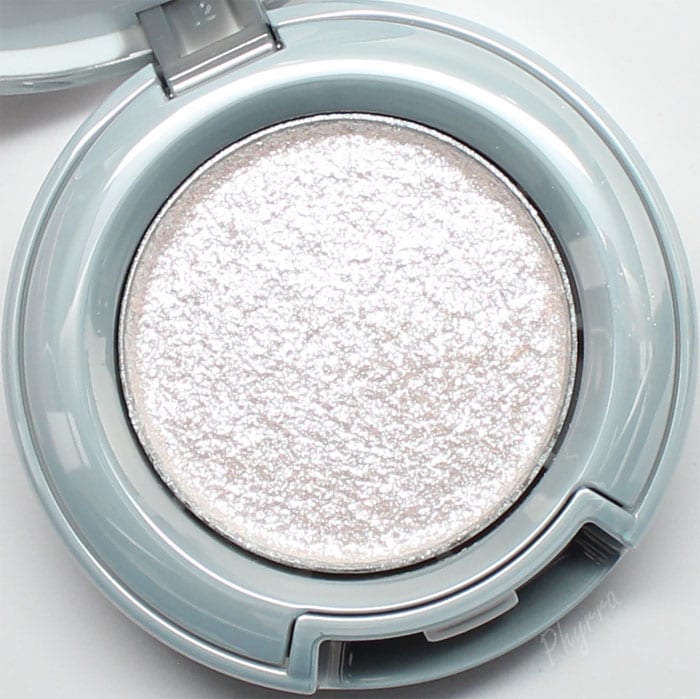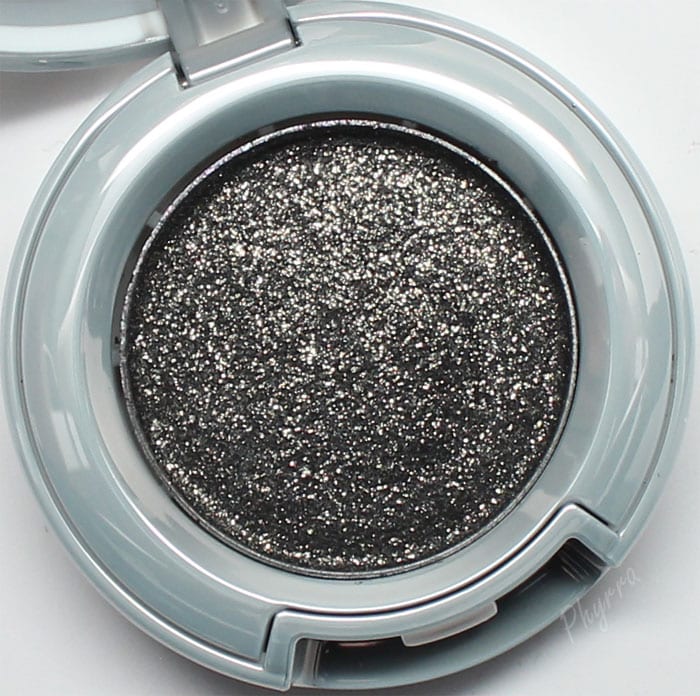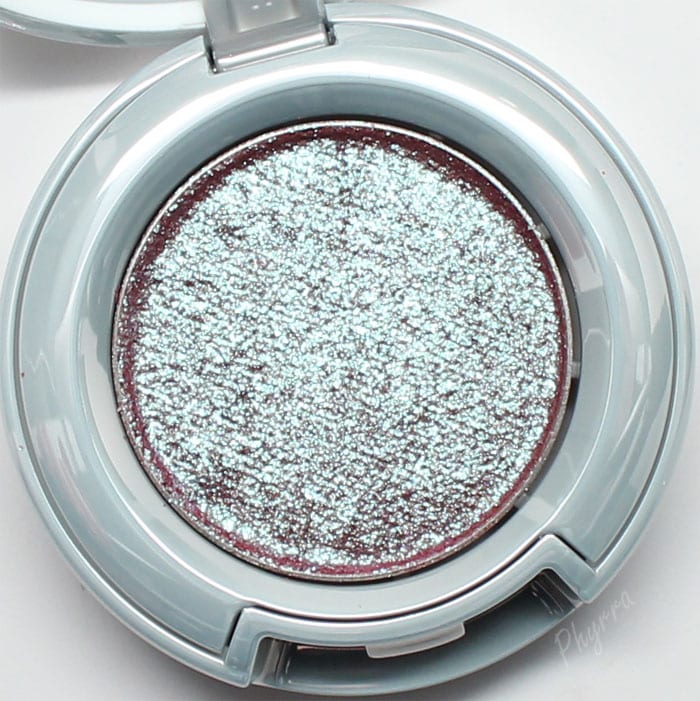 All eyeshadows are swatched on Urban Decay Anti-Aging Eyeshadow Primer Potion with Urban Decay Bondage on top so that I could bring out their 3-D qualities.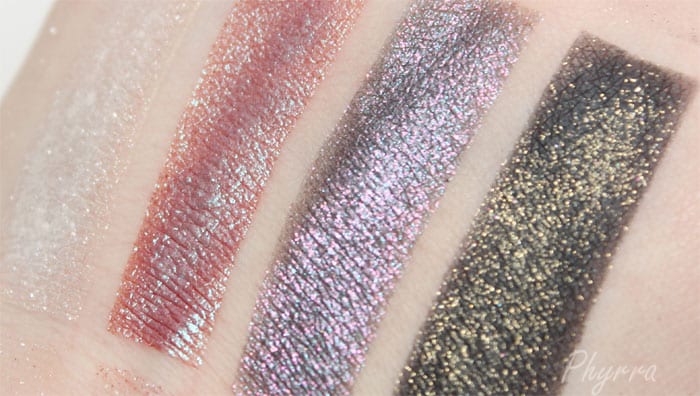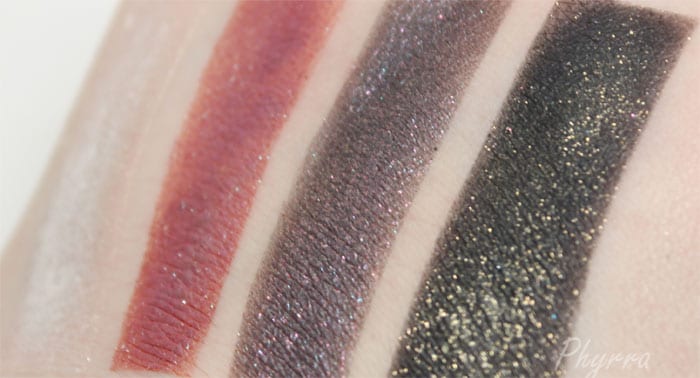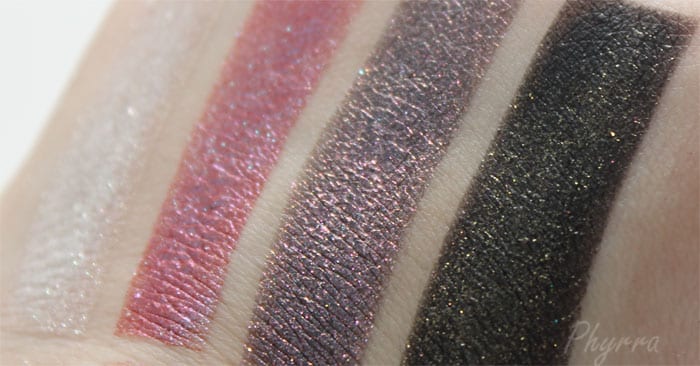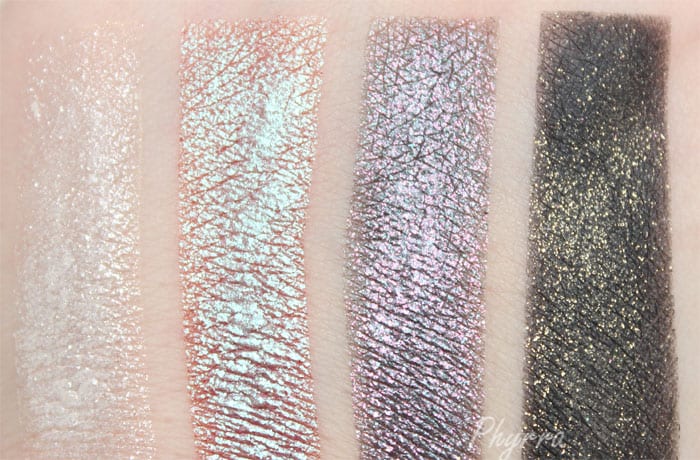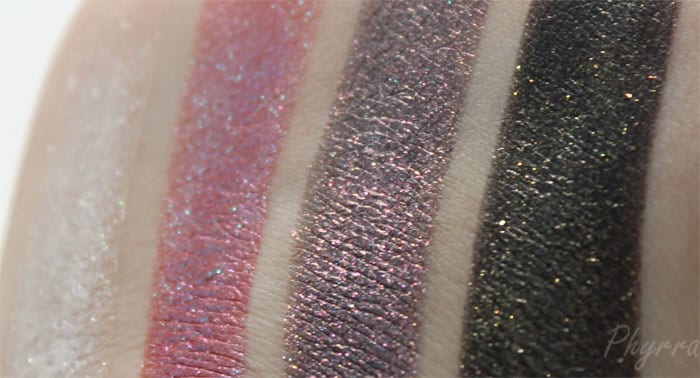 Cosmic – metallic white with iridescent 3-D sparkle and shift (reminds me of Fyrinnae Unicorn, looks like a metallic white with pink and blue sparkles)
Solstice – metallic pink-red with green 3-D sparkle and shift (looks more pink with turquoise blue shift to me)
Ether – light purple with pink-blue 3-D sparkle and shift (looks like light purple with a grey base and pink and and blue sparkles. I feel like you can see hints of gold too)
Scorpio – matte black with gold 3-D sparkle (reminds me of an amped up version of Urban Decay Cobra, a favorite shade of mine that was discontinued)
I tried to capture the color shift for you in pictures but I think the video does a better job showing off the colors. See the other Moondust shades here.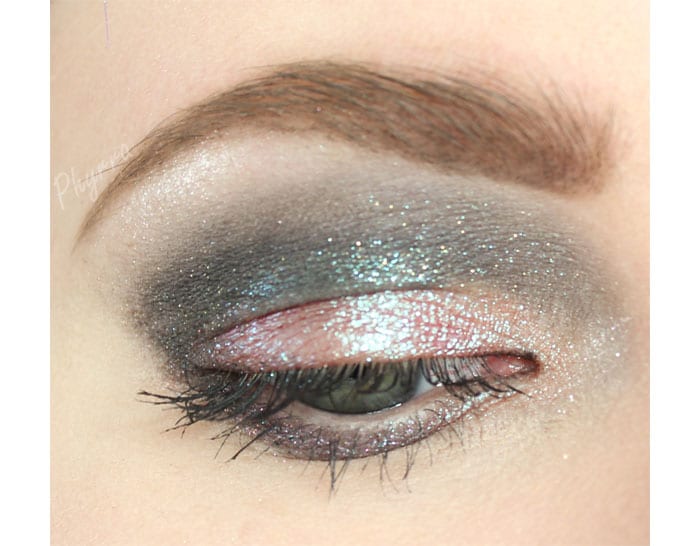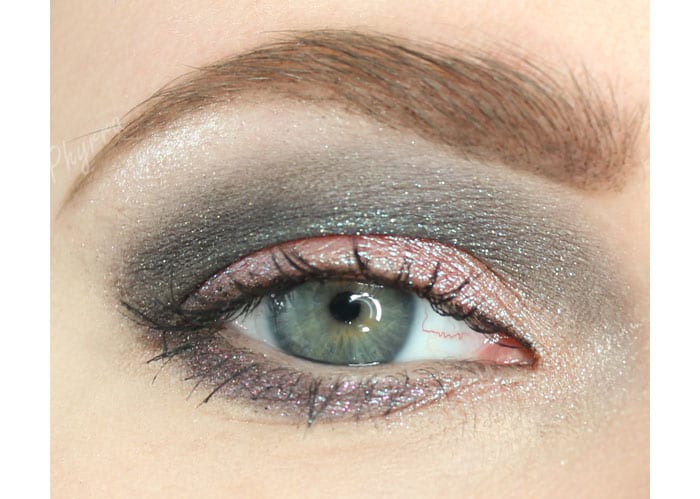 I wore all 4 of these shades in a look. I used TFSI eyeshadow base and UD Bondage to hold the eyeshadows in place. After 7.5 hours I had very minimal creasing in my crease (you can see it in the video) but my eyeshadow was fine elsewhere.
Next up is the Urban Decay Sheer Revolution lipsticks. Think of these as ultra moisturizing tinted lipsticks combining the nourishing ingredients of the Ultra Nourishing lipglosses with the awesome formula of the Revolution lipsticks. (See the Naked Ultra Nourishing Glosses and the Revolution Lipsticks). The Sheer Revolution Lipsticks will be $20 each.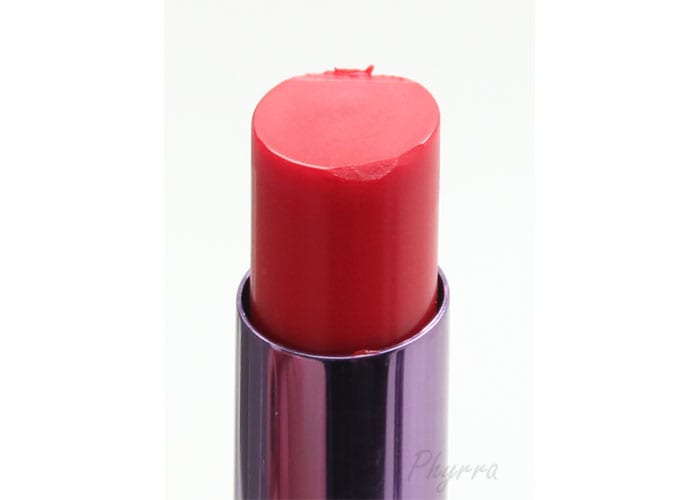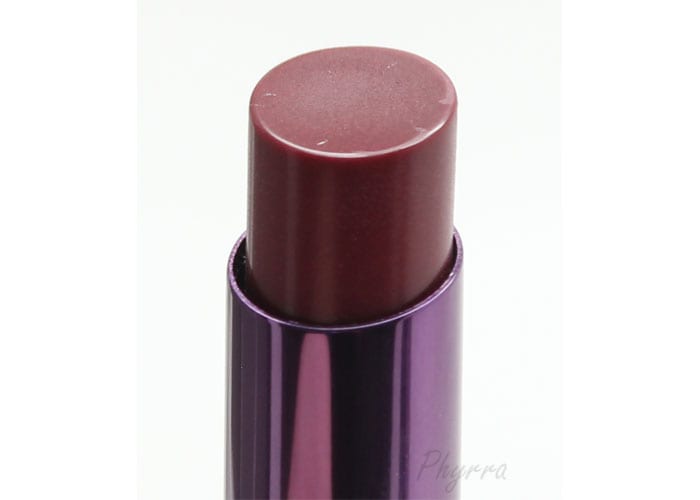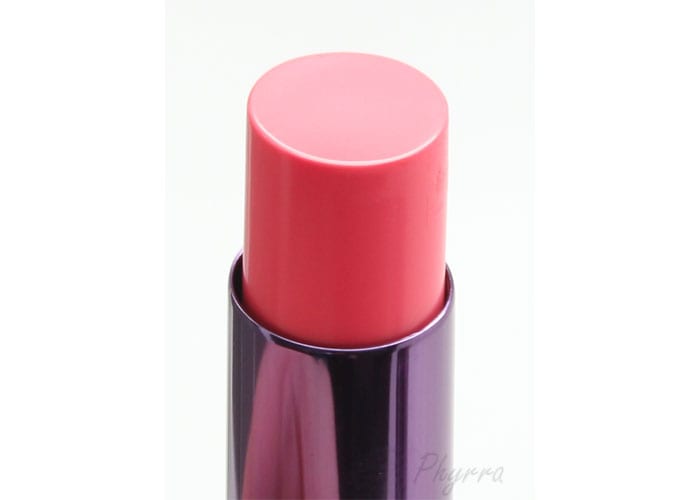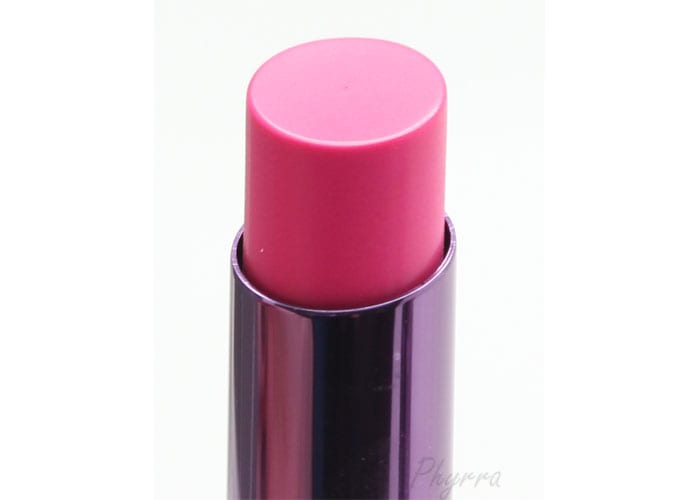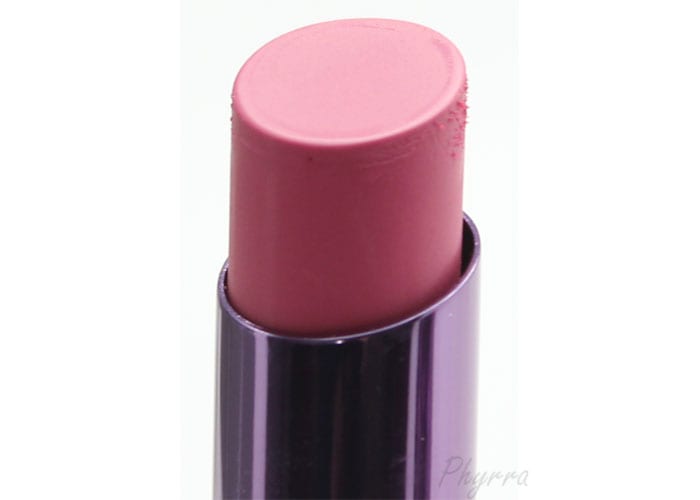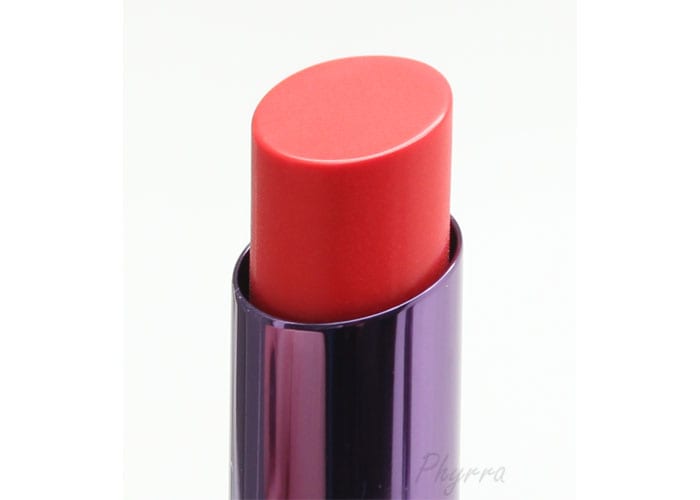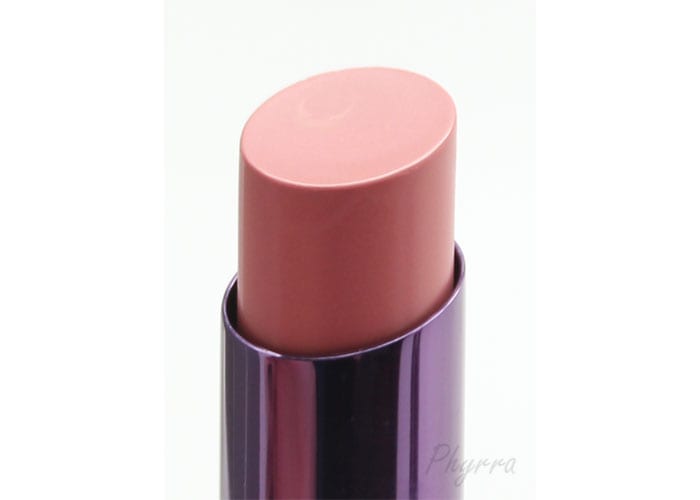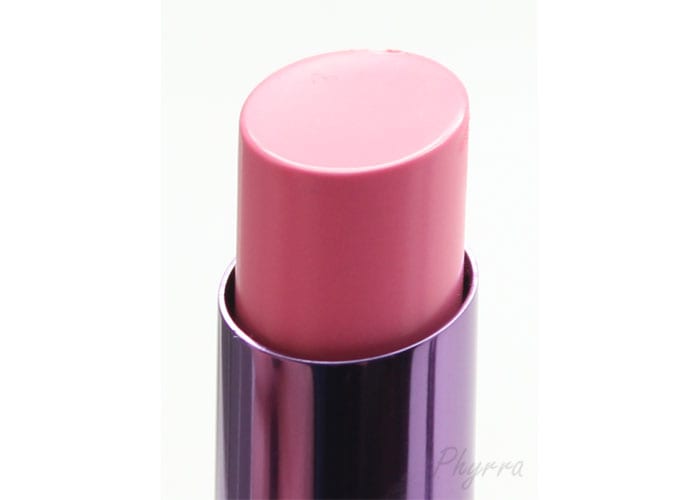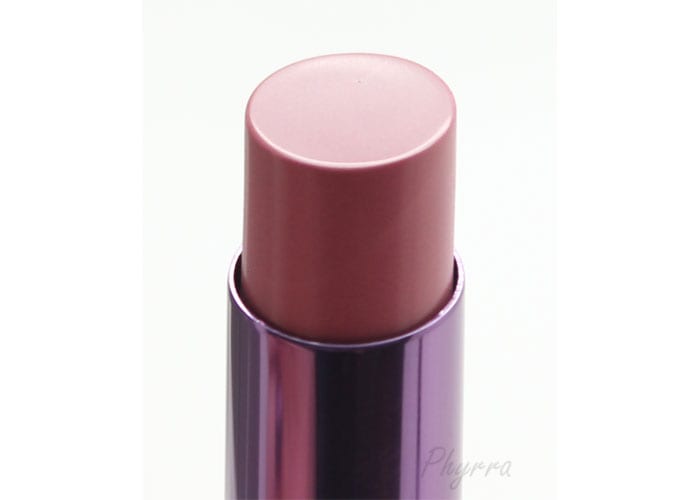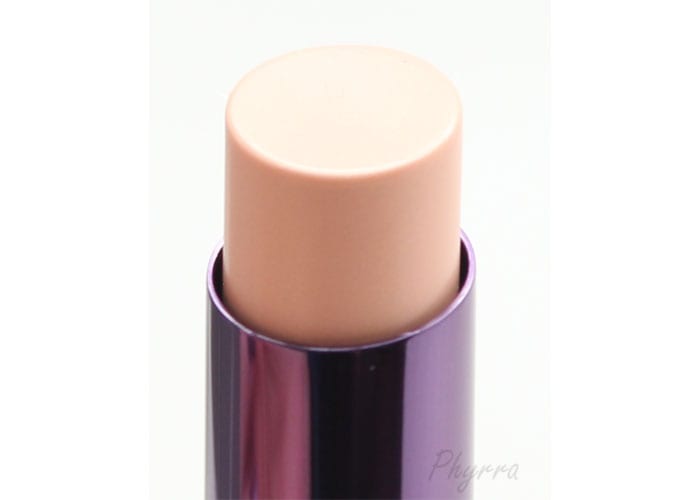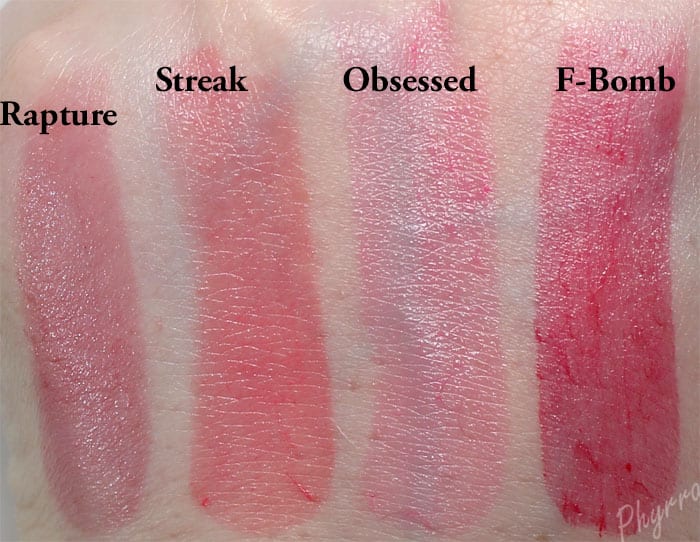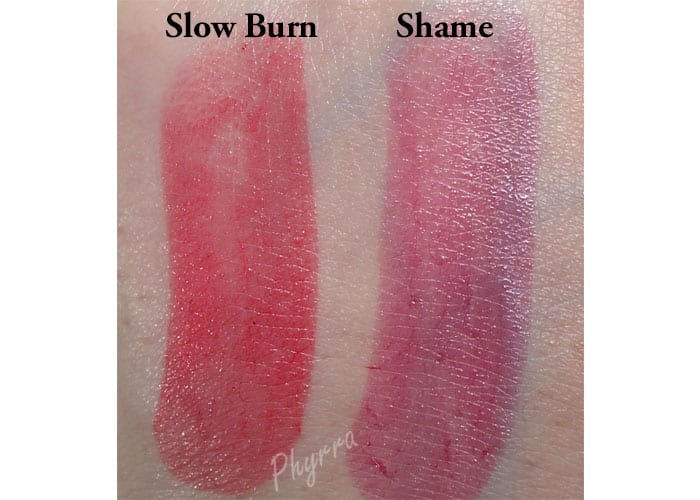 I used lip balm before swatching. I used coconut oil and lip balm in between swatching. My bare lips are on the left. The Sheer Revolution Lipsticks are on the right.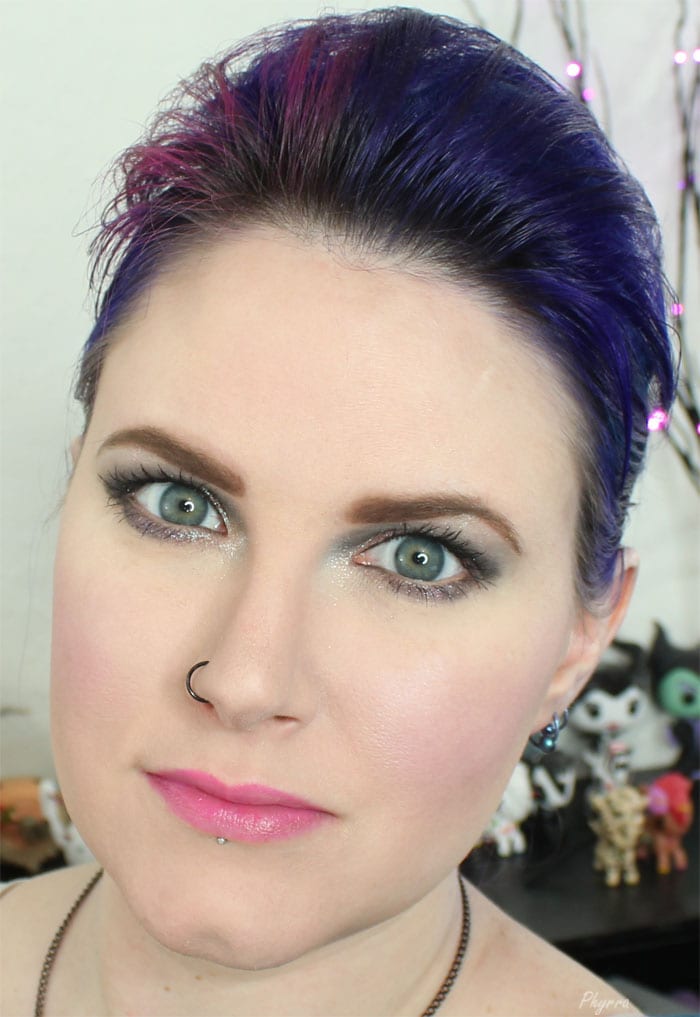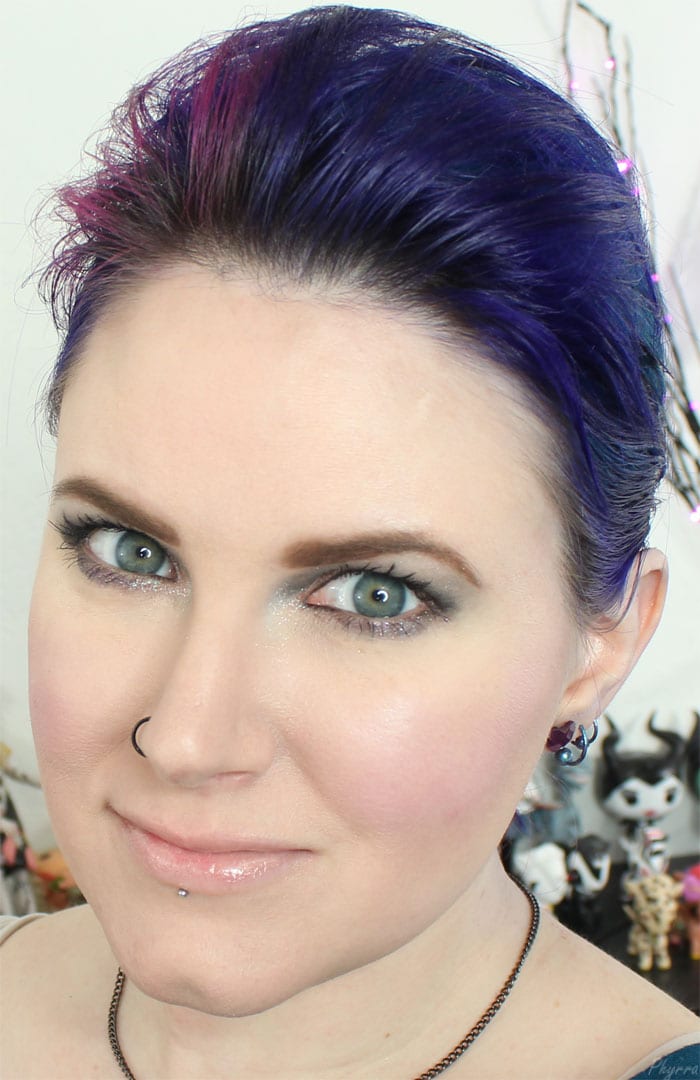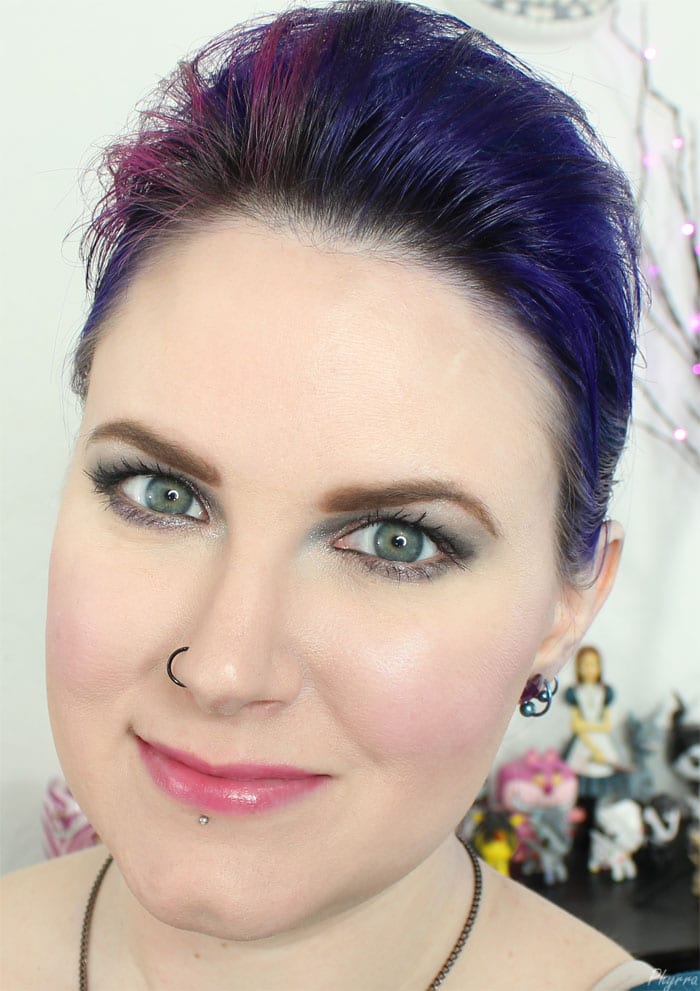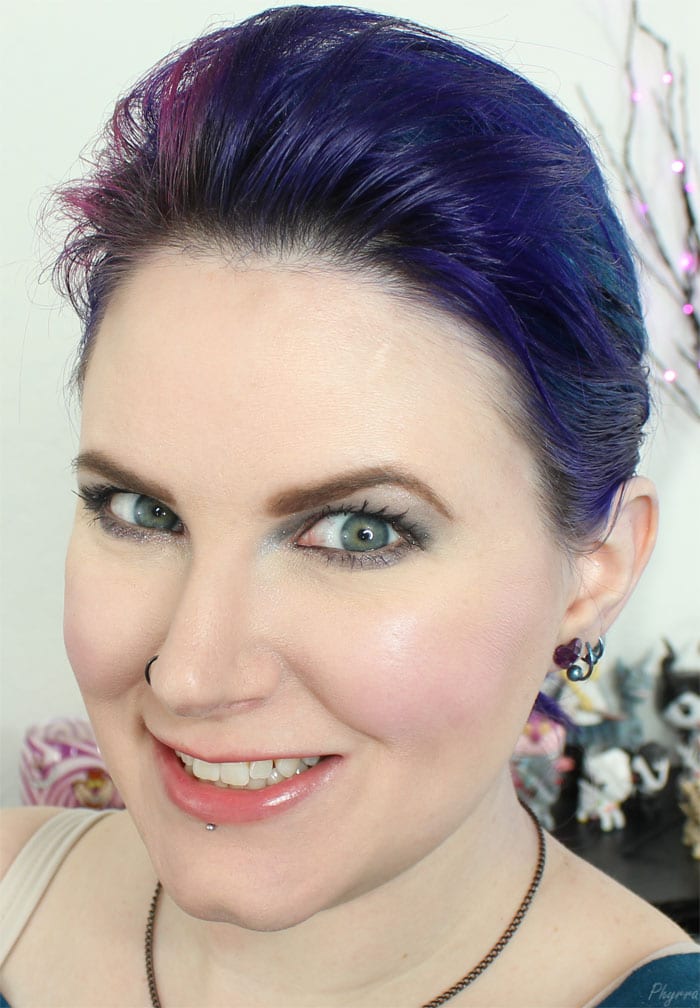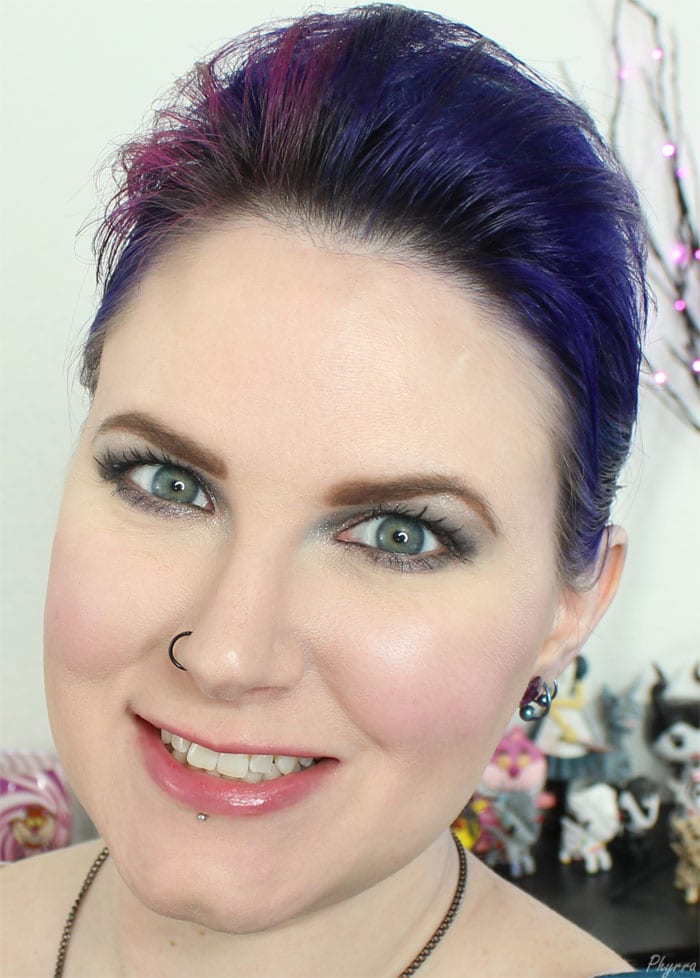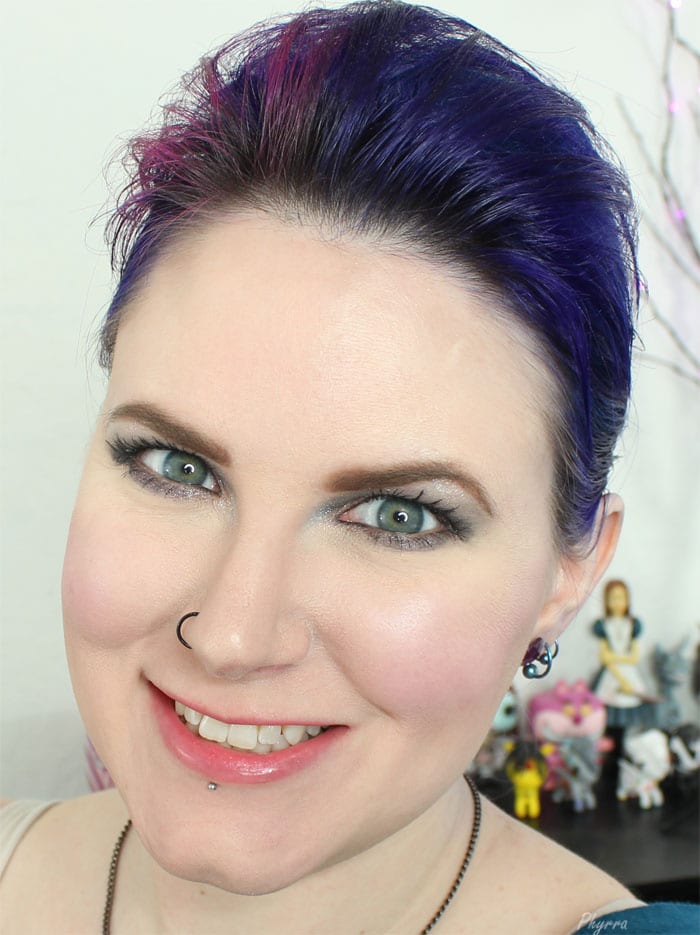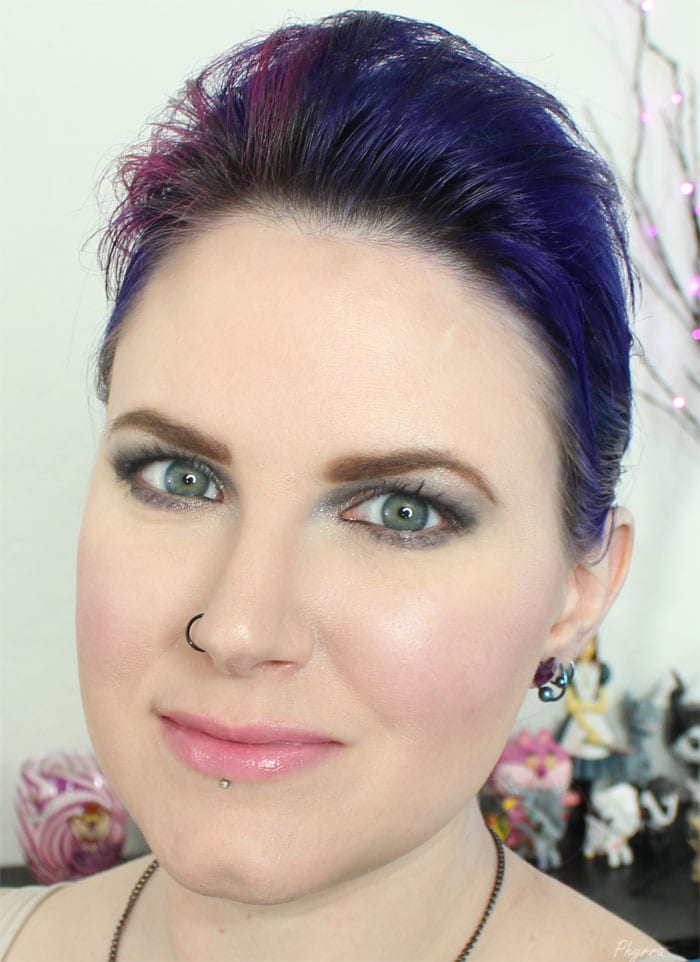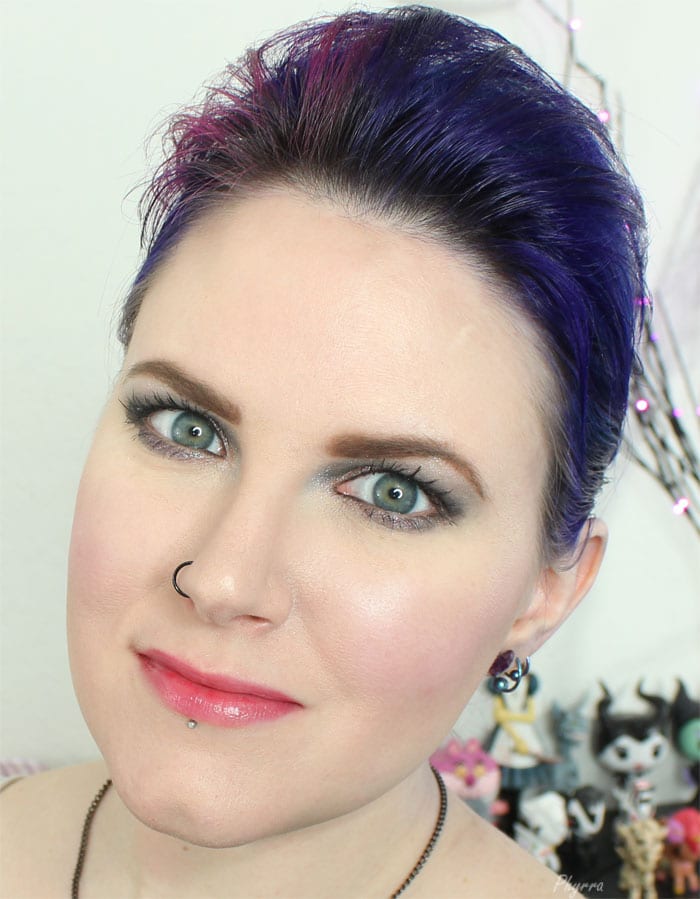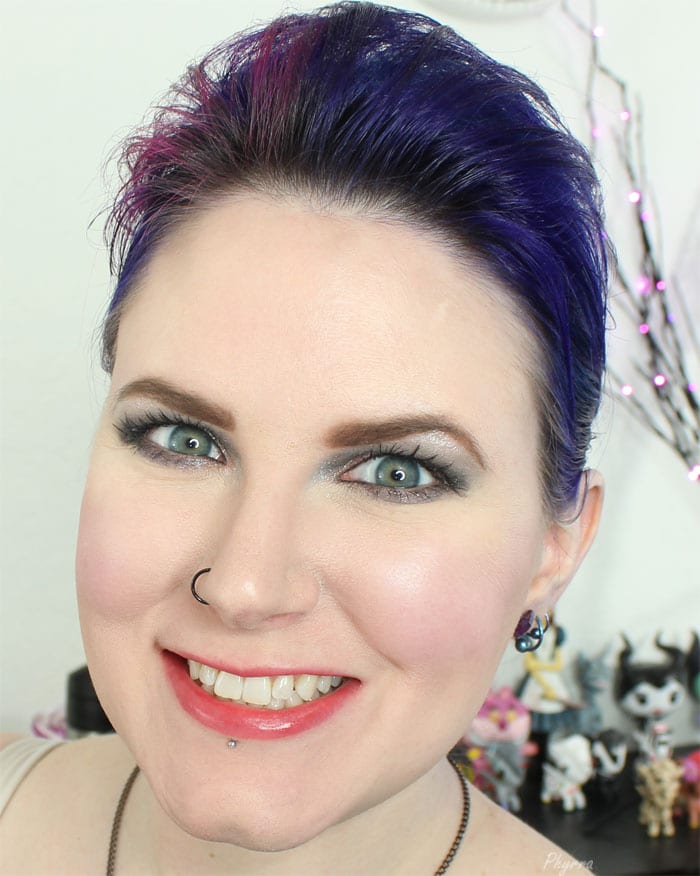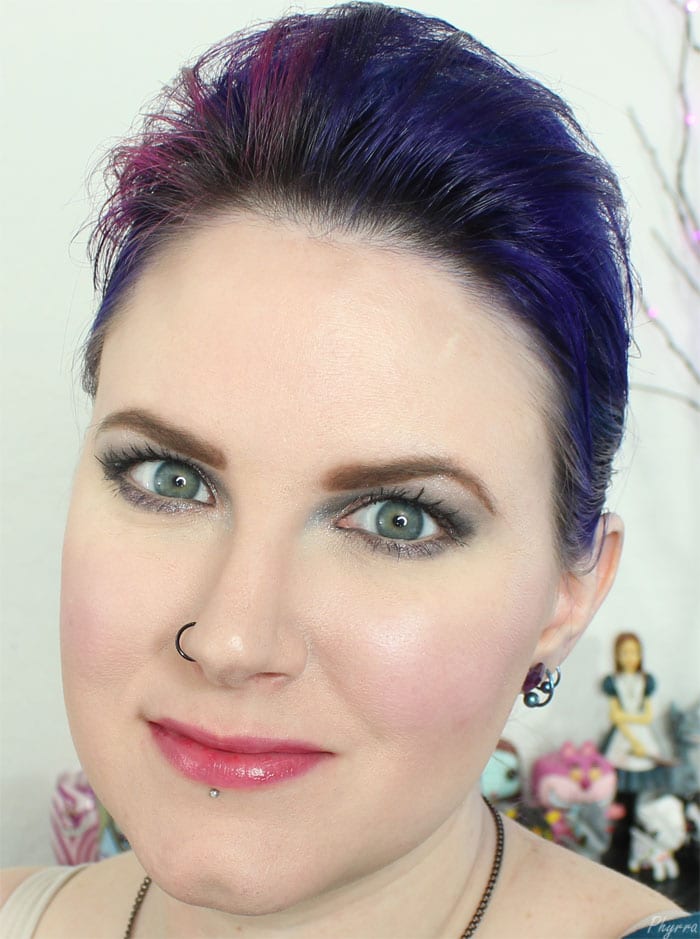 I personally like Sheer Anarchy, Sheer Streak, and Sheer Obsessed the best on me. I don't know what to think about Sheer Walk of Shame.
I absolutely LOVE the purple packaging! So happy to see purple packaging from Urban Decay. I hope to see it in a lipstick color next!
Urban Decay has come out with two new additions to the Naked Skin collection. First is the Naked Skin Weightless Complete Coverage Concealer. Urban Decay says that this is a liquid concealer that will meld with your skin to cover imperfections without making you look covered up. They say you can just keep building without worry of it caking or settling into fine lines.
The concealer is $28 for .16 oz.
There are 8 shades available:
Fair – neutral
Light – warm
Light – neutral
Medium Light – neutral
Medium – neutral
Medium Dark – warm
Medium Dark – neutral
Dark – neutral
I have 3 of the shades to show you.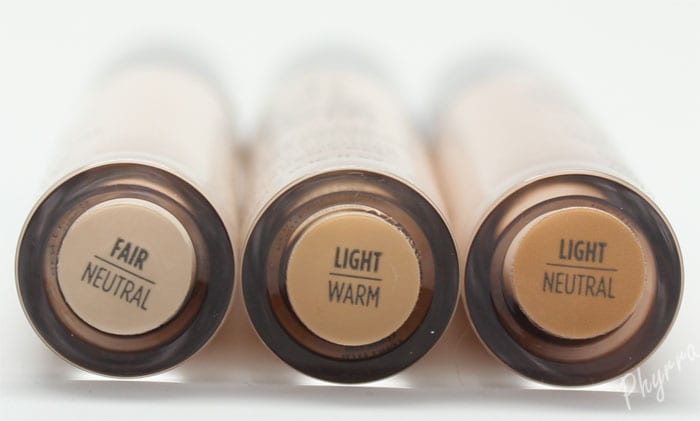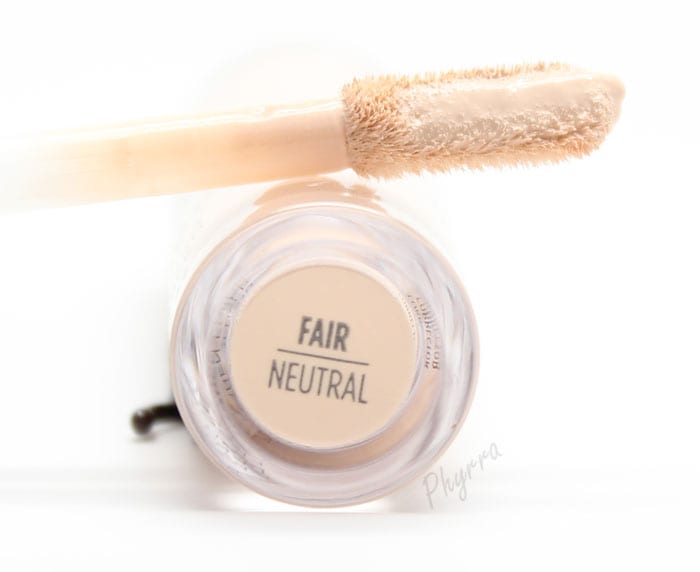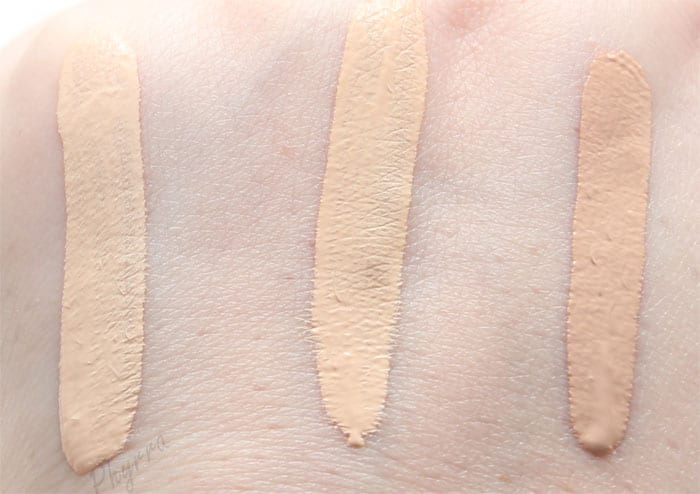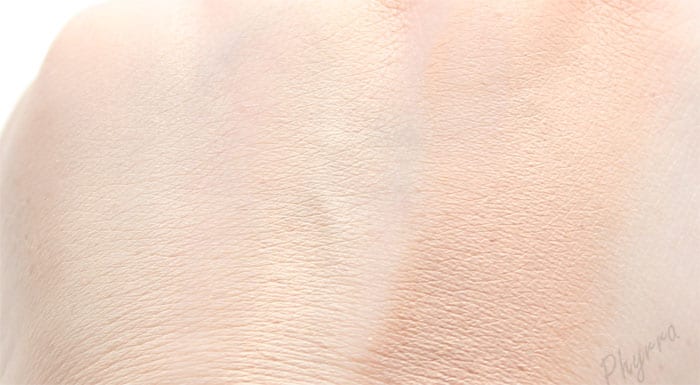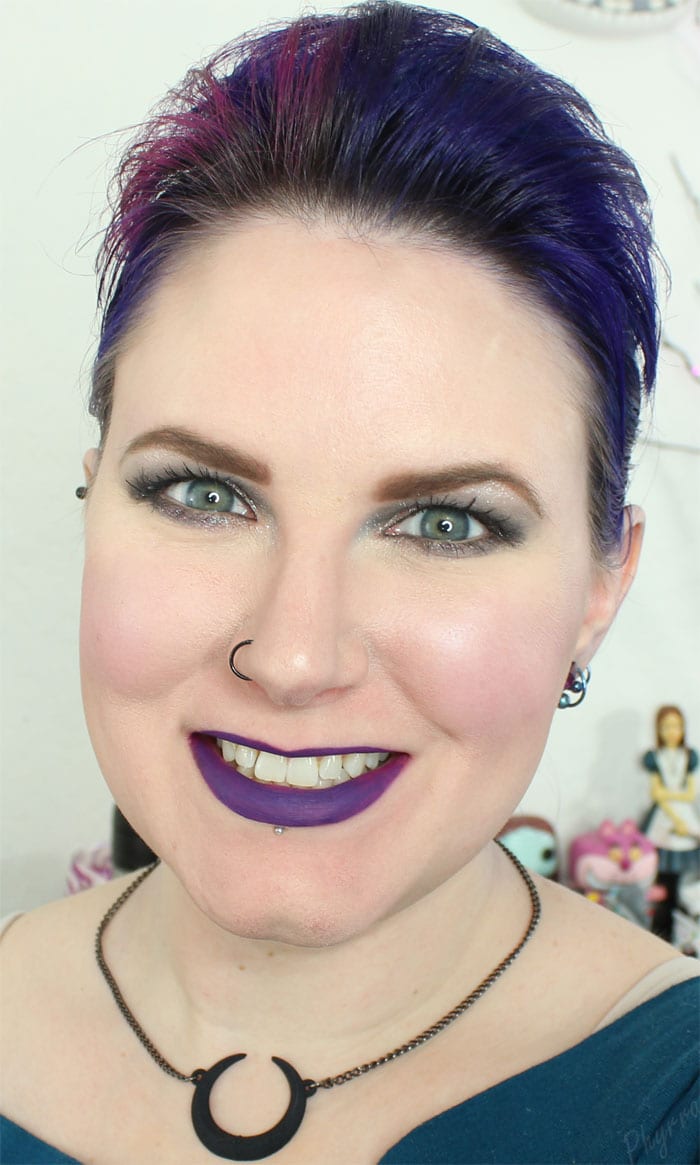 In this image, which I haven't retouched, you can see where my chin and in between my eyes looks a bit cakey after 8 hours. I first applied primer, then the Naked Skin Ultra Definition Powder Foundation in Fair neutral. Then I applied concealer on my chin, between my eyes under my eyes and on my forehead. I set it with the powder foundation and finished with Nyx Dewy Spray to make it appear less matte. It didn't settle into the fine lines under my eyes and it was easy to blend out.
I really like the concealer, especially since it doesn't settle into lines under the eyes. What do you think of it?
The second addition to the Naked Skin collection is the new Naked Skin Ultra Definition Powder Foundation. This finely milled formula is supposed to meld with your skin, blur fine lines and wrinkles and be ultra forgiving. I think this is pretty accurate, too.
The foundation is $36 for .31 oz.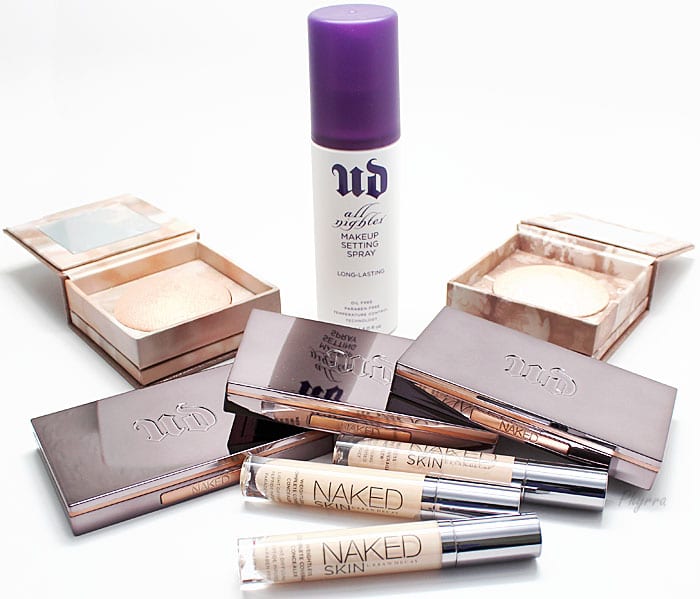 The packaging is gorgeous, but prone to finger prints. It comes in a really cute purple flower bag. There's a large mirror inside the compact, as well as a dual-sided sponge. The sponge that comes with this foundation is special. UD says the top side with the UD logo is for applying the foundation wet. The bottom flocked side is for buffing and blending.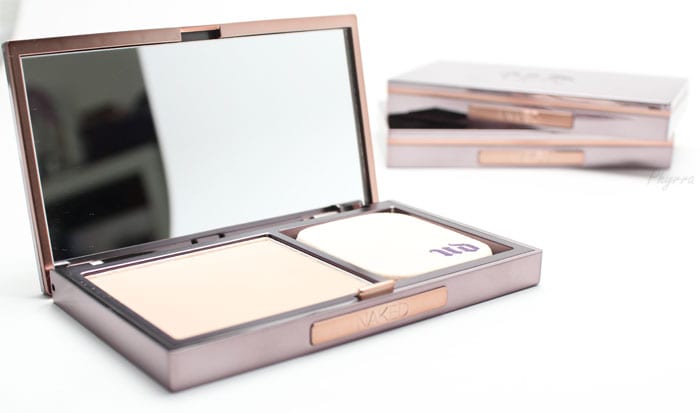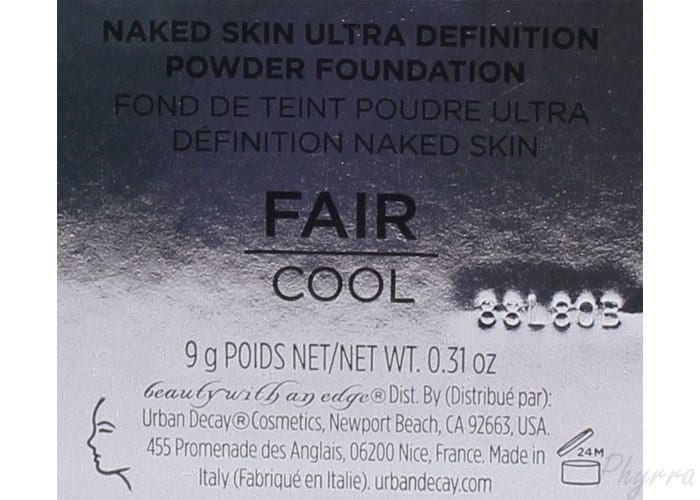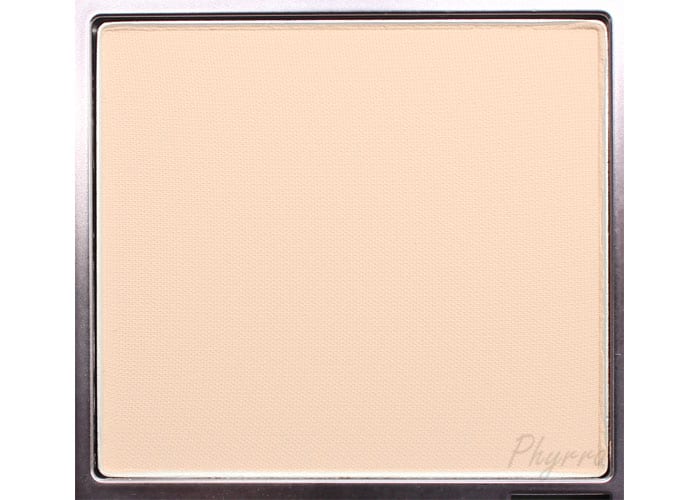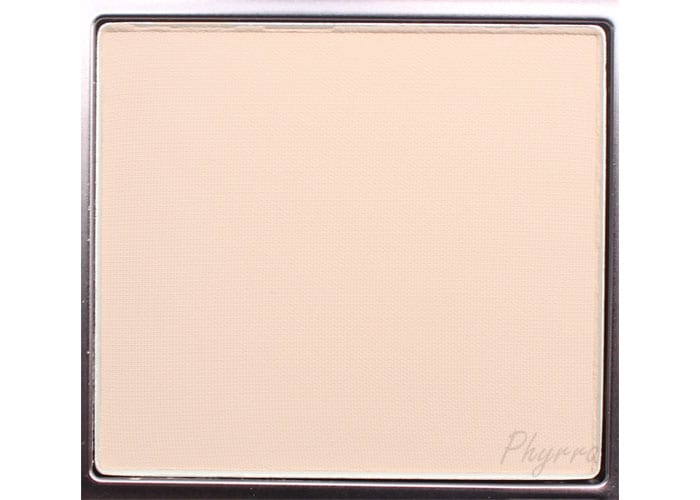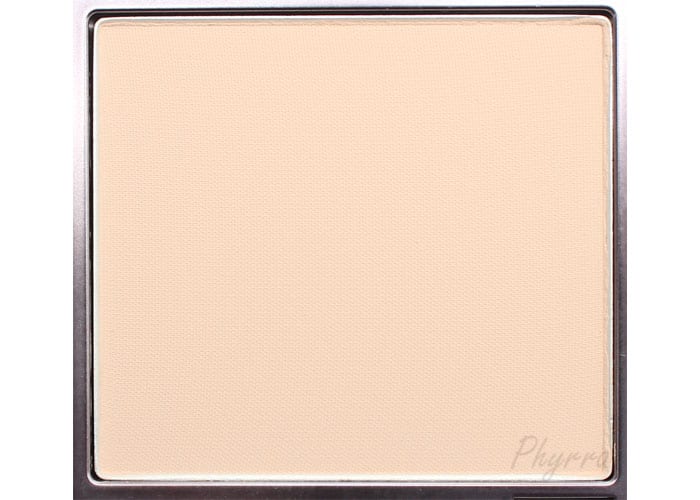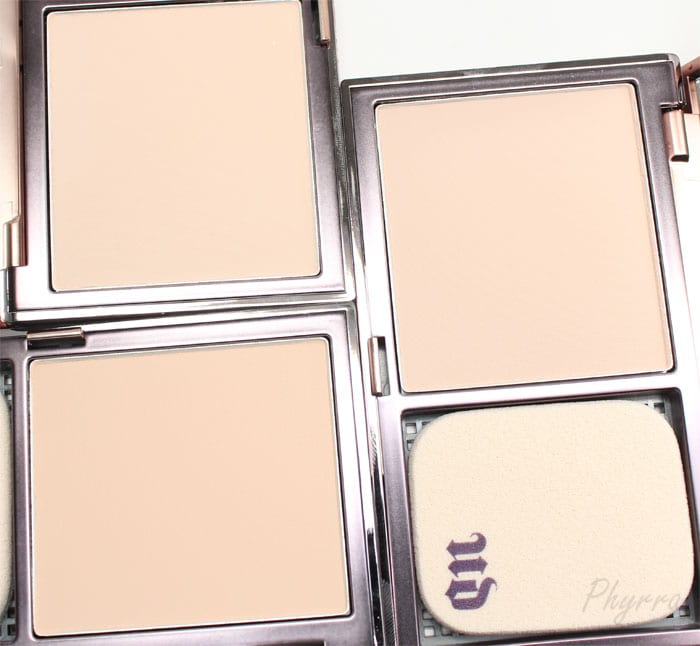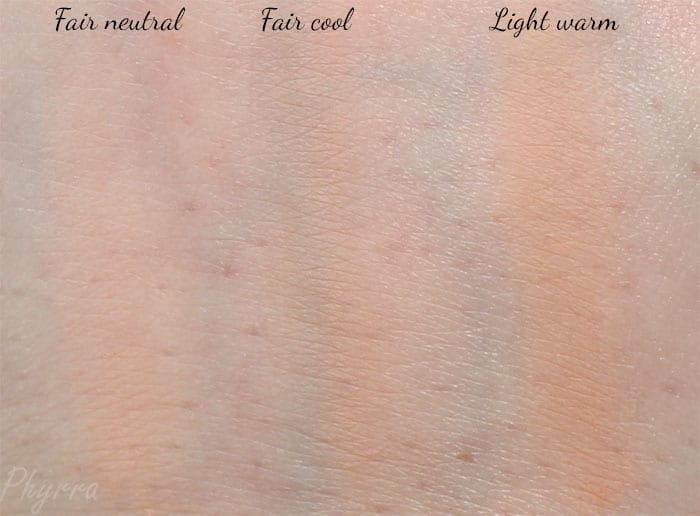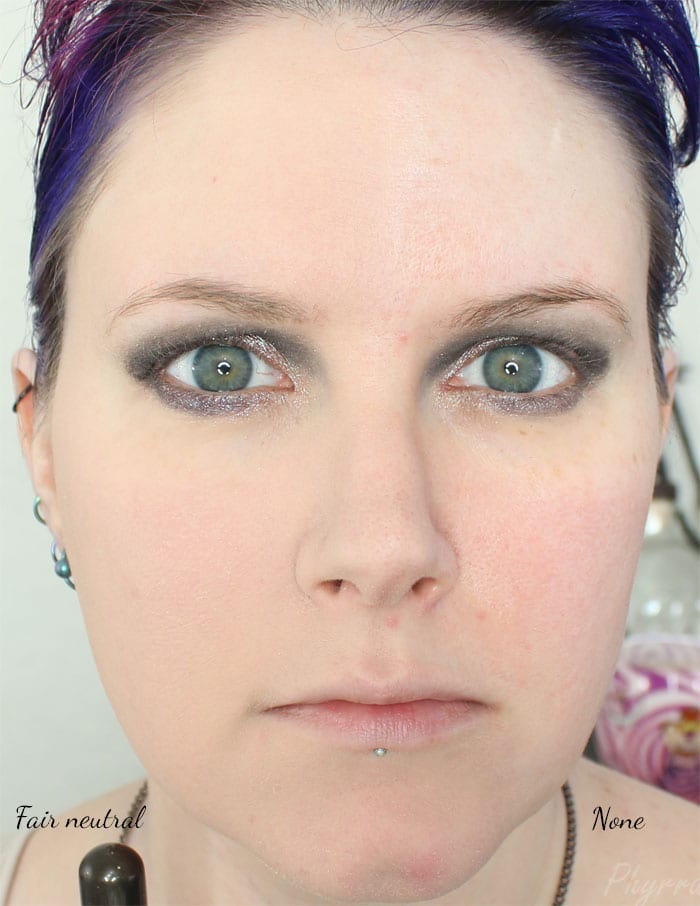 I've got Fair neutral on only on the left side of the picture. The right side is bare skin with primer on it. You can see the imperfections in my skin – a couple of zits and hyperpigmentation spots. You can also see that Fair neutral is slightly darker than my skintone.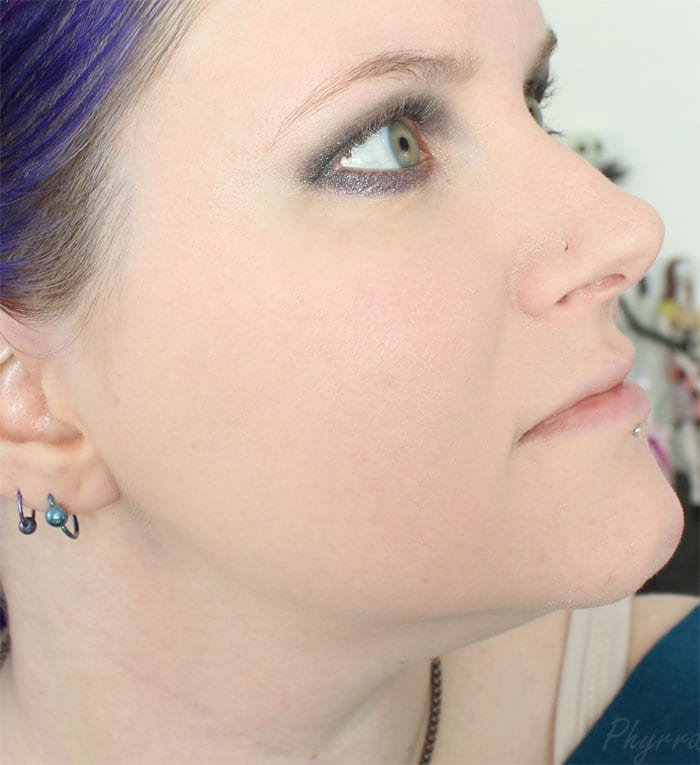 I feel like Fair neutral is slightly darker than I prefer (you can see I blended it down my neck a bit but my neck is still lighter, but overall the shade match isn't bad.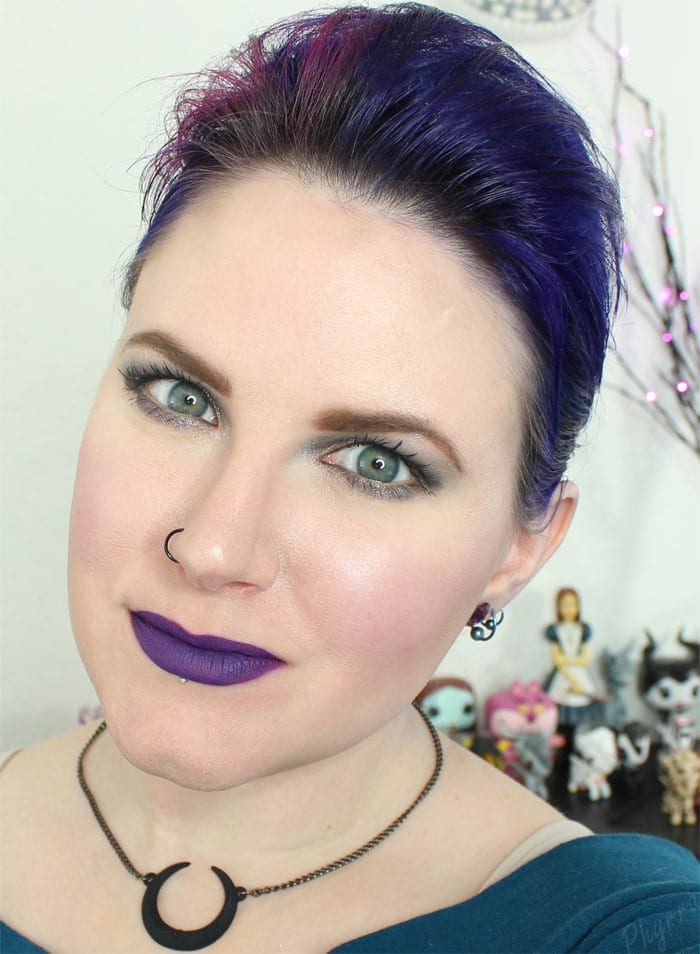 Once it's on my entire face, I think it looks pretty good. The foundation on primer wore for well for 8 hours. To me, when worn dry, this is light to medium coverage. If applied wet it would be more medium to full coverage. I applied it with the Makeup Geek Face Buffer Brush and UD recommends the Good Karma Optical Blurring Brush. UD says that you can also, of course, apply this on top of the UD Naked Skin Beauty Balm for a perfect skin look.
As  mentioned above, UD claims the foundation shades are very forgiving and I think that seems accurate. The powder does do a nice job of melding with skin.


Last but certainly not least is the Urban Decay Mascara Resurrection. In the video I give a demo with this product and I think it works really well!
UD Says
The ultimate do-over, this clear refreshing serum brings your mascara back to life so that you can keep piling it on. Like a killer lash comb in liquid form, this softens, revives and separates mascara and lets you apply another coat. If you botched your mascara or didn't pull it through well, comb Resurrection through it to refresh and then reapply.
The packaging on this tube is so gorgeous! It's purple with a glitter ombre at the bottom. It's really ingenious.
Looking for more? Check out
What do you think of the Urban Decay Spring 2015 collection? Eager to try any of it? Let me know!