.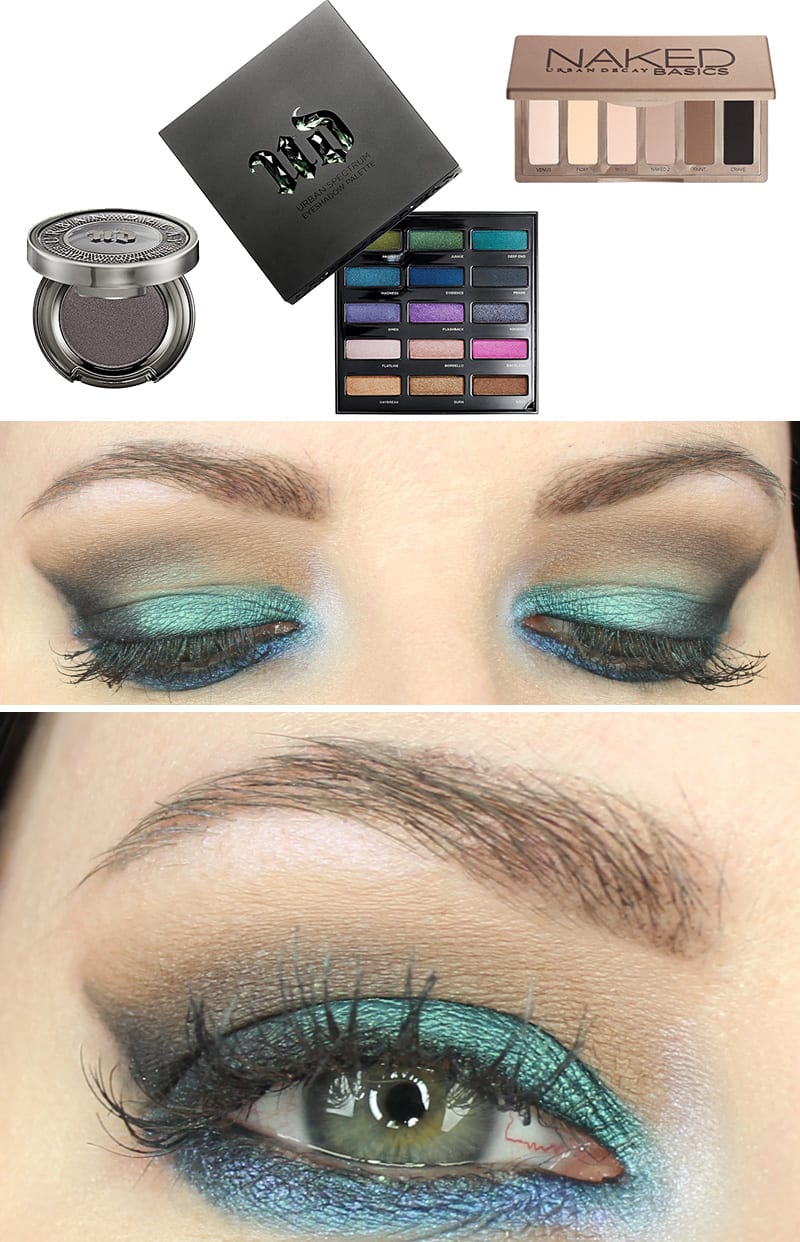 Happy Teal Thursday! Today I've got an Urban Decay Spectrum Palette Look for you. I wore this in my video yesterday and got a ton of compliments on it. I used the Naked Basics palette and Desperation for mattes to help me round out my look, since the Spectrum palette is full of shimmery shades.
Urban Decay Spectrum Palette Look
Pr + purchased by me.
The Urban Decay Spectrum palette is still available from Sephora.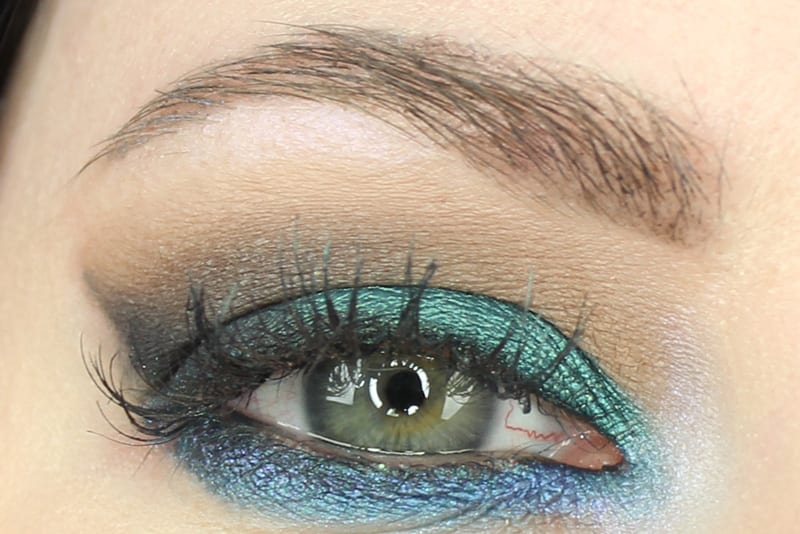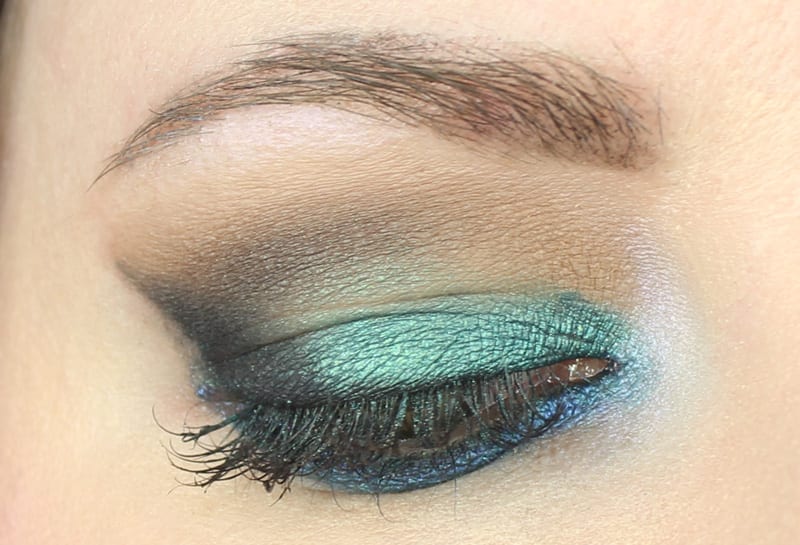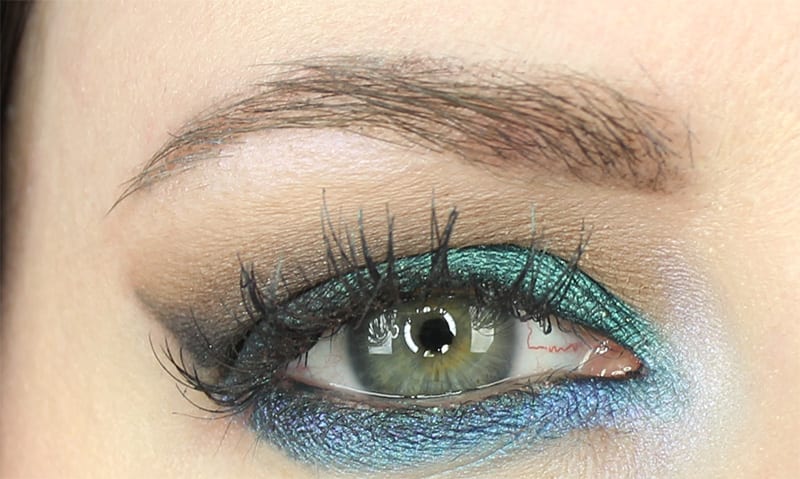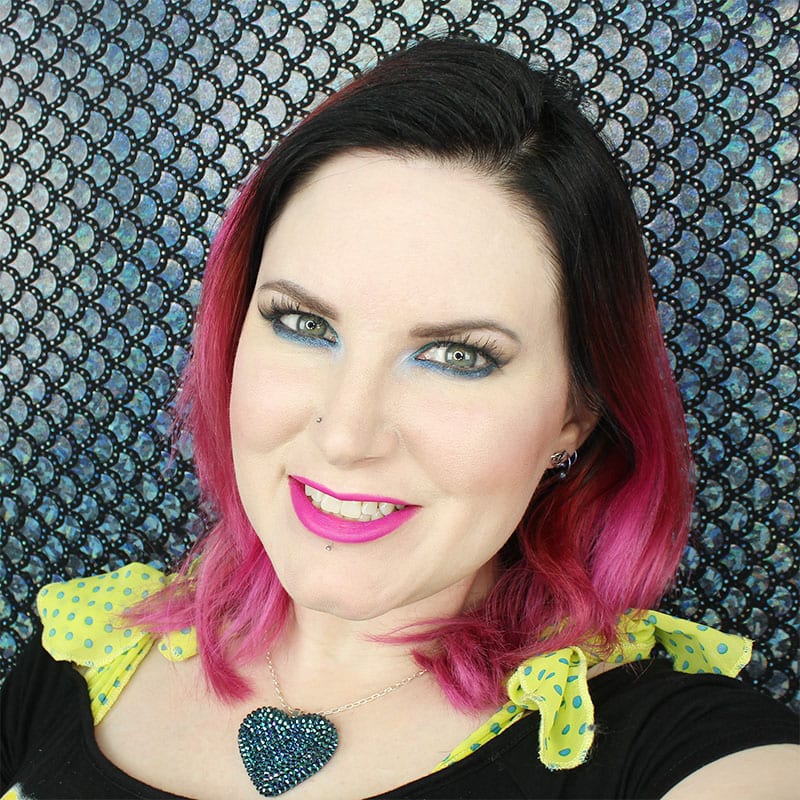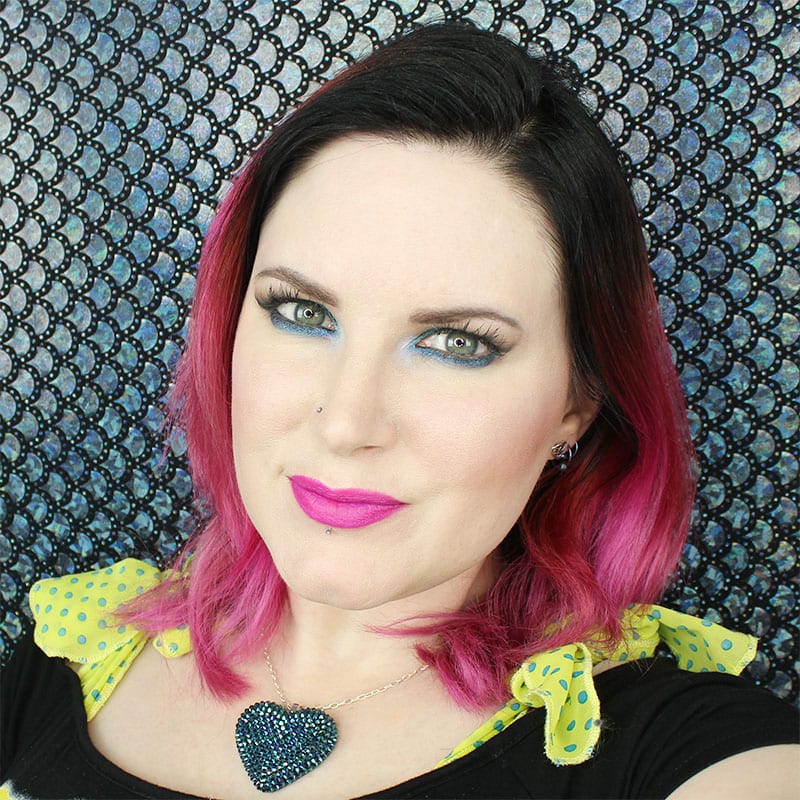 Eyes
Too Faced Shadow Insurance
Urban Decay Walk of Shame (Naked Basics) – base
Urban Decay Naked 2 (Naked Basics) – hood
Urban Decay Desperation – crease
Urban Decay Deep End (Spectrum) – lid, lower lid
Urban Decay Junkie (Spectrum) – on lid
Urban Decay Prank (Spectrum)  – outer lid, cat eye shape, smoked out
Urban Decay Voodoo (Spectrum) – on top of Deep End on outer lower lid
Urban Decay Omen (Spectrum) – on top of Deep End on inner lower lid
Urban Decay Aura (mixed) – highlight under brows & at inner corner
Urban Decay Perversion Mascara
Nyx Micro Brow Pencil in Black
Glossier Boy Brow Black
Face
Hourglass Veil Mineral Primer
Urban Decay One & Done in Light + The Body Shop Shade Adjusting Drops in Lightening
Lunatick Cosmetic Labs HD Powder
Makeup Geek Love Triangle – contour
Urban Decay Score – blush
Urban Decay Aura – highlight
Lips
Tarte Lip Primer
OCC Hoochie Pencil
Bite Beauty Moscato
Necklace
Bunny Paige Dragonfly Heart Necklace
Yes, my Dragonfly necklace fits in nicely as a Teal Thursday piece too. It's multi-dimensional and so gorgeous that I love to stare at it.
My lashes are definitely ready to be filled on Friday! The left side is lookin' limp. I try to sleep on my back, but I always end up laying on my left side (all the better to be cuddled!).
I've been trying out UD's One and Done Hybrid Complexion Perfector. While Light on its own is too dark for me, I've been mixing it with white foundation mixer (currently the Body Shop's Shade Adjuster Lightening drops) and loving the results. I've tried it a few different ways. First just on its own with no primer or setting powder, and it's got a great finish. Second, by applying the Hourglass Veil Mineral Primer and then only applying One and Done to the center of my face where I have the most redness, following it up with a tiny bit of concealer under the eyes. Third, I've applied my Paula's Choice SPF 30 Calm moisturizer, then applied NARS Light Reflecting Loose Setting powder all over, then followed up with One and Done. I end up using about 1/2 the amount of One and Done that I would normally use when I do the second method. The added bonus is that I spent 3 hours outside in the humidity here in Tampa and my makeup still looks flawless (my hair, not so much). The third method is my favorite by far.
Have I mentioned how much I love Prank? It's a great not-black definer shade. For my lids, I put down Deep End. I layered Junkie damp with UD's All Nighter on the lid (to try and combat the fallout, this color has gold glitter fallout). I put Voodoo on the outer lower lid and Omen on the inner lower lid. I used Prank at the upper and lower lash line and then smudged it out into a vague wing. For the hood of the eye I used Walk of Shame as the base. I put down Naked 2 next, and then used Desperation in the outer crease to add some depth. I love Desperation and I feel like these colors worked together nicely.
What combo would you like to see with this palette?