Urban Decay Sparkle Out Loud Collection
Happy Pride Month! Today I'm sharing the Urban Decay Sparkle Out Loud Collection with you. It's a glitter makeup collection filled with a ton of new vegan products by UD. We've got new Heavy Metal Glitter Eyeliners, Heavy Metal Glitter Gel, Heavy Metal Hi-Fi Shine Glosses and 24/7 Glide-on Eye Pencils. I believe this entire release is vegan.
Since it comes up from time to time, I identify as a polyamorous bisexual, though I've been thinking I should switch the bisexual to pansexual. I didn't even really learn about that term until 5 years ago. And it's only been in the past 2 years or so that I've felt comfortable using the term queer. My pronouns are she / her. However you choose to identify, and whether or not you're out, I'll be supportive of you! As Urban Decay says on their site, Love is Love. More is More.
PR Samples.
About Urban Decay
Urban Decay Cosmetics is a cruelty-free makeup brand. They were Leaping Bunny Certified for many years and are currently PETA certified. They also have the UltraViolet Edge, UD's Global Initiative to Empower Women.
Heavy Metal Glitter Gel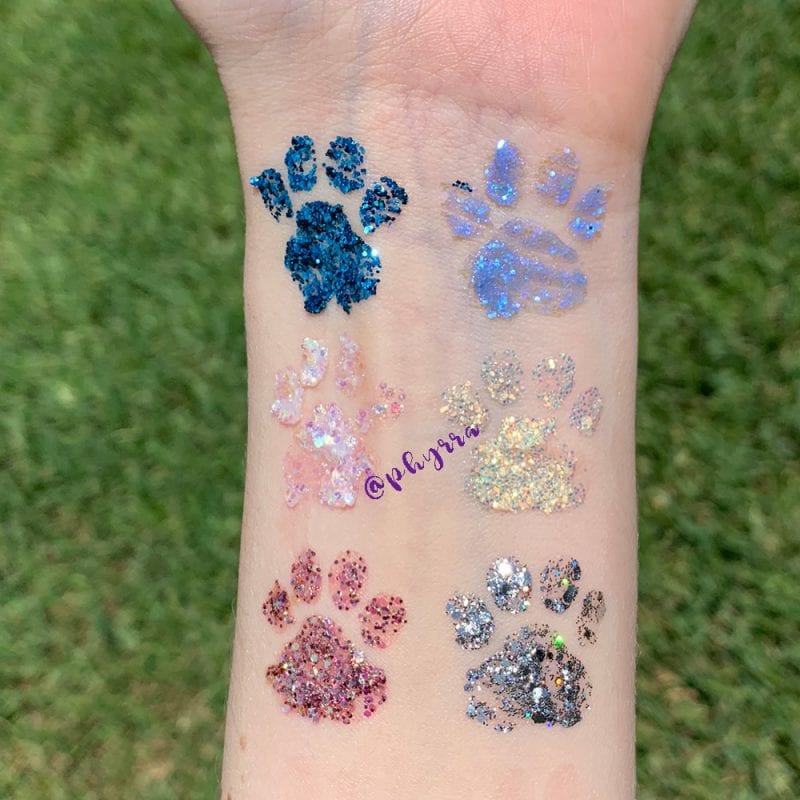 Urban Decay says that this is a super-concentrated, hyper-reflective glitter gel for your eyes, body, and face. I'm too scared to put big glitter like this near my eyes, but it's beautiful on the cheeks, decollete, shoulders and arms. Distortion, Saturday Stardust and Party Monster are my favs.
Disco Daydream – iridescent silver glitter
Distortion – iridescent glitter
Saturday Stardust – iridescent pink glitter
Dreamland – iridescent peach glitter with blue shift
Soul Love – aqua blue glitter
Party Monster – lilac glitter with reflective holographic shift
Urban Decay Heavy Metal Glitter Eyeliners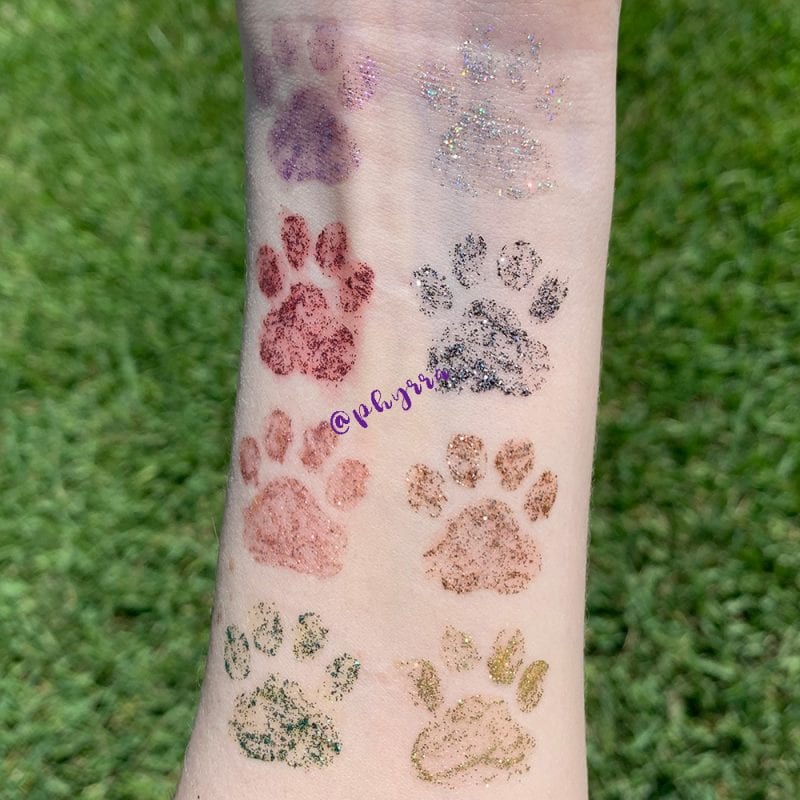 I LOVE the Urban Decay Heavy Metal Glitter Eyeliners! I love using shades like Grind, Distortion, Pyro and Junk Show on top of eyeshadows to really amp up a look. And the glitter in these products are tiny, so I feel safe putting them on my lids. Disco Daydream, Volume, Studio and Stonewall are really amazing.
Disco Daydream – silver holographic glitter
Goldmine – bright yellow-gold glitter
Gunmetal – black and silver glitter
Stage Dive – bright teal-green glitter
Starfire – bronze glitter
Studio – light purple micro-sparkle with lilac holograpic glitter
Volume – duochrome glitter with pink yellow shift
Stonewall – bright red glitter
Urban Decay 24/7 Glide-On Eyeliners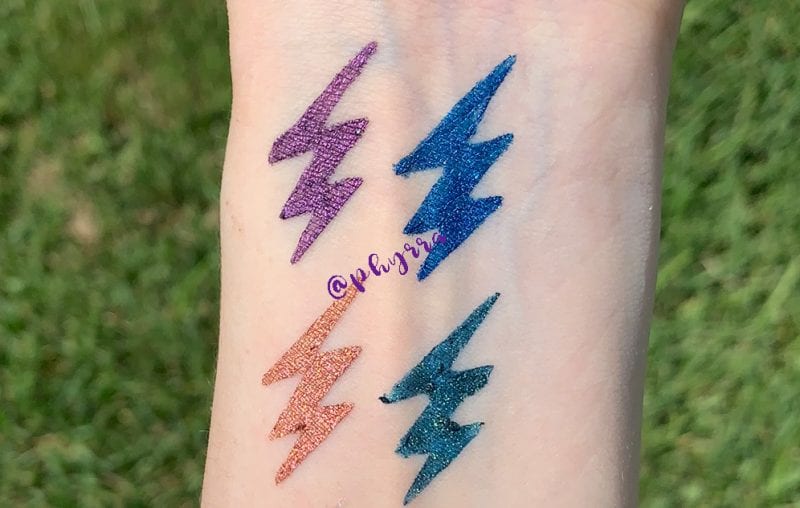 I love these new super glittery UD eyeliners! They're gorgeous! My favorites are Electric Empire and Viper. I wore Electric Empire to the Sunset Music Festival as a big graphic cat eye liner.
Electric Empire – metallic green with glitter
Viper – metallic purple with glitter
Roxy – metallic bright blue with glitter
Wild Side – metallic copper-pink shift with glitter
Urban Decay Hi-Fi Shine Lip Glosses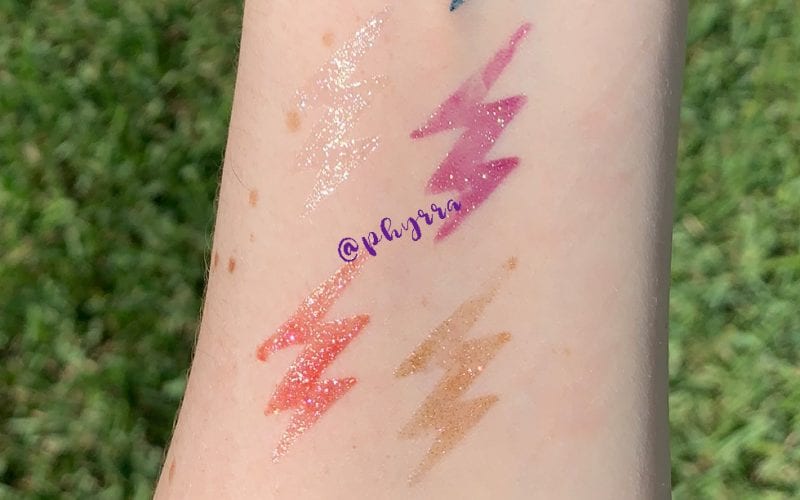 UD says that this is an ultra-shiny, long-lasting lip gloss that glides on cushiony-soft and leaves lips feeling nourished without any stickiness. I do love the vanilla mint flavor!
Hot Love – red with iridescent glitter
Disco Queen – violet with iridescent glitter
Wildside – copper-pink shift with glitter
Star Stunner – clear pink shift with iridescent glitter
Star Stunner and Disco Queen are my favorites from the Hi-Fi Shine Lipglosses.
Urban Decay Sparkle Out Loud Collection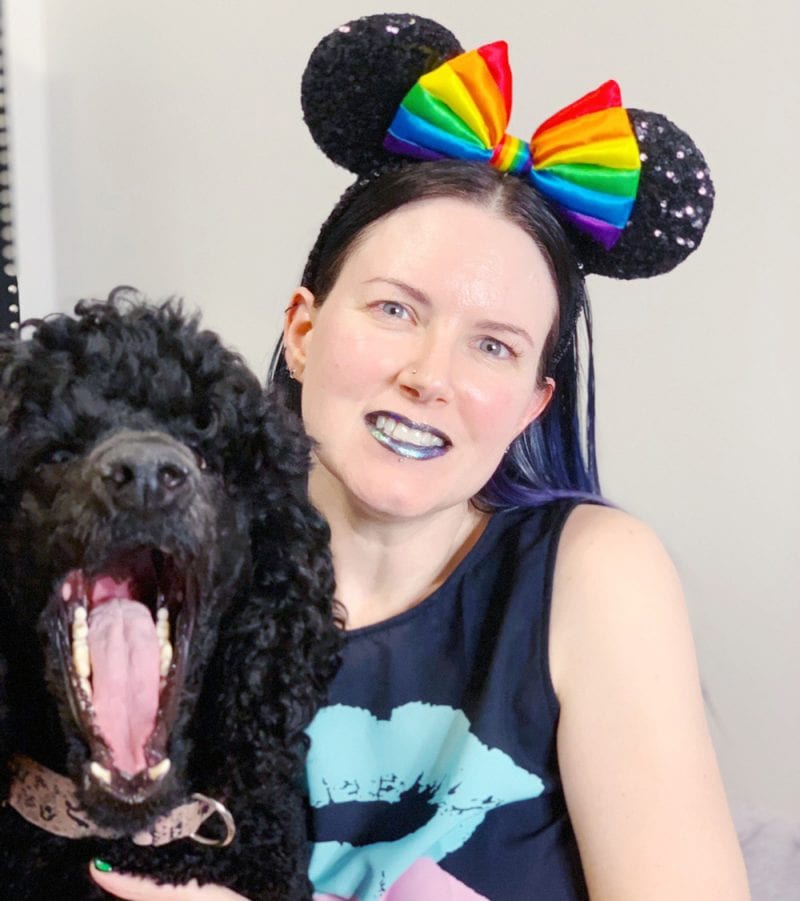 This was Dave's favorite photo of the set that I took! I bought my Disney Pride Rainbow Mouse Ears at Disney World's Epcot this past weekend but you can get yours online at shopDisney!
You can buy the Urban Decay Sparkle Out Loud Collection at Sephora, Ulta, Nordstrom, & UrbanDecay.com.
What do you think of the Urban Decay Sparkle Out Loud Collection?