Recently I had the opportunity to try out the new Urban Decay Naked Skin Weightless Ultra Definition Liquid Makeup

. (What a name!)

I received the following shades: .5 (neutral/cool), 2.0 (warm/golden), 3.5 (neutral/cool), 5.5 (neutral/cool), 7.5 (neutral/cool), 9.0 (warm/golden) and 12.0(warm/golden). Pictured above is my shade, .5, along with the Optical Blurring Brush. You can see swatches of all the shades that I received here.

The press release says:
It feels like wearing nothing at all, yet Naked Skin transforms complexions. Skin looks natural, illuminated and bright: like the beautiful skin you were born with. Weightless and virtually invisible, this revolutionary, paraben-free formula creates a flawless, demi-matte finish; light-diffusing spheres make you look professionally retouched. It's the ultimate in ultra definition. With a broad, universal range of 18 meticulously calibrated shades, Naked Skin is a buildable liquid foundation that provides medium to full coverage with an unrivaled, weightless texture. It feels different as soon as you touch it.
Naked Skin's revolutionary, oil-free, fragrance-free, and paraben-free formula diffuses light, blurring fine lines and wrinkles. Ultra-forgiving, the weightless, never-before-seen texture allows you to apply more wherever you need extra complexion perfection. No matter how much or how little you build, your skin is left neither matte nor dewy, but with a totally natural, luminous finish.
The Naked Skin shades are numbered rather than named. Shades that end in .5 are supposed to be more neutral / cool in tone. Shades that end in .0 are supposed to be more golden / warm in tone. This system seems a lot easier to understand to me than NC or NW. You can see my swatches of 7 of these foundation shades in my initial Urban Decay Naked Skin Foundation Swatches post.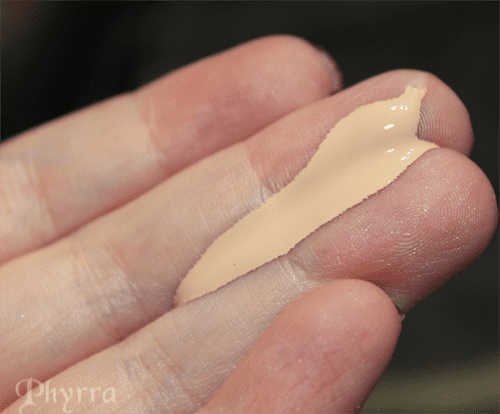 This is one pump of .5 in my hand. The texture is very liquidy, almost runny. This allows it to spread easily on the skin.
The available shades are:
0.5 – neutral/cool
1.0 – warm/golden
2.0 – warm/golden
3.0 – warm/golden
3.5 – neutral/cool
4.0 – warm/golden
4.5 – neutral/cool
5.0 – warm/golden
5.5 – neutral/cool
6.0 – warm/golden
6.5 – neutral/cool
7.0 – warm/golden
7.5 – neutral/cool
8.0 – warm/golden
9.0 – warm/golden
10.0 – warm/golden
11.0 – warm/golden
12.0 – warm/golden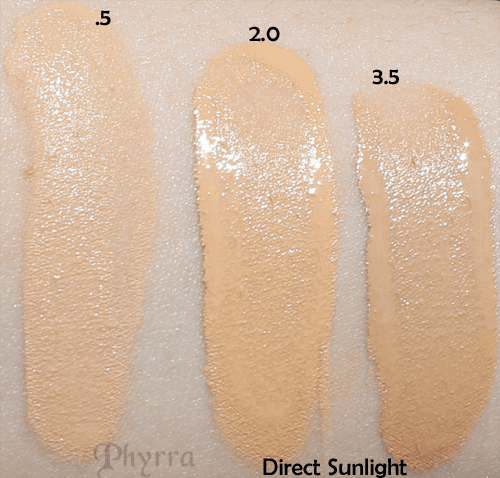 You can see that swatched, .5 looks darker than it is.
Price:
$39 for 1 oz.
Packaging:
It comes in a hygienic cylinder with a pump. I LOVE pump packaging. It's double walled and clear, so you can see how much product is left as you use it and you know when you're running out. I hate sticking my fingers in jars for foundations and moisturizers, so I'm pleased that this is a pump.
Ingredients:
Aqua (Water/Eau), Cyclopentasiloxane, Butylene Glycol, Silica, Cyclohexasiloxane, Dimethicone, PEG/PPG-18/18 Dimethicone, Sodium Chloride, Camellia Oleifera Leaf Extract, Litchi Chinensis Pericarp Extract, Tocopheryl Acetate, Tetrahexyldecyl Ascorbate, Tribehenin, Palmitoyl Oligopeptide, Palmitoyl Tetrapeptide-7, Sodium Hyaluronate, Glycerin, Dimethicone/PEG-10/15 Crosspolymer, Dimethicone/Polyglycerin-3 Crosspolymer, Isopropyl Titanium Triisostearate, Polysorbate 20, Disodium Cocoyl Glutamate, Sodium Cocoyl Glutamate, Propylene Glycol, Carbomer, Cetyl PEG/PPG-10/1 Dimethicone, Hexyl Laurate, Polyglyceryl-4 Isostearate, Caprylyl Glycol, Phenoxyethanol. All shades may contain: CI 77891 (Titanium Dioxide), CI 77491/77492/77499 (Iron Oxides).
I do have some of the important ingredients from the press release for you. I do know it is oil-free, fragrance-free and paraben-free. It's supposed to diffuse light, blur fine lines and wrinkles, be weightless on the skin and perfect your complexion. It also is supposed to nourish the skin.
Litchiderm (from lychee fruit) – this is supposed to protect skin from dehydration, oxidative, stress, accelerated aging, resulting in a brighter, more radiant complexion
Vitamin E – used to hydrated and increase the skin's elasticity while fighting off free-radicals that cause skin to age prematurely
Japanese Green Tea – soothes and calms skin with anti-oxidants to neutralize free-radicals and promote collagen production for smooth and supple skin.
Matrixyl 3000 – anti-wrinkle and lifting peptides to restore and maintain the skin's youthful appearance while increasing elasticity

Here's the foundation swatched along my jaw line in direct sunlight outdoors. It's not blended at all.

Here's the foundation with flash along my jaw line.
How to Apply
UD recommends that you use UD's Pore Perfecting Primer Potion or Brightening and Tightening Primer Potion before applying this foundation. They say to use the Pore Perfecting Primer on your t-zone, while using the Brightening & Tightening on the rest of your face. You're supposed to shake well before application and use the Optical Blurring Brush to buff out lines.

Here's my naked face indoors under the daylight bulbs at my vanity. This is directly after I've cleansed and applied moisturizer. My face always has a lot of redness right after I cleanse, which fades down in a bit. That's my annoying pink overtone.

This is right after I've applied it and buffed it in. No primer, no finishing powder. This was taken under daylight bulbs.
How I Applied it
So the foundation makes no claims on being long wearing. As a reminder, I've got an oily t-zone. On its own (without a primer or finisher) it lasted about 5 hours for me, though I saw wear on my chin, forehead and nose. With Silk Naturals Oil Control Blur finishing powder, it looked good for about 6 hours and I only needed to dust some more powder on my nose and chin. With a Hydrating Primer (no powder to set) I had the foundation rub off where my sunglasses rested on the bridge of my nose and my chin felt oily after about 3 hours. I tested with tarte's illuminating serum and the oil control finishing powder and got all day wear. I tested with a pore perfecting primer and finishing powder and got all day wear as well.

This was directly after application, no finishing powder yet, no flash. It does look like skin, which is nice, but you can see my dark spot on my cheek and my chin that I tend to want concealed. You can see how the finish isn't matte, nor is it dewy, but it looks like skin.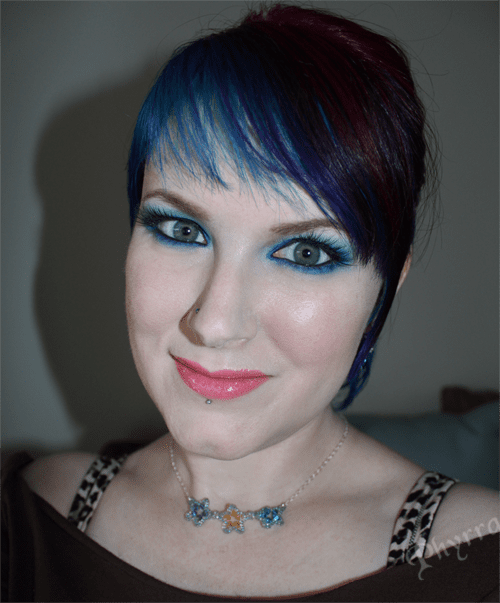 With a pore perfecting primer and finishing powder. I think it looks amazing here.
My preferred method of applying this foundation is with the Optical Blurring Brush for my face. For under my eyes, I use a Sephora Airbrush Concealer Blending brush. Both brushes are very densely packed with bristles to distribute makeup evenly around your face. So what I do is take half a pump of the foundation and dot it on one side of my face. Then I take the brush and buff it in a circular motion. I repeat and do the other side of my face. If any area needs more I repeat, or I use a concealer.
I would consider this medium coverage foundation. I do need to conceal under my eyes with it (if my eyes are looking  janky), but otherwise, I can leave it alone, which I really like.
A little more about the Optical Blurring brush:
I really like this foundation brush. It's cruelty-free, made from synthetic bristles. It's made from recycled PET bottles and recycled aluminum. The bristles are very densely packed, but it's super soft on the skin. It does a great job helping the foundation meld with my skin. Since I prefer to put the foundation on my face with my finger tips and then use the brush to blend it, it's great at buffing over the skin. It could probably serve double duty and be used as a blush brush if you use a light hand.
I feel like the shades must be very forgiving, because this is a neutral / cool shade and I tend to feel like I'm neutral or neutral leaning warm, but I think it looks really nice on me. I don't feel that it makes me look sunburnt, which is what many cool-toned foundations look like on me.
I personally think it looks best on me with a primer and oil control finishing powder.
Would I purchase?
Yes! I really like the way this foundation looks on my skin. I feel .5 is a very good color match. I think it looks flattering on me. I like what I know about the ingredients (green tea, vitamin E, Matrixyl 3000, oil-free). I do like the finish on me. It doesn't feel heavy or break me out.
The UD Naked Skin liquid Foundation is part of the Fall 2012 lineup and is now available online!
Edit:
I saw this video on youtube from Wendi, owner of Urban Decay. She demonstrated how to stipple on the Naked Skin foundation by applying it where you need coverage the most, then buffing, then going back over wherever you need more coverage. You can even do it for under the eyes and on blemishes. I tried applying the foundation like that and didn't need a separate concealer. So while it's definitely medium coverage, you can build it up only where you need it. I really liked the effect.
For me that means I apply it to my t-zone, blend it out towards the edges, then using my small Sephora brush (which is sort of shaped like a mini Optical Blurring brush), I did the same thing under my eyes
Rating:



To the best of my knowledge Urban Decay is cruelty-free.
Product sent for consideration. All opinions are my own. Affiliate links.