Urban Decay Eyeshadow Primer Potions have been given a face lift! They've been updated for 2015 with all new packaging. Instead of a more needle-nose like package, they're now a combination of squeeze tube and doe foot wand. The tops now have faceted jewel-like tops. The tubes themselves are an ombré of color. It's really pretty.
Be sure to check out the new 2015 Summer Nights Eyeshadows, Afterglow Blushes and Revolution Lipglosses!

Please comment, thumbs up and subscribe!
Where to Buy
UrbanDecay.com, Nordstrom, Sephora, Ulta, Macys, Beauty.com
Price
$20 Original, Minor Sin, Eden, Enigma
$24 Anti-Aging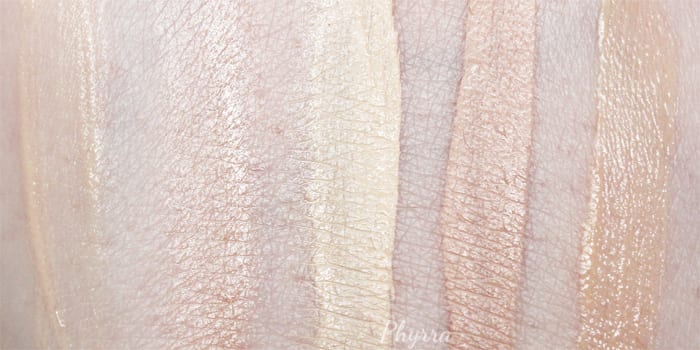 Original
nude (dries down invisibly)
Minor Sin
champagne shimmer (light peachy shimmer to me)
Eden
nude matte (full coverage, hides redness, I really like this one)
Enigma
neutral matte (deeper than Eden)
Anti-Aging
nude (color-correcting plus optical blurring)

Urban Decay Ozone pencil has always been my favorite clear lip liner because it never felt waxy, it always felt good on my lips. I've gone through like 3 of them. I like the idea of a new version of it.
The amount of product in the eyeshadow primer packaging went from .37 oz to .33 oz to accommodate the new brush, but the price stayed the same at $20/$24.
I'm on the fence about the new primer tube design because I feel like the opening is too wide to properly be a squeeze tube. You really only need a tiny amount of product, so you're probably better off using the doe foot instead of trying to squeeze it out. Additionally, one of my tubes arrived with the doe foot almost all the way broken off (I have no idea how this happened in transit), so that was definitely unexpected. I like what Urban Decay was trying to do with the 2 ways to apply it, but I'm not sure it will end up working out that way.
My favorites are Eden and Anti-Aging. I need to take Minor Sin out for a spin to see how I like it.
What do you think of the new UDPP multi-purpose packaging?