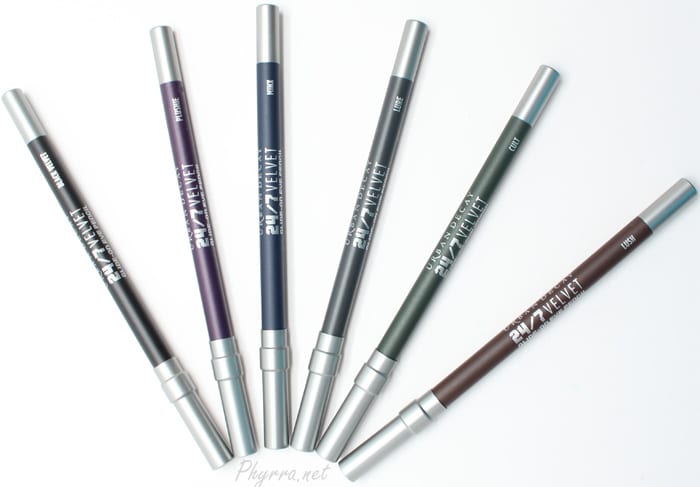 First Urban Decay released Black Velvet, and it was beautiful… a plush, smoky black. Then the 24/7 Velvet Glide-On Eye Pencils came to be, as UD decided more rich smoky shades needed to happen. These shades are supposed to be easier to blend out for a colored smoky eye or soft smoky edges.
PR sample
Urban Decay 24/7 Velvet Glide-On Eye Pencils
Price
$20  Fill Weight: 1.2 g / 0.04 oz
Availability
Sephora, Ulta, Macys, Beauty.com, UrbanDecay.com
Shades
Black Velvet – rich, smoky black matte
Plushie – smoky, rich purple matte
Minx – smoky, rich navy matte
Cult – deep smoky, green matte
Lure – smoky charcoal matte
Lush – rich, smoky brown matte
I love that the packaging on these is slightly different from your standard 24/7. While the barrel matches the eyeliner color, the top and bottom are a matte gunmetal, making them easier to sort from the silver capped originals.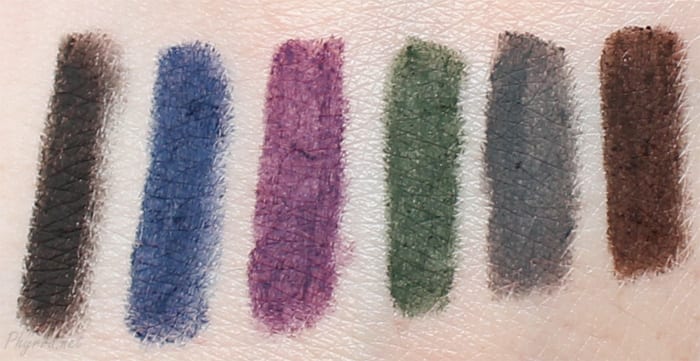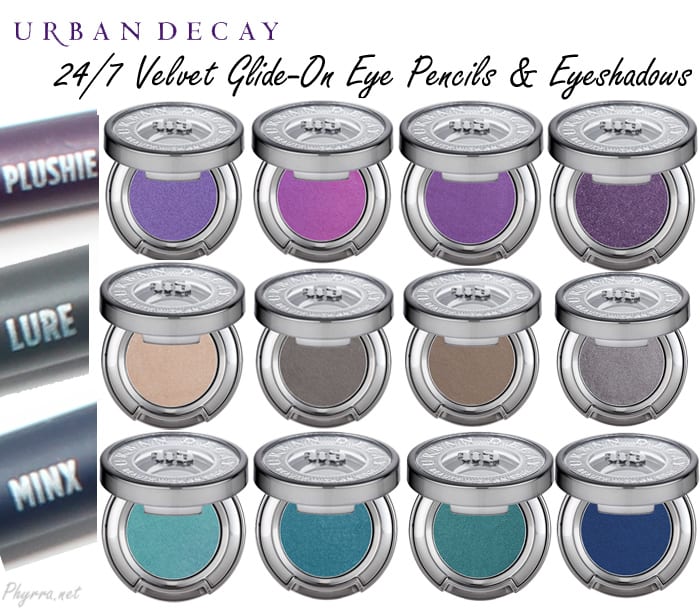 Eyeshadows to pair with these Eyeliners
Plushie – try Omen, Flash, Fishnet or Gravity
Lure – try Verve, S&M, Mushroom or Pistol
Minx – try Shattered, Haight, Deep End or Evidence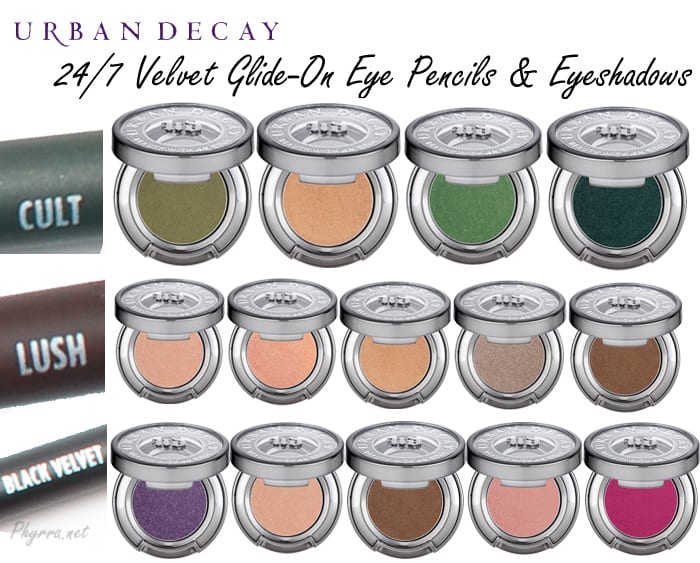 Eyeshadows to pair with these Eyeliners
Cult – try Mildew, Half Baked, Kush or Loaded
Lush – try Midnight Cowgirl, X, Half-Baked, Sidecar, Snatch or Smog
Black Velvet – Smog, Midnight CowGirl, Scratch, Gravity or Woodstock
I hope you like some of my eyeshadow and eyeliner pairing suggestions.
I found Black Velvet, Lure and Lush to be the best to work with. Cult was nice. Minx and Plushie were not as easy to work with as they dragged a bit. But you can still blend these out pretty easily. In addition to Black Velvet, I really love Lure, Minx and Cult. The names are really cute, too.
I think this is a really nice mix of colors. If you find black eyeliner too harsh, you're likely to love the brown or blue. The green is a really nice shade, too. I think there's something for everyone.
What do you think of the Urban Decay 24/7 Velvet eyeliners? Which shade do you like best?
Pros
Vegan
Cruelty free
Velvety matte formula
Good value for the price
Good mix of colors
Paraben free
Cons
A few shades dragged a bit
Last Updated on