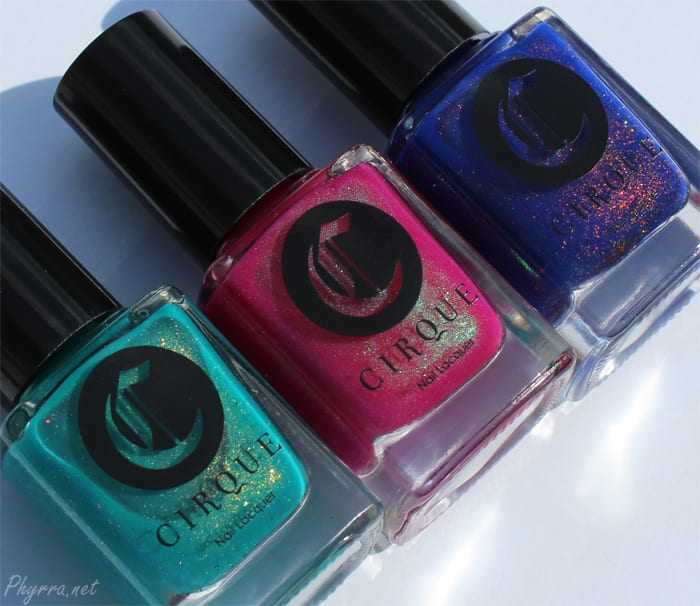 I've got some drool worthy polishes to show you today from Cirque Colors. First up, there's the Back to Basics Collection. Then there's the Kontiki Collection. Back to Basics is made up of a strengthening base coat infused with garlic, a quick dry top coat that doesn't shrink, and a black and white creme. Kontiki is a collection of three gorgeous multidimensional jelly polishes.
PR sample.
Cirque Kontiki and Back to Basics Collections
Date Available
August 5, 2014
Where to Purchase
Cirque Colors, Cirque Stockists
About the Back to Basics Collection
An arsenal of mani basics is a must-have for every beauty maven. We are excited to introduce our Back to Basics collection which include our essential Holdfast™ Base Coat and Liquid Laminate™ Top Coat. Additionally, two new creme colors will be available which make the perfect backdrop to our festive glitter lacquers.
Price
$10 (base, top)
$13 (cremes)
$13 (glitters, available now)
$36 (set – base coat, top coat, black and white creme polishes)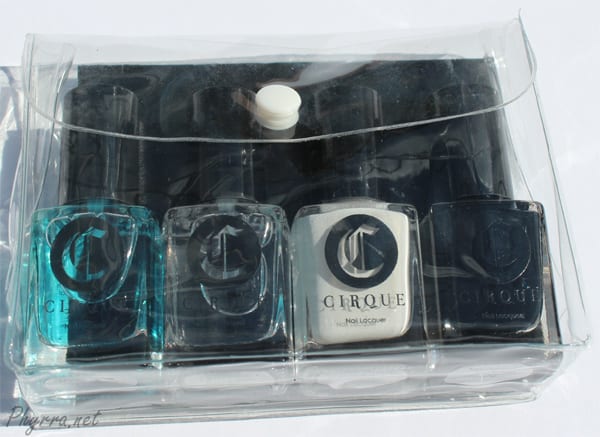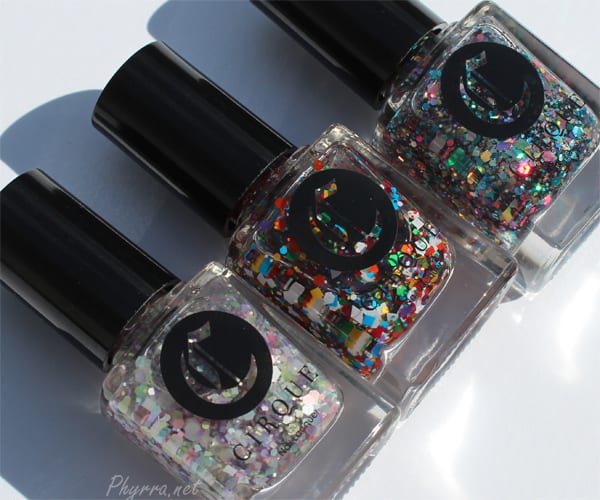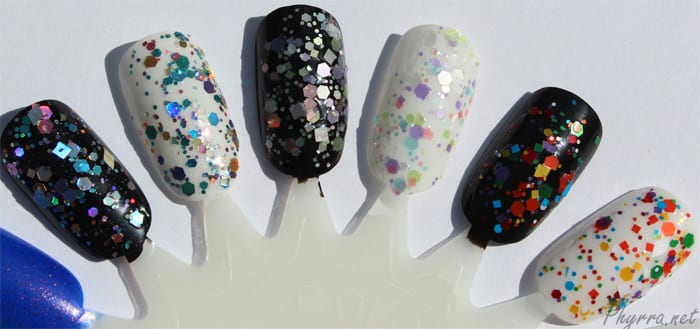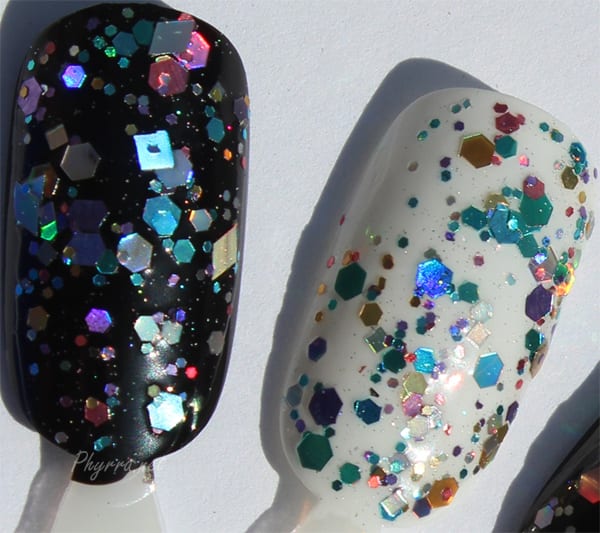 I love how XX looks layered over the black.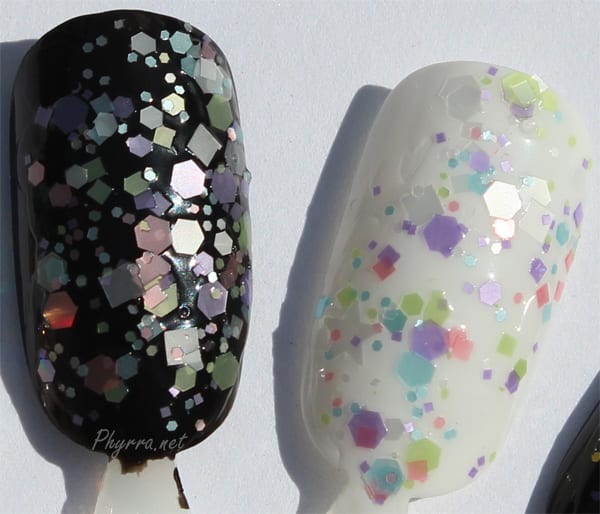 Lullabye looks great layered over black or white to me. However, on top of the black it reminds me of the inside of a sea shell.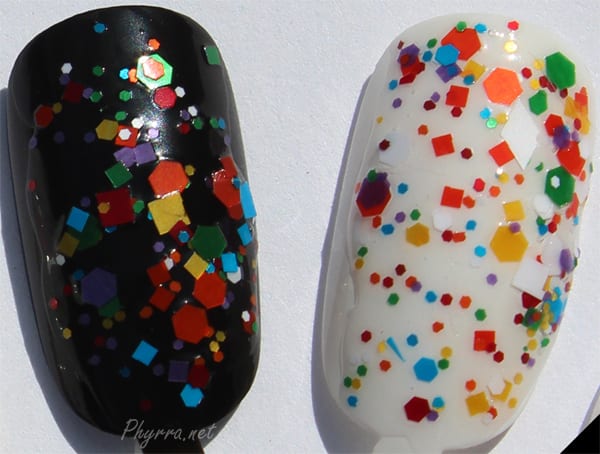 Kaleidoscope looks like so much fun on the black.
Holdfast™ Base Coat – A garlic-infused base coat that strengthens and anchors
Liquid Laminate™ Top Coat – A quick-dry top coat that seals, protects and adds a glossy shine
Memento Mori – A black creme
Carpe Diem – A white creme
About the Kontiki Collection
Whether you're sipping on mojitos, jet-setting across the country or catching up on some well-deserved R&R, explore our latest release that will keep your nails looking hot in the heat.  Inspired by endless summer days, we've created 3 limited editionlacquers each with a special color-shifting shimmer in a vivid translucent base.  If you like Coronation, you will love The Kontiki Collection.
Price
$13
All swatches shown with 2 coats of polish.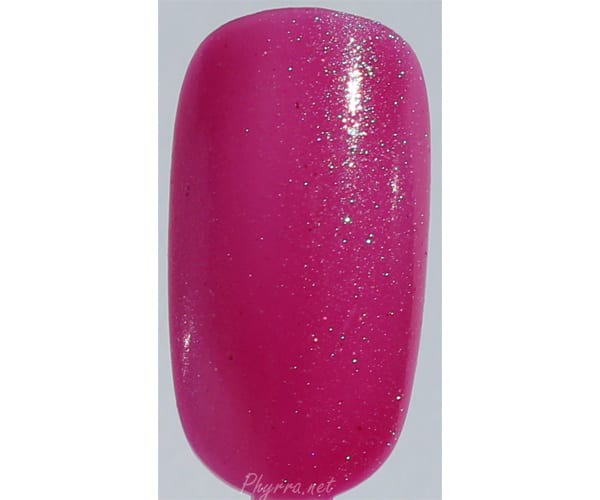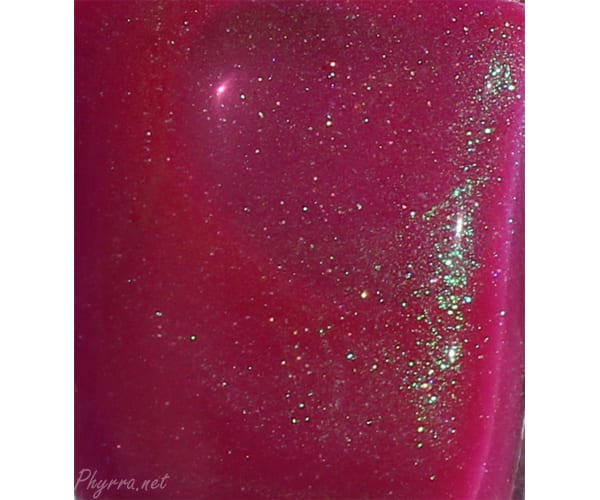 Dear Dahlia – A hot pink "jelly" with multi-dimensional shimmer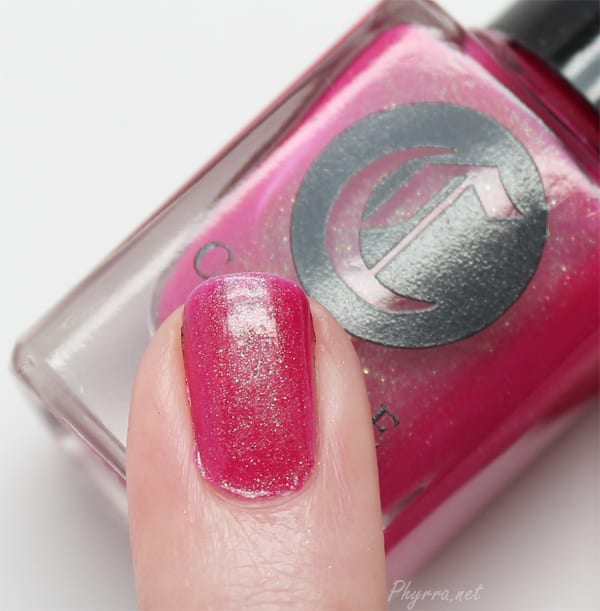 This hot pink jelly looks red in some light. The shimmer in it is gorgeous. It's like a turquoise green and has hints of gold.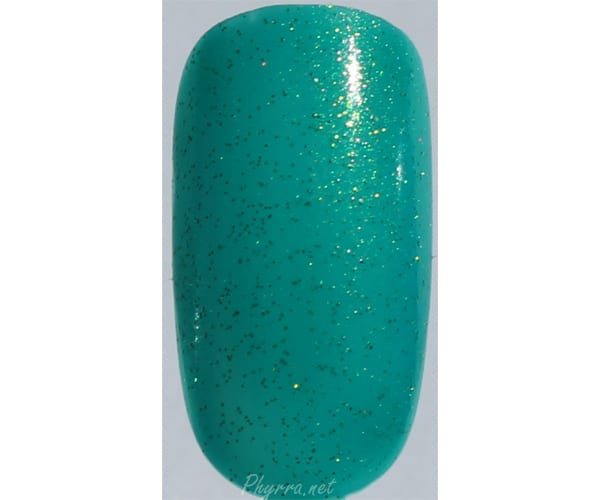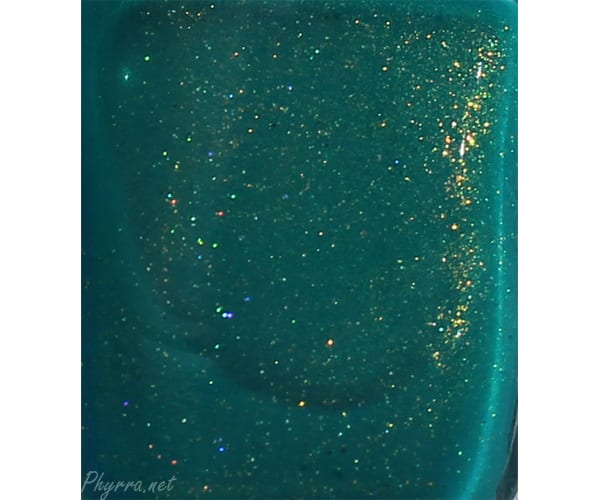 Thicker Than Water – A turquoise "jelly" with multi-dimensional shimmer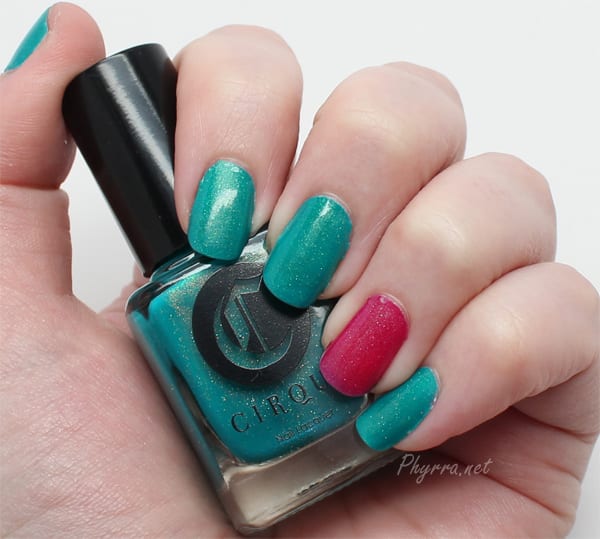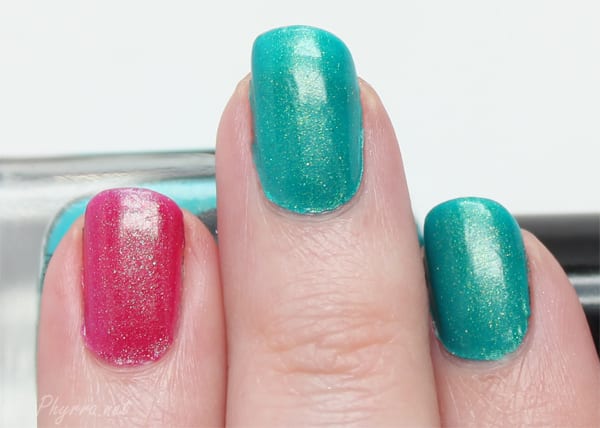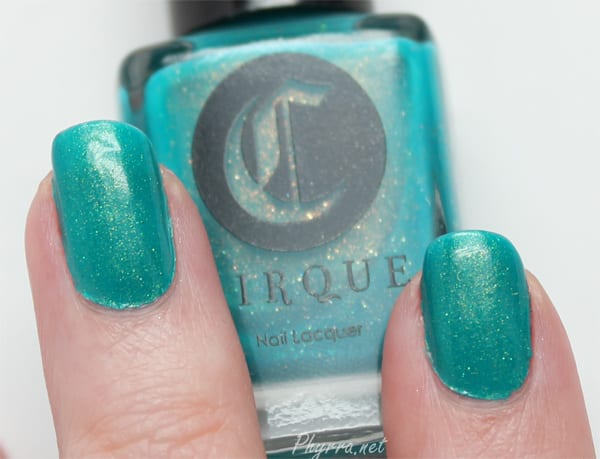 To me, Thicker Than Water is a turquoise green jelly with turquoise and golden green multi-dimensional shimmer. It reminds me of the Travel To pigments. So gorgeous!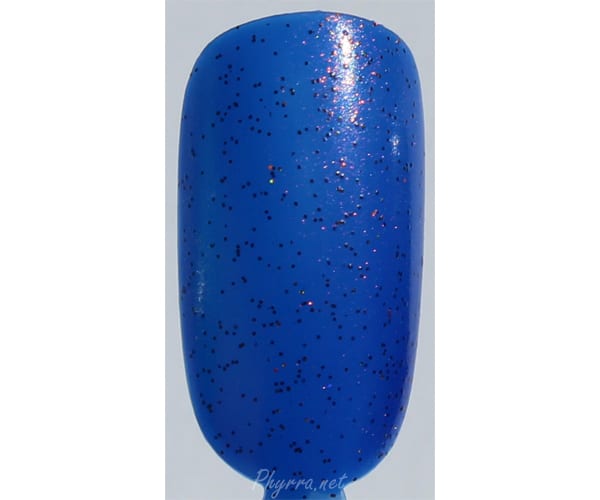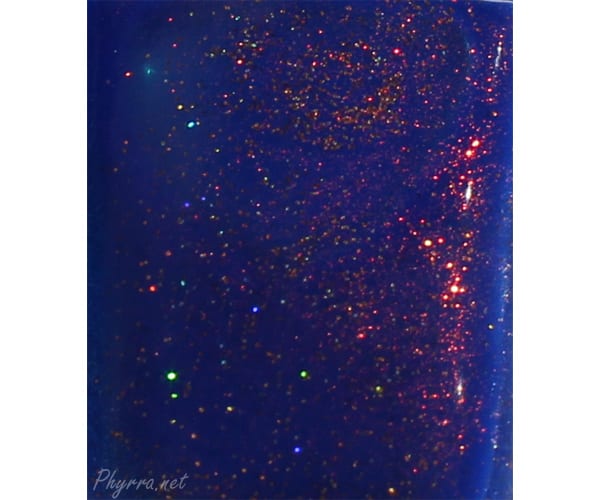 Midsummer Night – A cobalt blue "jelly" with multi-dimensional shimmer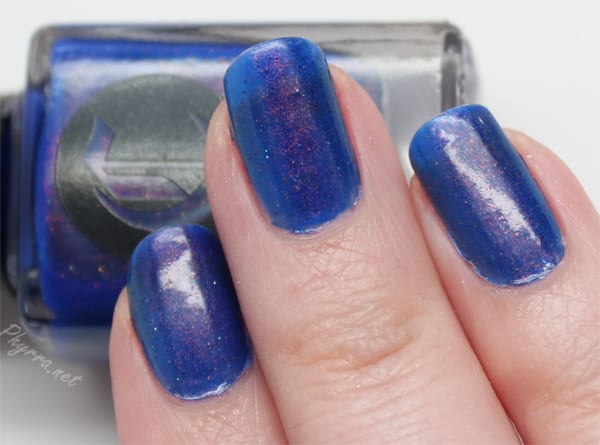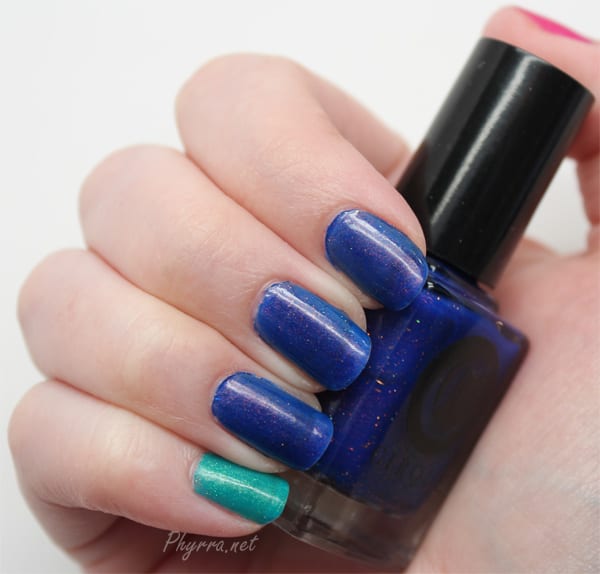 Midsummer Night is my favorite of the three, though it's hard to choose a favorite. It's a gorgeous cobalt blue with copper, red and gold sparks. It reminds me of fire under water.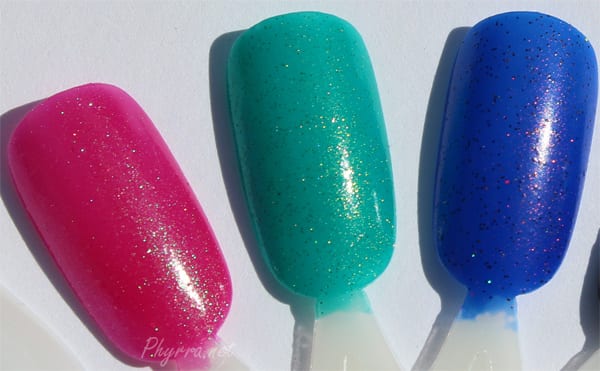 Both the black and white creme polishes have very good coverage. You could probably get away with 1 coat of each, rather than 2, if you're better at painting than I am, which I know many of you are 🙂
I've been wearing the Kontiki colors with the Holdfast Base Coat and Liquid Laminate Top Coat for 4 days now with no chipping or tip wear, which is practically a miracle for me. I usually break my nails or chip within 2 days it seems. I even lifted weights yesterday and haven't broke any. Never fear, I'm sure I'll somehow manage to chip one on a sliding glass door soon enough.
I'm really impressed with how well Holdfast Base and Liquid Laminate are working for me.
I found all of the Kontiki shades easy to apply. The Kontiki 'jelly' polishes seem to have more pigmentation than other jelly nail polishes that I've tried in the past and I really like that! All three shades are breathtaking to me. If you loved the looks of Cirque Coronation (purple), but missed out on that one, you will definitely want to check out the Kontiki jellies.
I will say that wearing Dear Dahlia and Thicker Than Water on the same hand feels very much like Christmas in July. My favorite and the one I'm most drawn to is Midsummer Night, though I do love Thicker Than Water too. You know I love my teals and blues.
What do you think of the Cirque Kontiki and Back to Basics Collections? See any shades you love?
Last Updated on