Several people emailed me in the past few hours with a link to this article about Orglamix. It's very long and filled with a lot of information. Please check it out:
It's my opinion that the key point in the post linked above is this screenshot by Cheri Rychlee (Cheri Tracy), which says:
I have a small cosmetics line in the us, which is currently all private label. I want to switchto semi-custom manufacturing, using stock shades and formulas, but adding certain ainti-aging ingredient. The problem, I can't seem to find anyone who is willing to work with me on small quantities to begin (350-500 units per SKU).
Any advice? Recommendations?
Thanks you,
I appreciate it!

In my opinion, this screenshot ( if it is true) that The Eyes Have it All Blog found seems to indicate that what Orglamix was selling was private label (meaning it was not hand crafted).
Additionally, if you visit the Orglamix Facebook Page, you see lots of angry entries from fans who are upset over Orglamix having said that the adverts with models on them were wearing her makeup, when they are stock photos from places like istockphotos.com. (These have apparently been deleted by Orglamix.)
In my opinion, the key issues that I see people are upset over:
1. Orglamix allegedly repackaged some private label shadows in which some shades were not eye safe, others were not lip safe, but Orglamix repackaged them all as being eye and lip safe, regardless of color. (Some were safe for both, some were safe for one but not the other) This could have happened due to how Orglamix  allegedly slapped her labels on top of the originals. This was the Candy Glam line, though it was sold under the name Orglamix.
2. Orglamix allegedly repackaged her stock colors, possibly from smile jar (according to (Not) Making It Up and Color Me Obsessed), and put Orglamix labels on top of the original labels. This is how people found out about the possible repackaging, because they peeled off the Orglamix label and found the original label. (And if the alleged jars came from Smile Jar, there is also allegedly a possible sanitation issue, which would not be Orglamix's fault.)
3. Orglamix allegedly claimed that in Orglamix advert photos, the women in them were wearing Orglamix makeup, but they came from stock photo sites, according to the Orglamix Facebook page. (These have since been deleted by Orglamix.)
4. Orglamix claimed a specific SPF 15 with foundation products on Etsy but you can't legally do that unless you pay for expensive testing. This is why not every single foundation that you see for sale has SPF rating. You have to test each color individually to get a rating. MAC and Too Faced don't do that with every foundation, nor does Cover Girl, so it's not likely for an indie company to have paid for that sort of testing. (This has since been removed from Orglamix's listings on Etsy.)
Orglamix posted this message on Facebook:



There are very interesting comments (almost 200) on this post, too.
Additionally, Grey started a great post, asking people to weigh in on their thoughts, and asking for company owners to comment, too.
Edit: And here's an update http://color-me-obsessed.blogspot.com/2011/03/follow-up-to-orglamix.html
Edit: Shatteredshards screencapped all the deleted comments/posts from Orglamix Facebook & removed personal identifiable information from the screenshots.
Edit: Another person has shared their experience with Orglamix here.
Edit: Adding a comment left on another Oglamix post on my blog from Mar. 7, 2011. Posted by L.
We could also try to track down the source of her cosmetics through muddminerals on ebay.  I wrote to her and got a bit of a response back.
I posted this question to a page advertising LillyPilly with the same photo:
Dear muddminerals,
Is this the same makeup that is sold under the name Orglamix on Etsy? If so I was wondering why there is a difference in price, whether the size will be the same, and if they are also hand mixed as sold here. Thank you for your anticipated response.
Here is the response:
Hi,
Cheri Tracy owns Orglamix & Urban Apothecary, as well. You can Google it.
I buy my micas from the same manufacture where she buys hers. They sell the pictures as well…
I hope this help.
Please, do not hesitate if you should have any other question.
Thank you.
Kindly,
Lily
– muddminerals
This is a screenshot of Orglamix speaking to a potential customer. I quoted 2 parts:
"I am aware of what a few bloggers are saying about Orglamix; as is my attorney. They are simply stating their OPINIONS. They are not making FACTUAL statements."
"What do YOU want from me? Are you a customer? Is this your real name? You aren't showing up as having purchased a single item. I deal with each CUSTOMER on an individual basis, even the unhappy ones."
Edit: Here is Cheri Tracy's official Orglamix statement.
Edit: Another blog post with screenshots: http://toxid-lotus.net/?p=2149
Edit: and another: http://color-me-obsessed.blogspot.com/2011/03/before-i-bite-my-tongue.html?spref=tw
Edit: As of March 13, 2011 Orglamix has not answered this woman's well-written concerns about eye shadow primer. Here's a screenshot of what she wrote, in case the post ends up deleted like so many others Orglamix deleted.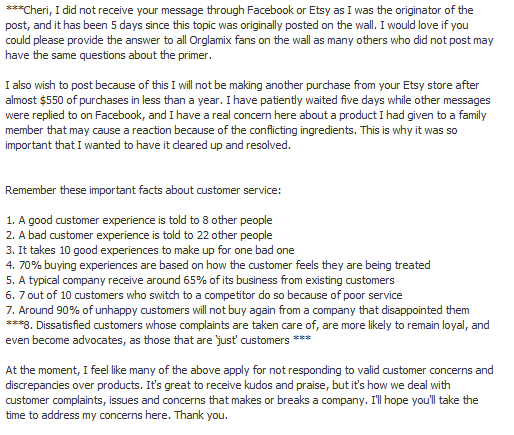 Edit: There is now an Orglamix Fraud Facebook page.
I also want to remind you all about Don't do Dumb Shit & People Won't Write About It.
Please note, these are my personal opinions and observations on things, based on my research and my past experiences with Cheri Tracy & Orglamix and are not to be construed as definitive facts. It is up to you to draw your own conclusions on the subject of Orglamix.