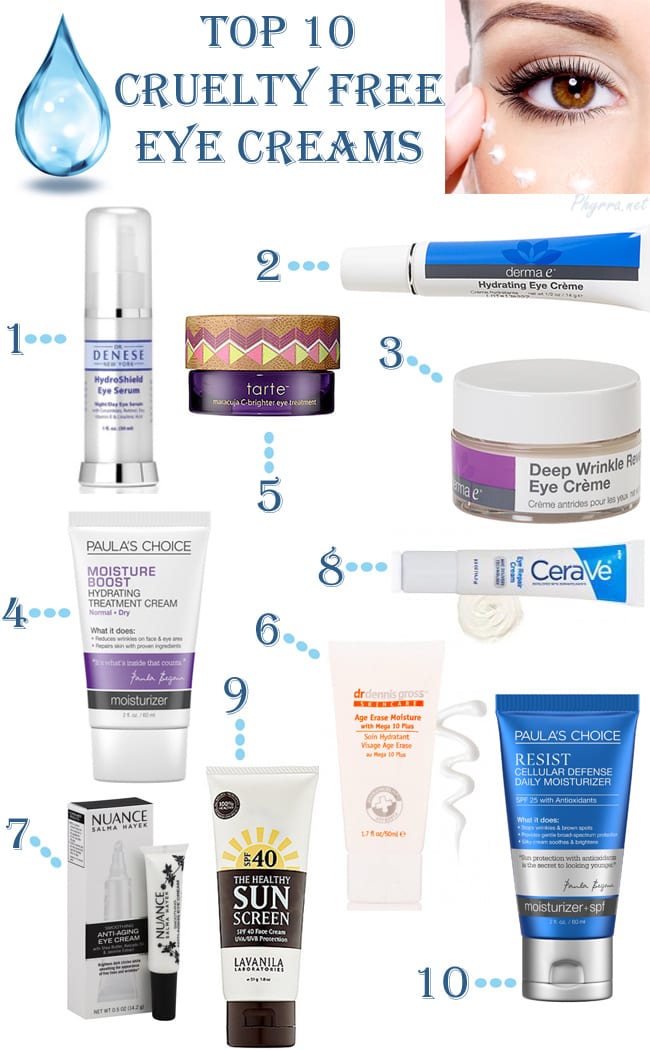 Happy Beauty Top Ten Tuesday! This time we're sharing our top ten eye creams. Research shows that you should look for eye creams that contain hyaluronic acid, ceramides, retinol, vitamins C & E to help retain moisture, reduce puffiness, fine lines, etc. Make sure that during the day you're using at least SPF 25 to protect your delicate eye area. Also, don't be afraid to skip a product labeled 'eye cream' in favor of a rich face cream. Just make sure you check the ingredients listing.
PR + purchased by me.
Top Ten Eye Creams
As far as packaging goes, I'm a snob in the sense that I really do not like jars because I always worry that the anti-aging ingredients will become unstable when repeatedly exposed to air, so I prefer tubes or airless pumps. I do list 2 products that are in jars because the former I've tried and really liked, and the latter is very highly rated.
1. Dr. Denese HydroShield Eye Serum
This serum is rich in ceramides. It also has retinol, linoleic and linolenic acids, soy and vitamin E. I've been using this nightly since mid-April and I really like how it absorbs quickly.
2.  derma e Hydrating Eye Cream
This cream contains pycnogenol (a super antioxidant) and hyaluronic acid. Both are supposed to be great for nourishing, firming, smoothing and deeply hydrating the eyes. (Vegan)
3. derma e Deep Wrinkle Reverse Eye Creme Peptides Plus
Peptide Matrixyle synthe 6, Peptide Argireline, green tea, vitamin C and pycnogenol are supposed to be some of the most effective ingredients in an eye cream. This is on my wish list to try, though I do hate the jar packaging. (Vegan)
4. Paula's Choice Moisture Boost Treatment
Made with squalane, vitamin C, jojoba oil, linoleic acid, ceramide 3, vitamin E, linolenic acid and antioxidants, this is an extremely rich eye cream. I loved the tube that I went through, though I used it for my face and eyes both. This is ultra soothing. It's not good to wear under makeup because your makeup will crease. See my review.
5. tarte Maracuja C-Brighter Eye Treatment
This contains maracuja oil, vitamin C, Sodium Hyaluronate, mango butter and coconut oil, for a really nice moisturizing treatment. This feels really good on my undereye area, but I definitely have to watch my placement of the cream because if it gets too close to my eyes it bothers them. If I apply it properly, I have no issues.
6. Dr. Dennis Gross Age Erase Moisture
Combining Vitamins A, C and E with peptides, antioxidants, hyaluronic acide and other moisturizing ingredients, this has been raved about as being a great moisturizer for the face and eyes, so it's on my wish list. (Vegan)
7. Nuance by Salma Hayek Smoothing Anti-Aging Eye Cream
This one is made with shea butter, avocado oil & jasmine extract. Brightens dark circles while smoothing the appearance of fine lines and wrinkles. I've heard that this is the best drugstore eye cream available.
8. CeraVe Eye Repair Cream
I love CeraVe products and this one looks promising. CeraVe is the brand that my dermatologist recommends  more than anything, which is why I've tried some of their products (I love their night time moisturizer, but unfortunately the day time with SPF irritates my eyes). It's supposed to help with dark circles and puffiness, hydration and improve circulation.
9. LAVANILA the Healthy Sun Screen SPF 40 Face Cream
I use this around my eyes and face. It's loaded with antioxidants, zinc and titanium dioxide. This doesn't irritate my sensitive eyes. I've been using this product on and off for 3 years and I love it. See my review.
10. Paula's Choice Resist Cellular Defense Daily Moistuizer SPF 25
This very hydrating moisturizer with SPF is loaded with antioxidants and it does not irritate my sensitive eyes. I just wish it was SPF 30-40. See my review. (Vegan)
What are your picks for the best moisturizing cruelty free eye creams?
Loading InLinkz ...