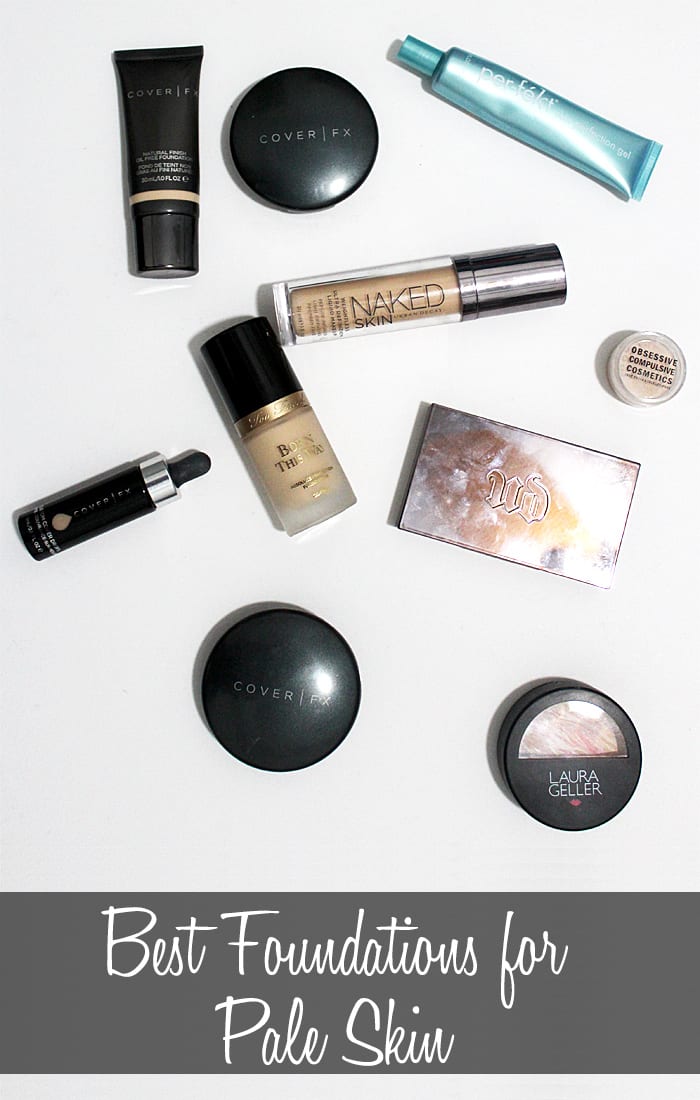 When you're pale, foundation can sometimes be tricky. Today I'm sharing my top ten cruelty free foundations for pale skin. If you also suffer from discoloration or redness, like I do, you may have issues getting properly matched. I know I've been mismatched  many times. For me, I have to match my foundation to my neck / chest, rather than my face, since I have a lot of redness to my face. In addition to the ten best foundations below, I highly recommend picking up a white foundation mixer that you can use to lighten liquid foundations to be a better match to your skintone.
Top Ten Cruelty Free Foundations for Pale Skin
All of the foundations mentioned below are cruelty free and all but one are vegan. For even more vegan foundations, and to see me wearing each foundation, check out my Best Vegan Foundations post. This post contains a mix of press samples and products purchased by me.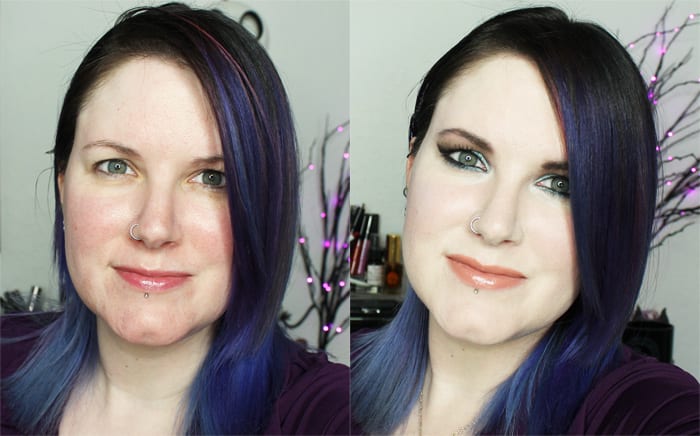 1. Cover FX Liquid Foundation (vegan)
Right now Cover FX Liquid Foundation in N0 is my perfect foundation. I don't have to use a white foundation mixer and it matches me perfectly. I often like to use this with Cover FX Illuminating Primer or mix in the Illuminating Primer. I set it with a setting powder. (40 shades available)
2. Cover FX Custom Cover Drops (vegan)
I LOVE the CCD's! I wish they came in N0. I mix N10 + my white foundation elixir with Embryolisse Lait Creme Concentrate or Glossier Perfecting Skin Tint for a gorgeous foundation. This is good for all skin types because you can mix it with your favorite skincare products or foundations. (25 shades available)
3. Cover FX Pressed Mineral Foundation (vegan)
I love a good pressed mineral foundation. When  my skin was oily, I wore powder almost exclusively. I still find it easier to dab on some powder to counter my redness from rosacea and then dash out the door. I have this in N10 and I need to pick it up in N0. It's  my all time favorite pressed powder because the coverage is so buildable and beautiful. This is recommended for oily skin. (40 shades available)
4. Cover FX Total Cover Cream (vegan)
This is a really nice versatile foundation that can be used as a foundation or a concealer. I have it in N10 and I need to get it in N0. Again, I would set this with a setting powder. This is recommended for all skin types but especially sensitive. (40 shades available)
5. Urban Decay Naked Skin Liquid Foundation (vegan)
This is a great, demi-matte foundation with buildable coverage. I haven't worn it in a while but I'm pretty sure I'd have to tweak my shade .5 with a bit of white foundation mixer to get a better match. If you have oily skin, you should use UD's De-Slick before application. (18 shades available)
6. Urban Decay Naked Skin Powder Foundation (vegan)
This is a really nice powder that you can use on its own for sheer coverage or put it on top of a liquid or BB Cream. Fair Neutral is a pretty nice shade on me. (14 shades)
7. Too Faced Born This Way Foundation (vegan)
This has such a GORGEOUS finish, I have a review coming up with it. The shade Snow is the closest match to me, though i need to mix in my white foundation mixer for a better match. (18 shades available)
8. Obsessive Compulsive Cosmetics Skin Conceal (vegan)
This is a multi-tasking full coverage concealer and foundation. It hydrates and nourishes the skin. The texture is great and I feel like it works well for oily and dry skin. I typically have to mix two shades together. (12 shades)
9. Perfekt Skin Perfection Gel (vegan)
I love this stuff! I have to mix in a drop or two of white to make Luminous match my skin, but it does a great job of evening out my skintone and making me feel like I'm wearing nothing at all. It has a primer consistency. I really want to try their new Perfection Plus version too! (7 shades available)
10. Laura Geller Balance-n-Brighten Foundation
This is my only non-vegan foundation on the list. I love to use the shade Porcelain and mix it with Cover FX Pressed Mineral foundation to give me a bit of a glow. It's a paraben free baked mineral formula that has anti-aging ingredients. With different colors swirled together, it helps to color correct the skin. (5 shades available)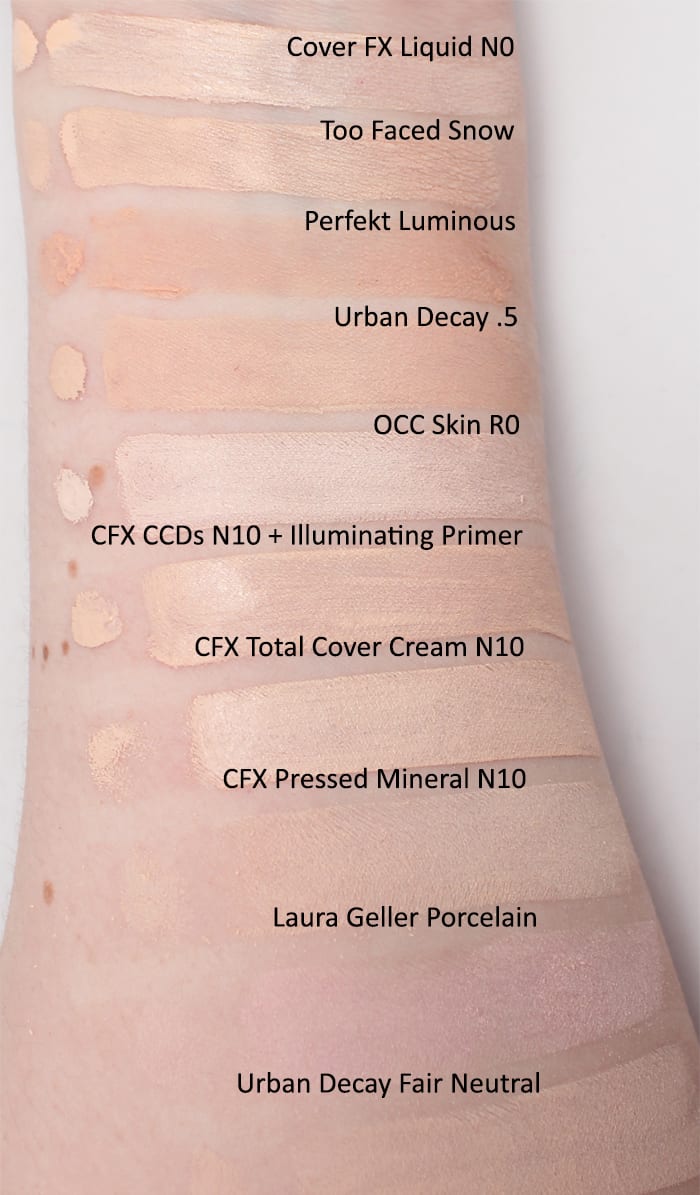 Here you can see swatches of my top 10 on my arm. I also wanted to share some of my other favorites that go with foundation.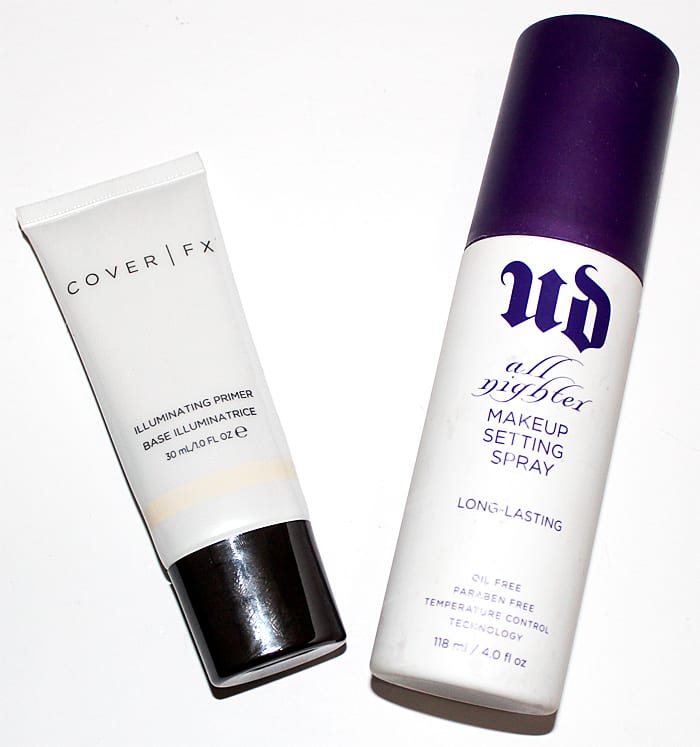 Cover FX Illuminating Primer (vegan)
This is my all time favorite primer. I wear it under makeup or I mix it in with makeup. I love the subtle glow it gives.
Urban Decay All Nighter Makeup Setting Spray (vegan)
I love using this to set my makeup. I also use it sprayed on a damp beauty blender or spritzed on my face before I apply a liquid, too. And of course, you can use it to foil eyeshadows as well.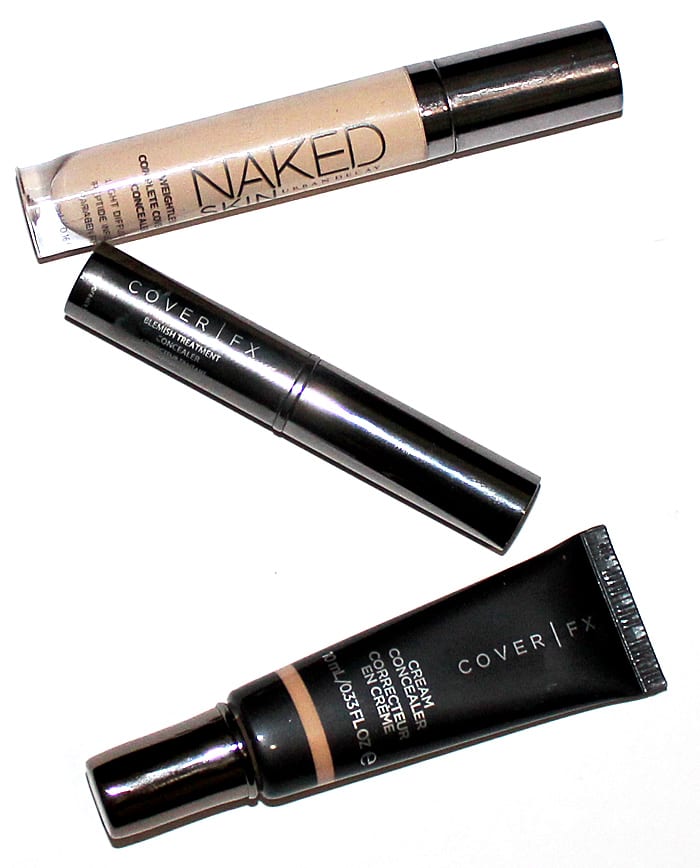 Now, I have 4 concealers that I tend to reach for. The 3 you see above and NARS Chantilly in the stick (which is hiding somewhere in my makeup room.)
Urban Decay Naked Skin Concealer in Fair Neutral (vegan)
This is what I tend to use under my eyes because it doesn't crease on me. Love it.
Cover FX Blemish Treatment Primer in N-Xtra Light (vegan)
This is great for around my chin and cheeks where I end up getting zits from rosacea flare ups. It has 1% Salicylic Acid.
Cover FX Cream Concealer in N-Xtra Light (vegan)
This is a good all around concealer.
NARS Concealer in Chantilly
I love this stick concealer.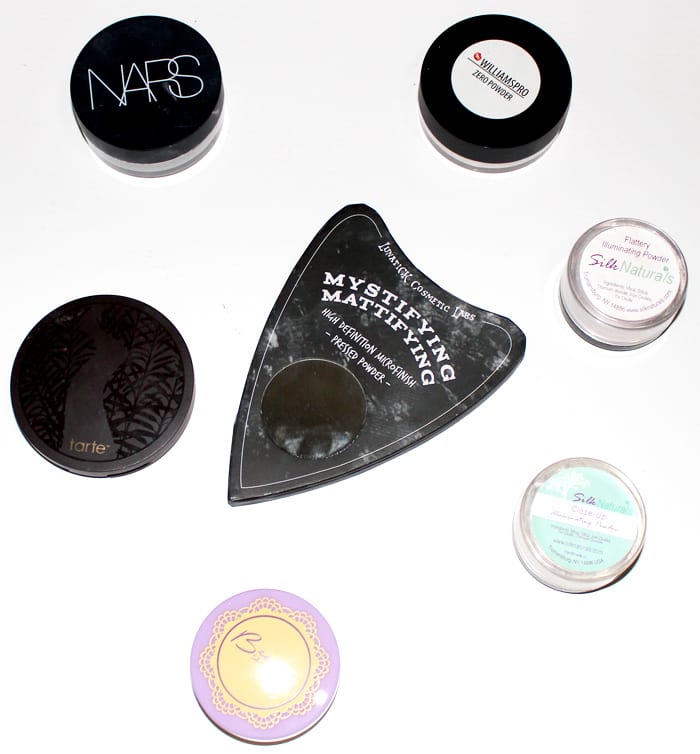 Some liquids and creams really need a good setting powder. Here are some great ones.
NARS Light Reflecting Loose Setting Powder
I love this stuff and it's especially great for under the eyes.
Williamspro Zero Powder (vegan)
This Australian born powder is completely matte and it's easy to just apply a tiny bit and you're set.
Silk Naturals Illuminating Powder in Flattery (vegan)
This helps to minimize the appearance of pores, set makeup and give you a little glow. It has interference colors- mainly gold, blue and purple, with a hint of pink.
Silk Naturals Illuminating Powder in Close-Up (vegan)
This helps to minimize the appearance of pores, set makeup and give you a little glow. It has interference colors in pink and gold. It's inspired by MAC Lightscapade.
Tarte Smooth Operator Amazonian Clay Tinted Pressed Finishing Powder in Fair
Perfect for setting foundation and adding a hint of color.
Lunatick Cosmetic Labs High Definition Microfinish Pressed Powder (vegan)
In addition to coming in bad ass packaging, this is a pretty awesome setting powder. It blurs imperfections and can be used to mattify a lipstick.
Besame Brightening Violet Powder
This finishing powder can be used to set makeup, add brightness under the eyes or on the cheeks, while still giving you a matte finish.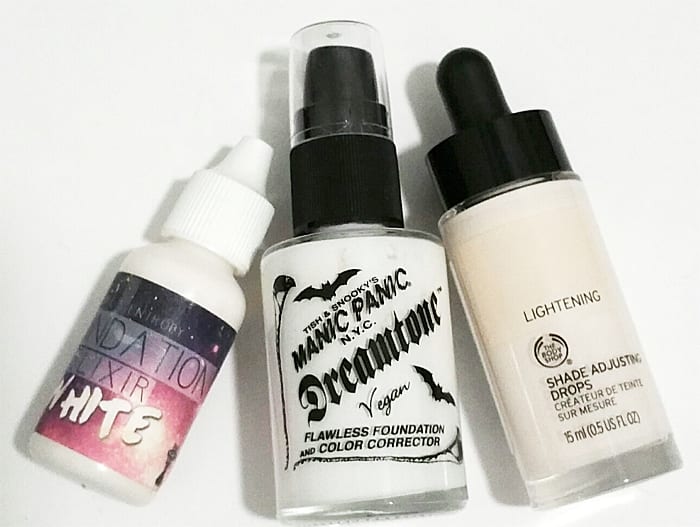 White foundation mixers are a pale girl's best friend! Seriously, invest in one. You can mix it with liquids, and some creams to get a better match to your skintone. Some foundation lines, like Face Atelier, offer a warm and dark foundation mixer as well as white. And the Body Shop now offers Lightening and Darkening, to help more people get their perfect match.

Life's Entropy Foundation Elixir in White (vegan)
This is my favorite foundation mixer right now.

Manic Panic Dreamtone in Virgin White (vegan)
I bought this to test out. It's a white foundation.

The Body Shop Shade Adjusting Drops in Lightening (not sure if it's vegan)
The Body Shop just came out with this and I had to pick it up. Lightening is supposed to lighten and neutralize yellowness. There's a sister shade, Darkening, that is supposed to darken foundation while keeping natural depth.

Ok, so now I've shared my top 10 cruelty free (and almost all vegan) foundations with you. You've got my favorite primer, concealers, setting powders and makeup setting spray. Plus, indispensable my white foundation mixers. Now you can go forth and find your perfect foundation mix!

Looking for more? Check out

What are your current cruelty free favorites?

[inlinkz_linkup id=571938 mode=1]