Top 5 Eyeshadow Palettes of 2022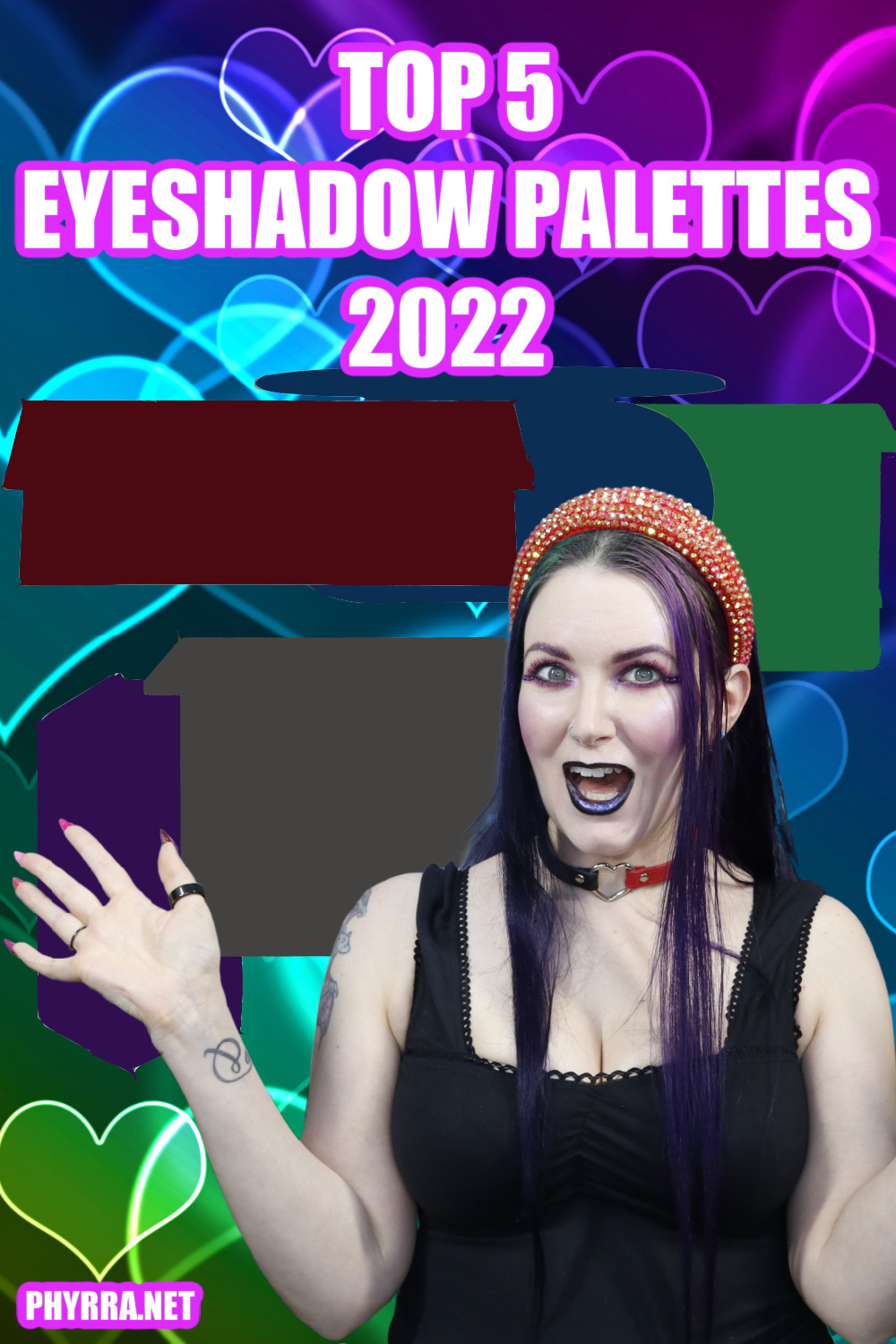 Hello, beautiful creatures! I'm sharing my top 5 eyeshadow palettes of 2022 today! I've been on a low buy since the beginning of 2020 and am continuing my low buy through 2023. I've been judicious about my purchases because I'm not making very many.
Top 5 Eyeshadow Palettes of 2022 Video
Watch the video on YouTube for Closed Captioning in English!
Palettes Featured
Blend Bunny Surge Palette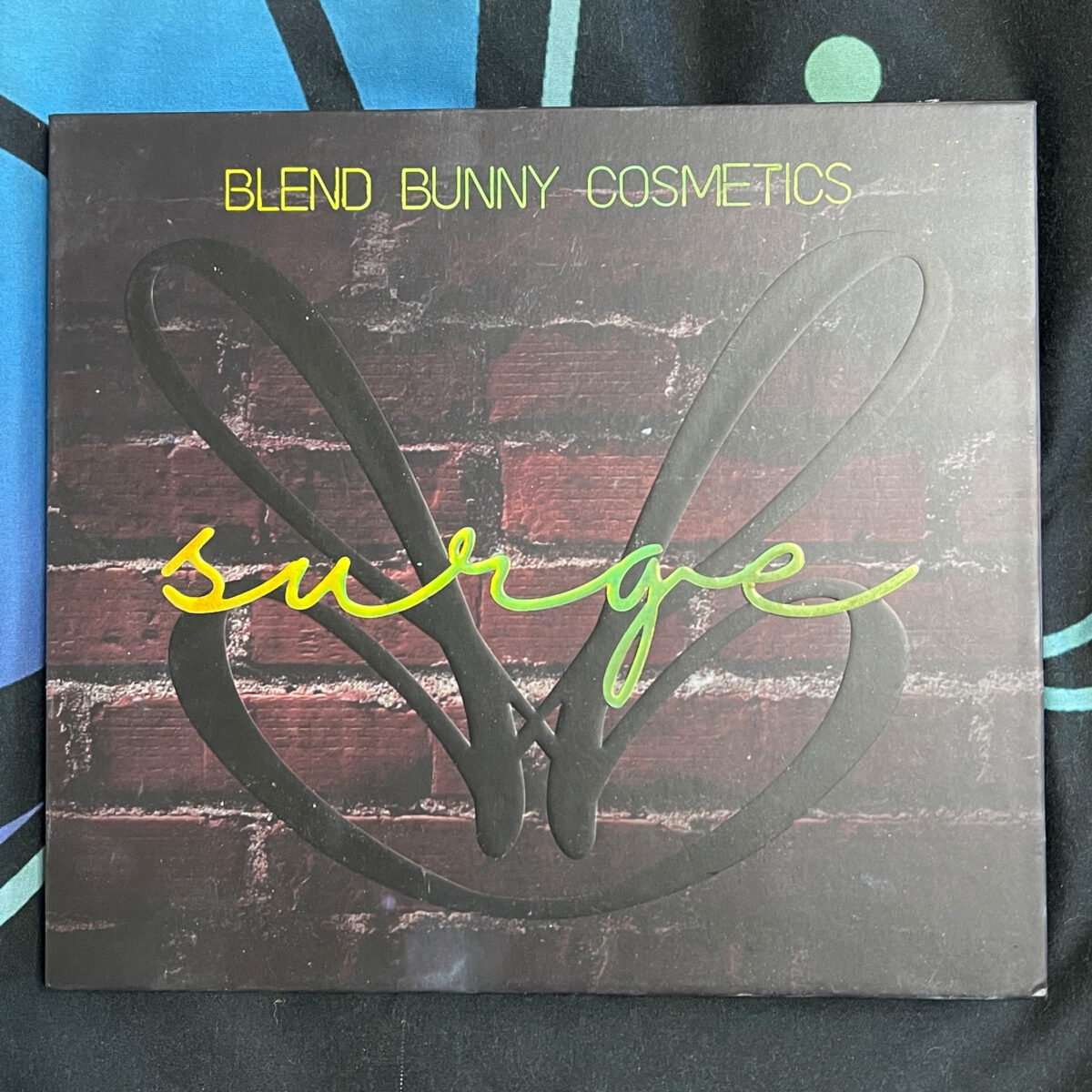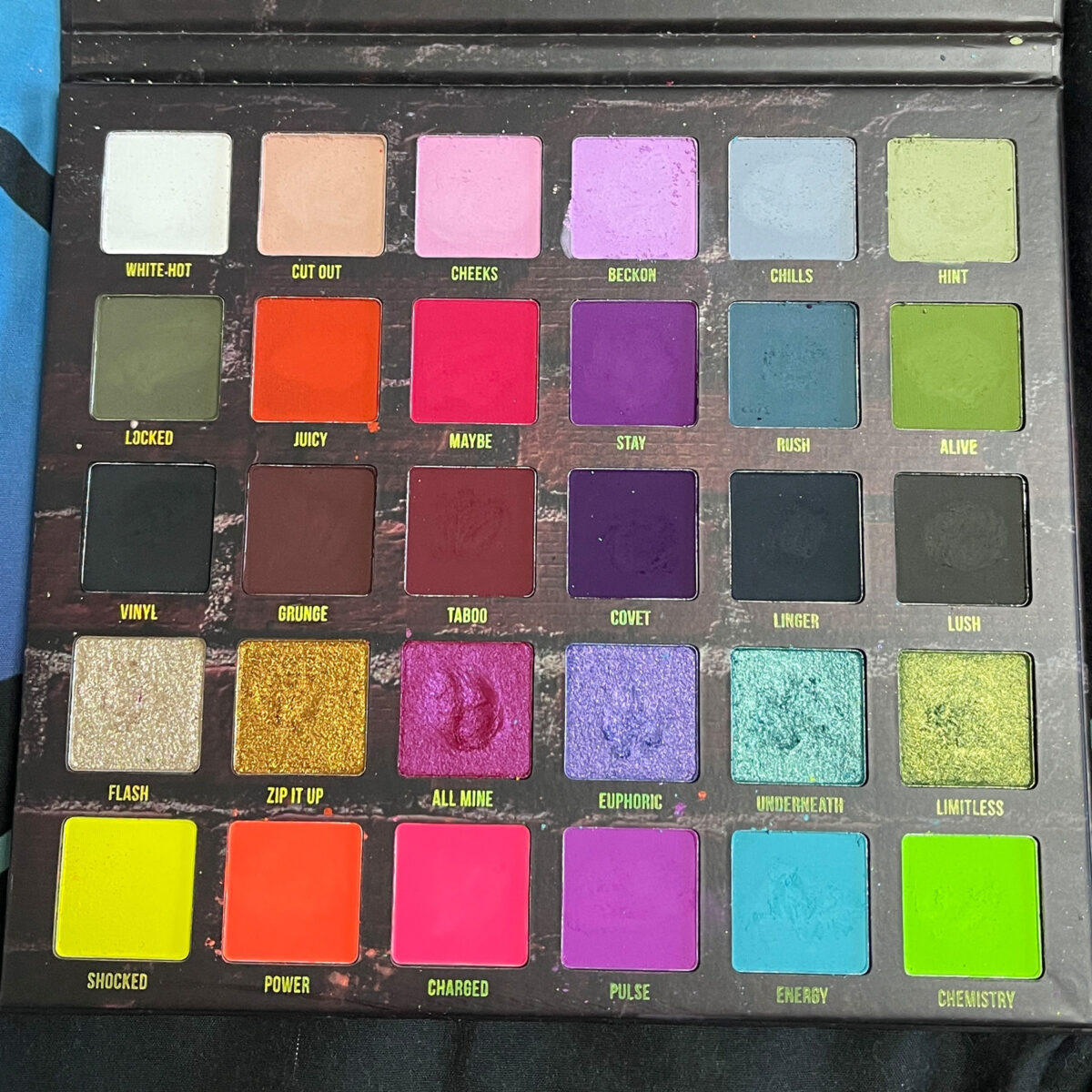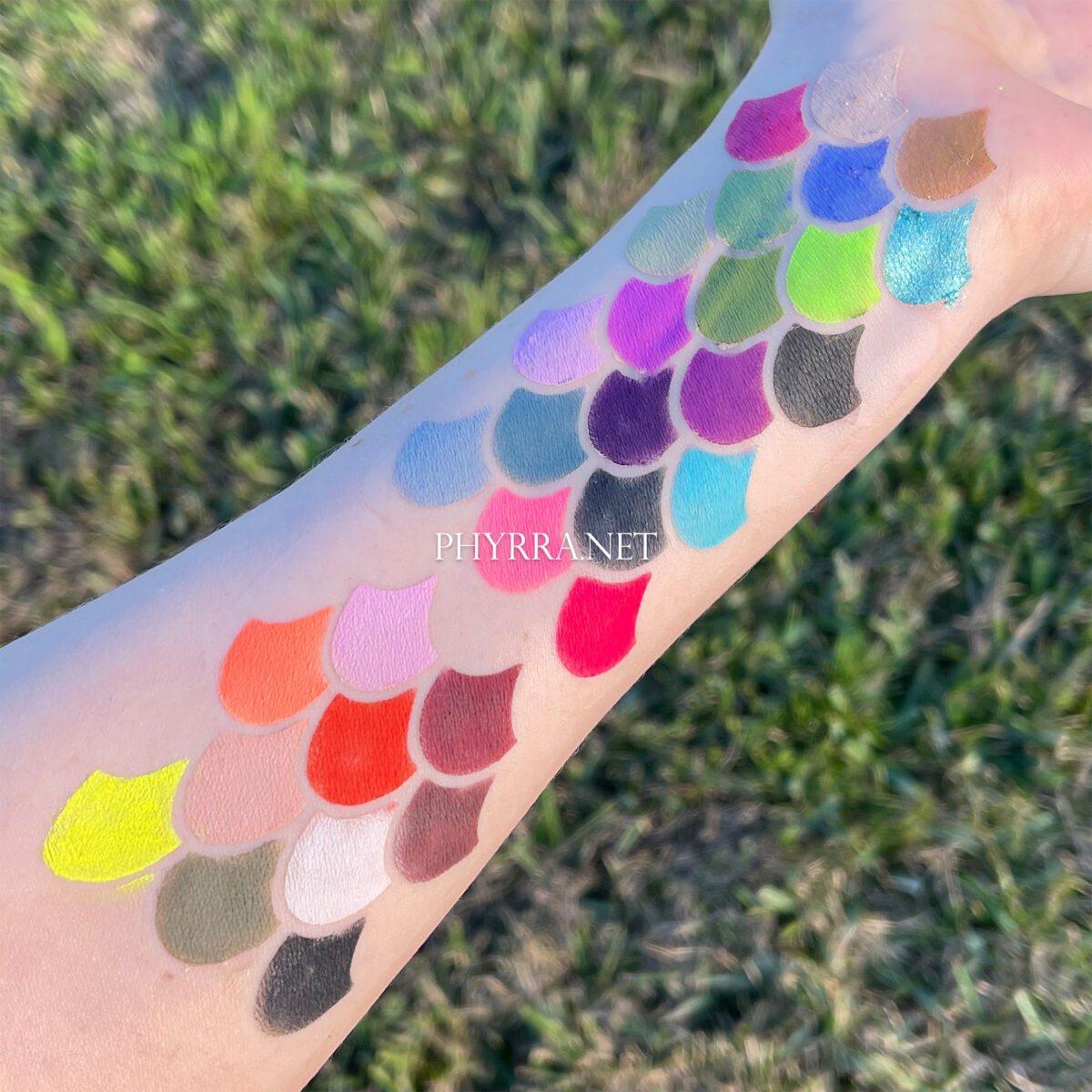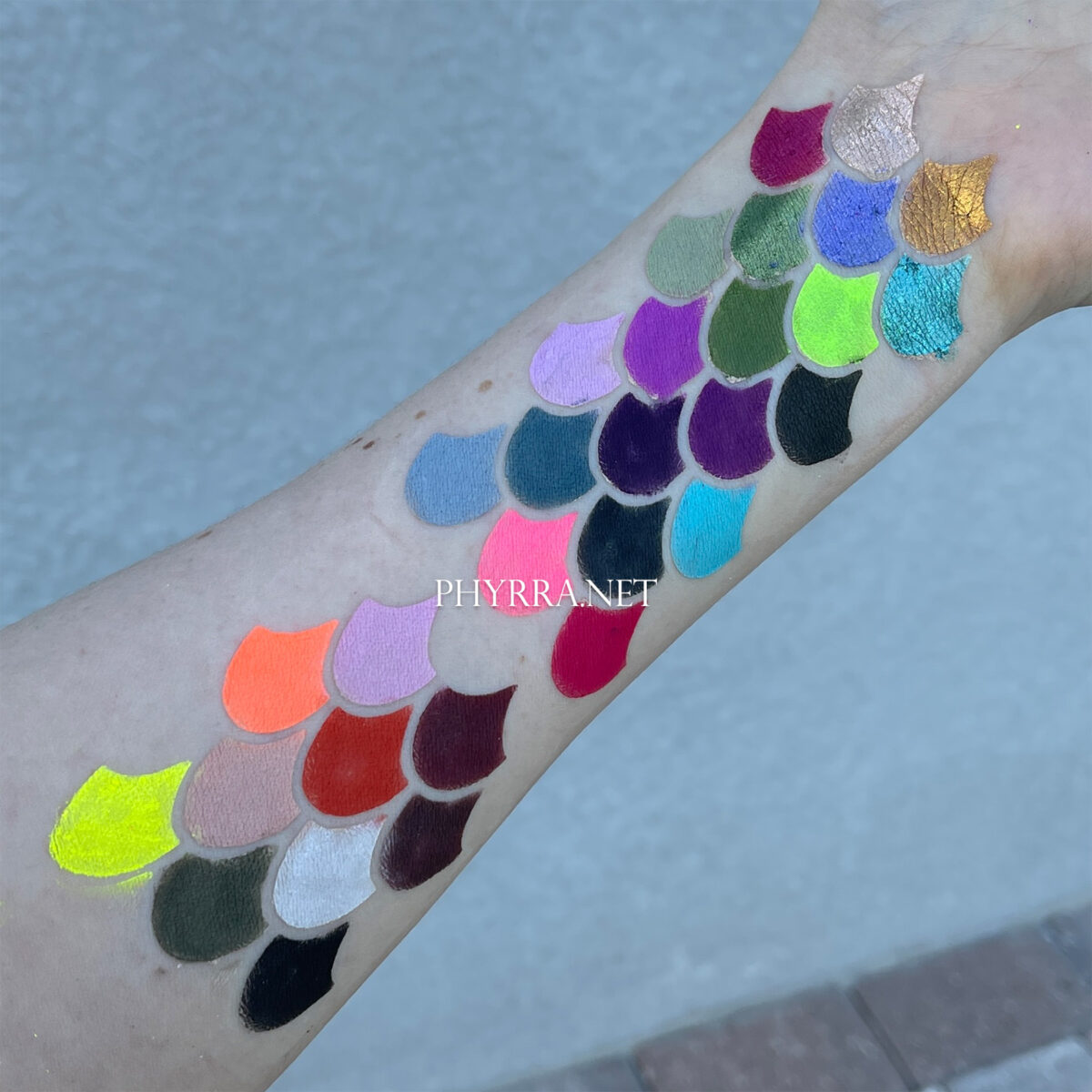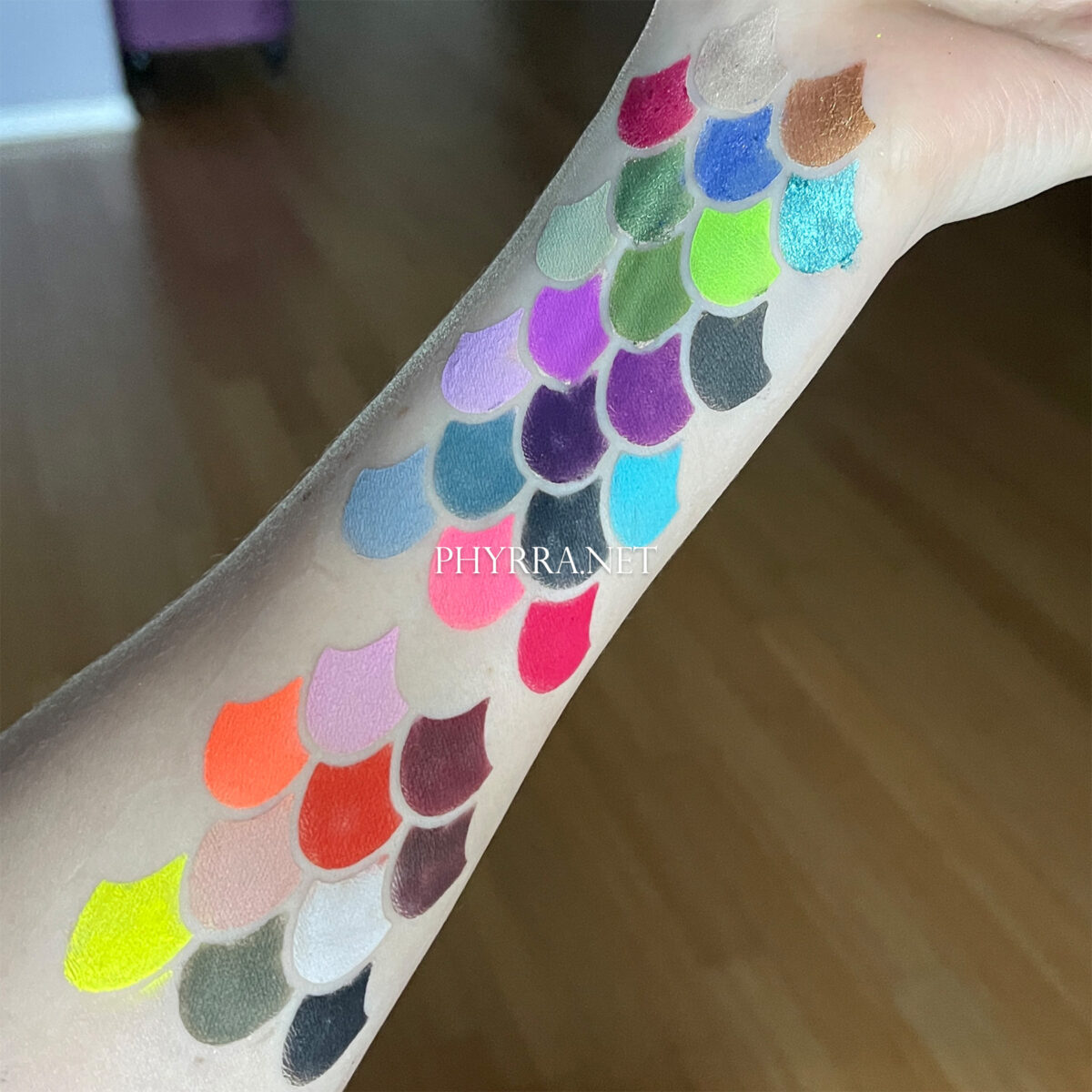 The Blend Bunny Surge Palette is a 30 pan palette that has 18 awesome mattes, 6 shimmers, and 6 neon shades. 4 of the neon shades (yellow, orange, pink and green) are UV reactive, which means they glow under blacklight. I love UV reactive things! The shimmers are a yawn for me but I adore the mattes. The range of matte hues is why I chose it for one of my top 5 eyeshadow palettes of 2022.
Swatch Order
Flash – Zip It Up
All Mine – Euphoric – Underneath
Limitless – Chemistry
Hint – Alive – Lush
Pulse – Stay
Beckon – Covet – Energy
Rush – Linger
Chills – Charged – Maybe
Cheeks – Taboo
Power – Juicy – Grunge
Cut Out – White Hot
Shocked – Locked – Vinyl
Melt Gemini II Palette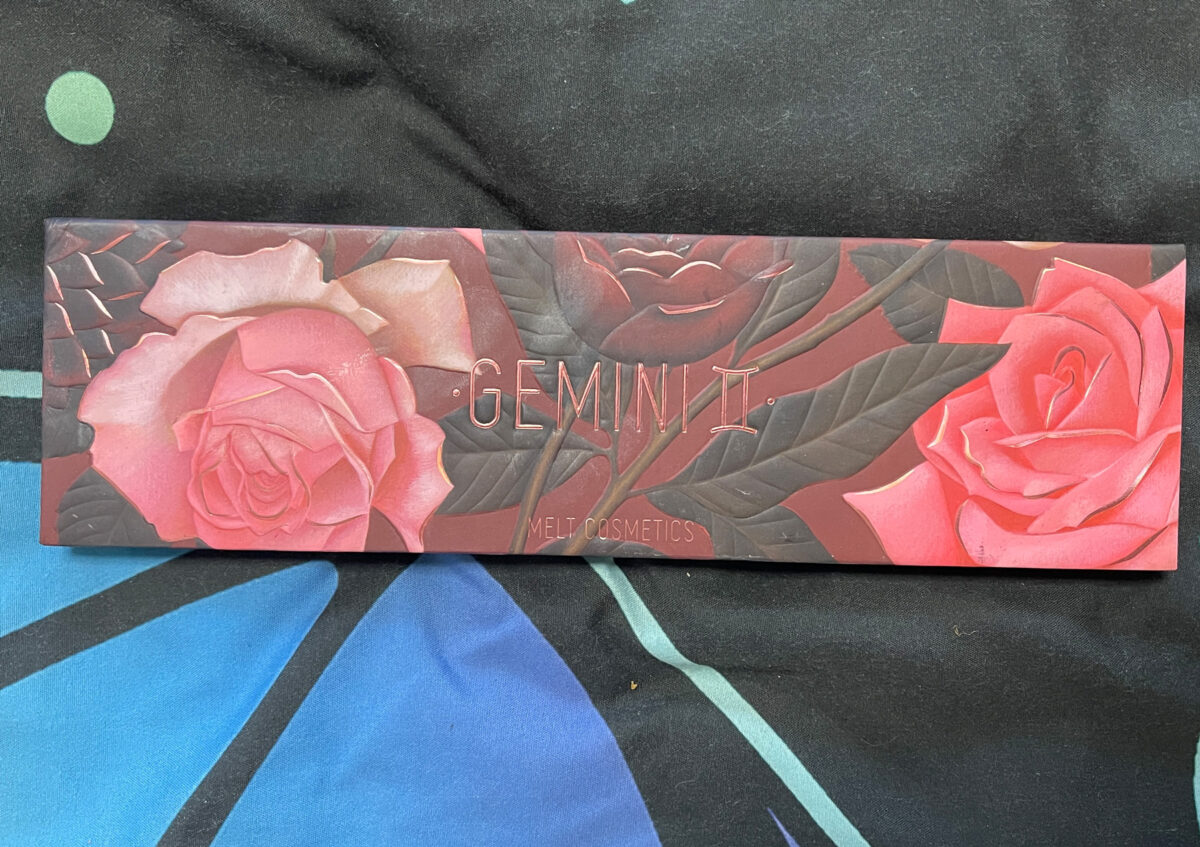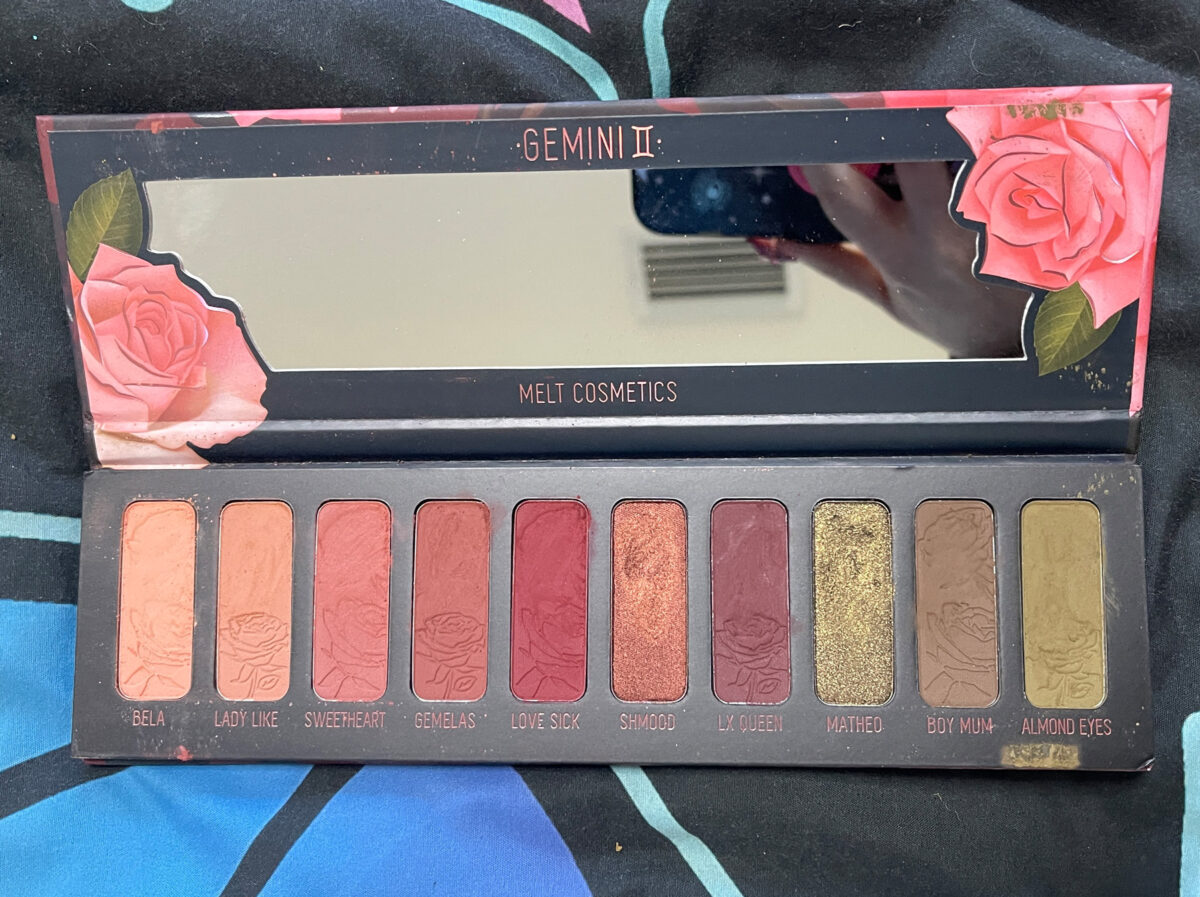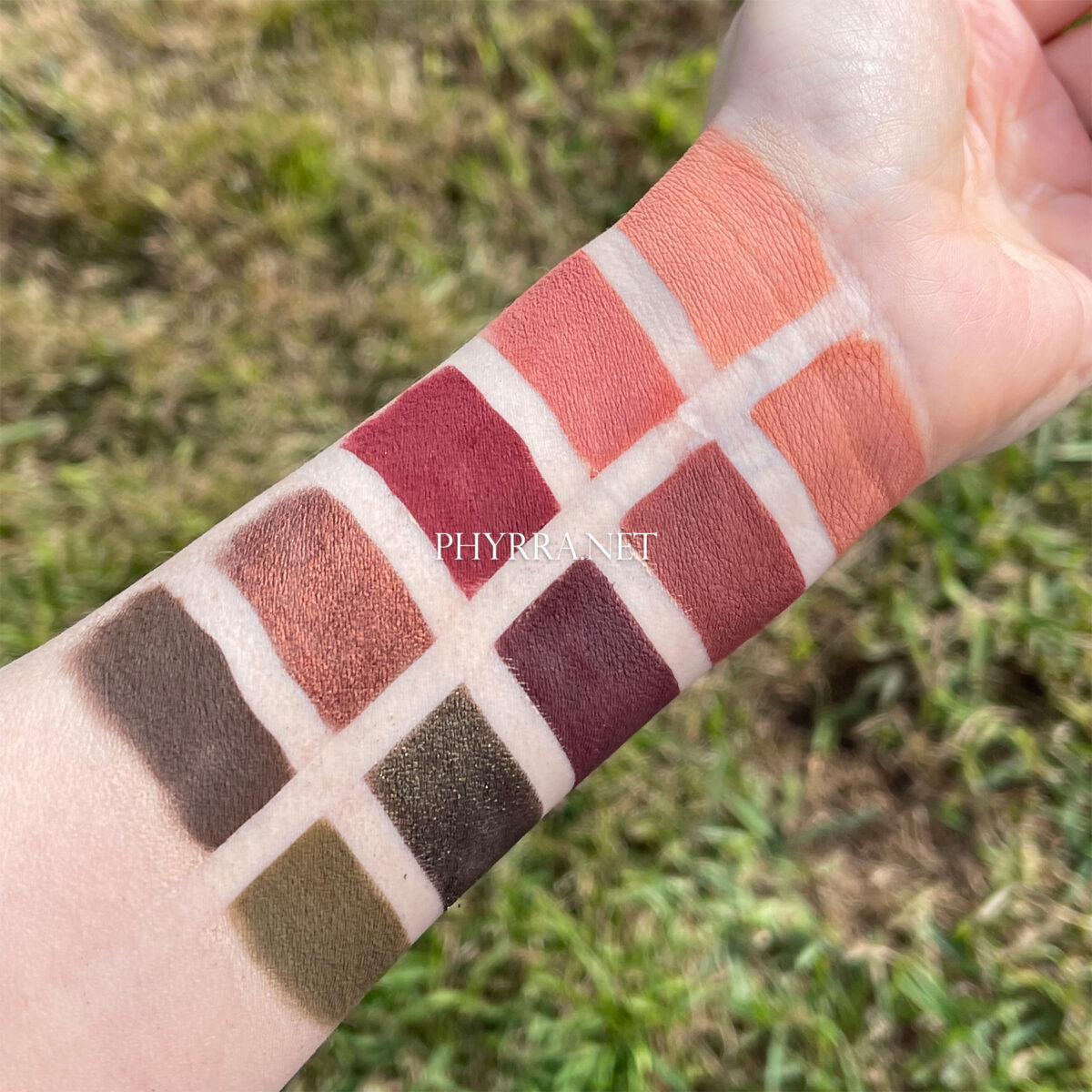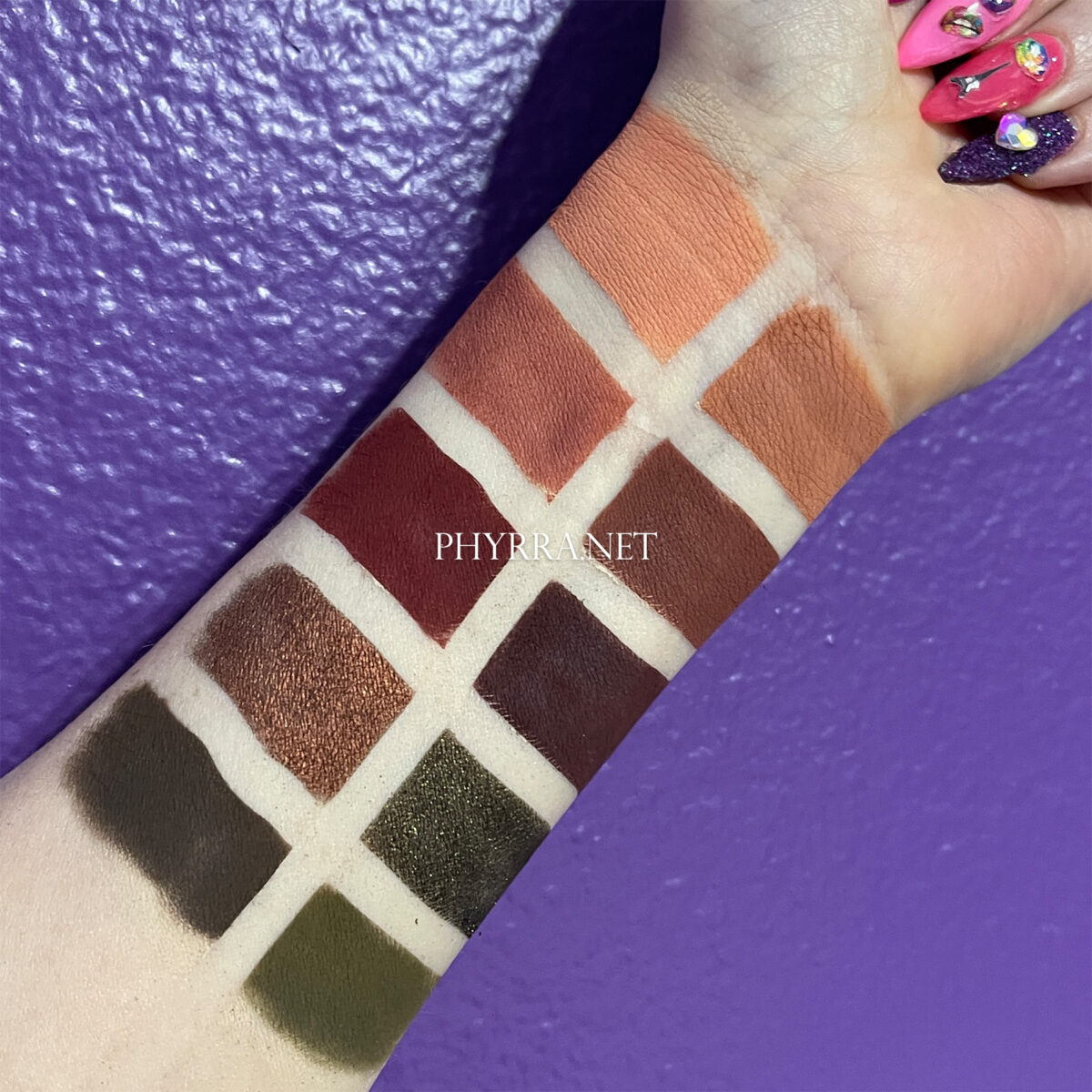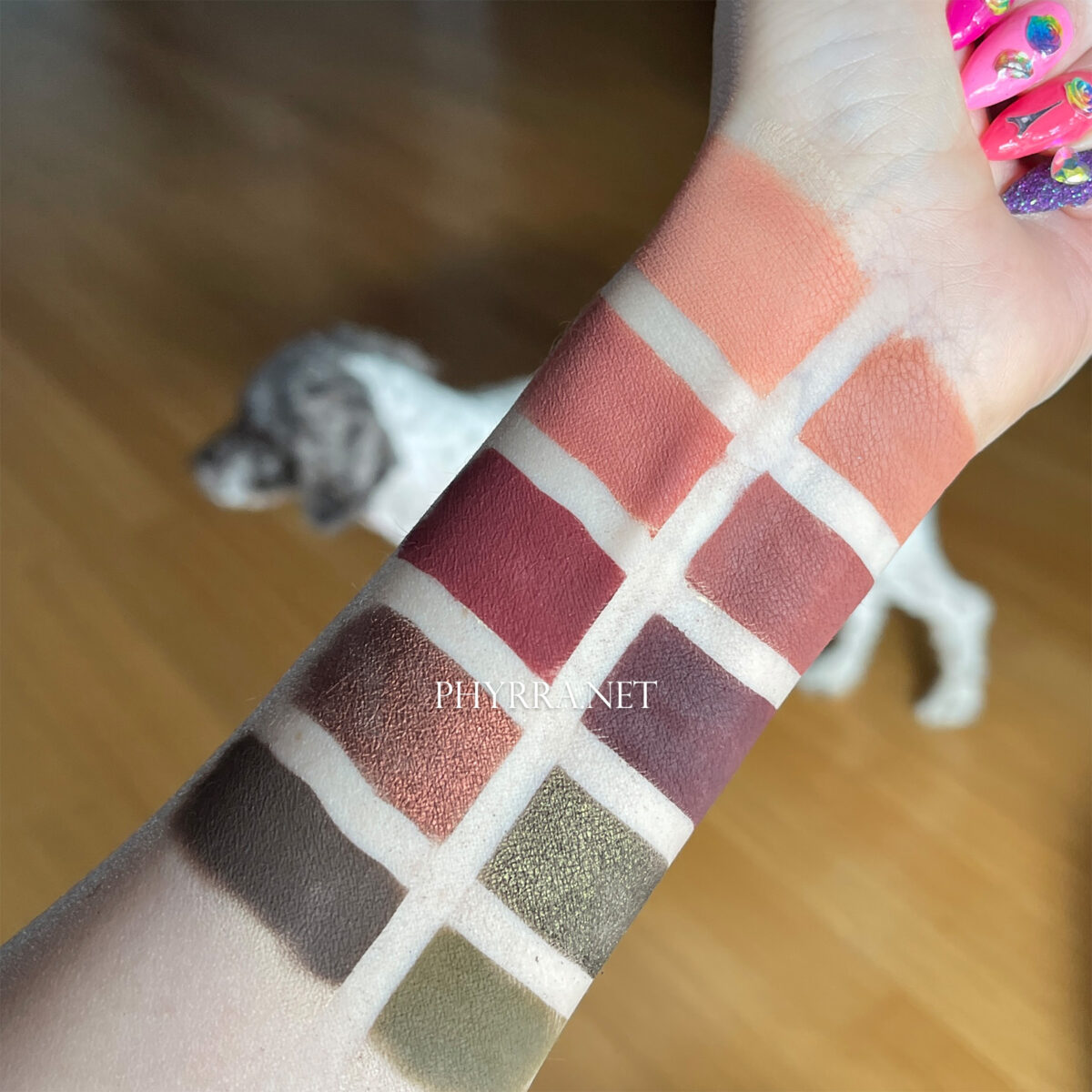 The Melt Gemini II eyeshadow palette color story spoke to me. I love reds, peaches, and fun greens, which is why I chose it for one of my top 5 eyeshadow palettes of 2022. The shimmers don't do much for me but the mattes are fantastic.
Swatch Order
Bela – Lady Like
Sweetheart – Gemelas
Love Sick – LX Queen
Schmood – Matheo
Boy Mum – Almond Eyes
Shade Descriptions
Bela – This light coral matte will brighten up your eyes and your life. Use this shade to diffuse your red tones, for a warm and vibrant eye look with seamless blend.
Lady Like – Soft, demure peachy beige. She's the perfect transition shade for any look and can be worn alone for a natural eye.
Sweetheart – We are sweet on this soft terra cotta matte shadow. Use this lovely tone in your crease with Love Sick shadow on the lid, for a romantic red eye.
Gemelas – This palette wouldn't be complete without this rich auburn matte shadow. This muted tone is perfect for deepening the crease.
Love Sick – Love drunk off this saturated sangria matte shadow. Pack this shade all over the lid for a red smoked eye.
Shmood – Getting in the feelings over this maroon with a fiery copper shift. Use a synthetic brush to apply this shade in the inner "v" of the eye for a moody metallic eye.
LX Queen – There's something so fine about this deep, rich wine eyeshadow. Use this shade to deepen and smoke your outer "v" for a sultry look.
Matheo – A free spirited mossy green with lime shims. Show off your wild side using this shade. Pack it onto your gel liner before it sets for a daring, glittery graphic eye.
Boy Mum – Lay down some structure with this smoky olive brown. Apply it onto the lash line like eyeliner to defines the eyes.
Almond Eyes – It wouldn't be Gemini II without a cool moss green. Outline the shape of your eyes with this green tone by smudging it into your inner and outer corners, extending outwards to elongate the eye.
Odens Eye x Angelica Nyqvist Hela Palette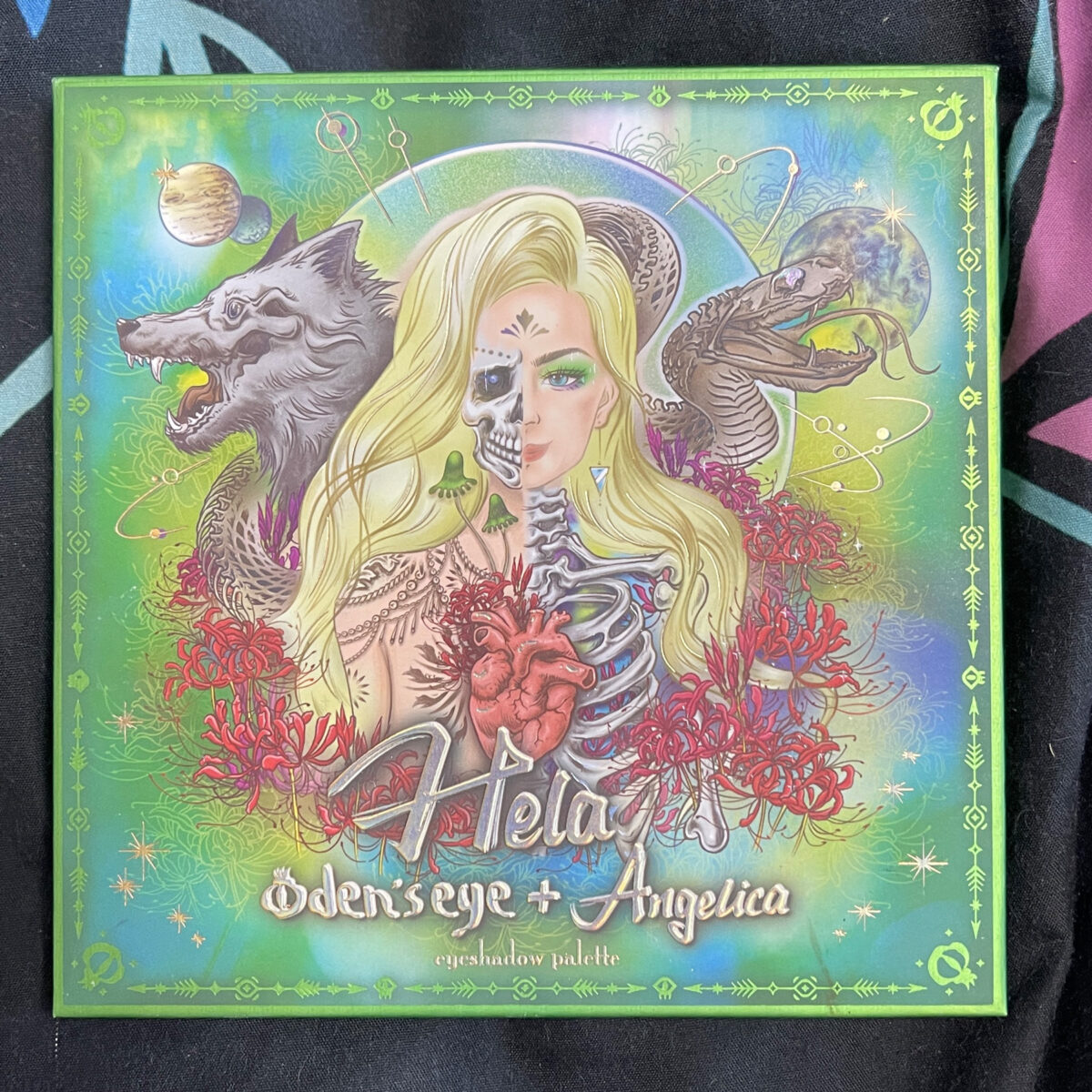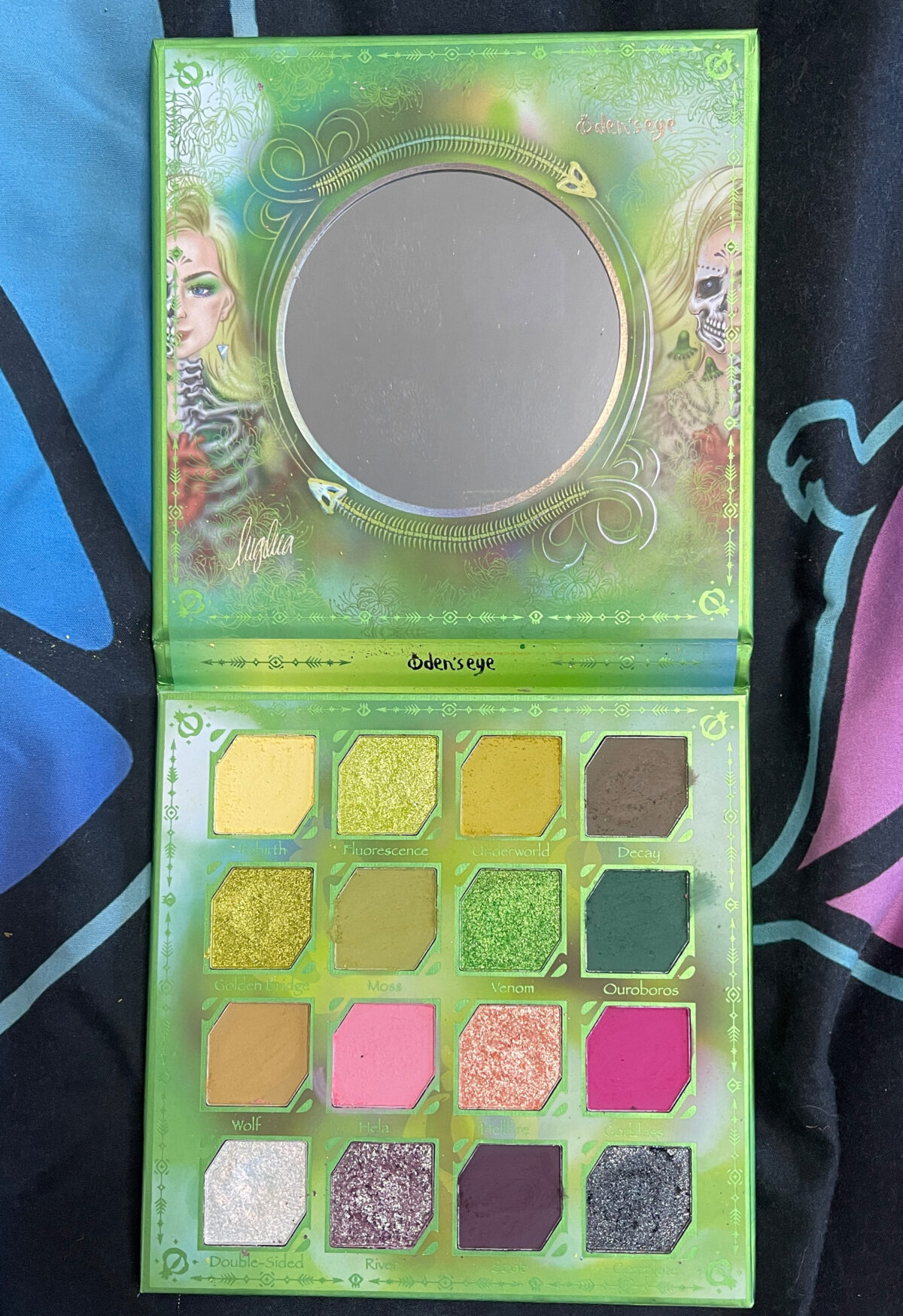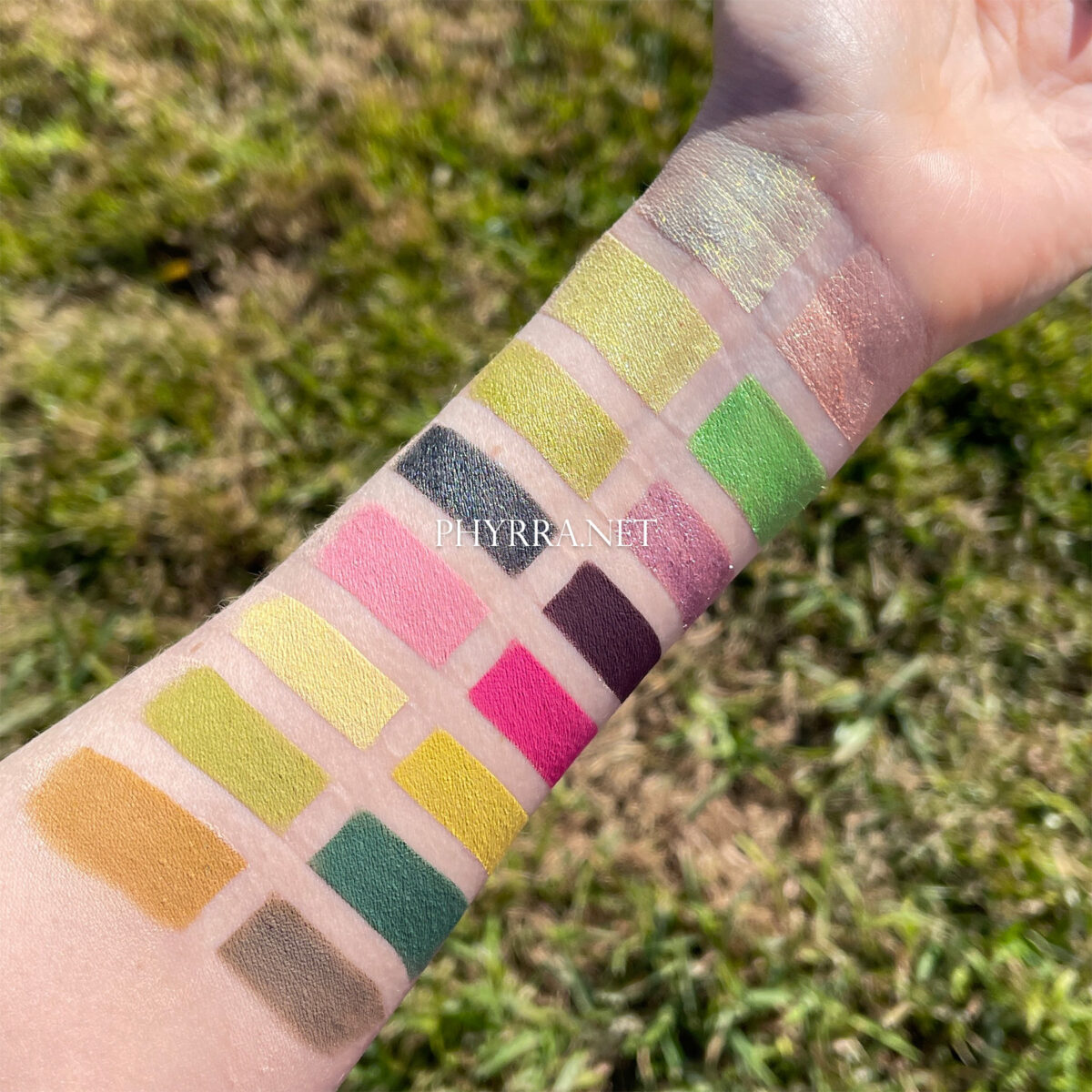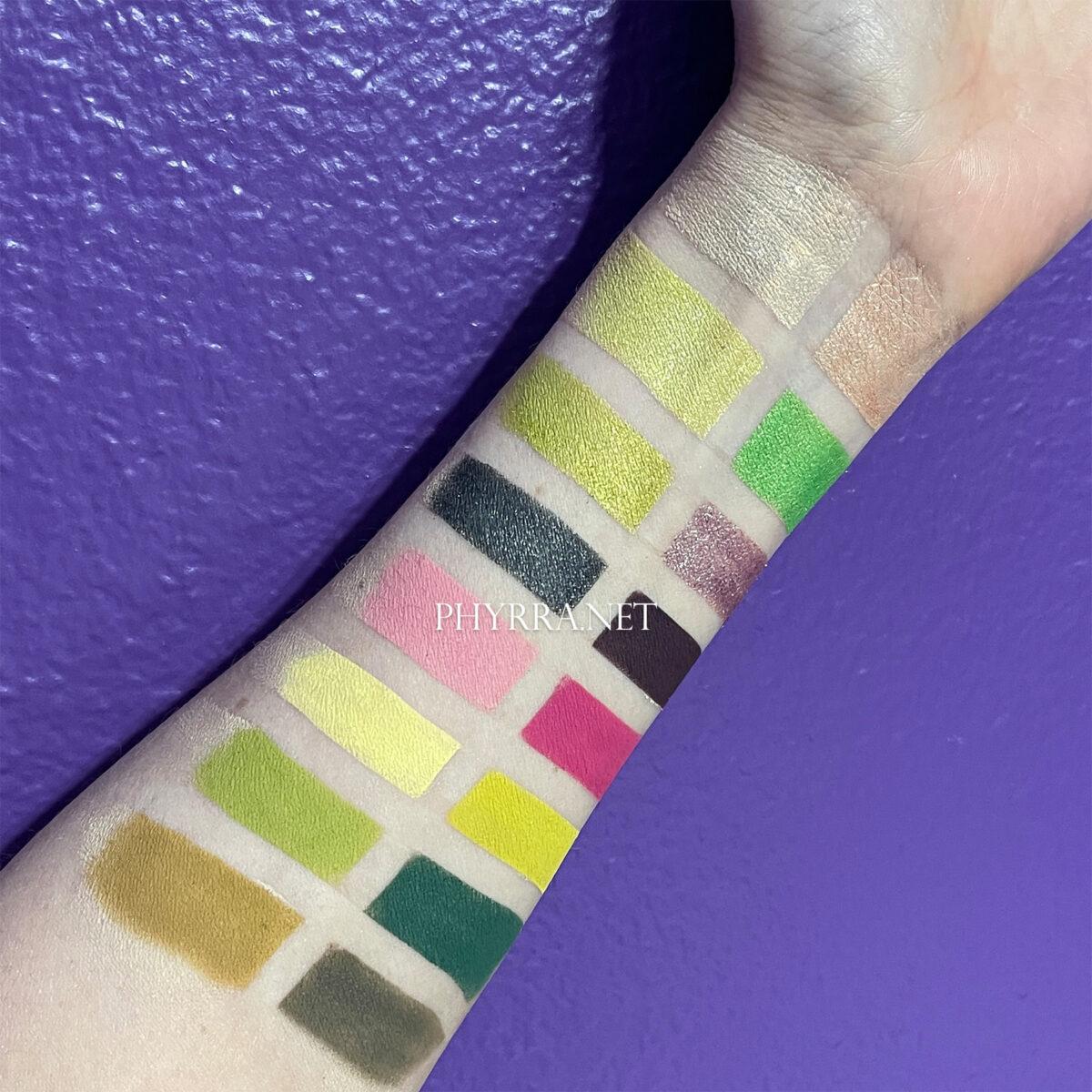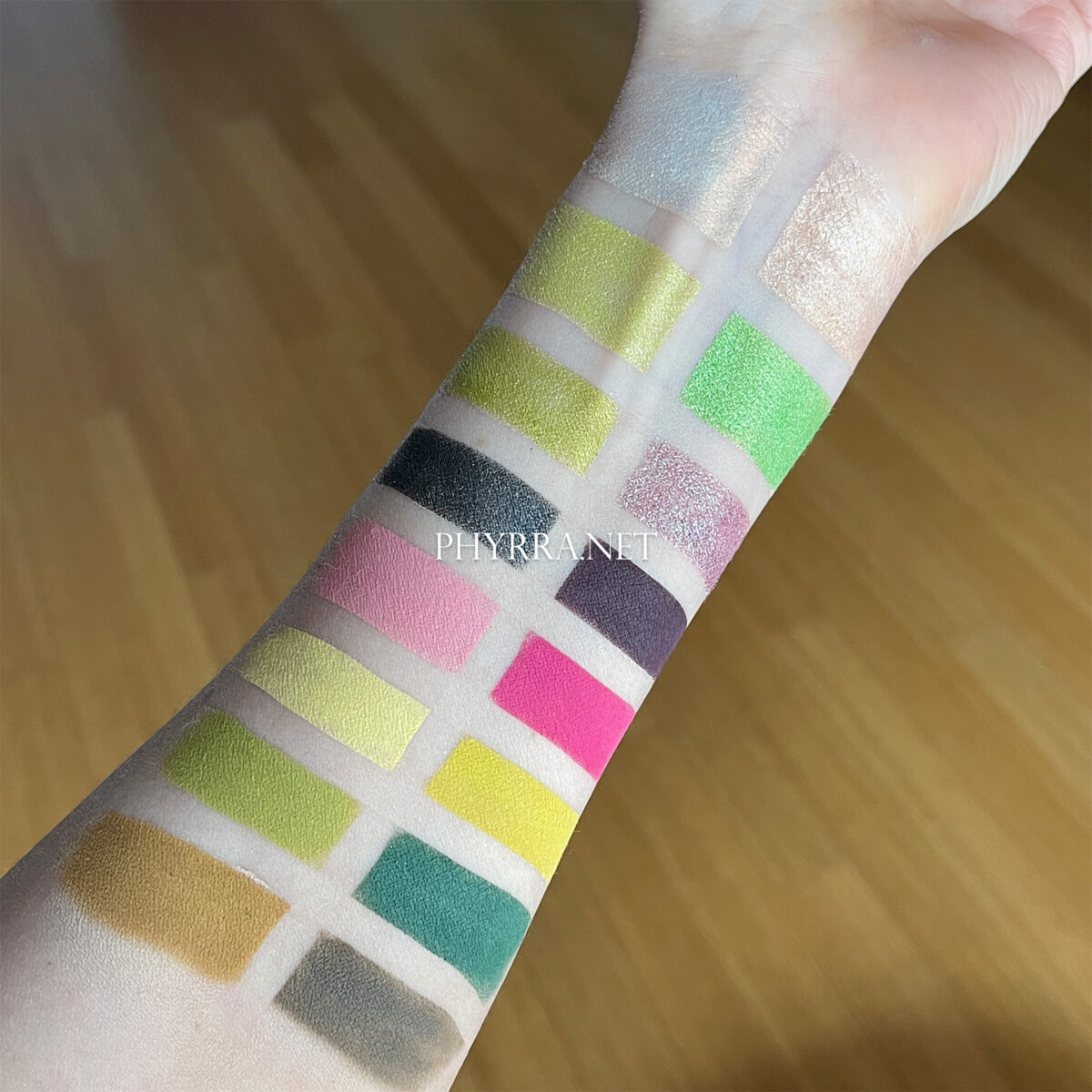 I fell in love with the unique color story of the Odens Eye Hela palette. It's made up of yellows, greens, pinks and plums and I love the exceptional color story, which is why it's one of my top 5 eyeshadow palettes of 2022. Unfortunately, this palette has been discontinued.
Swatch Order
Double-Sided – Hellfire
Fluorescent – Venom
Golden Bridge – River
Complete – Soot
Hela – Goddess
Rebirth – Underworld
Moss – Ouroboros
Wolf – Decay
Shade Descriptions
Rebirth – matte yellowish matte eyeshadow
Fluorescence – firefly-like light yellow-green shimmering eyeshadow
Underworld – ginger matte eyeshadow
Decay – taupe matte eyeshadow
Golden Bridge – golden diamond shimmer eyeshadow
Moss – grayish green matte eyeshadow
Venom – green diamond shimmer eyeshadow
Ouroboros – retro dark green matte eyeshadow
Wolf – matte tannish brown eyeshadow
Hela – matte baby pink eyeshadow
Hellfire – pink-orange shimmer, diamond shimmer eyeshadow with sparkles in multiple colors
Goddess – vintage rose matte eyeshadow
Double-side – multi-chrome eyeshadow, a unique color with multiple shifts of golden greens and pinks
River – multicolor diamond shimmer eyeshadow with light purple base tone
Soot – dark purple brown matte eyeshadow
Complete – silver diamond shimmer eyeshadow with black base tone
Danessa Myricks Lightwork IV Palette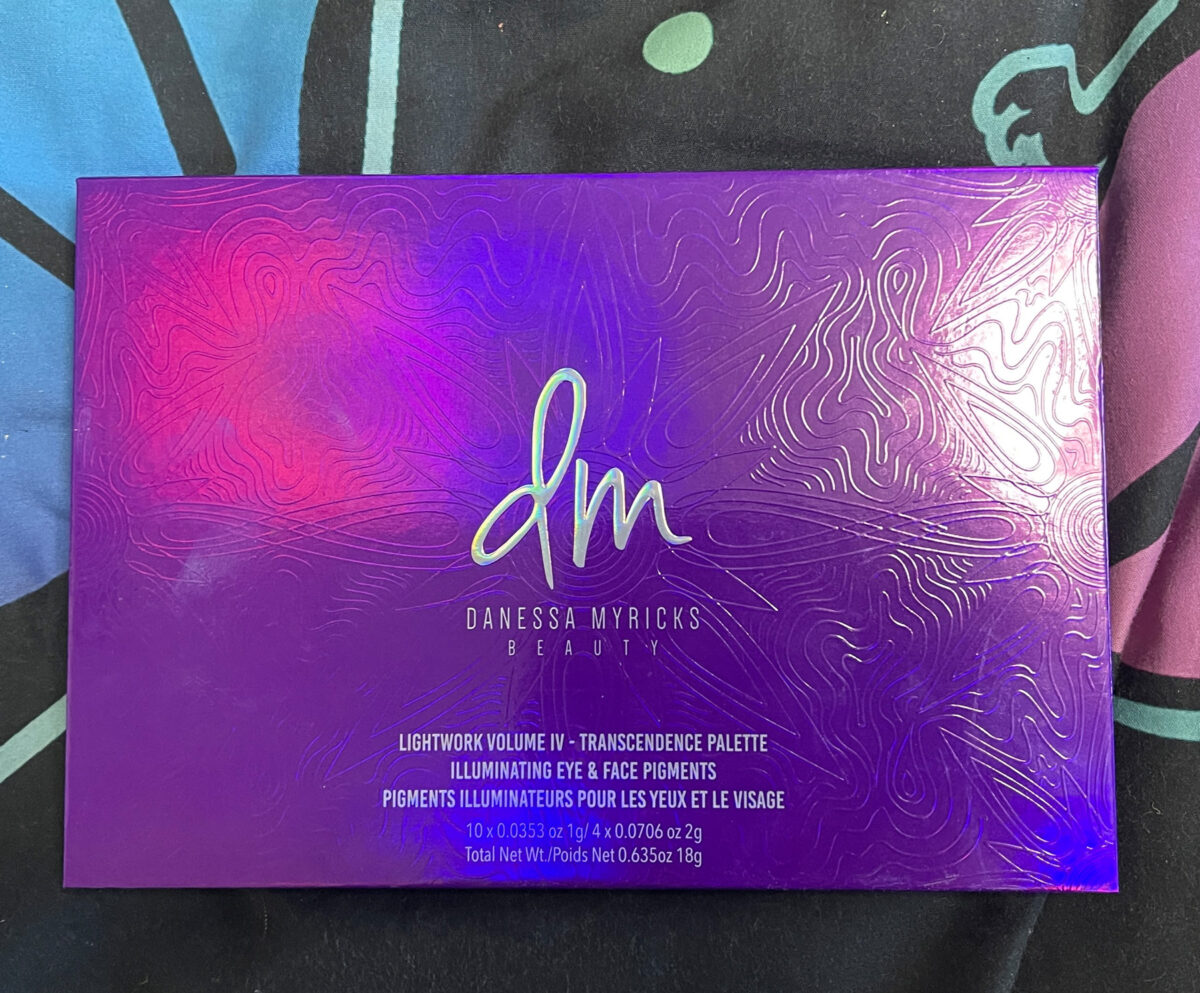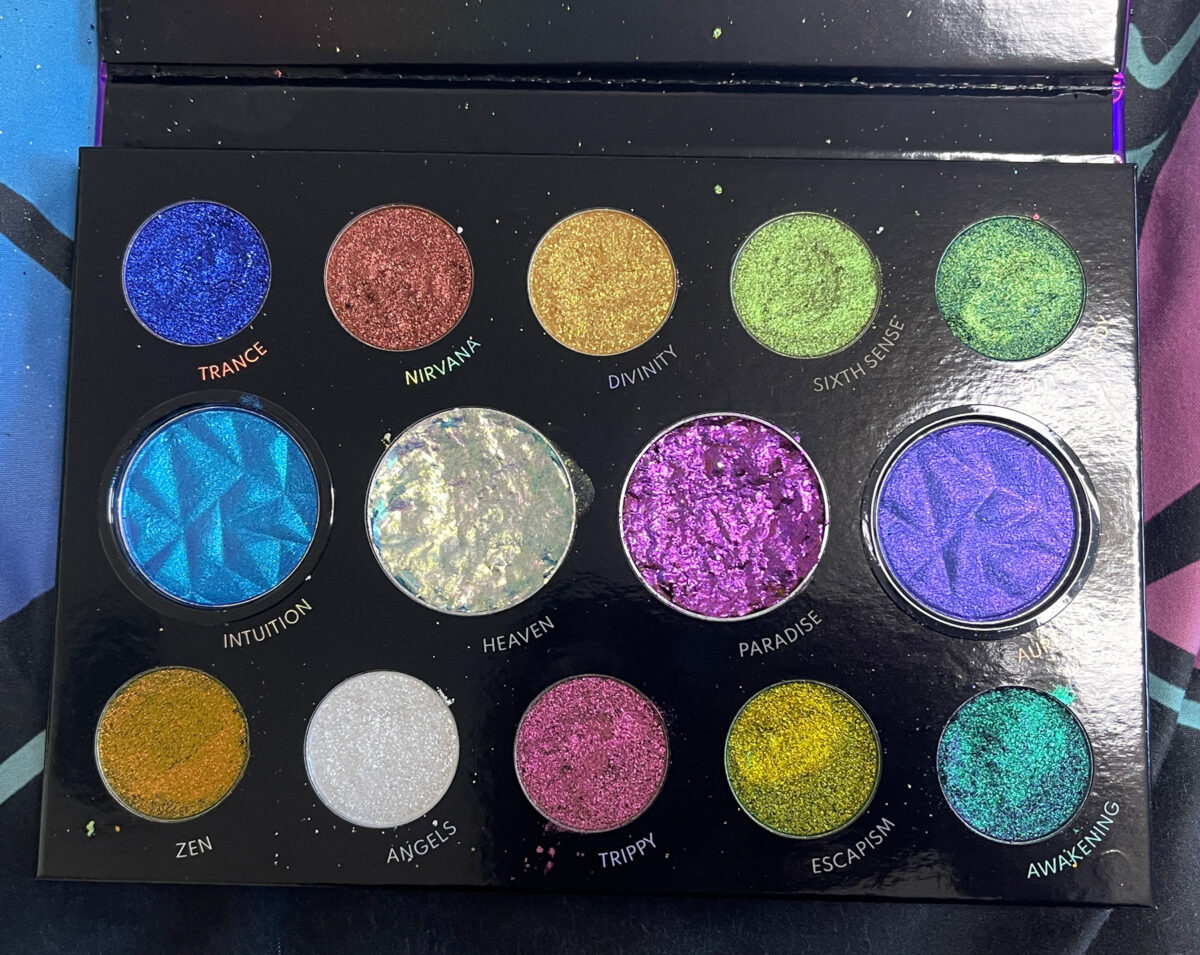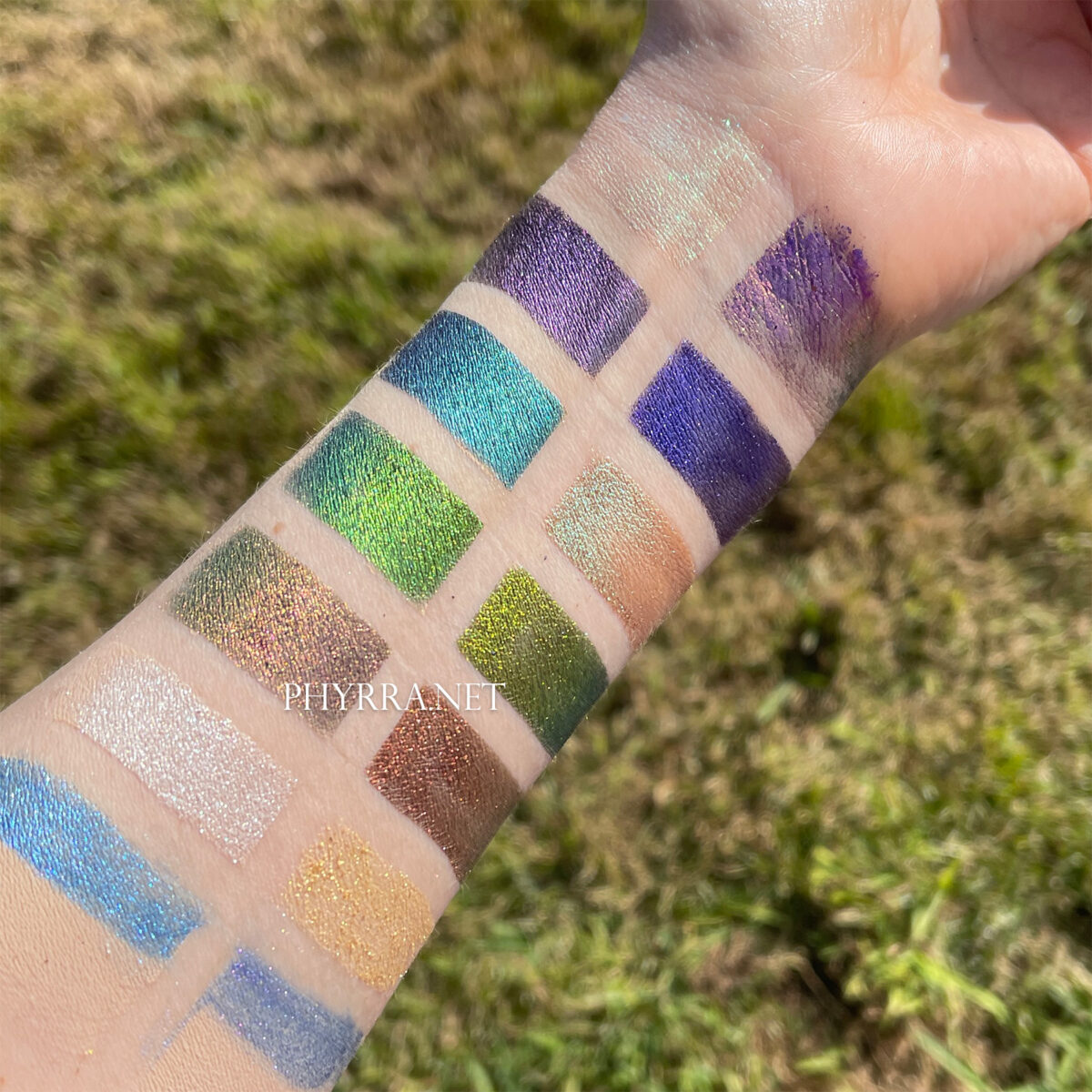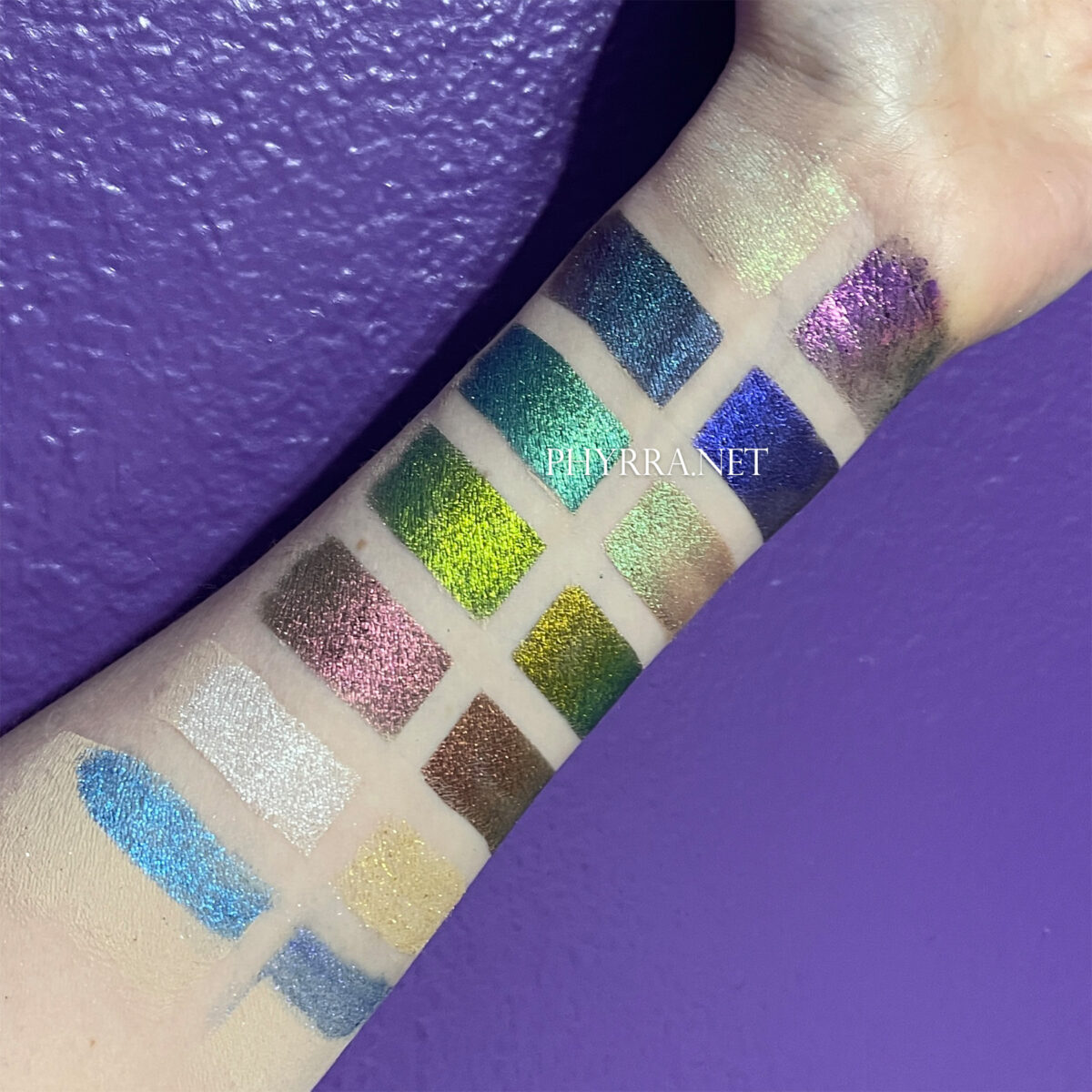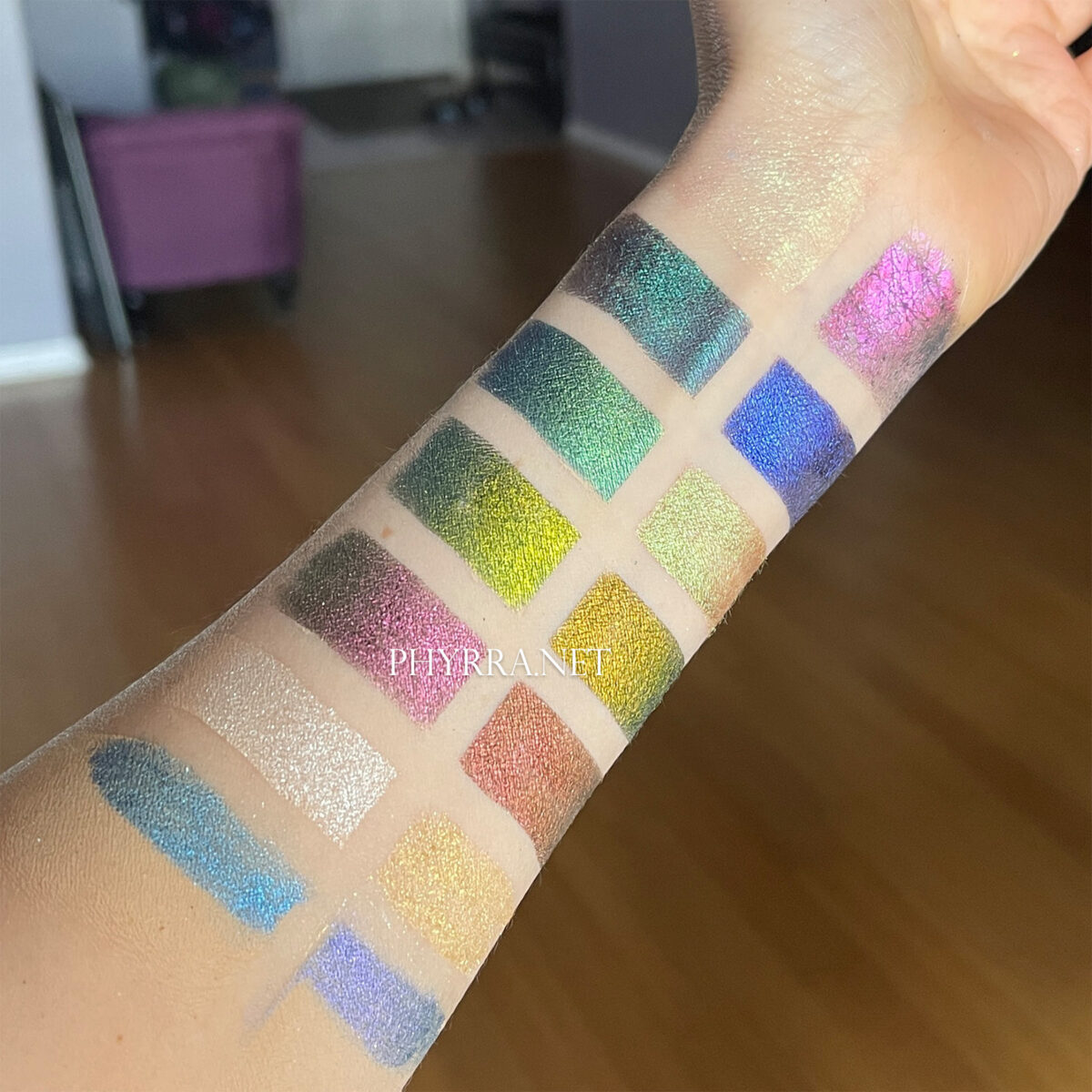 It's no secret that I love multichromes. When Mickey used one of the Danessa Myricks Lightwork palettes on me for my gothic wedding in 2022, it went on my wish list. I'm grateful that my husband Dave bought the Lightwork IV palette as an early Yule gift for me.
Swatch Order
Heaven – Paradise
Awakening – Trance
Out of Body – Sixth Sense
Escapism – Zen
Trippy – Nirvana
Angels – Divinity
Intuition – Aura
Shade Descriptions
Heaven – glimmering mint to pastel chartreuse
Paradise – glimmering fuchsia to forest green
Awakening – intense teal to regal amethyst
Trance – electric sapphire to deep violet
Out of Body – jade green to peacock blue
Sixth Sense – pistachio green to cool taupe
Escapism – electric shamrock to hunter green
Zen – beetle green to honey bronze
Trippy – rose gold to pine green
Nirvana – fiery copper to olive green
Angels – sparkling diamond
Divinity – sparkling citrine
Intuition – brilliant cyan to soft lilac
Aura – brilliant iris to hazy violet
I love almost every single color in this palette. I can't figure out the best way to use Angels and Divinity, they're super crumbly. And I detest trying to use Intuition and Aura. I don't like the water activated formula at all.
Lethal Cosmetics 1UP Palette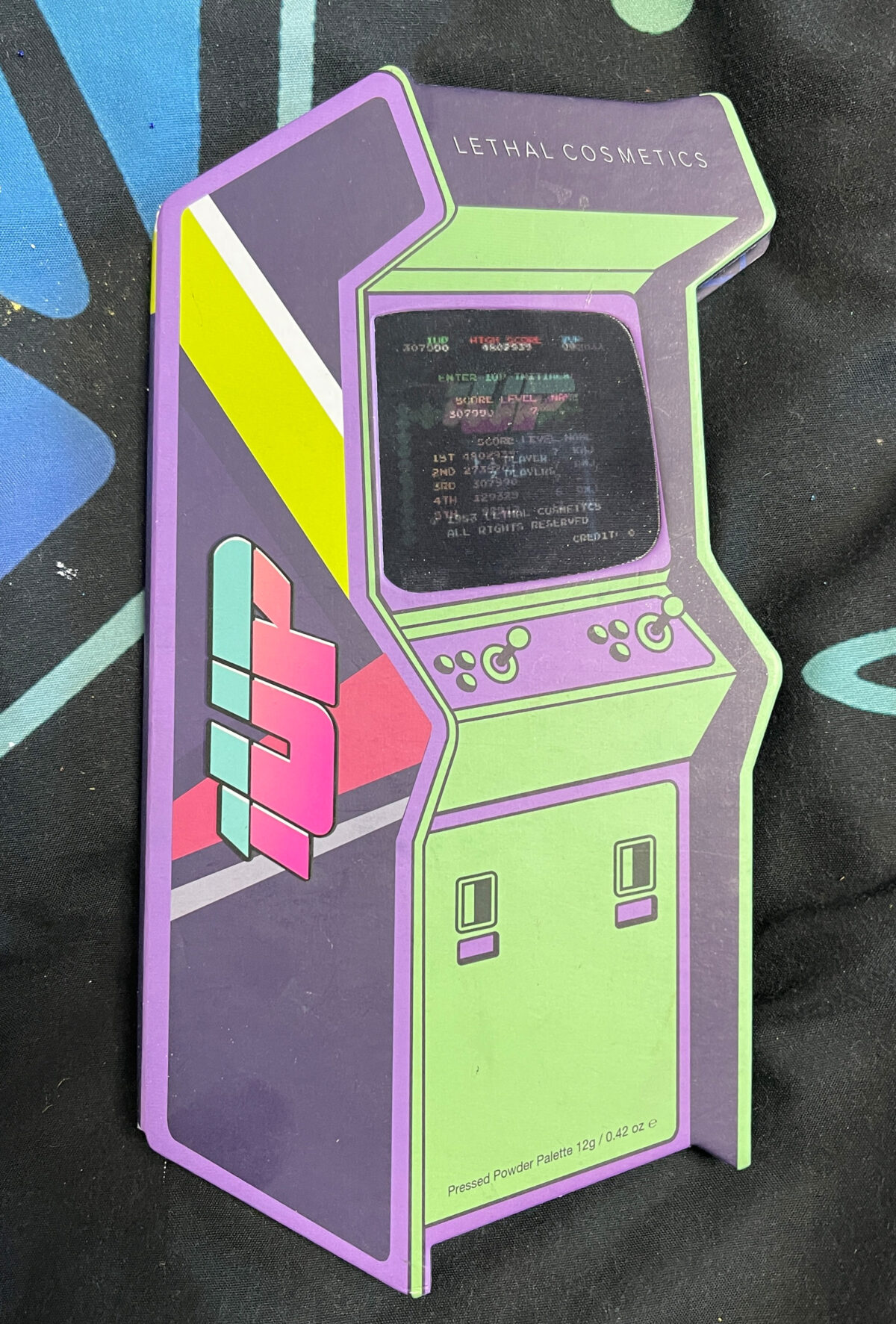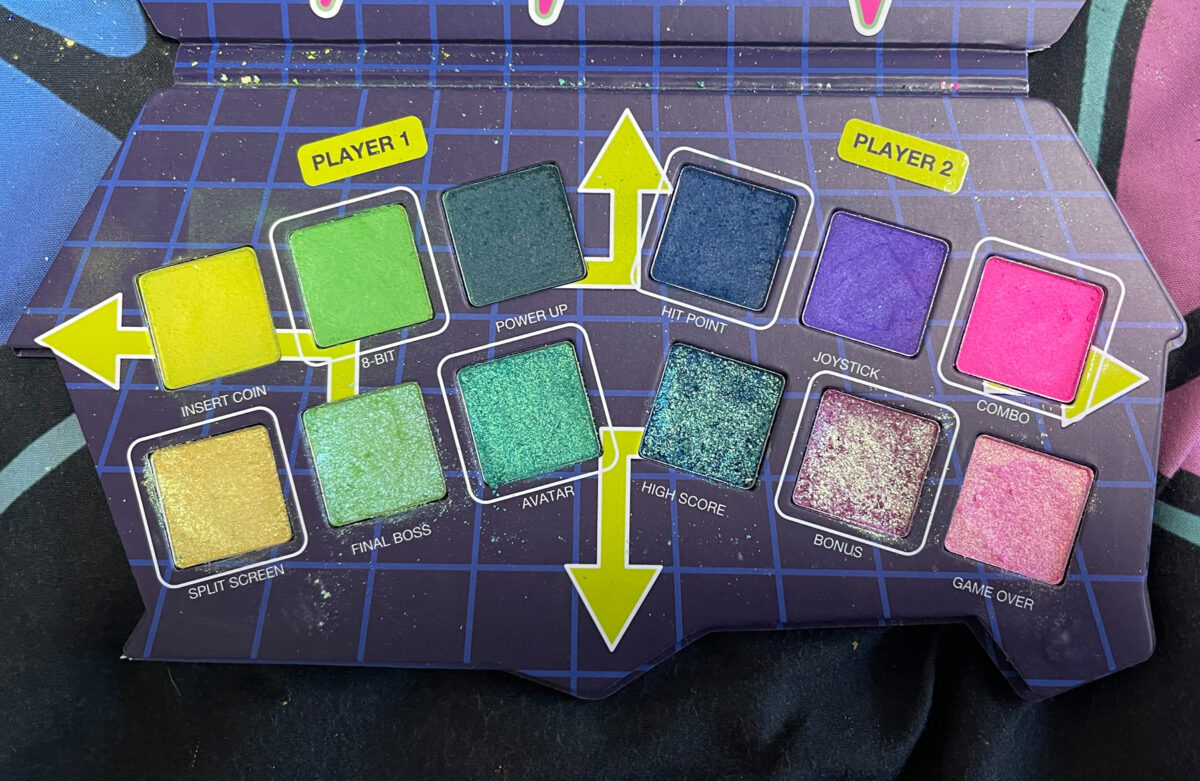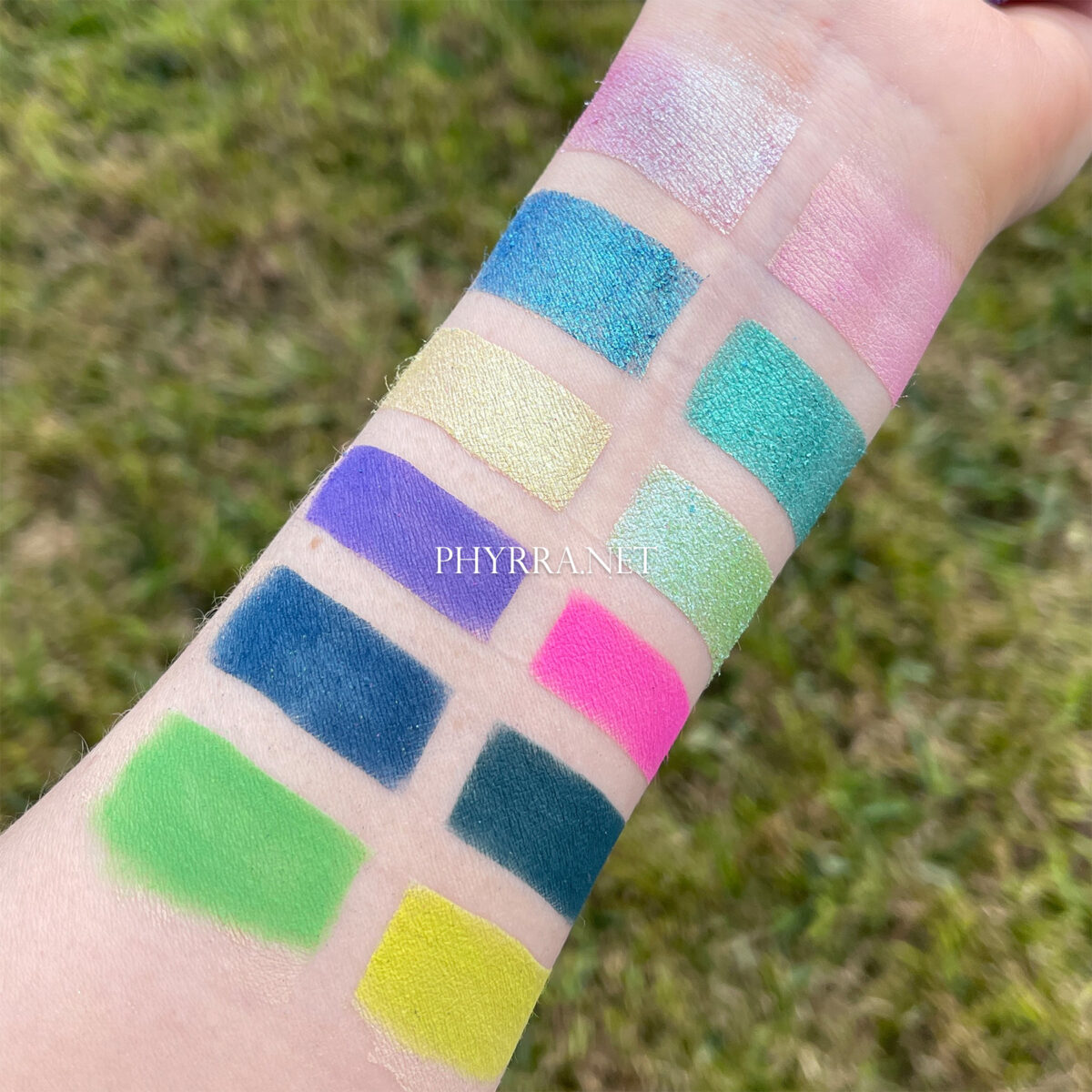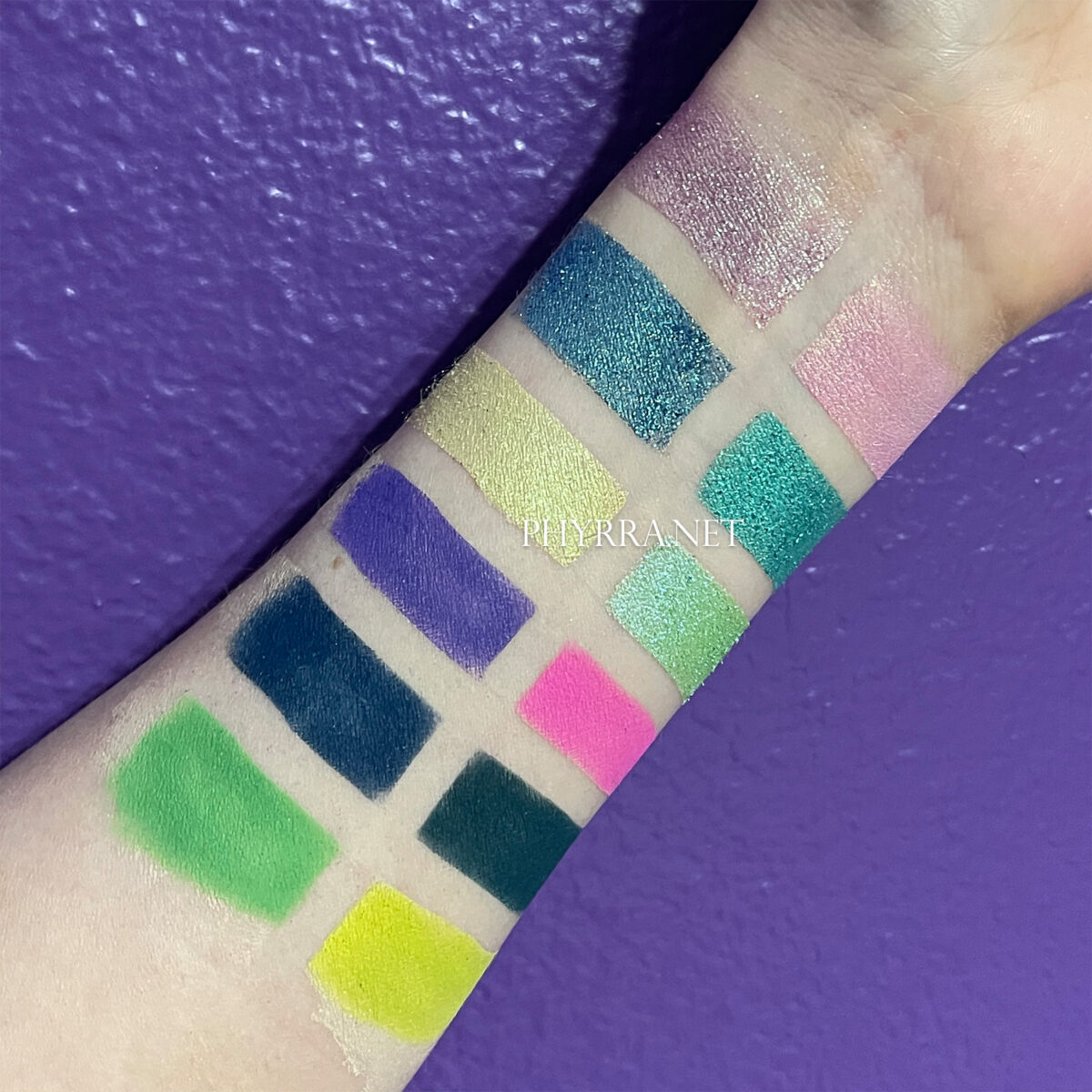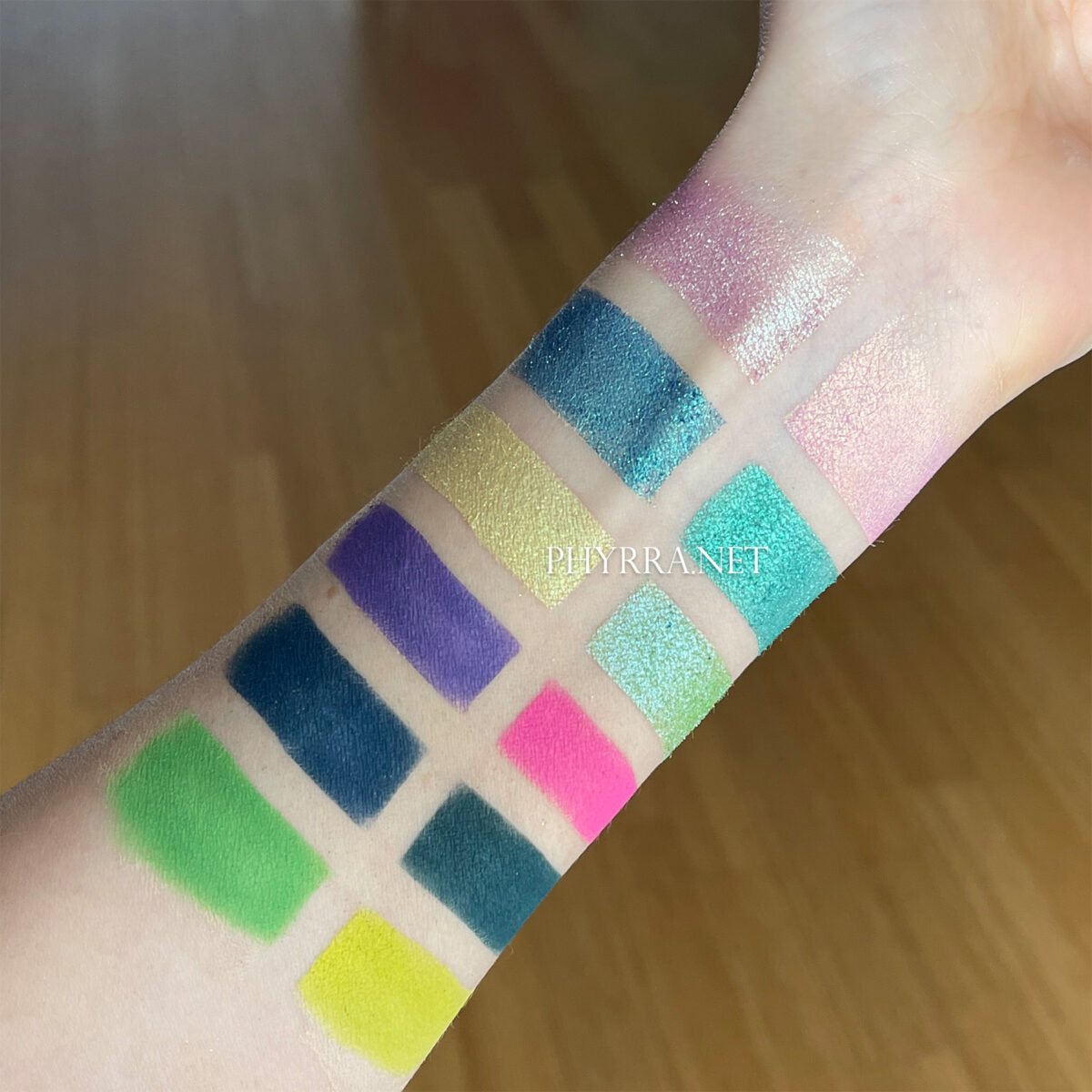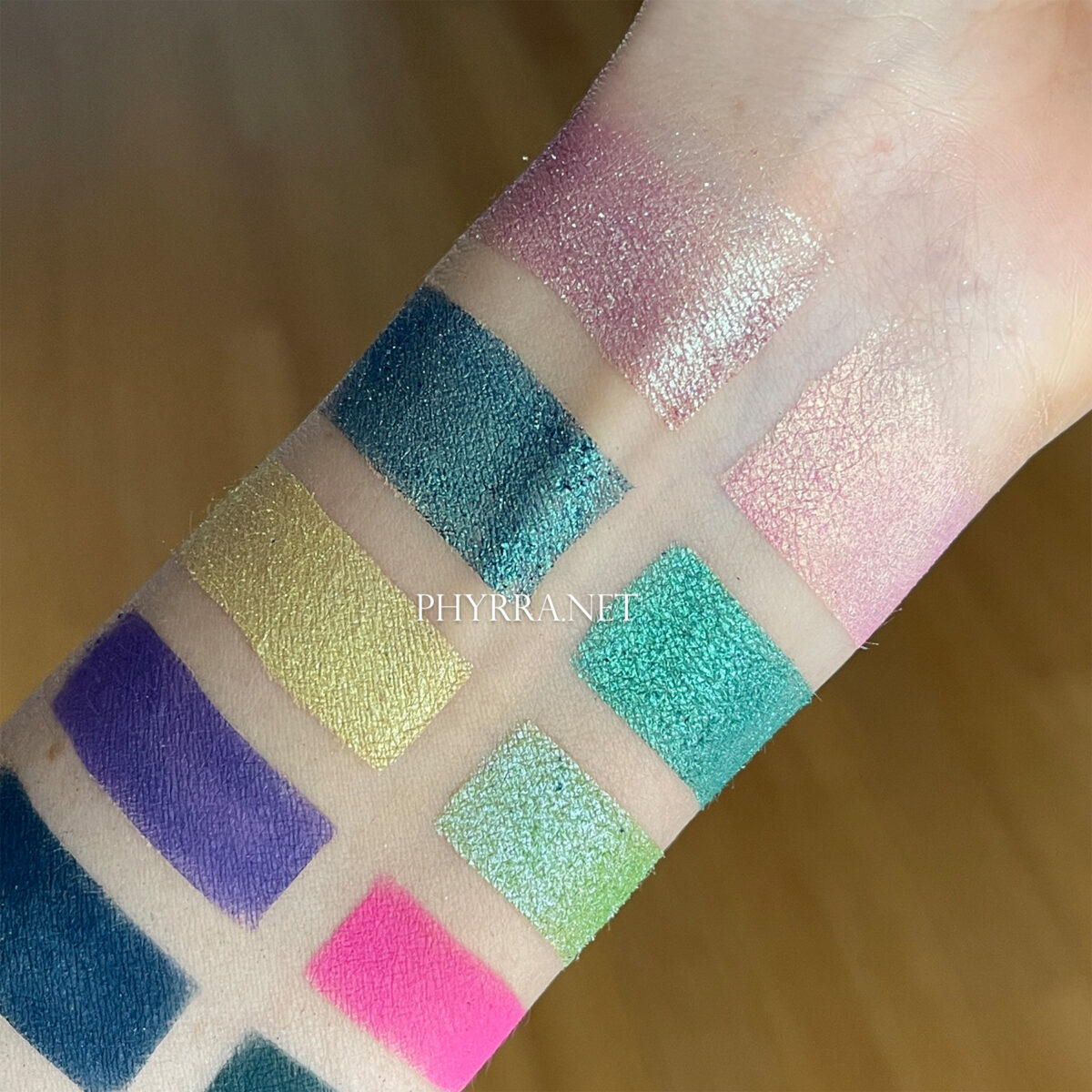 My most used palette of the year is the Lethal Cosmetics 1UP palette, making it number one on my list of top 5 eyeshadow palettes of 2022. Lethal says that this palette is inspired by the arcades of 1980's and it features 3 UV reactive neon mattes, 3 classic mattes, 3 trichrome metallics, and 3 duochrome metallics. I love the gorgeous purple, bright pink, teal blue, bright green, bright yellow green, and the fun shimmers. 1UP is a great mix of mattes and shimmers that I love using on my hooded eyes. I especially love Final Boss (that shift is so strong), High Score (petrol blue yes please), Bonus (looks amazing layered on top of everything); I love every single eyeshadow in this palette!
Swatch Order
Bonus – Game Over
High Score – Avatar
Split Screen – Final Boss
Joystick – Combo
Hit Point – Power Up
8-Bit – Insert Coin
Shade Descriptions:
Bonus – sparkly trichrome with mauve/blue/green shift⁠
Game Over – metallic pink/gold duochrome⁠
High Score – sparkly petrol blue/green duochrome⁠
⁠Avatar – metallic emerald green/pink duochrome⁠
Split Screen – sparkly trichrome with yellow/green/red shift⁠
Final Boss – metallic trichrome with spring green/blue/pink shift⁠
Joystick – medium violet matte⁠
Combo – bubblegum pink neon matte (UV reactive)⁠
Hit Point – deep indigo blue matte⁠
Power Up – deep teal matte
8-BIT – harlequin green neon matte (UV reactive)⁠
Insert Coin – lemon yellow neon matte (UV reactive)⁠
Final Thoughts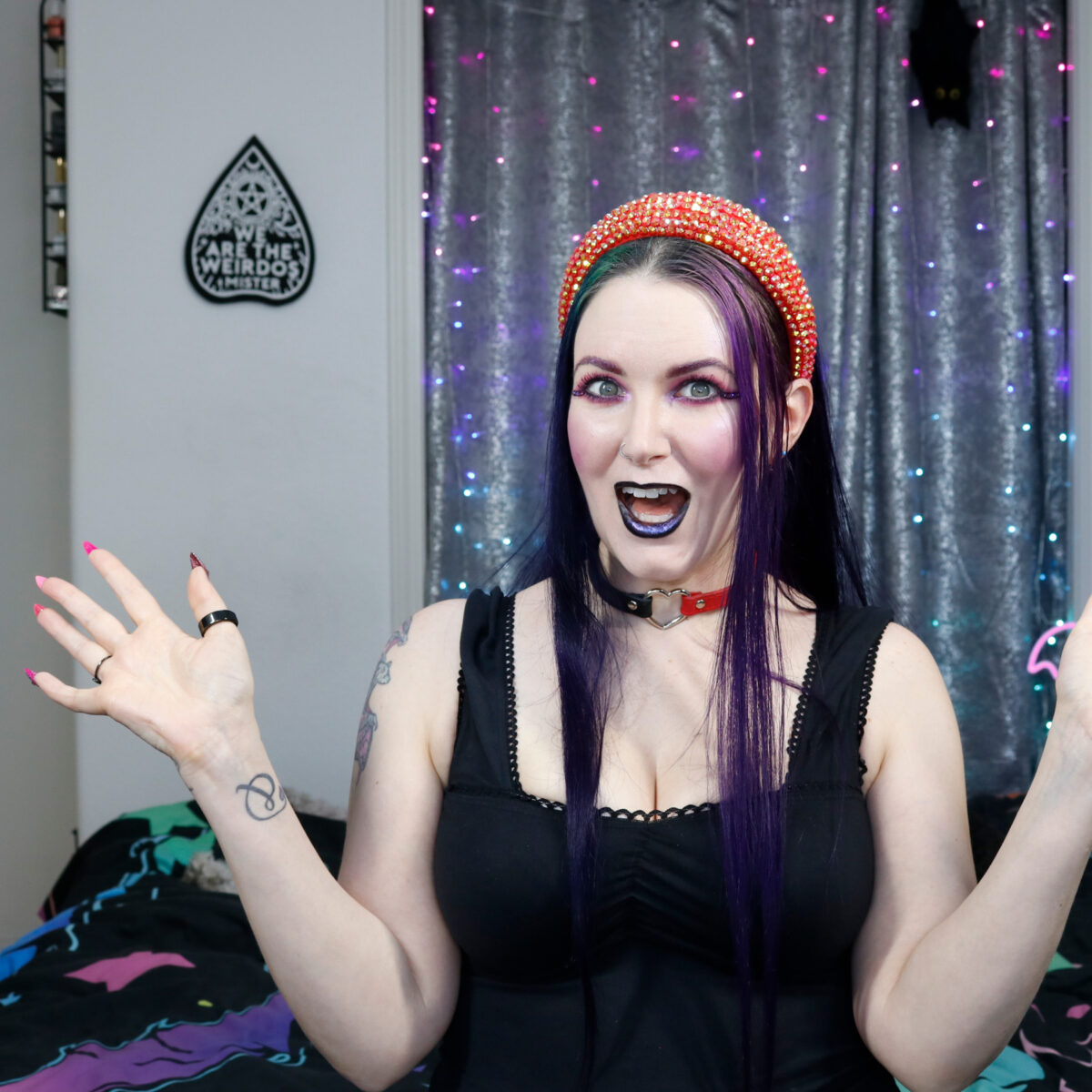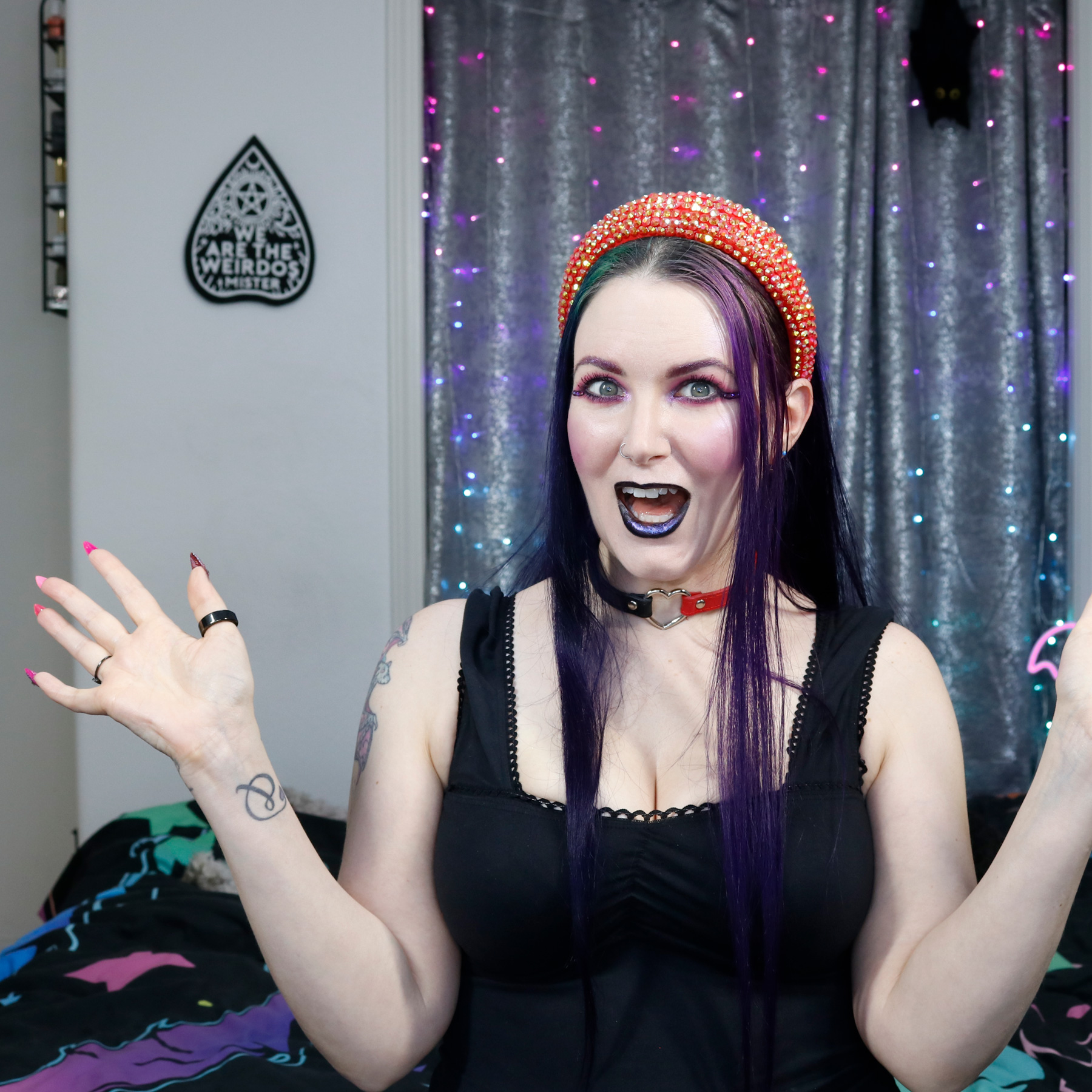 Makeup should be fun. Wear bright colors or chic neutrals, whatever makes your heart happy. I'm really enjoying being on a low buy because it gives me more time to enjoy my makeup purchases, rather than feel like I have to rush to the next new thing. I hope you enjoyed me ranking my top 5 palettes of 2022.
What are your top 5 eyeshadow palettes of 2022?
More to See