Top 10 Youtuber Camera Equipment on Amazon

Top 10 Youtuber Camera Equipment on Amazon
I get asked about photography equipment a lot, so today I'm sharing the best top 10 Youtuber camera equipment for beginners in 2023. As you know, I've been blogging since 2008 and my equipment has changed a lot over the past 15 years. I've bought almost everything that I use from Amazon. I take advantage of my Amazon Prime 2-day free shipping!
These are all the products that I personally use for blogging and Youtube right now. I originally wrote this post in 2017, so I figured it was past due for it to be updated to 2023!
Purchased by me.
Top 10 Youtuber Equipment for Beginners Video
Watch the video on YouTube for Closed Captioning in English!
My Current Youtube Camera Equipment Set Up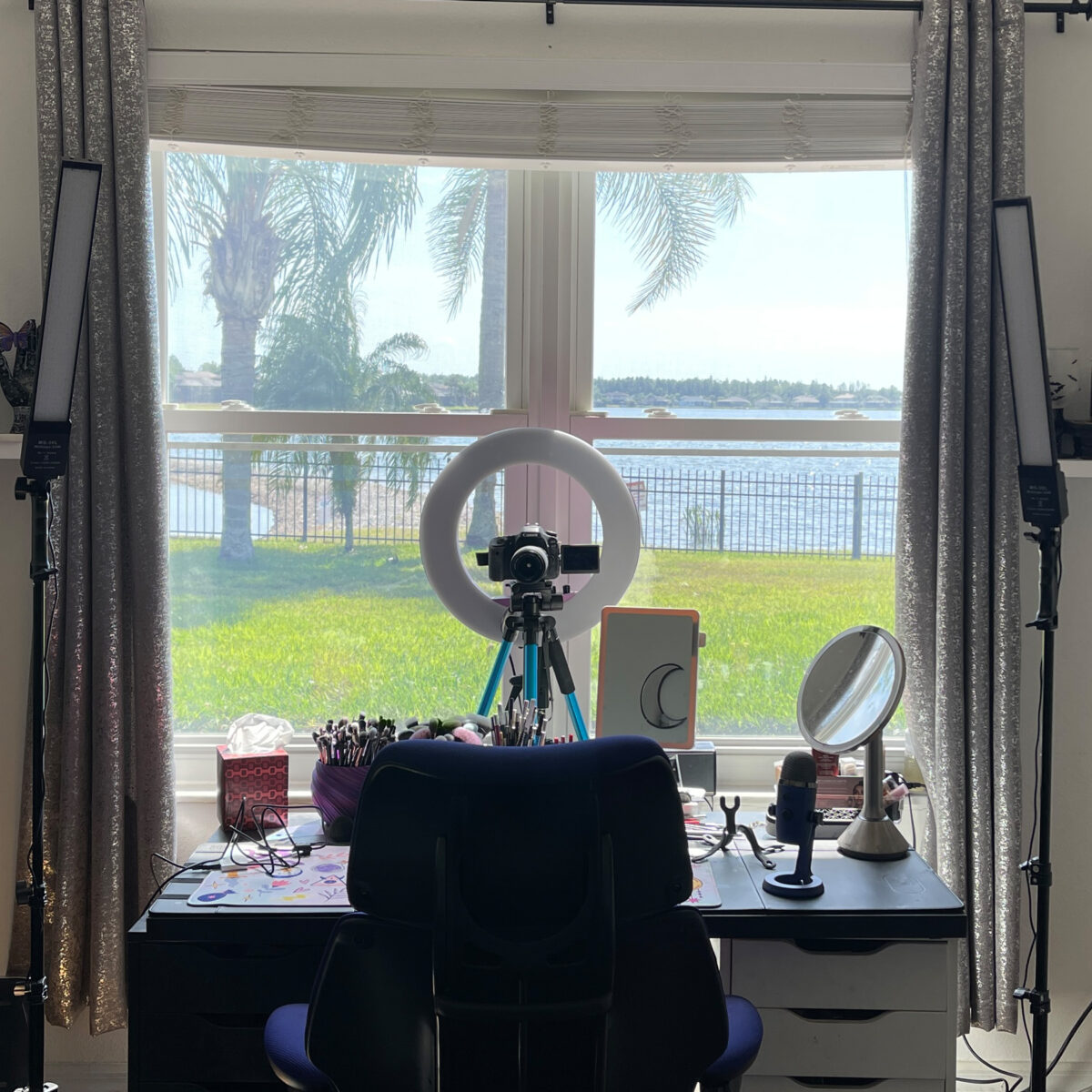 I have a small desk with 2 Ikea Alex desk drawers for the base. The LED side/back-fill lights flank my desk, while the ring light is wall mounted in front of my desk to minimize the amount of space it takes up.
Take advantage of as much natural light as possible!  This gorgeous large window dominates my office and I use it to my advantage. I have two giant brush holders, 2 different mirrors, a lip pencil cup and an eye pencil cup. A tour of my office is coming once I can rearrange it. I need to get the queen size bed out of my office and into my spare room.
Makeup Brush Holders

I found these awesome purple and blue swirly makeup brush holders on etsy!  I prefer a larger style of brush holder these days!
My Current Blogger Product Set Up

This is where I do most of my product shots. It's on top of a black table/dog crate in my art room in front of tall sliding glass doors that take advantage of lots of natural light. I also pull in my LED side/back-fill lights to help light items for product shots.
I love the little Disney Villains Poison Apple planter that I often keep in my shots.
Top 10 Youtuber Camera Equipment

Dave was the one who convinced me to upgrade to the Canon 80D DSLR Camera from the Canon Rebel T3i. The Canon 80D is the ultimate in Youtuber camera equipment because it can do it all:  videos, self-portraits, product shots, just about everything you need. The other camera I considered when I was researching for my upgrade was the Canon 6D, which is also very nice.
As I mention in my video, if you have one of the newer iPhones you can start with an iPhone or high-quality smart phone camera. If you're going to use a smartphone, make sure you get something like this Popsocket Stand to hold your phone while recording.
A wireless remote is essential with a DSLR, as is the SanDisk 128gb micro sd card.

My exact ring light isn't available on Amazon, but this one is pretty close. I use the Stellar Ring Light with half mirror & a camera mount in the center. It's also dimmable.

I now use the Blue Yeti Nano Microphone with an Apple Lightning to USB3 Adapter. This allows me to connect the microphone to my iPhone 12 Pro Max or my iPad.
You can use Dropbox or Rode Reporter app to record your sound. Be sure to clap clearly at the beginning to make it easier for you to synchronize your video and audio tracks.

I use these lights as backfill and side lights, as well as for product shot lighting. You can see them flanking my desk in the photo above.
5. Video Editing Software
If you're new, start with something free like Adobe Premiere Rush or Affinity. I believe the iPhone comes with some default video editing software too. I use Adobe Premiere Pro, which is expensive.
6. Photo Editing Software
I use both Adobe Photoshop Pro and PicMonkey. I prefer PicMonkey for most things, but Photoshop is better at adjusting levels, saturation, and saving for optimized file size.
7. Optimize Your Youtube Presence

I highly recommend using TubeBuddy to enhance your Youtube Presence. It helps with seo keyword research, analytics and content strategy. I learned about it in a very expensive YouTube course that I took a few years ago.
8. Enhancing Your Filming

Many of you are one person shows, like I am. I do it all from filming to editing to content strategy, etc and it's a lot of work! PIVO is like having a camera crew at home with it. It auto focuses on you while you shoot action shots or movement. I'm looking forward to using PIVO to film my next fashion video.
9. Choose Your Editing Device
If you're going the affordable budget route and using a smart phone, you should be able to find a video editing software app to use on your phone. However, if you're like me and know that you love making videos, I recommend getting a high-quality computer to do that. I use a custom Origin laptop.
10. Make Your Videos Accessible

Make your videos accessible to more people! Use Rev.com for closed captioning services. I trust Rev.com to do closed captioning for my videos and it frees up my time from transcribing them myself.
11. (BONUS) Level-Up Your Presentation

Add a more polished touch to your videos by using a teleprompter. This one is like the one I own, which hooks up to my iPad to display the text.
These are my picks for the best Youtuber camera equipment for beginners. If you're trying to decide where to start in this list, I would absolutely recommend getting lights first.
What do you recommend as the best Youtuber Camera Equipment for beginners?
More to See