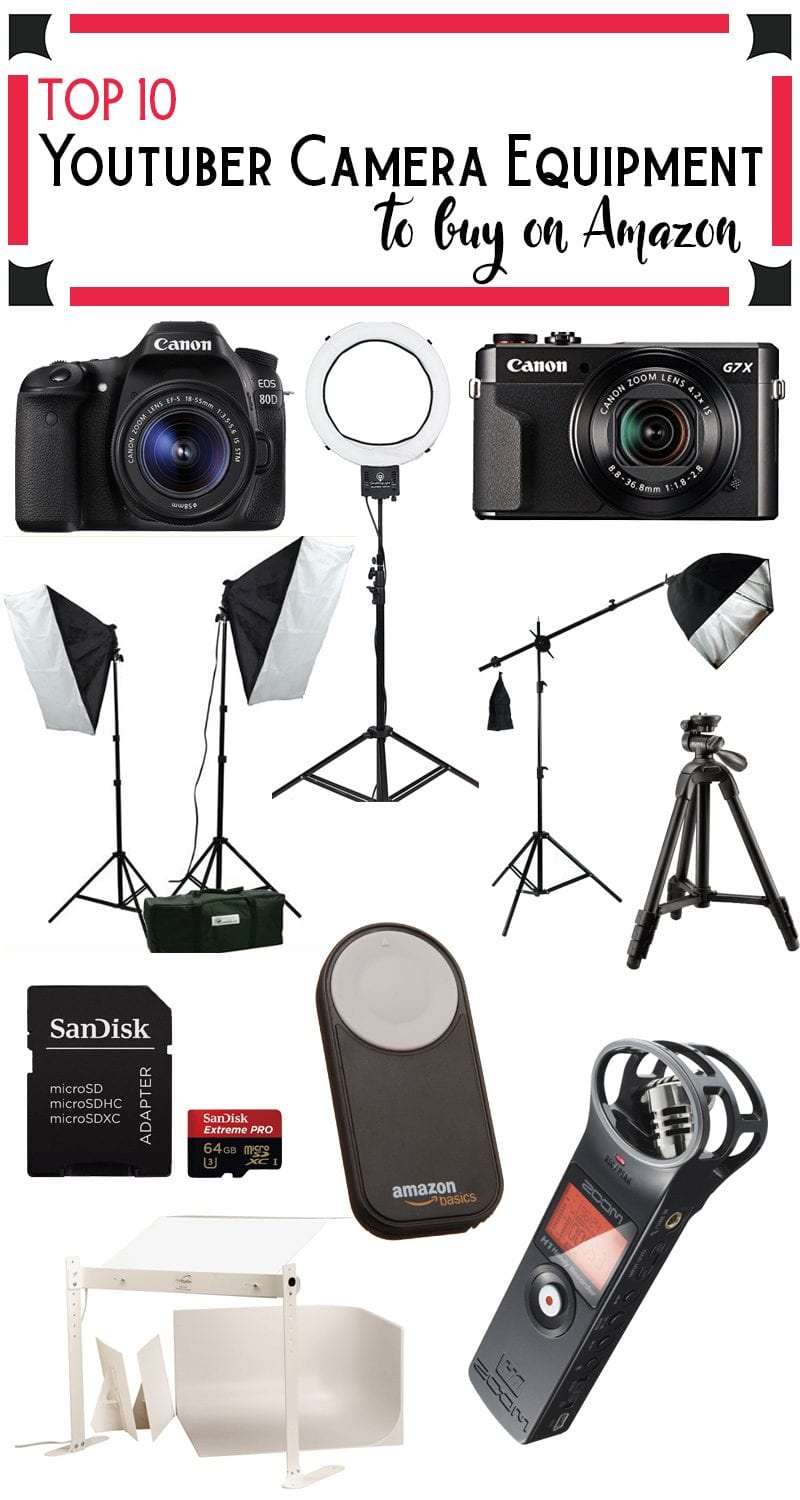 Top 10 Youtuber Camera Equipment on Amazon
I get asked about photography equipment a lot, so today I'm sharing my top 10 Youtuber camera equipment on Amazon. As you know, I've been blogging since 2008 and my equipment has changed a lot over the past 9 years. I've bought almost everything that I use from Amazon. I take advantage of my Amazon Prime 2-day free shipping! These are all the products that I personally use for blogging and Youtube right now.
Purchased by me.
My Current Youtube Camera Equipment Set Up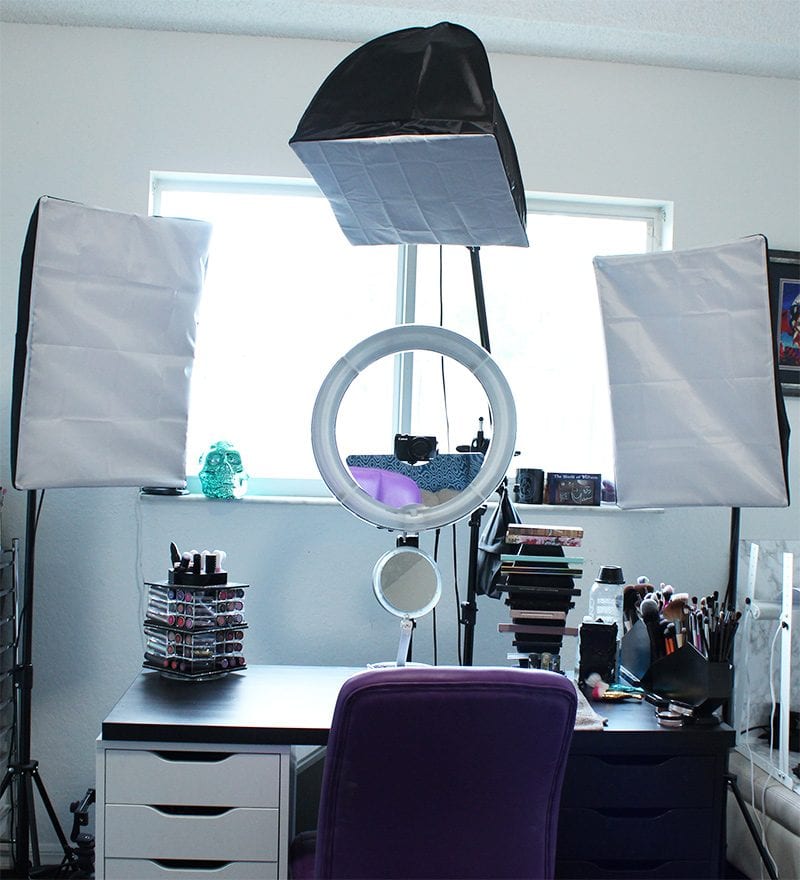 This is my desk. You can see how my lights are set up in my tiny room. I have 2 of the Zahra Lipstick Towers, 1 Life After Death Coffin Palette Holder & 2 Coffin Brush Holders. I have 1 Anna Sui style Cotton Pad Dispenser and a small mirror. My larger Simple Human Mirror is on top of one of my ikea Alex right now.
My Current Blogger Product Set Up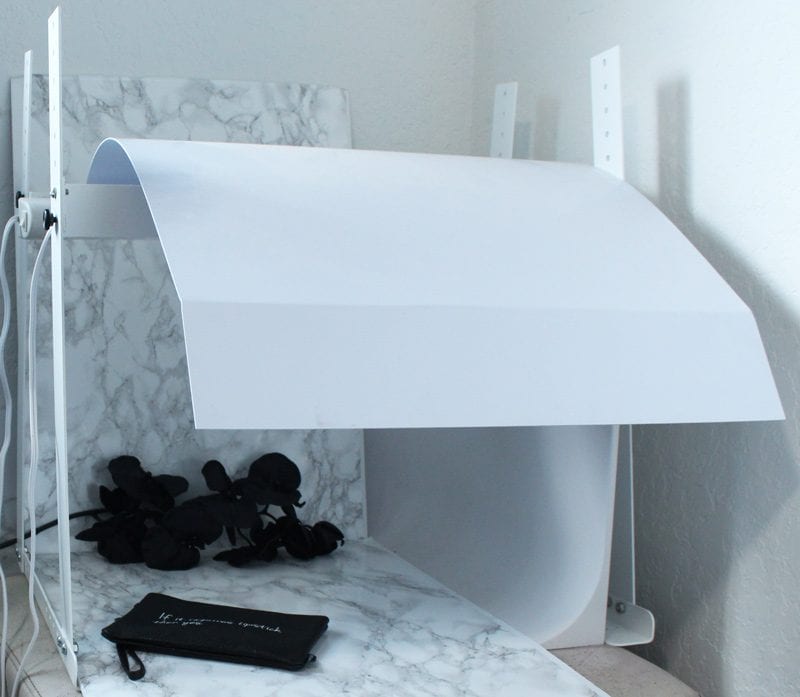 This is where I do most of my product shots. It's on top of an old ottoman in the corner of my room.
Top 10 Youtuber Camera Equipment
1. Canon 80D DSLR Camera
Dave recently talked me into upgrading to the Canon 80D DSLR Camera from the Canon Rebel T3i. I just bought it and it's impressive. This is the ultimate in Youtuber camera equipment because it can do it all:  videos, self-portraits, product shots, just about everything you need. The other camera I considered when I was researching for my upgrade was the Canon 6D, which is also very nice.
2. Diva Dimmable Ring Light with Stand
My exact ring light isn't available on Amazon, but this one is pretty close. I use the Stellar Ring Light with half mirror & a camera mount in the center. It's also dimmable.
3. ePhoto 2 SoftBox Light Set
The ePhoto 2 softbox light set is nice. I have one on either side of my desk, to help provide even lighting on my sides.
4. LimoStudio Hair SoftBox Light
The LimoStudio Hair SoftBox Light is on a stand right behind my ring light and it's aimed at the top of my face/head. You can see a difference in how evenly it helps to light my face. Any video of mine made from April 25, 2017 and on has this lighting setup.
5. Tripods: Small & Large
You will want a tripod or two. I use the small size for portrait photography and product shots. I use the large tripod for outfit shots and sometimes for video. When I travel I usually take the small tripod with me, as it goes up to a max height of about 39 inches. I actually own two of the smaller tripods. One is constantly set up with my DSLR. The other has an attachment for my Google Pixel XL so that I can do my Facebook Live videos.
6. Handheld Recorder  with Lapel Mic
To improve my sound quality for my videos, I bought this handheld recorder. You can use it on its own, or you can increase its quality by attaching a lapel mic. I don't often see people in the beauty or fashion sphere doing this, but it's done in other types of videos I watch, primarily science. The added benefit of the handheld recorder is that you can take it to events and use it to interview people. When I went to the Makeup Show Orlando and interviewed James Vincent, I used this device to record our interview. It cut out most of the loud background noise from the convention.
7. Amazon Wireless Remote
The Amazon Wireless Remote is easy to use. It will make it much easier for you to take self-portraits or close up photos of your makeup just by clicking the remote.
8. SanDisk SD Card
The SanDisk SD Card is what I use in my cameras to record high-quality video and photos.
9. MyStudio Tabletop Studio Kit
The MyStudio Tabletop Studio Kit is what I use for almost all of my product shots. The single piece hard cyclorama background makes it easy to get a good shot.
10. Canon G7 X Mark II
The Canon G7X is what I've been using for video since late December 2015. It's actually one of the best point and shoot cameras I've ever seen. It's great for video and does ok for product photography. If you're looking for a good starter camera with the flexibility to do product shots, self-portraits, and video, I would recommend it. It's great if you're a vlogger too. The newest version of this camera is the G7 X Mark II. You may still be able to pick up the model I have, the original G7X, but it looks like the newest version is about the same price.
Some people rely on daylight only when filming, but I'm often filming at night after work. This is why I've tried a lot of different lights in the past before settling on these. I went through 3 different ring lights before I found my perfect one. Thankfully I was able to resell one of those that didn't quite suit my needs. I do still have a backup ringlight that I never use.
These are my picks for the best Youtuber camera equipment for your home studio. If you're trying to decide where to start in this list, I would absolutely recommend getting lights first. You can always use your cell phone (if it's a newer smartphone) to take photos and video. Let me know if you have any questions!
Other Tidbits
I use Adobe Premiere Pro CC 2017 for video editing.
I use Adobe Photoshop CC 2017 for photo editing.
I use self-hosted WordPress as my platform for blogging.
I use Flywheel for my blog host.