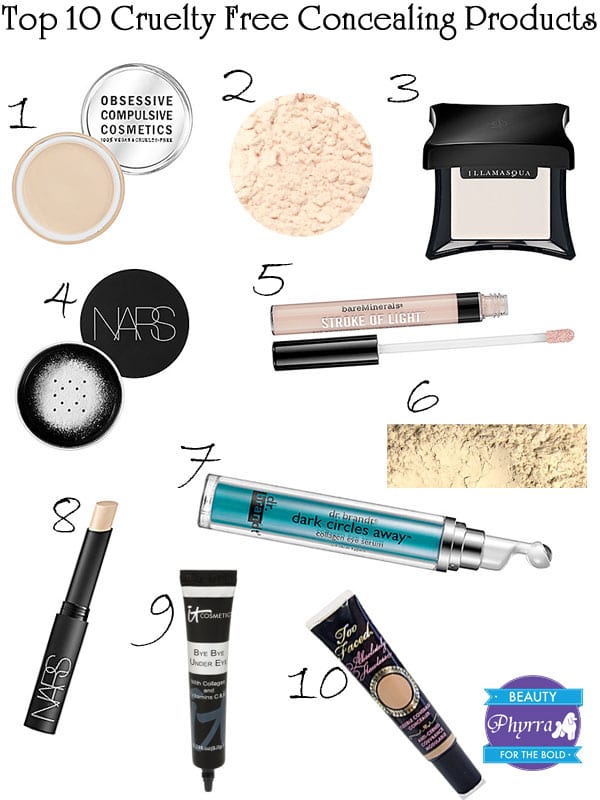 Happy Tuesday! It's Top 10 Tuesday. Today I'm sharing the Top 10 Cruelty Free Concealing Products. These are the products that I feel do a good job of concealing and brightening, as well as setting concealer. I've got two great vegan finds for you, too.
Pr + purchased by me.
Top 10 Cruelty Free Concealing Products

If you like this video please give it a thumbs up and subscribe!
1. Obsessive Compulsive Cosmetics R0 Skin Conceal
The OCC Concealer is really great! I only need a tiny bit to hide dark circles. Plus, it's vegan.
2. Silk Naturals Flattery Illuminating Perfecting Powder
It's got a hint of pink, and a few fine interference colors- mainly gold, blue and purple.  It perks up a dull complexion and adds just a little bit of shimmer. It's a great finishing powder that doesn't get too dry. It's also vegan.
3. Illamasqua White Light Skin Base Lift
This is a brightening concealer to lift, illuminate, and create flawless coverage. Paraben free, sulfate free, and phthalate free.
4. NARS Light Reflecting Loose Setting Powder
You already know that I love this and I've raved about it repeatedly. It's a fantastic finishing powder to blur imperfections.
5. bareMinerals Stroke of Light Eye Brightener
This is a nice eye brightener to help diffuse darkness from under the eyes.
6. Meow Cosmetics Undereye Concealer
Meow's Undereye concealer comes in almost as many shades as their foundation! It's silky and works well at hiding dark circles.
7.  Dr. Brandt Dark Circles Away Collagen Eye Serum
I like using this to blend out a concealer, such as NARS Chantilly. I hate the design of the full size as the roller ball is gross, but I really like the product. It's a tinted serum.
8. NARS Chantilly Concealer
It's hard to beat a stick concealer like this. Dot it at the bottom of your occipital bone under the eyes and blend upwards, using a serum or moisturizer. Perfect!
9. It Cosmetics Bye Bye Under Eye Concealer
This is a great concealer! I wish that it was light enough for me. It's just too dark. The texture is great and I highly recommend it if it comes in a shade that matches you. You can see my swatch of it in my Best Ways to use e.l.f. Makeup Mist & Set post (this is a great dupe for MAC Fix+).
10. Too Faced Absolutely Flawless Concealer
This is another good concealer. The texture is thick so you'll need something like e.l.f. Makeup Mist & Set or Dr. Brandt Dark Circles away to blend it out.
Graftobian HD High-Definition Glamour Creme Palette in Ultra Light
This is technically a foundation palette but it works really well as a concealer for under the eyes, too! Plus, it's small so it easily fits into a makeup bag to take with you.
Best Tools for Concealing
1. Crown Brush Makeup Powder Puffs
I use powder puffs with setting / finishing powders to set my concealer as well as to set any foundations.
2. Beauty Junkees Makeup Sponges
I use these wet to apply foundation and concealer, and you can use them dry to pat / roll on finishing / setting powder.
3. 1. Sigma Beauty E35 Brush
I like to use this brush to blend out products under the eye.
My Three Tricks For Concealing
Have your foundation / face product on first.
Apply the concealer in a downward shaped triangle so that you don't end up with reverse raccoon eye.
Use a setting powder on top.
What I'm wearing in the Video
Eyes
Too Faced Shadow Insurance
tarte SmolderEYES Amazonian Clay Waterproof Liner in Golden Black – lid and crease
Urban Decay Walk of Shame – browbone
tarte Skinny SmolderEYES Amazonian Clay Waterproof Liner in Onyx – waterline
Anastasia Beverly Hills Brow Duality in Camille (matte) – under brows
tarte brow mousse in Rich Brown – outer brow
Anastasia Beverly Hills tinted brow gel in Granite – inner brow
Too Faced Better Than Sex Mascara
Face
Too Faced Tinted Beauty Balm SPF 20 in Snow Glow
Left side – OCC Makeup Skin Conceal in R0
Left Side – NARS Light Reflecting Loose Setting Powder
Right Side – Illamasqua Skin Base Lift in White Light
Right Side – Silk Naturals Illuminating Perfecting Powder in Flattery
MAC Oh So Fair Beauty Powder – blush
MAC Vintage Grape – blush
Lips
NARS Velvet Matte Lip Pencil in Never Say Never
These are the products that I like to use to conceal and the best tools for it in my experience. What are your weapons of choice for concealing?
Looking for more? Check out
Last Updated on