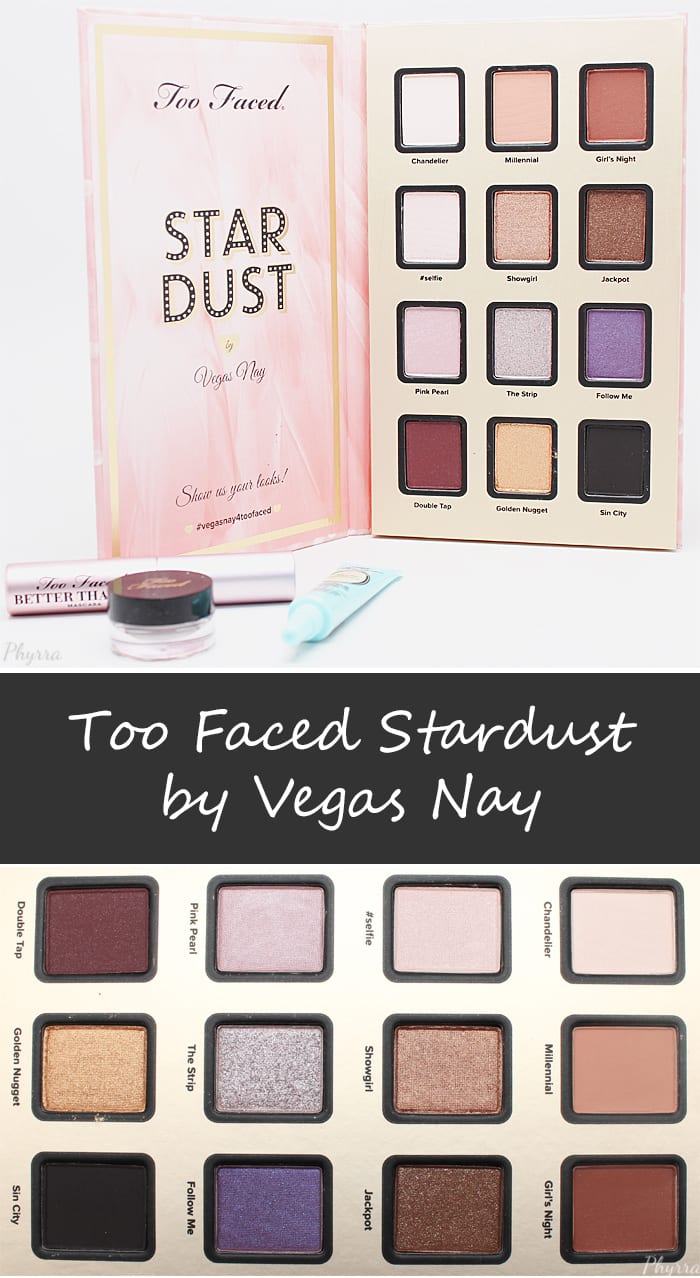 Happy Friday! Today I'm happy to share the new Too Faced Stardust by Vegas Nay set with you. This palette launches August 23, 2015 and was made in collaboration with Naomi Giannopoulos aka @Vegas_Nay from Instagram. She's known for her beautiful picture tutorials.
Too Faced Stardust by Vegas Nay
Too Faced is a cruelty free company located in California. They partner with Best Friends Animal Society to help shelter pets get adopted.
Press sample.

Share this video and subscribe!
Where to Buy
Too Faced, Ulta
Price
$45 for 12 eyeshadows .04 oz each, 1 deluxe eyeshadow primer .17 oz, 1 deluxe Better Than Sex mascara and 1 glitter eyeshadow .02 oz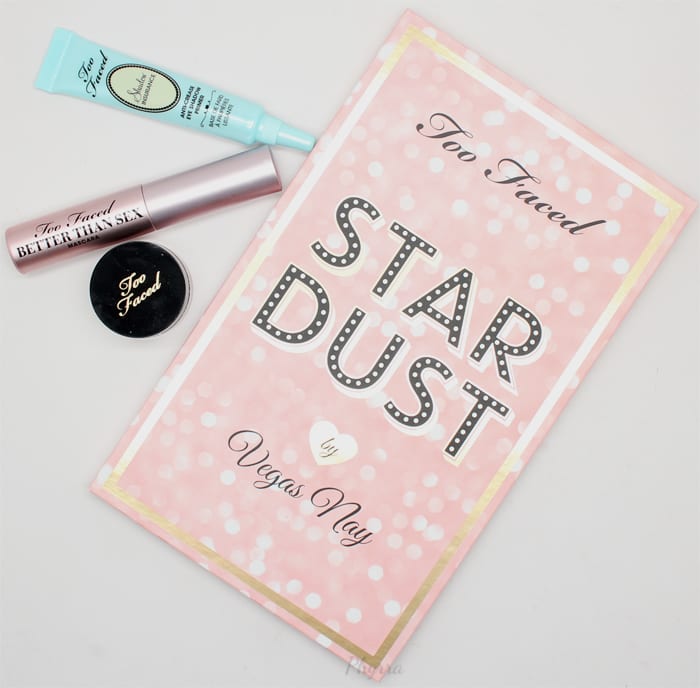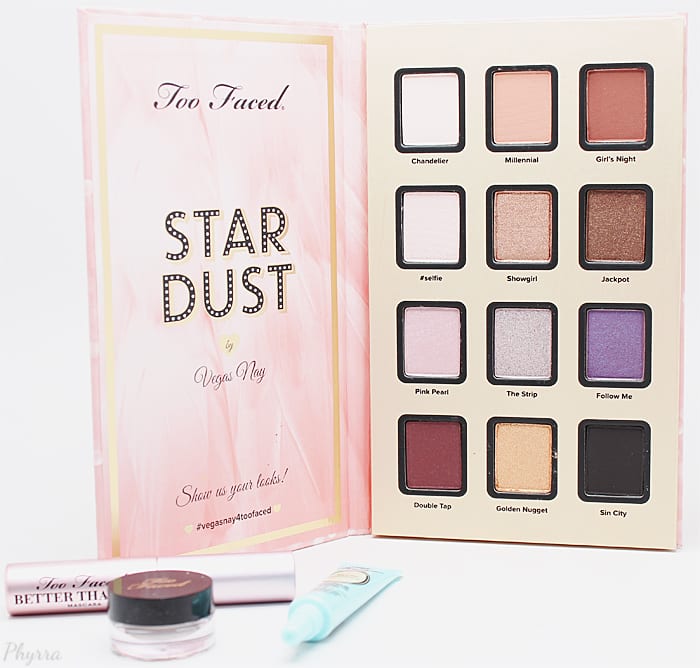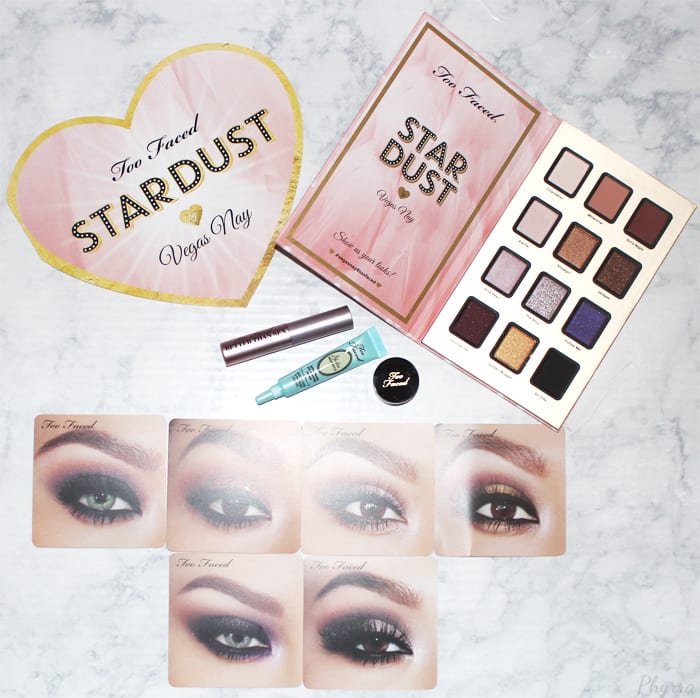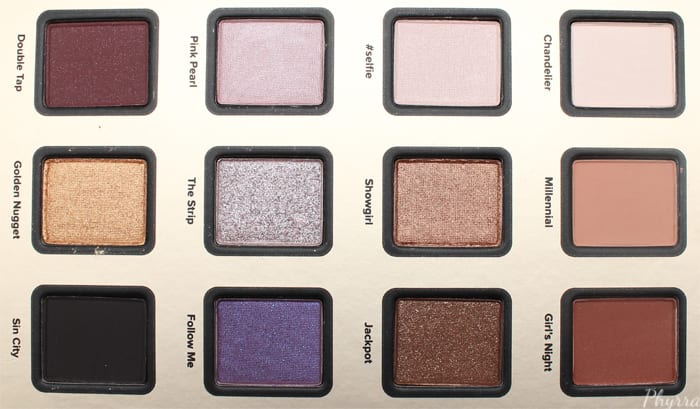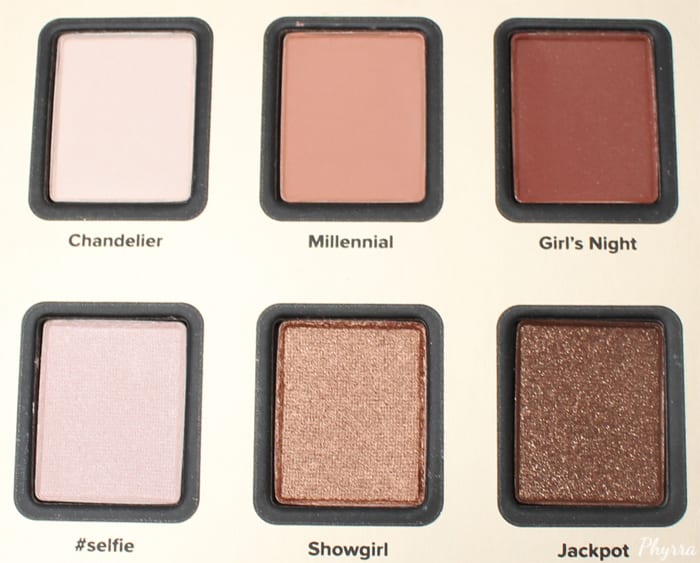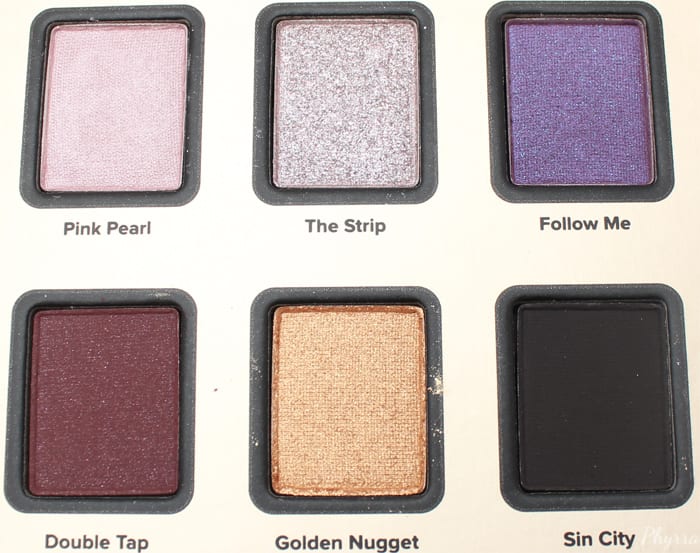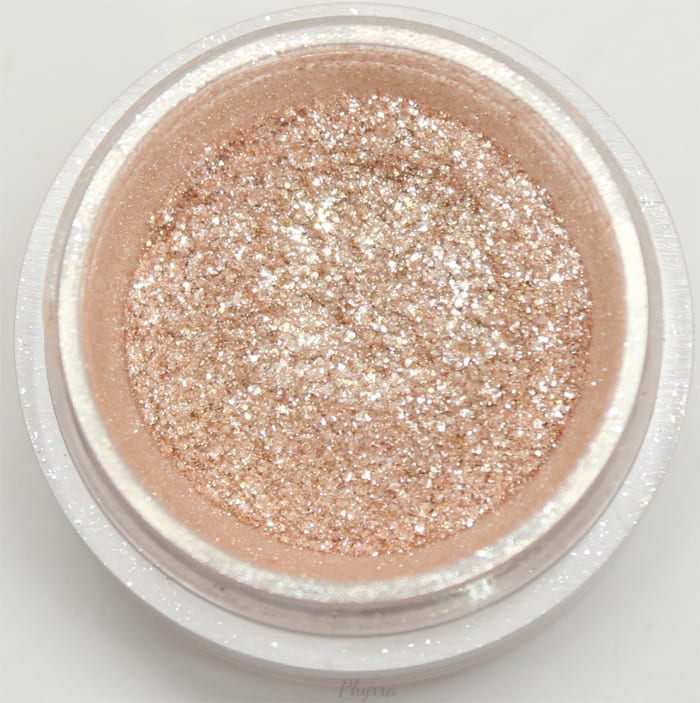 The left side is bare skin and the right side is Coastal Scents Step One primer.


Sin City – awesome matte black. I used this to darken my lashline and it worked beautifully. It also blended nicely at the bottom of my hood.


Follow Me – gorgeous purple with blue sparkles, fallout. For my eye look I applied this damp to get the best color payoff. My favorite shade of the entire palette.


The Strip – gleaming baby pink with sparkles, fallout. I actually enjoyed using this as a highlight under the brows.


Pink Pearl – baby pink pearl


#Selfie – white with pink pearl



Chandelier – ivory satin with pink undertone.


Millennial – light warm peachy brown matte. This works really well as a color for blending out / to soften the edges on my hood.


Girl's Night – medium brown matte


Double Tap – blackened plum brown satin-matte. While I do wish that this was more of a blackened plum with purple tones, the brown shade is actually really nice to work with.


Jackpot – dark brown with golden sparkle. This is an absolutely stunning color.


Showgirl – peachy bronze metallic. This is a really gorgeous shade.


Golden Nugget –  yellow metallic gold. I love this one too.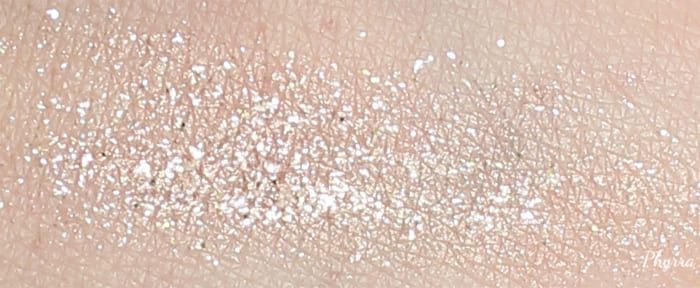 Nude Beam – shimmering nude glitter.
Primer was used for the top section of the swatches and the bottom is on bare skin.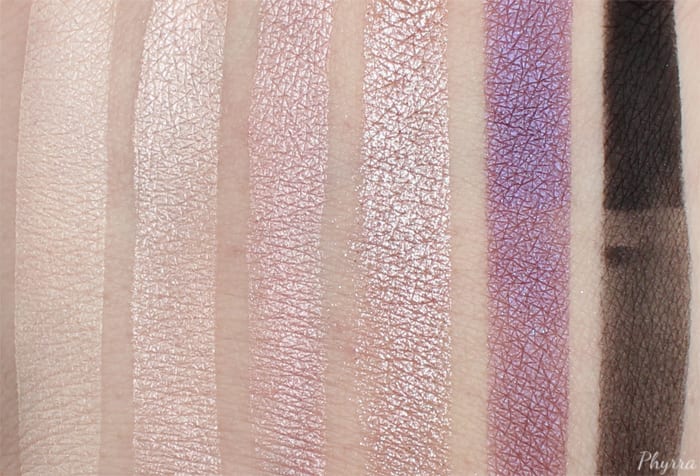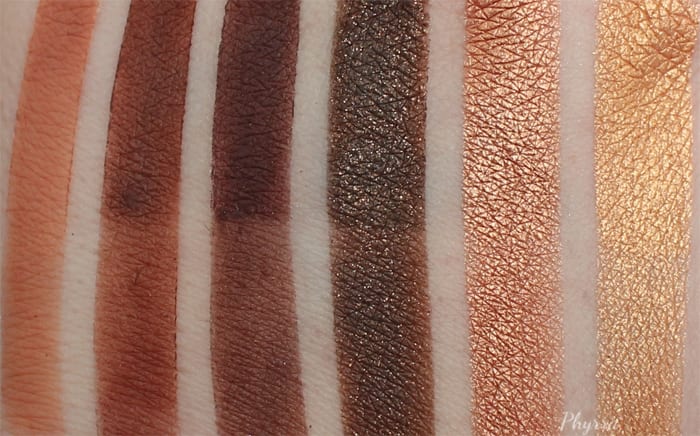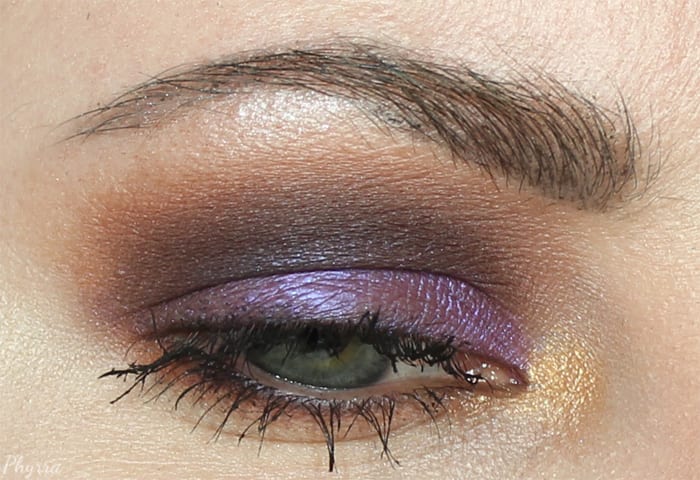 I love the packaging because it's lightweight and the names of the eyeshadows are printed underneath them in the palette. Thank you so much for doing that! The eyeshadow names are cute, too.
I am very happy to report that I didn't find a single dud in this palette, though I think the swatches speak for themselves. The eyeshadows are pigmented, applied easily, and blended like butter. They wore all day on primer for me.
As you know, Shadow Insurance is my all time favorite eyeshadow primer and a holy grail for me, so I'm happy to see it included in this set. I was surprised to see Nude Beam included but I like it. I actually own it in a full size because I bought it several years ago. I like that you're also getting the sample size mascara, because it's perfect for a travel makeup bag.
I think the value of this kit is excellent. You're getting 12 nearly-full size eyeshadows (.04 oz each, average full size is .05 and the Exotic Color singles are .06), the mini Nude Beam (.02 oz), a deluxe Shadow Insurance (.17 oz and full size is .35 oz), and the deluxe Better Than Sex mascara.
The shades in this palette are a good mix of cool and warm tones, so I feel like there's something for everyone – pinks, purple and black, peachy bronzes, metallics and browns, making it very versatile.
Looking for more? Check out
What do you think of the Too Faced Stardust by Vegas Nay set?