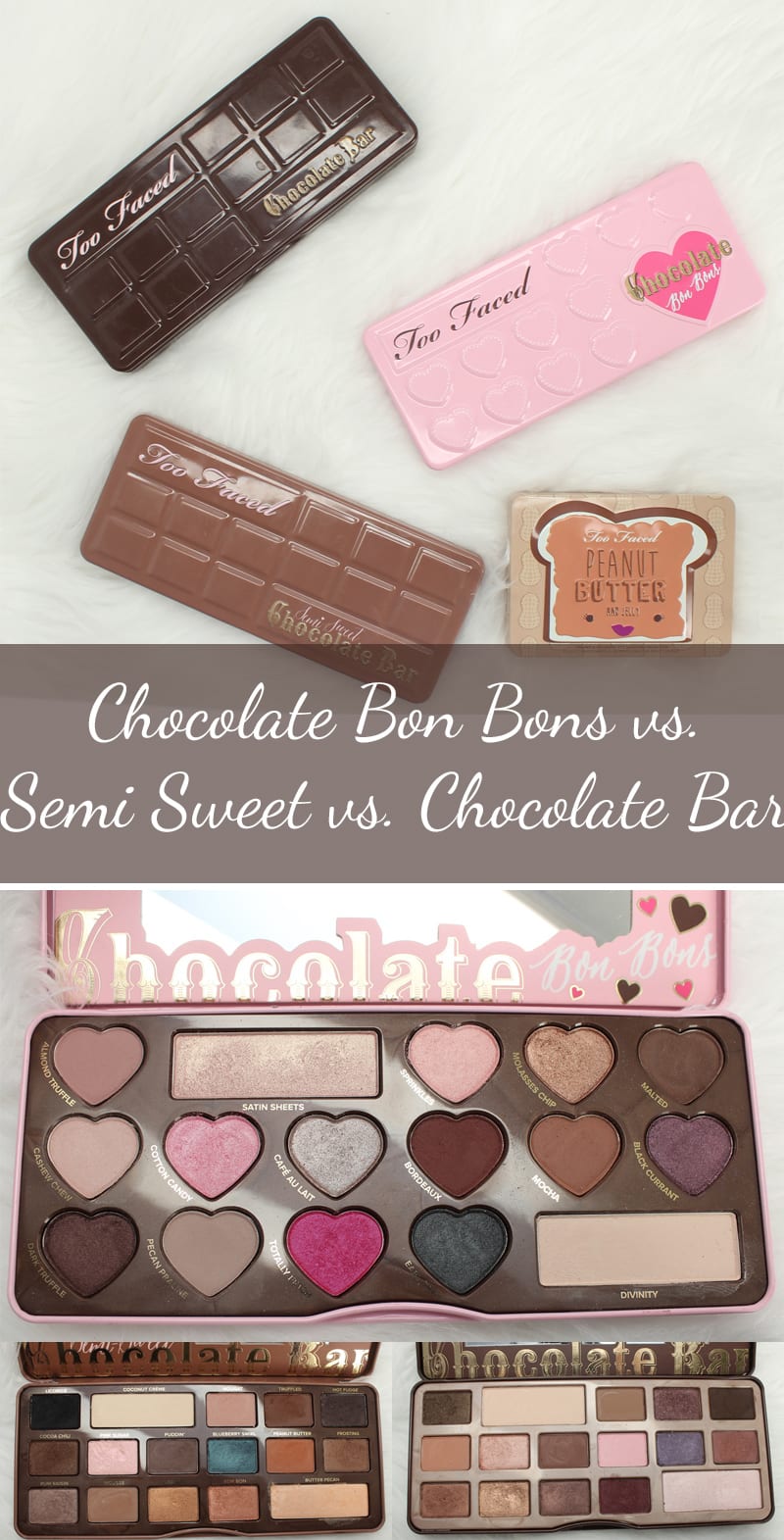 This was a reader request! I've got my Too Faced Chocolate Palette comparisons, where I talk about the Bon Bon Palette, Semi-Sweet Palette, the Original Chocolate Bar Palette and I even threw in the Peanut Butter and Jelly Palette. I reswatched all of these in one sitting and identical lighting conditions. They're swatched on bare skin.
Too Faced Chocolate Palettes Comparisons
PR sample

Too Faced Chocolate Palettes Comparison


Give this video a thumbs up and share it with someone who loves makeup!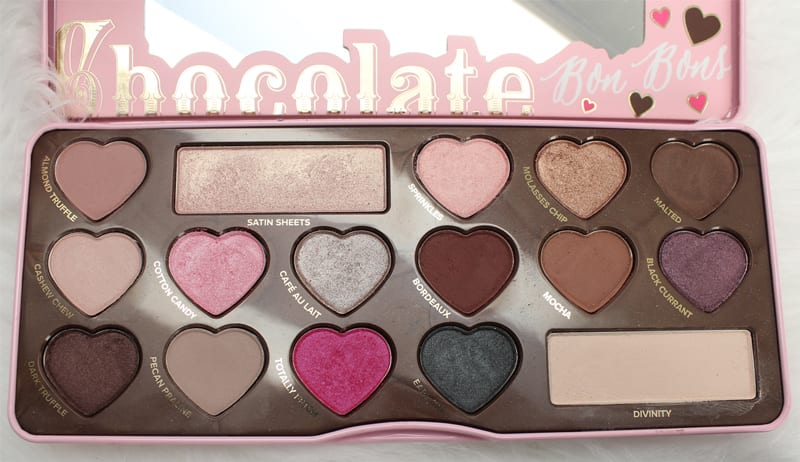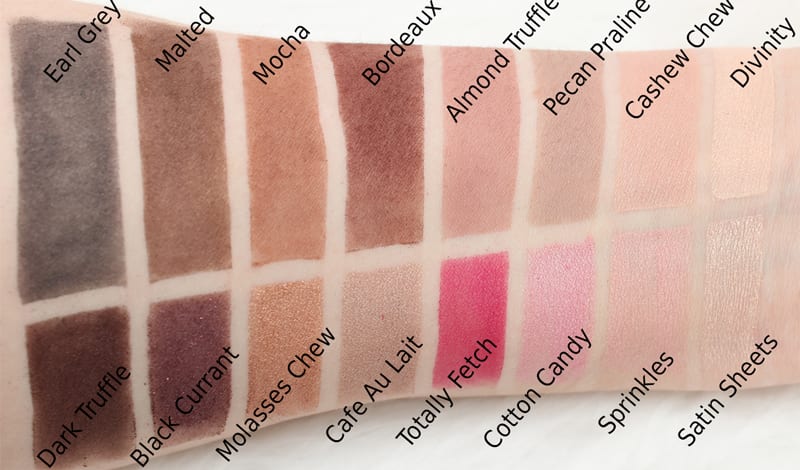 Chocolate Bon Bons is my favorite of the 3 (.42 oz product). It has 8 good matte/satin-matte shades including
Earl Grey (blue-toned charcoal grey satin matte)
Pecan Praline (light grey taupe matte)
Cashew Chew (light pink taupe satin-matte)
Bordeaux (dark burgundy brown matte)
Almond Truffle (dark pink taupe, deeper than Cashew Chew)
Mocha (warm chocolate brown matte)
Divinity (pale creamy ivory matte)
Malted (dark chocolate brown satin matte)
If ONLY Black Currant was a real purple. The light taupes and pinks really work well on my skintone. Totally Fetch is fun, even if it's not as intense as the original shade. My hooded eyes are grateful for the mattes. If you love how you look in pink tones and taupes, you'll find this flattering.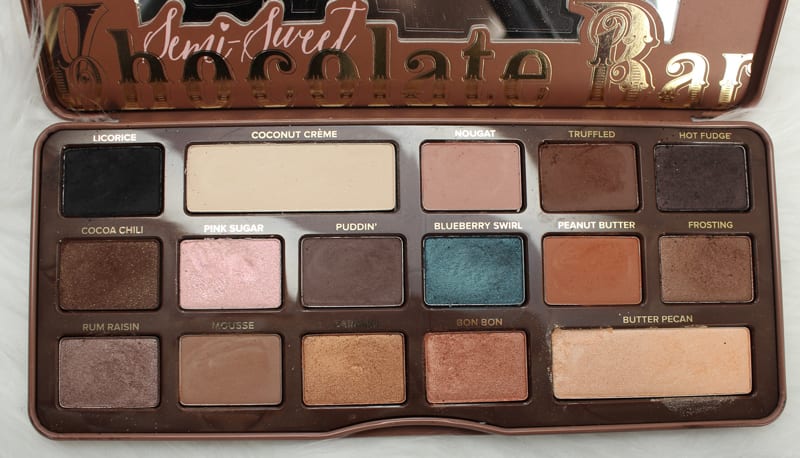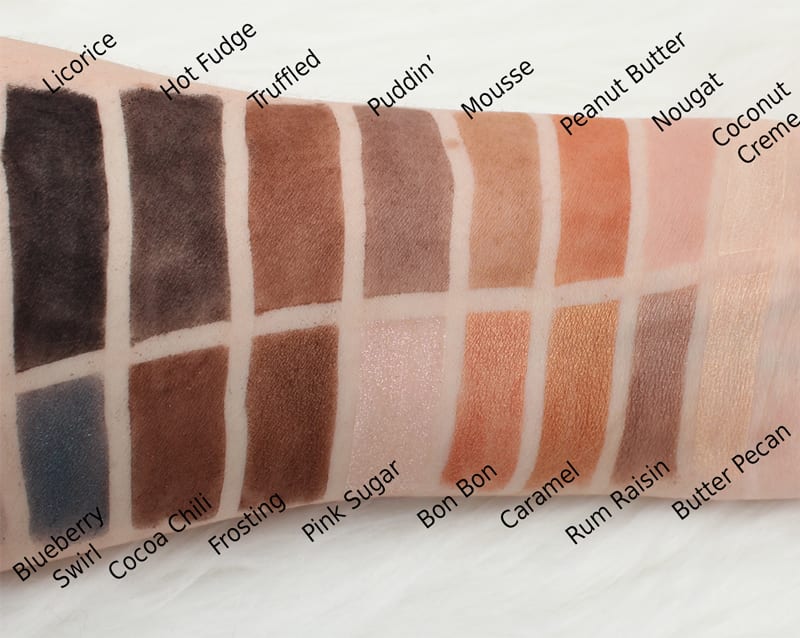 Semi-Sweet Chocolate Bar is my next favorite. (.56 oz product). It has some good mattes / matte-satins.
Peanut Butter (warm orangey brown matte)
Puddin' (cool midtone brown matte)
Coconut Crème (warm creamy light beige matte)
Nougat (warm creamy peachy beige matte)
Mousse (warm light milky brown matte)
Truffled (warm milk chocolate brown matte)
Cocoa Chili (dark brown mostly matte with little gold glimmers)
Licorice (black matte)
Blueberry Swirl is pretty, if subtle. I like Pink Sugar now that I've found the appropriate way to use it -- for layering.  It has some gorgeous colors to bring out my blue-green eyes, like Caramel (golden copper metallic) Bon Bon (peachy copper metallic), Peanut Butter. If you look good in orangey coppers or cool/neutral browns you'll love this. As you can tell from the top row, it has all the staple neutrals you'll need, and some fun shimmery shades too.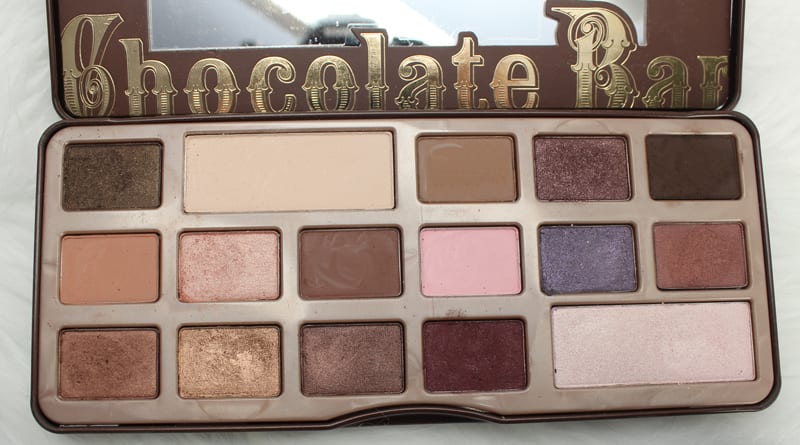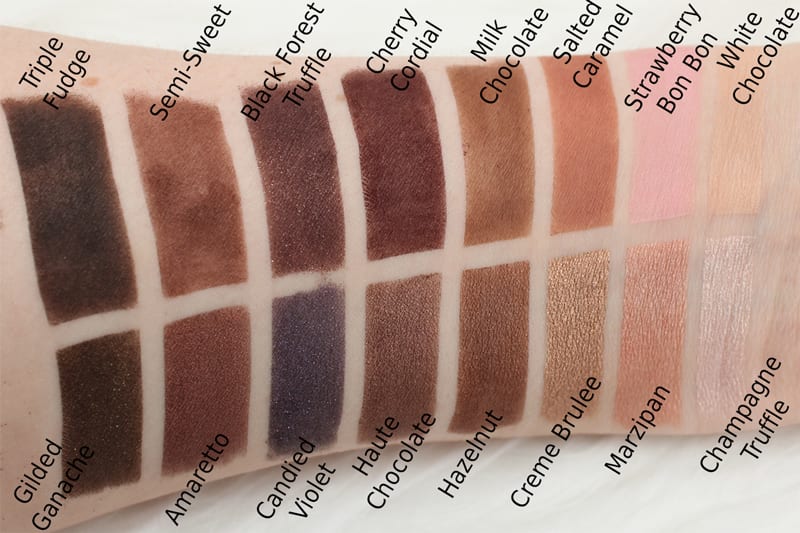 Original Chocolate Bar (.62 oz product). It's my least favorite. Several of the shades have to be built up. Not as many mattes. Too many midtone browns that just go muddy on me.
White Chocolate (matte light beige)(wish this was lighter)
Salted Caramel (peachy brown matte)(love this)
Milk Chocolate (milky medium brown matte)
Semi-Sweet (deeper than midtone brown matte)
Strawberry Bon Bon (light pink matte)(chalky)
Triple Fudge (dark brown matte)
I love Candied Violet (smoky purple), Cherry Cordial (deep burgundy) and Black Forest Truffle (smoky plum) but they're not the easiest shades to work with. Marzipan (light rose gold), Champagne Truffe (iridescent pink) and Salted Caramel are my favorites from this palette. If shimmering browns, golden browns and chocolatey browns are your favorite colors to wear, this is the palette for you. It's just not for me, as I struggled to make the shades work.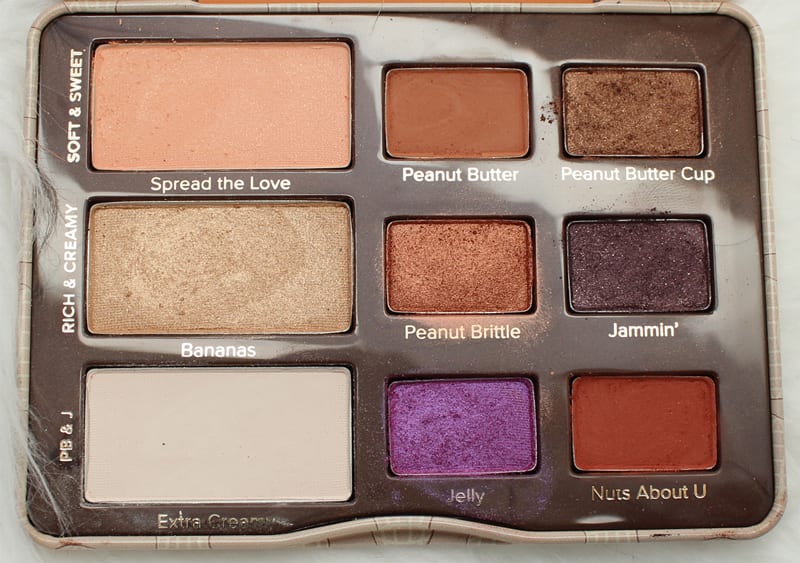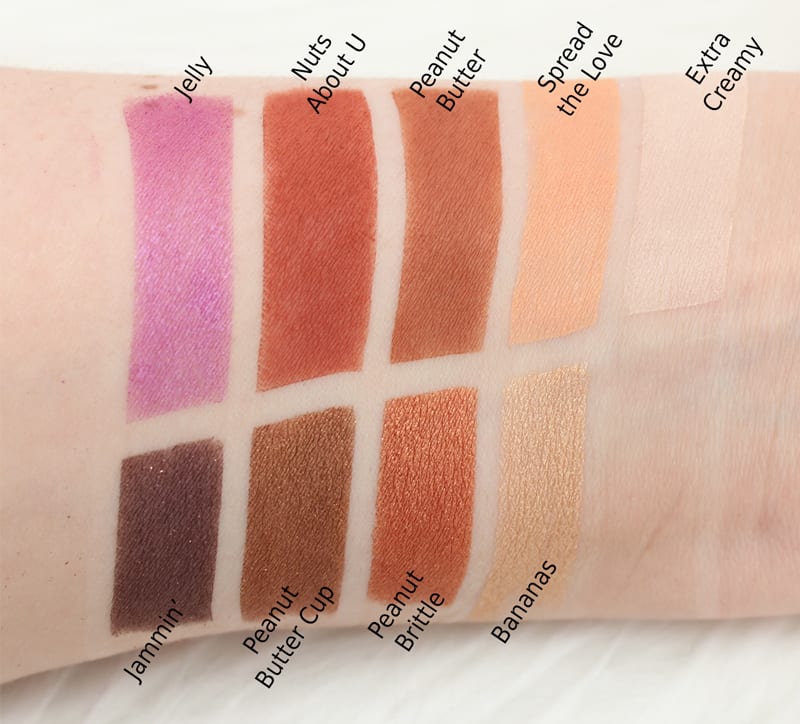 Peanut Butter & Jelly ($36 for .39 oz.) 4 of the 9 shades are mattes.
Extra Creamy (creamy light beige matte)(my favorite base shade)
Peanut Butter (orangey brown matte)
Spread the Love (peachy matte with subtle gold shimmer that doesn't really show up on the skin)
Nuts About U (reddish orange matte)
Jelly is really pretty, but sheer and has to be built up. It benefits from a purple base. It reminds me a little of MAC Stars n' Rockets, except Too Faced is cruelty free, where MAC is not. Bananas is great for layering at the center for a golden halo look.  I wish instead of Peanut Butter Cup we had another 'jelly' type shade. I wish Jammin' was more of a true purple. This palette is an excellent value for the price, in my opinion.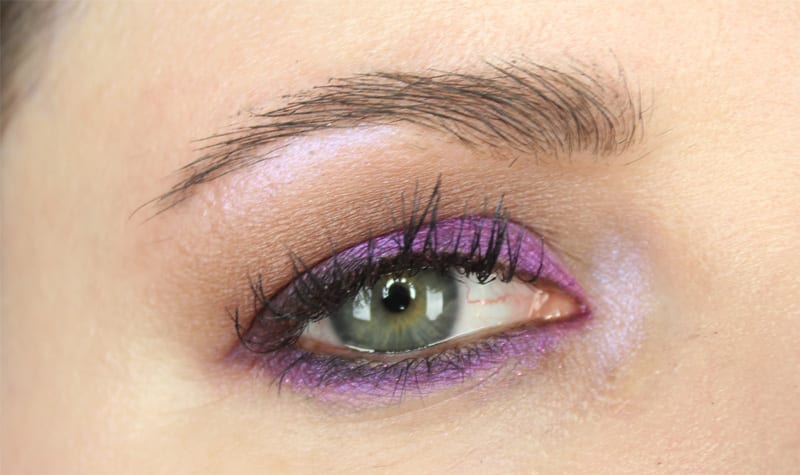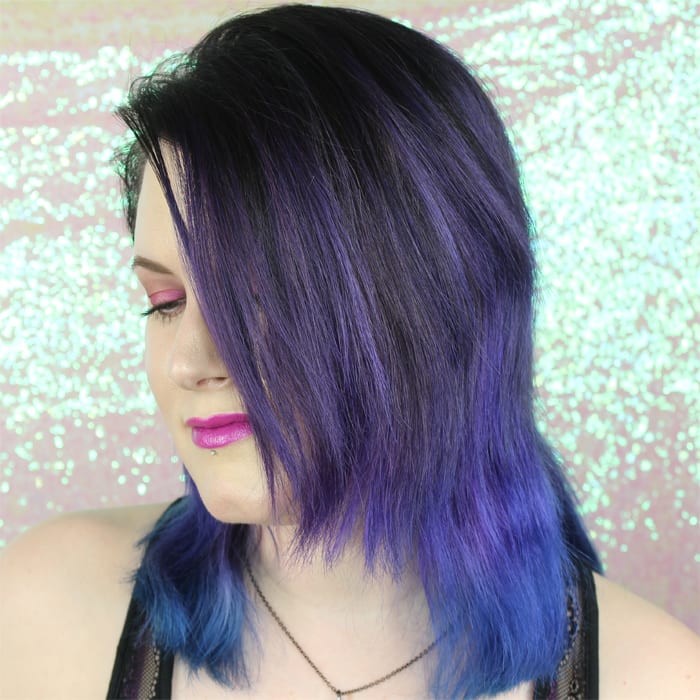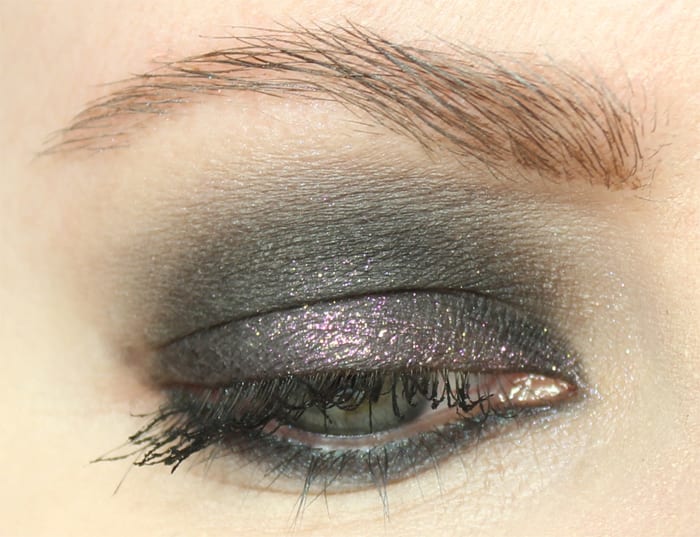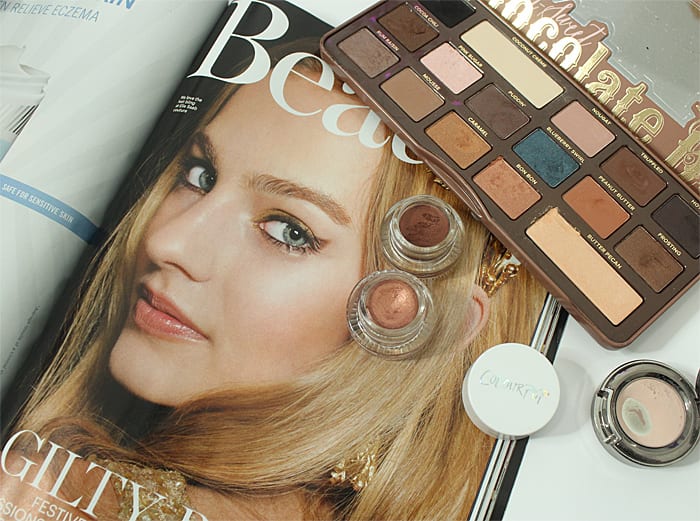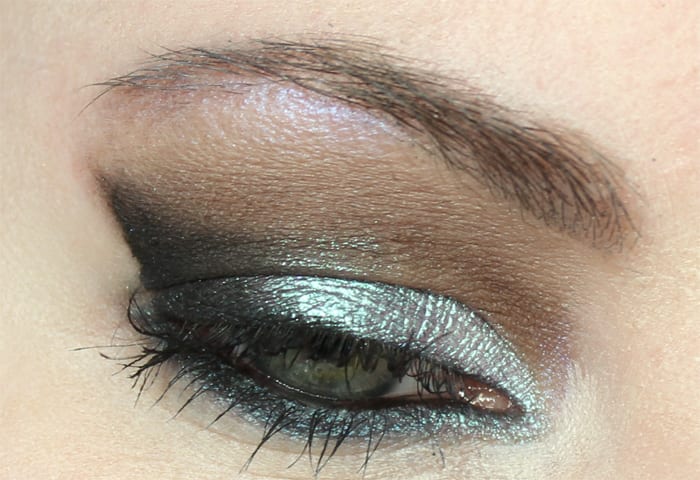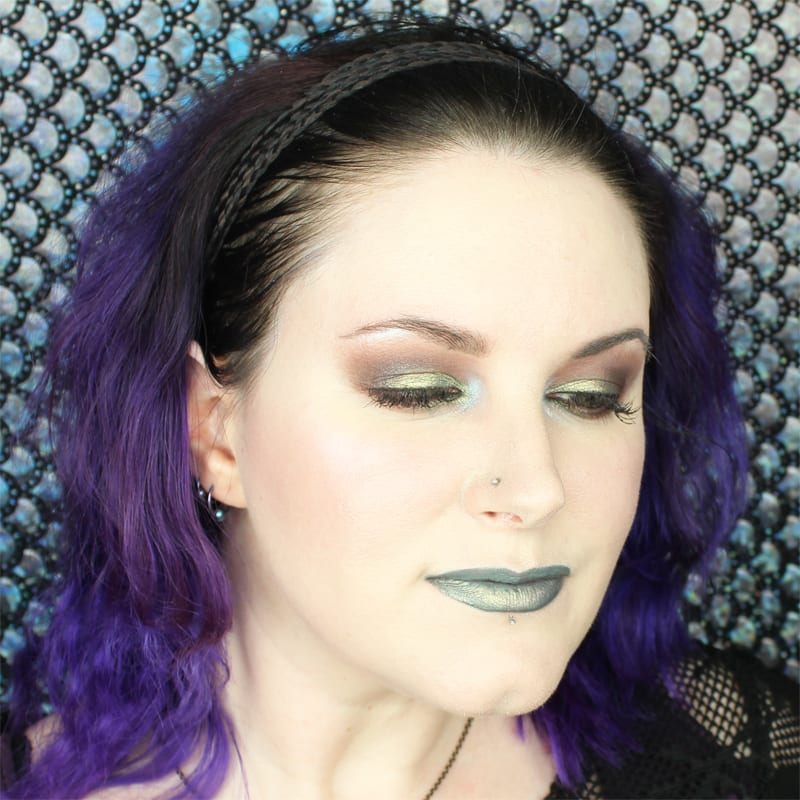 I've included links to my recent tutorials with the Chocolate Bon Bons Palette, the Semi-Sweet Palette and the Peanut Butter & Jelly Palette to give you ideas on how to use the palettes.
Make sure you check out 10 Life Changing Beauty Hacks You Need to Know!
So tell me, what is your skintone, which is your favorite palette and why?
Last Updated on