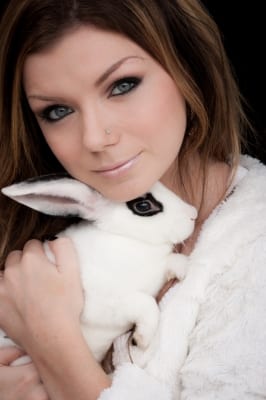 (Image Credit)
It's getting harder and harder to find mainstream brands that are cruelty-free. We've lost a lot of brands this year to testing (including but not limited to MAC, Smashbox, Revlon, Sephora Brand, Mary Kay, Avon, Dermalogica), and it's sad. I was so heartbroken over MAC that I sent them a handwritten letter, in addition to several emails.
I'm extremely grateful to Too Faced for their stance of always being cruelty-free.  I was so happy I cried when Urban Decay reversed their decision to sell in China. I greatly respect Lush for their stance, too. I'm proud to be a fan of Anastasia Beverly Hills for their stance.
I'm also very grateful to all of my indie brands who continuously raise the bar with being cruelty-free, having wonderfully pigmented products that perform beautifully at affordable prices. Not to mention their awesome customer service.
One thing that bothers me is that I've heard people say, even if X brand becomes cruelty-free, I wouldn't buy from them. I feel like there MUST be incentive for a brand to change from the 'Dark Side' of testing to the 'Light Side' of cruelty-free. If a brand reverses their position and stops testing, they need to see that people will purchase from them. This is one of the reasons that I will support cruelty-free companies that are owned by non-cruelty-free parent companies. Some examples would be NARS, The Body Shop and OPI.
Now, I'm not here to preach the One True Way or anything like that. I think that you need to do what you feel is right for you. I lean towards the Harm Reductionist lifestyle. For me with beauty products this means that if a company says 'except where required by law,' I will not be purchasing from them. I was really upset when I purchased the Smashbox Shades of Fame palette because it had the cruelty-free bunny on it, only to find out that they are testing in China (hence the 'except where required by law'). I am doing the best that I can to make sure that I state cruelty-free status on products that I review. I'm trying to point out whenever I find a great affordable drugstore brand that's cruelty-free, like gud by Burt's Bees or Milani.
When a company contacts me asking if I want to review their products, I immediately inquire if they are cruelty-free. If they are not, I decline to review their products.
I rely on Jen from My Beauty Bunny and Tashina from Logical Harmony whenever I find conflicting information. They're awesome!
2013 is looming. March 2013 is supposed to have big changes in store for the UK with banning animal testing. I desperately hope this goes through. I want it to have a ripple effect on the USA, causing companies to stop testing. Like I pointed out earlier today in my Glossybox September review (by quoting Goh Ken Do), there is the in Vitro safety testing method, so animal testing is no longer necessary for cosmetics in this day and age.
What do you think about the number of mainstream companies that have lost their cruelty-free status this year? Do you think they'll return to being cruelty-free?
I would love to hear your thoughts on this issue!
Last Updated on