This is a post from contributing blogger Mai, of Portrait of Mai.

My name is Mai and I normally blog over at Portrait of Mai but Phyrra was kind enough to let me do a guest post on my experiences and the booths I saw at The Makeup Show LA in the beginning of March.

Before I get to everything, I want to take the time to encourage you to attend the show if at all possible. Having gone to both The Makeup Show LA and IMATS LA twice each, I can safely say that The Makeup Show is my favorite makeup trade show of the two. The crowds at The Makeup Show are smaller, the discounts better, and you get a real opportunity to mingle with the brand owners and creative directors. Even if you're not a professional, Elessa/Pursebuzz and Koren/Enkore Makeup often have a promotion with the show that allows non-pros enter the show (they usually post a video with all the information before each show so watch out for those!)

Onto the show! The pictures I've taken are primarily closeups of products I saw of the show, the booths themselves aren't always so exciting to look at. There were so many things I had to check out considering there was 70+ booths and 100+ brands showcased. I tried to pick brands to feature in this post that were either new and interesting to me or well-known and loved brands.

Cult Nails
Considering all the love I've heard about Cult Nails, I had to make a pit stop there. I was really happy to hear about all the love the brand was getting at the show (Maria got a nice shoutout from James Vincent during the Blogger Preview!) and I got one of their colors, Deal With It, courtesy of the show. It's really exciting to see how Cult Nails started from R3Daily and now to a well loved and popular brand showing at a prestigious trade show like The Makeup Show. I'm really looking forward to seeing how they continue to evolve as a brand!

Inglot Cosmetics
I think everyone walking by the Inglot booth felt a little somber considering the most recent passing of their founder, Wojciech Inglot. At the Blogger Preview I attended, James Vincent mentioned that Inglot had consideried bowing out of the show in light of recent events but they decided not to because Wojciech would have wanted them to be a presence at the show. I felt sad thinking that Wojciech wasn't able to see how many peoples' lives were touched by him and his pioneering work with cosmetics. The Freedom System Colour Play lipsticks were a new addition to the show and it was bittersweet to think of how Wojciech would have appreciated everyones' reaction to them. The lipstick palette in the back contains their new Colour Play lipsticks which are brilliantly pigmented and perfect for mixing at only $6.00 a pan. (Feel free to check out swatches here)

bdellium tools
After seeing the Pink Bambu brushes debut at IMATS, I made sure to head to their booth to pick up a few. The pink bambu brush line is meant to accompany their current yellow and green bambu, an all vegan synthetic line with bamboo brush handles. I'm not partial to the look of the yellow and green bambu but I am in love with the pink. The contrast of the white and light pink fibers plus the matte handles adds a beautiful sophistication to a set of brushes that could have easily looked too much like a novelty set. I purchased two brushes, a flat eyeliner brush and a fluffy eyeshadow brush. The pink bambu line currently isn't available in a set but the owner said that they will be in June!

Stila Cosmetics
Stila Cosmetics debuted a few products at the show though two products in particular really caught my eye. These are the Countless Color Pigments which are tie-dyed pressed pigments with a mixture of beautiful colors. I know both Alyson/Gloss Menagerie and I were wondering whether they were eyesafe since they contain fairly neon/bright colors and we were told that these in fact are. Stila are sort of stepping away from their comfort zone by doing colors like this and I'd like to see more from them!
Stila also premiered their After Glow Lip Color, a twist up crayon lip color with fluorescent pigments which are actually UV blacklight reactive! I was gifted one of the lip colors in Electric Pink but unfortunately I don't own a blacklight to test out its glow. The nice part about this is that even if you wear a color over the After Glow Lip Color, they'll still glow under a blacklight.

NARS Cosmetics
NARS premiered their Satin Lip Pencils at the show (a counterpart to their Velvet Matte Lip Pencils) and if you want to see swatches, be sure to check out Project Swatch's post of all thirteen colors. The entire booth was so droolworthy but I decided not to get anything though I'm sort of kicking myself at the moment. The concealers looked amazing but did appear a little sheer.

Sam Fine for Fashion Fair
Sam Fine is a very talented and author who has worked with the likes of Vanessa William, Queen Latifah, Iman, etc etc. He became the creative makeup director of Fashion Fair, a cosmetics brand catered towards women of color, about a year and a half ago and he was featuring his capsule collection "Sam Fine for Fashion Fair" at The Makeup Show. He was extremely nice to talk to and I want to take the time to direct you to my friend Krissy's blog post where she recorded his keynote forum "A Career in Makeup". I missed out on his keynote this morning because of traffic so I feel so thankful that Krissy recorded it not only for me, but for you. It's 87 minutes long but worth listening to. 

The colors in the collection look beautiful and they look like they'll suit skintones of any color. Everyone was particularly gushing over African Violet, a beautiful deep raisin, (the last color on the right) after Sam Fine finished his keynote.
I also got to chat with Sam Fine for a few minutes and gush over his line. The fact that I got to mingle with the creative director of a brand whose products interest me so much is the biggest reason why I advocate attending one of the Makeup Shows, it doesn't even have to be the one in LA.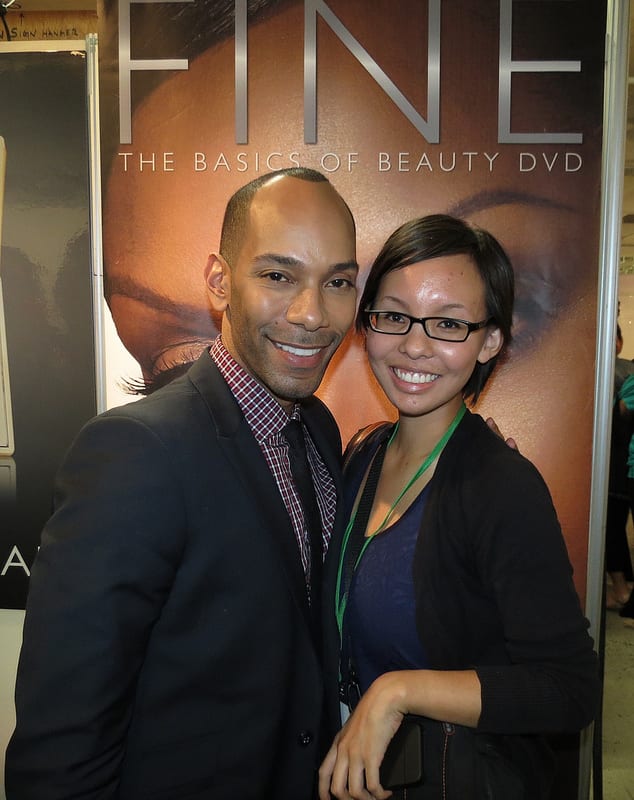 I hope you enjoyed part one of my Makeup Show LA 2013 Recap, come check out Part Two at my blog!
Last Updated on