Terra Moons Red Date Night Tutorial

Hello, beautiful creatures! Today I'm sharing my Terra Moons Red Date Night Tutorial with you. Terra Moons Cerise Waves is the star of this look. This tutorial is perfect for hooded eyes like mine with excess skin at the outer half of the lid and at outer corner. The way I do my shadow wings helps to create the illusion of perfect liner. You know I love multichromes! This multichrome eyeshadow tutorial features Blood Moon, a black multichrome and one of my all-time favorite eyeshadows.
Dave asked if I would do a vampy look and he loved these deep red hues. It's an intense red monochromatic makeup look. I include shade descriptions so you can shop your makeup stash for similar colors to recreate. I also share the outfit I wore for our date night. Valentine's Day is special for Dave and I because that is the night we decided to get engaged. I can't believe I've been happily married for almost a year at this point!
Terra Moons Red Date Night Tutorial Video
Please watch the video on YouTube for Closed Captioning in English!
Red Date Night Tutorial Products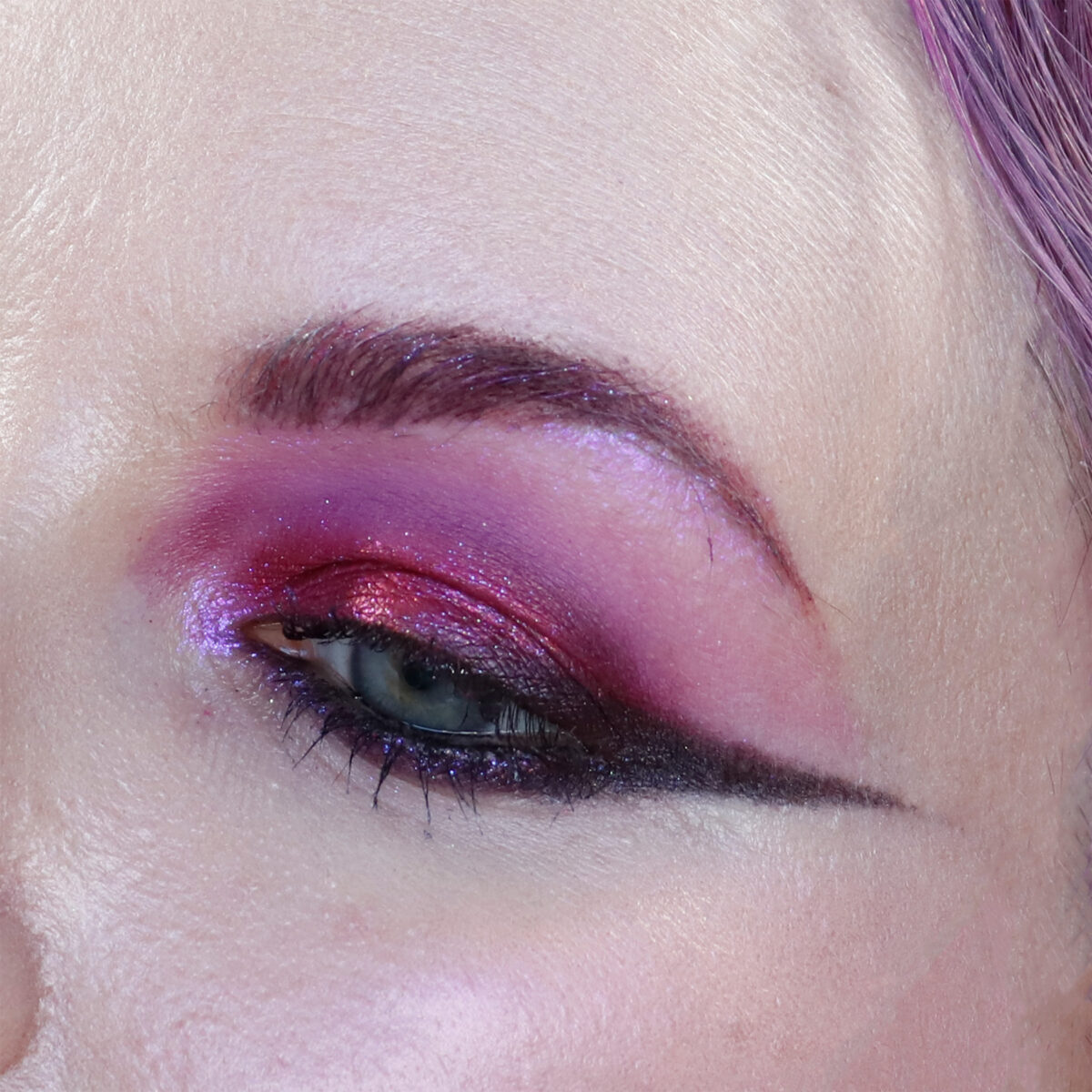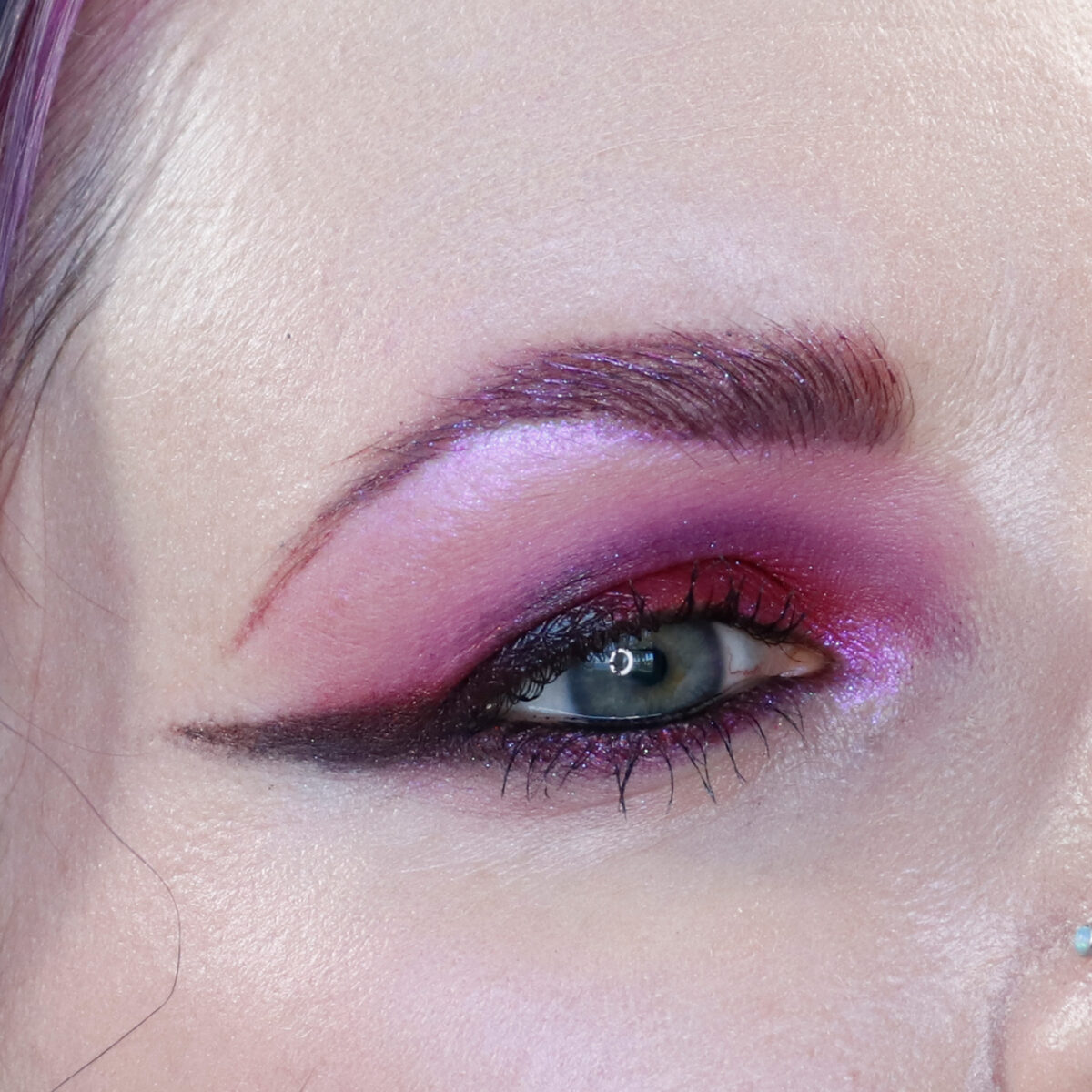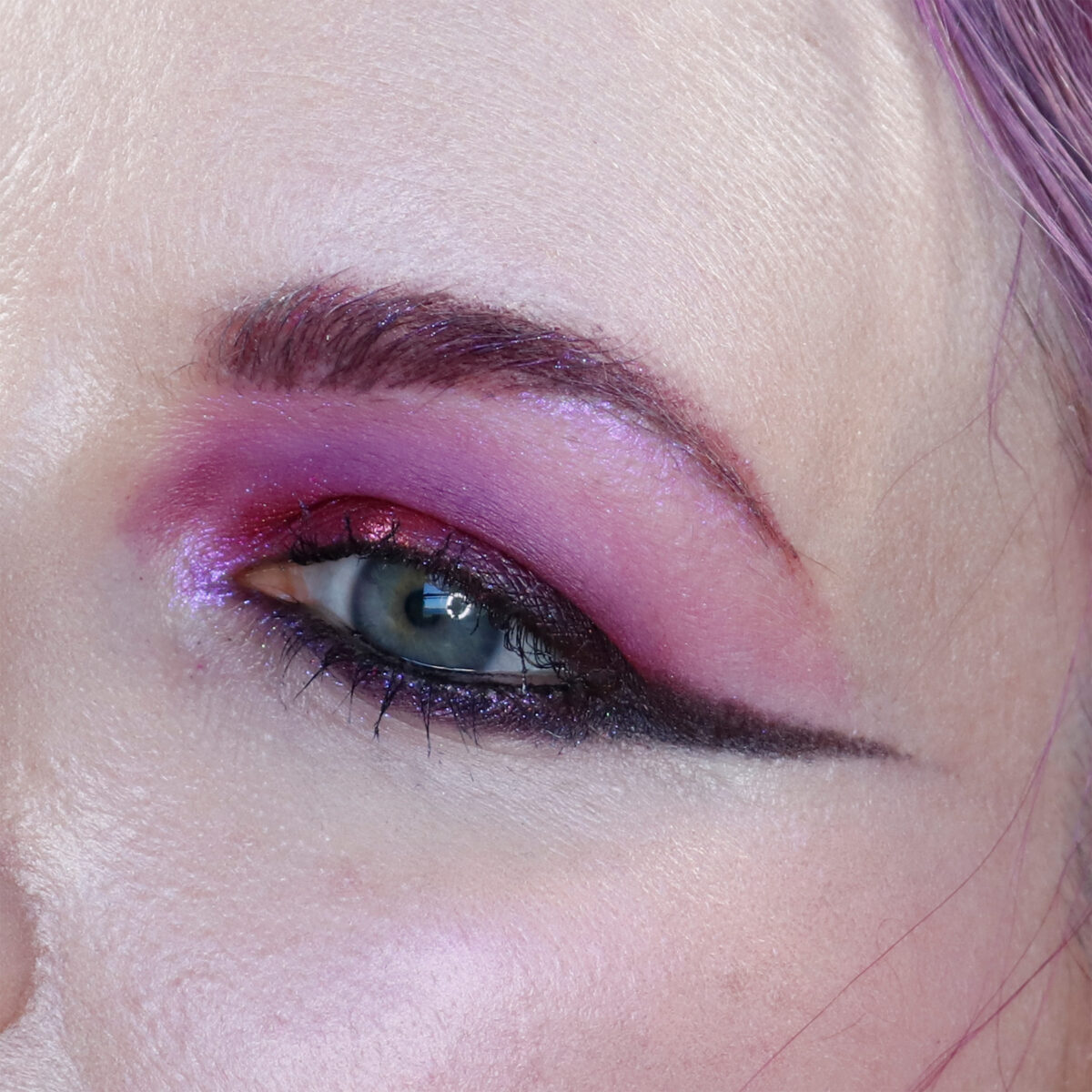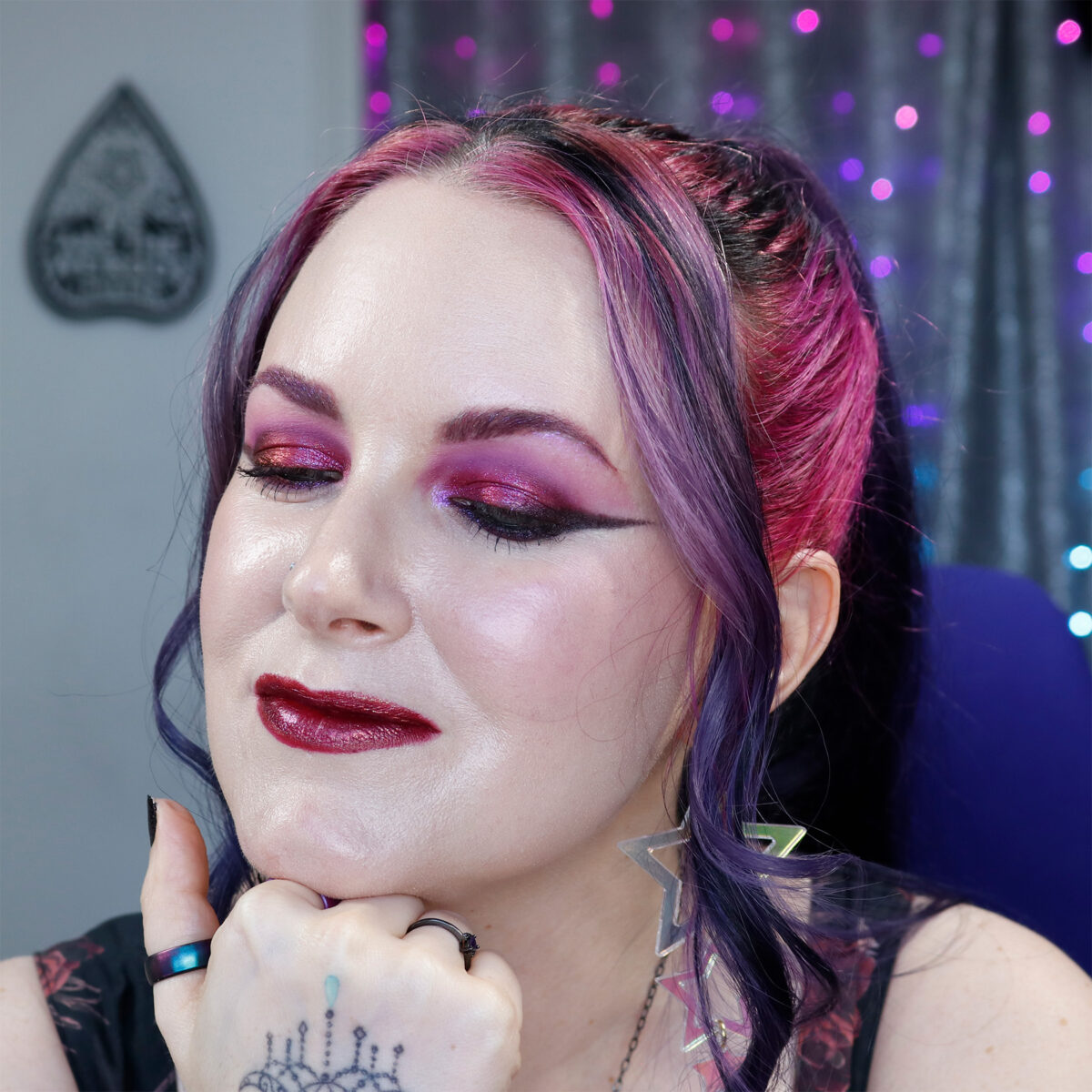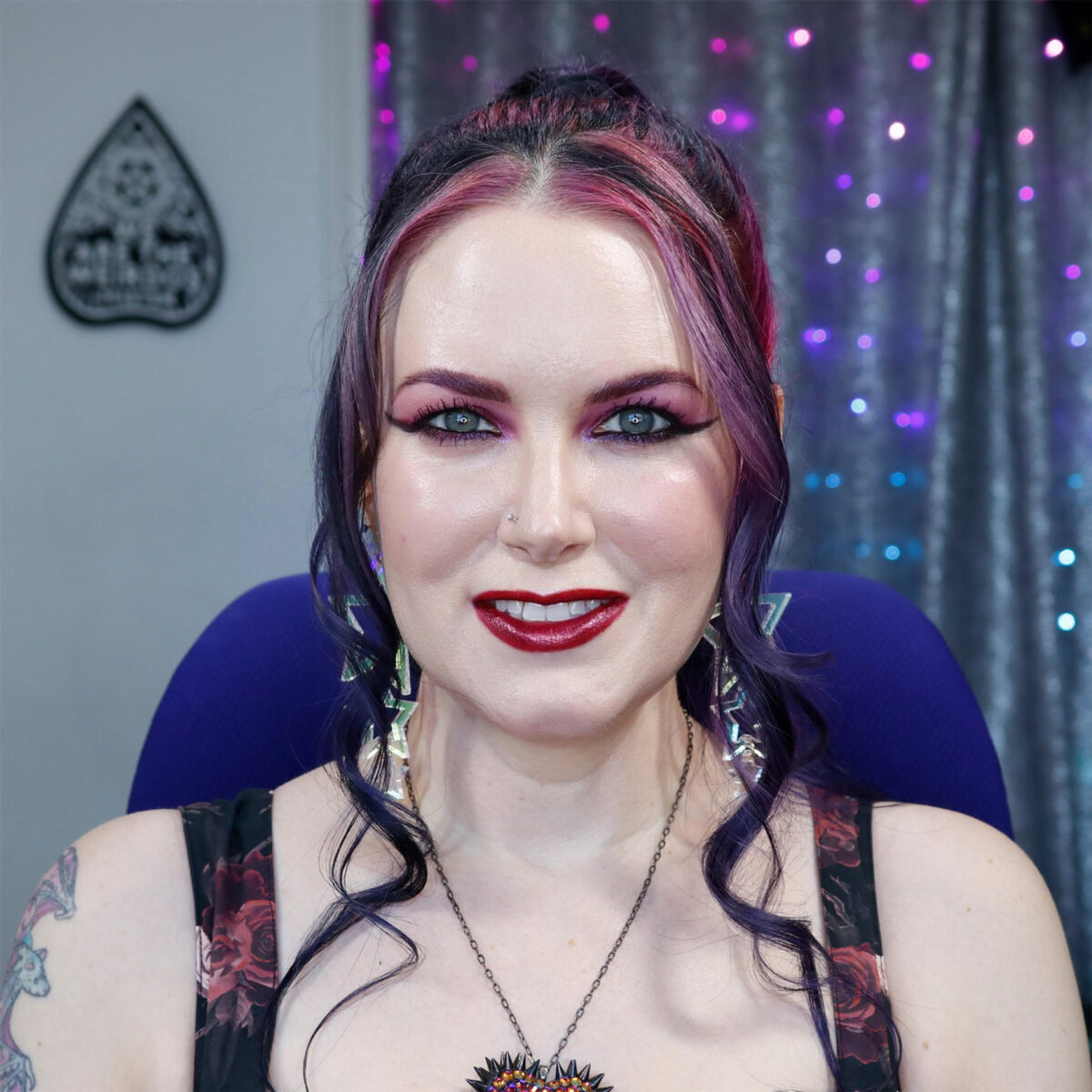 BROWS
Sigma Prime + Control Brow Wax
KVD Aubergine Brow Pomade
About Face Eclipsed Glitter Brow Gel
EYES
Concrete Minerals Glitter Eye Primer
Nabla Cupid's Arrow in Black
Terra Moons Cerise Waves, Zero Gravity, Lost in Space, Blood Moon, Moon Reverie
Lethal Cosmetics Crossroads https://rstyle.me/+7kw0IxPNjEXTBF_NxpiU3Q
*Aromaleigh Ruby Spark 
Fenty 105 Pro Filt'r Powder 
Thrive Causemetics Liquid Lash Extensions Mascara
FACE
Auric Glow Lust in Morganite
Salt New York Sneaky Balm in N13 
About Face The Big O blush
Aromaleigh Ostara highlight
*Silk Naturals Meld Powder in Light
LIPS
Lime Crime Tarot Pencil (discontinued, try Fangs)
About Face Sudden Shift Fractal Lip Color
* denotes PR sample
Shop Your Stash Shade Descriptions

Before buying new makeup, I recommend shopping your own makeup stash to see if you own similar colors. This helps you to save money and only buy things you really need!
Terra Moons Cerise Waves – true red shimmer
TM Zero Gravity – iridescent base with violet, blue, purple and pink
Terra Moons Lost in Space – bright deep pink sparkly duochrome with blue and purple
TM Blood Moon – black satin multichrome that shifts red, plum, and orange
Terra Moons Moon Reverie – deep maroon matte
Lethal Crossroads – lotus pink matte
Aromaleigh Ruby Spark – rich red satin with strong magenta undertones
KVD Aubergine – abergine plum
About Face Eclipsed – magenta multi-sparkle
About Face Big O – deep red
Lime Crime Tarot – blackberry
About Face Sudden Shift – shimmering raspberry with gold and red sparkles
Terra Moons Red Date Night Fashion
View this post on Instagram
See the movement of the Hot Topic Dark Roses Retro Dress and the cute pockets in my IG reel above.


FASHION
*Hot Topic Dark Roses Retro Dress (currently 20% off)
*ISLY NYC Star Drop Earrings
Bunny Paige Volcano Spiked Heart Necklace
Naturalizer 90th Anniversary Adelle Heels in Bordo Velvet (similar shoes)
* denotes PR sample
I absolutely adore the Dark Roses Retro Dress that Hot Topic sent me! I own a lot of rose themed fashion items as part of my Romantic Goth fashion taste. This dress has so much to love about it, it has pockets, is very flattering to my shape, beautiful print, and is comfortable to wear.
Final Thoughts

Dave and I had a wonderful time celebrating Valentine's Day at home. He's still unable to leave the home for extended periods of time while he heals from his surgery.
I hope you enjoy this Terra Moons Red Date Night Tutorial! Please let me know your thoughts!
More to See