Eyelid Tape for Hooded Eyes

Hello, beautiful creatures! Today I wanted to talk about eyelid tape for hooded eyes. Does eyelid tape work for hooded eyes? Which eyelid tape is best for hooded eyes? How do you use eyelid tape? I'm going to answer those questions and more!
Unsure if you have hooded eyes? Check out my Do I Have Hooded Eyes? Guide!
It's been a few years since I've tried eyelid tape. The last time I visited my friend Jenni, I used eyelid tape to see how I felt about it again, and I opted for a simple but dramatic winged liner look with gorgeous glitter.
Does Eyelid Tape Work for Hooded Eyes?
View this post on Instagram
Does eyelid tape work for hooded eyes? Yes, eyelid tape works for hooded eyes. In the Instagram Post above, my left side is bare and my right side has eyelid tape in to change the shape of my eye.
Your results are going to vary based on the size of your hoods, as well as the size of the eyelid tape that you use. My hoods are pretty large, so I use 7mm eye tape. You can find sizes 4mm, 5mm, 6mm, 7mm, and 8mm. Use a larger size of eyelid tape for more dramatic results.
Don't be afraid to practice, practice, practice. In my experience, eyelid tape for hooded eyes has a steep learning curve. Even now, after practicing using eyelid tape a lot, I still sometimes burn through 2 or 3 strips to get the placement correct. 
Which Eyelid Tape is Best for Hooded Eyes?
The best eyelid tape I've ever tried is the Lids by Design by Contours RX. However, they're pretty pricey at $34.95 for a box of 80 count of 7mm size. Vemoerce sells an eyelid tape box for $24.99 for 100 count per size and contains 4mm, 5mm, 6mm, and 7mm. I use Fakespot on Amazon to look for the highest-rated products when deciding which product is best.
How to Use Eyelid Tape for Hooded Eyes
It is best to start using ultra-pointy tweezers or silicone tweezers and pick up the inner lid section of the eyelid tape. Then line the eyelid tape up with the top of your mobile lid by looking down. Press the eyelid tape into the center of your crease, then press the inner and outer corners down. Look into the mirror to see how it fits. You may have to try eyelid tape a few times before you get the placement suited to your taste.
Eyelid Tape at Ulta
People ask if I've seen eyelid tape for hooded eyes at Ulta. Unfortunately, I've never seen Ulta carry eyelid tape in my area or online.
Can You Use Makeup With Eyelid Tape?

Yes, you can use a limited amount of makeup with eyelid tape. Even with an eyeshadow primer, I could never get eyeshadow to stick to eyelid tape. I recently tried using Lemonhead Space Paste in Mirage on top of the eyelid tape, but it would not stick either.
The best way I've found to wear makeup with eyelid tape for hooded eyes like mine is to put on the eyelid tape. Then create a winged eyeliner look and wear a statement lip. It's quick and easy beautiful makeup.
Watch my Hooded Eye Makeup Tutorials for makeup inspiration!
Hooded Eyes Makeup Look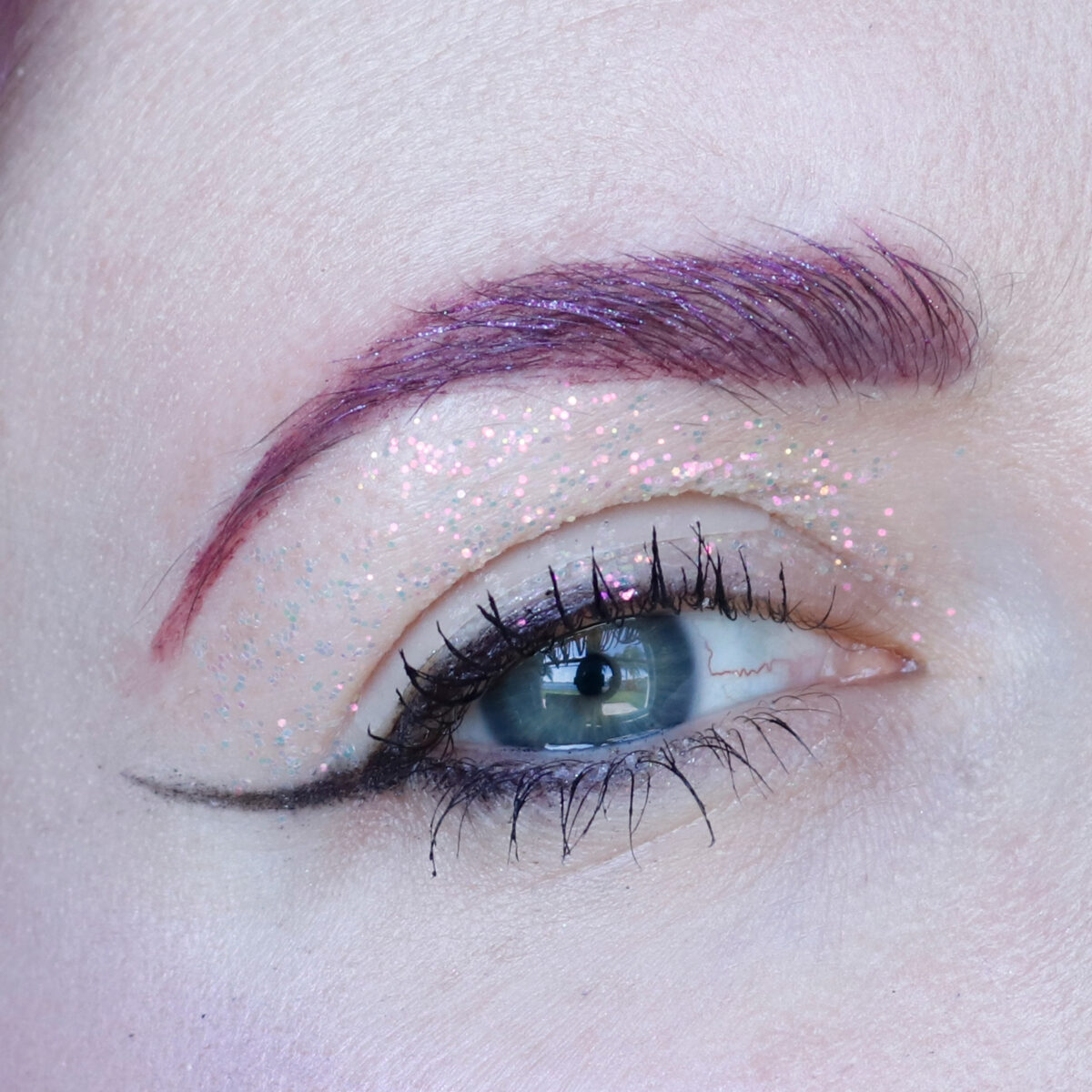 Brows
Sigma Prime + Control Brow Wax
KVD Aubergine Super Pomade
About Face Eclipsed Fractal Glitter Brow Gel
Eyes
Eyelid tape
Lemonhead Space Paste in Mirage
Nabla Black Cupid's Arrow Pencil 
Terra Moons Blood Moon smudged on top of Nabla
Thrive Causemetics Liquid Lash Extensions Mascara 
Face
Danessa Myricks Gold Prism Fx Hydrating Lotion
Salt New York Sneaky Balm N13
Silk Naturals Phaedra
Salt New York Taupe
Silk Naturals Jelly Bean
Silk Naturals Meld Powder Light
Lips
Sugarpill Sumbunny
I've fallen in love with the KVD Aubergine Super Pomade in my brows, and it looks so good with my pink, purple, and black hair.
The eyelid tape is visible in the macro shots of my eyes above. Even a gel-liquid formula like Spacepaste wouldn't adhere to the strips.
Eyelid Tape for Hooded Eyes Review

Despite the steep learning curve with eyelid tape, I love it for the times when I want a simple winged liner look and a statement lip. It's always disappointed me that I can't effectively use eyeshadow with eyelid tape, and I love eyeshadow too much to give it up.
Eyelid tape is an excellent option for hooded eye babes who like a simple makeup routine. Once you get used to the placement, you can wear them all day. I can comfortably wear eyelid tape for 12-14 hours.
What do you think of eyelid tape? Do you have hooded eyes? Do you want to give it a try?