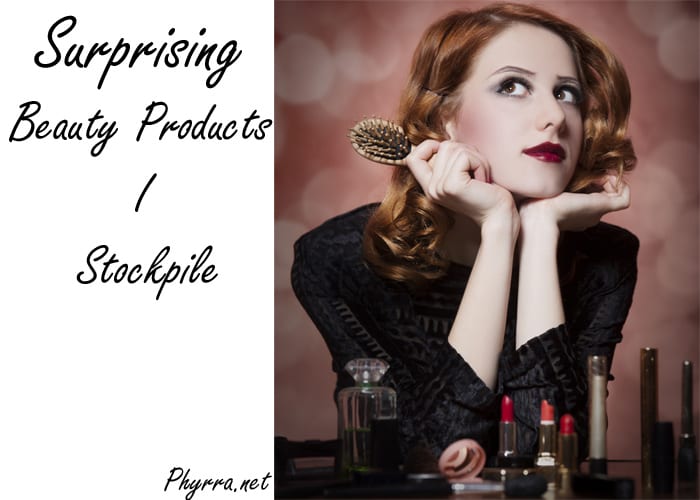 Happy Friday! The Beauty Blog Coalition has teamed up today for a monumental series. I'm sharing my surprising beauty products I stockpile. In truth, I have enough eyeshadows stockpiled to makeup an entire army. But in addition to copious amounts of eyeshadow, I do stockpile other beauty products, which may or may not surprise you.
PR + purchased by me.
Surprising Beauty Products I Stockpile
All products are cruelty free and some products are vegan.
MAKEUP
Iridescent White Eyeshadows with Blue Reflects
It started when I fell in love with MAC Vellum, and then Vellum was supposed to be discontinued. I've got several eyeshadows stockpiled that look like this including Urban Decay Aura (blue side, from the Oz Palette), Nyx Opal, Inglot AMC Shine 28 and Fyrinnae Winter, Again (vegan).
Teal Blue Eyeshadows
I love teal blue, or blues that lean teal. It's like the perfect shade that always makes me happy. There are many, but I'll list a few UD Gonzo, Shattered, Haight, Deep End, NARS Tropic, Sugarpill Afterparty, Darling, Makeup Geek Poolside, Shark Bait, Peacock,  Glamour Doll Eyes Mermaid's Plumage, Illamasqua Intense, Burst, Fyrinnae Digital Faerie, Gaity, Pteranodon, Sleepy Hollow, Darling Girl Leviathan, Model Walk, Creature from the Black Lagoon, Poolside Party, Charon… I could go on and on.
Purple Eyeshadows
Uhm yeah, I don't have a purple problem. Really! Sugarpill Poison Plum, Weekender, Hysteric, Elemental Chaos, Makeup Geek Duchess, Pop Culture, UD Freakshow, Frigid, Fishnet, Gravity, Asphyxia,  Silk Naturals Siobhan, Stinger, Vivid, Scream, Sidecar, Breathe, Conjure, Howl, Kick, Darling Girl Mistress, Anam Cara, Basket Case, Nerpette, Que Sera Sera, Seawitch, The Count, Voodoo, Fyrinnae Because Cats, Cuddlefish, Delvian, Snowboarding, Wicked, Shinigami….
Fyrinnae, Silk Naturals and Sugarpill are vegan. Some Urban Decay and Darling Girl products are vegan.
Too Faced Shadow Insurance
It's my all time favorite eyeshadow primer. I never want to run out. I've got 7 tubes (3 original, Candlelight, Champagne, Glitter Glue and Lemon Drop) of it.
Fyrinnae Pixie Epoxy
I love this for foiling eyeshadow. (vegan)
Cover FX CC Cream
I love my CC Cream and I NEVER EVER EVER want to run out. I've got multiple tubes. (vegan)
Cinema Secrets Brush Cleaner
I use this to clean my makeup brushes. It's quick and easy. It sanitizes, leaving a nice soft scent. It removes all bacteria. The brushes dry almost instantly. Best cleaner ever!
NAIL POLISH
Cult Nails Nevermore
This is my perfect one coat black nail polish. I've repurchased this and gifted it to people. Ray likes to borrow it from me, too. It's great for nail art, to wear on its own, for stamping etc. I think I have 2 or 3 bottles in my stash currently. (vegan)
Obsessive Compulsive Cosmetics Technopagan
Uhm, yeah, I had to buy 2 of these. I can't be without this beautiful nail polish. (vegan)
Multi-chrome and Scattered Holo Nail Polish
KBShimmer, Literary Lacquers, NCLA, ILNP, Girly Bits, Zoya, piCture pOlish and Cirque Colors all make beautiful polishes and I always feel like I need them because they're so fascinating to look at!
Zoya Remove
This is seriously the best nail polish remover that I've ever tried. It's a 3-in-1 nail polish remover, nail prep and nail conditioner. I have a large bottle and a small bottle with a flip top. I always refill the small bottle since it's easier to use than the giant one, but I buy the giant bottle because it's cheaper overall.
HAIR
Batiste Dry Shampoo
I've got 4 different scents of this in my hair cabinet. I love this stuff.
Cocoa Pink Argan Therapy Creme
I have 2 bottles currently because I love how this stuff makes my hair feel.
DermOrganic Leave-in Shine Therapy 
This product is made with argan oil. It protects from heat if you blow dry or flat iron your hair. It speeds up dry time if you blow dry. It makes your hair feel soft and it smells soooooo good. (vegan)
Pravana ChromaSilk Vivids
I am in love with Violet, Wild Orchid and Green. These colors last so well in my hair. I've got 6 tubes in my bathroom right now.
SKINCARE
Embryolisse Lait-Creme Concentrate
This moisturizer without SPF is extremely soothing on my skin and I love to use it. It's great to prep your skin with before you apply makeup if you don't need SPF, or if you want to use it at night. I love how it feels. It contains shea butter, which my skin loves and it helps to moisturize your skin over an extended period of time. LOVE! James Vincent turned me on to this and I'm so very glad he did.
Paula's Choice Gentle Touch Makeup Remover
This is my favorite makeup remover and I always have 2 bottles on hand – one in my studio and one in my bathroom. It contains aloe vera and green tea to nourish and soothe the skin. Licorice extract brightens the skin. (most PC products are vegan)
Paula's Choice RESIST Super Antioxidant Serum
I love using this serum on its own. You can mix it with eye creams. I usually use it under a daytime or night time moisturizer. (vegan)
Paula's Choice RESIST Anti-Aging Clear Skin Hydrator
This is a  nice anti-aging moisturizer without retinol. Love it. (not vegan)
Supergoop! SPF 35+ Save Face Oil-Free AM Moisturizer
It's made with Vitamin E, Blueberry extract, and has broad spectrum UVA and UVB protection. I work from home and sit next to my sliding glass doors to be able to enjoy the view outside daily, so I always feel it's important for me to have on SPF to protect my skin. See my review.
Supergoop! SPF 30 MintFusion Lip Balm
I have these in my purse and in my living room so that I always have SPF for my lips.
Bath and Body Works Sweet Cinnamon Pumpkin Shower Gel
I stock up on this stuff so it lasts me throughout the year. I have the body spray, fine fragrance mist, body lotion and body scrub. I love this stuff.
What are you stockpiling? What do you never want to run out of?
Loading InLinkz ...
Last Updated on