It's no secret that I love Supergoop! products. Today I've got the Supergoop! SPF 35+ Save Face Oil-Free AM Moisturizer to show you. This is a wonderful moisturizer that doesn't burn the eyes, nor does it clog the pores.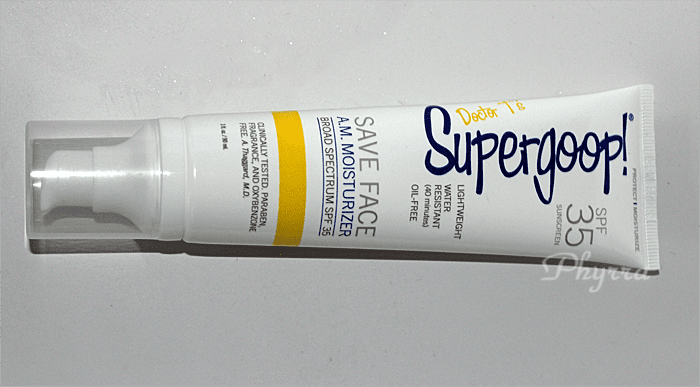 The Website Says
This moisturizer is specially formulated to be oil-free and antioxidant-rich for everything the face faces. It's super-charged with blueberry antioxidants that naturally heal, repair, prevent damage, and improve skin texture and elasticity. It's ideal for all skin types. The oil-free formula base is excellent for particularly sensitive skin.
Provides complete broad-spectrum UVA and UVB protection
Prevents and repairs damaged cells
Improves skin texture and elasticity
Blends beautifully and invisibly into the skin without leaving a shiny or white residue
Withstands water for a full 40 minutes of active sun protection
An airless finger pump preserves the strength of active ingredients and ensures you get every last drop
Free of oxybenzone*, parabens, and fragrances
Active Ingredients:
Avobenzone (Sunscreen) 3%, Octinoxate (Sunscreen) 7.5%, Octisalate (Sunscreen) 5%, Octocrylene (Sunscreen) 2.79%
Inactive Ingredients:
Water, C12-15 Alkyl Benzoate, Diethylhexyl 2,6-Naphthalate, Potassium Cetyl Phosphate, Styrene/Acrylates Copolymer, Polysilicone-15, Phenoxyethanol, Glycerin, Acrylates/C12-22, Alkyl Methacrylate Copolymer, Hydroxyethyl Acrylate/Sodium Acryloyldimethyl Taurate Copolymer, Sodium Benzoate, Squalane, Acrylates/Steareth-20 Methacrylate Copolymer, Acrylates, Copolymer, Aminomethyl Propanol, Aloe Barbadensis Leaf Juice, Ethylhexylglycerin, Tocopheryl Acetate, Polysorbate 60, Ascorbyl Palmitate, Sodium Phytate, Behenyl Alcohol, Glyceryl Stearate, Palmitic Acid, Stearic Acid, Cetyl Alcohol, Lauryl Alcohol, Myristyl Alcohol, Hydrogenated Soybean Oil, Lecithin, Vaccinium Angustifolium (Blueberry) Fruit Extract, Helianthus Annuus (Sunflower) Seed Extract, Ethyl Acetate, Ethyl Butyrate, Isoamyl, Butyrate, Methyl Anthranilate, Methylbenzyl Acetate
Key Ingredients
Parsol – Provides protection from long wavelength UVA rays and boosts UV protection to meet EU recommendations for high-protection sunscreen
Blueberry Extract – Supercharged antioxidant helps prevent and repair oxidative damage and assists in boosting the regenerative power of the skin's cells to improve skin's smoothness, wrinkles, texture, and elasticity
Vitamin E – Antioxidant-rich extract to protect from free radicals triggered by sunlight, tobacco smoke, and smog
Price
$28 for 3 fl. oz.
What I really like about this sunscreen, first and foremost is that it never runs in my eyes and burns, which some sunscreens do. It doesn't get in my pores. One of the problems with the Supergoop! Antioxidant Infused SPF 50 is that, while I love it, it really sticks in your pores. I found this out from my aesthetician, so I typically save it for days when I'll be in the water or just for use around the eyes. The Save Face Oil-Free moisturizer is loaded with antioxidants that are really good for my skin. I love that it has blueberries in it. I try to eat blueberries every day; they're so good for you and your skin! This moisturizer isn't oily on me. It doesn't leave me feeling greasy.
I also really feel like you're getting a good amount of product for the price! I never feel guilty slathering this all over. I apply moisturizer with SPf usually at least twice a day. I work at home, but I sit next to a wall of windows, so lots of natural, indirect sunlight comes in. When I first wake up in the morning I rinse my face and then I immediately apply this moisturizer. It leaves my skin feeling soft and supple but not greasy. It doesn't cause me to break out and it doesn't irritate my skin. I don't feel that it leaves a white cast on my skin, either.
I really love the packaging because it comes in an airless pump. You don't have a drop of the 3 fl. oz wasted. Nor do you have it exposed to air, which might cause the antioxidants or the SPF to become unstable.
This is definitely a moisturizer with SPF that I will repurchase because I love how well it works. I really love the Supergoop brand and I'm glad I gave them a try because I really feel like their moisturizers are great!
What's your favorite Moisturizer with SPF?