Today I've got the Silk Naturals Holiday 2012 Collection Review and Swatches for you!
Winter Prism Eves shadows. The Prisms are pure pigments that look like a certain color in the jar, but come alive with bold interference effects, like looking at a crystal or prism. These colors are 100% pigment- please wear them with a primer to get the full prism effect.
All colors swatched on my bare skin with no primer.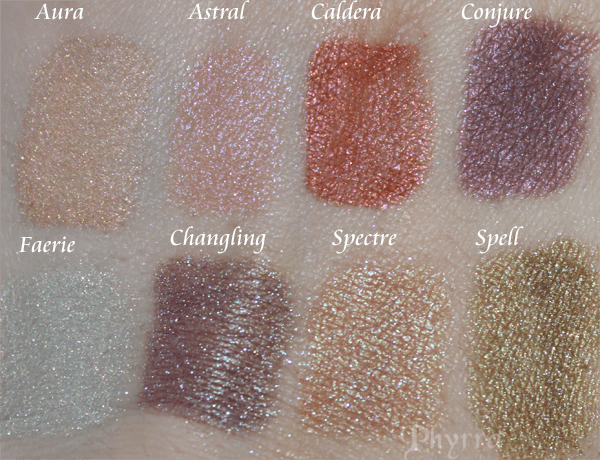 I love the eyeshadow names!
Aura
A light shimmering gold with red and purple interference.
My Take
Pale peachy-tan shimmery gold with hints of red and violet interference.
Astral
A color that looks peach in the jar- but then…taadaa! It's loaded with purple interference color.
My Take
Pale peachy-pink with purple interference.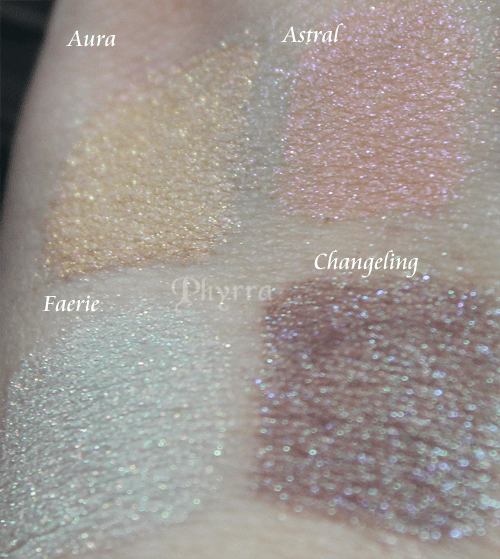 Caldera
A very shimmery coppery orange tone with red and purple interference. It's great blended with Aurora.
My Take
This one is cool! Or should I say hot? It's Copper like a new penny, but if you turn it, it's red. Then it also looks orange, too. I can see red-violet interference.
Conjure
A plum base with lots of blue interference. It's fun blended with Gasp.
My Take
Plum purple with blue twinkles and interference.
Faerie
An illusive shadow to try to photograph. It's a light pearl with golden twinkles, gold, and green highlights.
My Take
Soft palest grey white with golden interferece.
Changeling
A plummy blue base, and tons of green, blue, and golden interference.
My Take
Semi-sheer plum-brown base with strong green, blue and gold interference.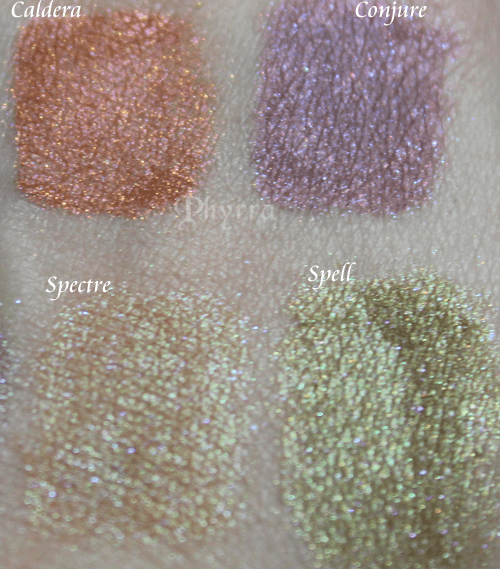 Spectre
A shade that looks beige in the jar, but when you apply it over Stick 'Em it pops out with the most intense blue and green interference colors.
My Take
Beige-suntan base with strong blue and green interference.
Spell
A brown base- it looks sort of "ho hum" in the jar. BUT when applied it becomes multi-dimentional- almost otherworldly with green, and twinkling blue highlights.
My Take
Brown base with strong green iridescence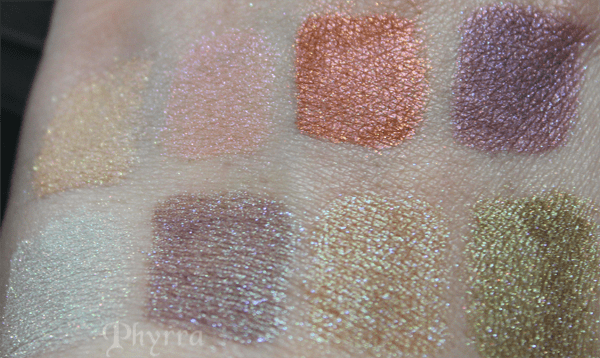 The colors all have gorgeous interference. They truly come alive when worn over a sticky base or wet.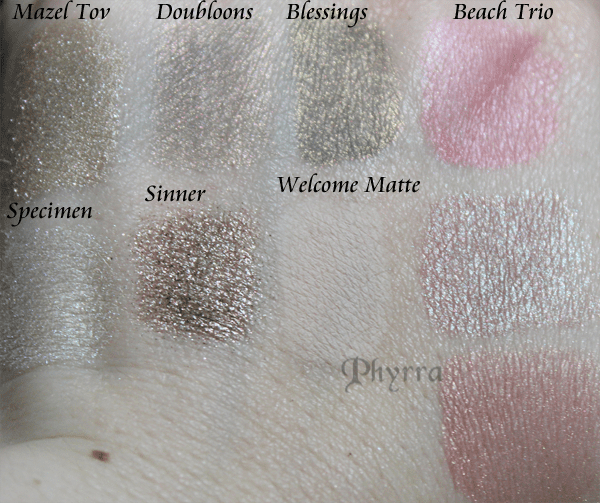 Mazel Tov
a light golden wash with silvery glimmers.
My Take
Gorgeous light golden shade with silver shimmer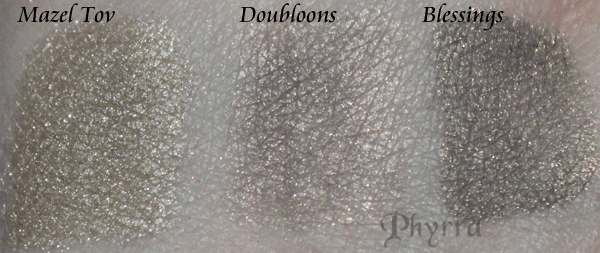 Doubloons
a light wash color with a greenish black base and copper, gold, and red highlights.
My Take
Reminds me of Fyrinnae Te Amo, soft light grey base with strong copper interference and golden gleams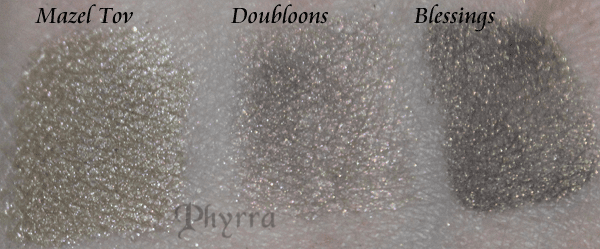 Blessings
It's a black, and it has glowing copper and gold highlights.  While not quite a Prism color- it was the beginning of that idea.
My Take
Charcoal  grey base with gold shift and copper shimmer.

Specimen
a creamy pearl with a layer of turquoise interference, and light blue sparkles.
My Take
I love this one! Perfect highlighter. Exactly as described, I couldn't come up with a more perfect description.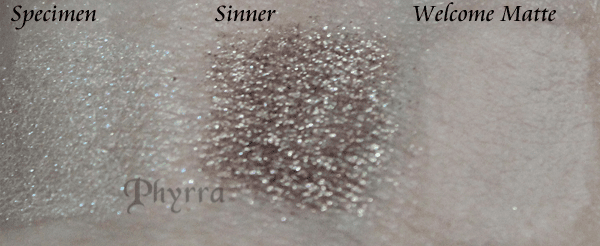 Sinner
a sheer dirty black base with gold, silver and copper glimmers.
My Take
Charcoal undertones with a coppery base and gold and silver shimmer. This one is utterly gorgeous but it irritates my allergies so I can't wear it.
Welcome Matte
It's an eyshadow mattifier. To use just blend a little on top of your shadows and you're good to go.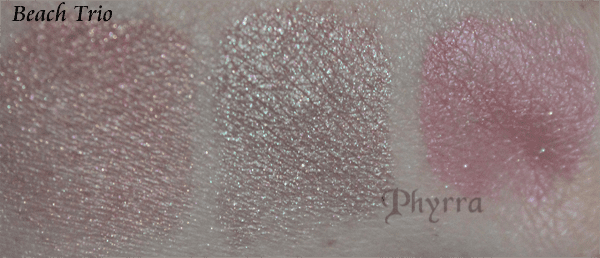 Beach Bum
The Beach Bum trio started life as a GWP- it's 3 pigments in a cute little stacking jar set.  There's a pale lavender tone that can be used as a shadow or, used sparingly as a neat illuminator, a sheer peachy tan bronzerish type color, and a sheer pinkish blush tone.
These are multi-use pigments- you can use them anywhere on your face as pretty much anything- a blush, a shadow, or even a lippie with a little clear balm.
My Take
I like the peachy tan shade, the lavender illuminator has some bluish tones, and the pink blush is nice. I like that all 3 can be used as eyeshadow.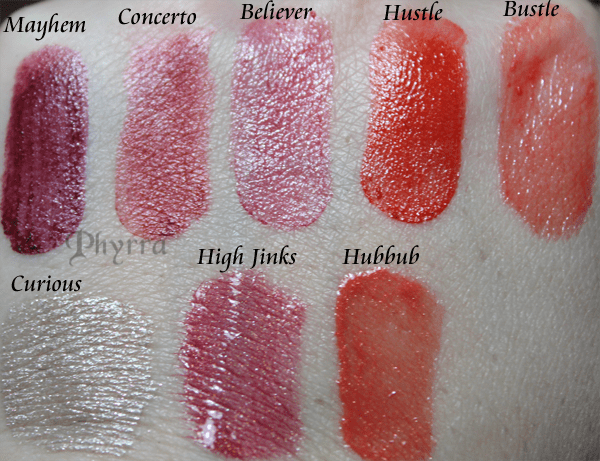 Mayhem
Deep ultra pigmented dark reddish plum with no shimmer.
My Take
Vampy deep plum. Perfect for Fall and Winter.
Concerto
a red, but made a little more neutral, and toned down.
My Take
Really lovely neutral red.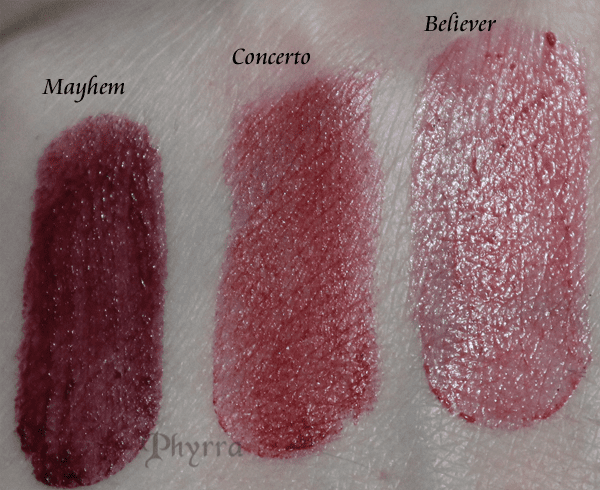 Believer
a sheer berry tone with just a little bit of opacity, and a very slight smidge of silver glimmer.
My Take
Sheer berry with shimmer
Hustle
BRIGHT- mid-toned hot orange just kind of skirting the edge of red.
My Take
Bright warm hot reddish orange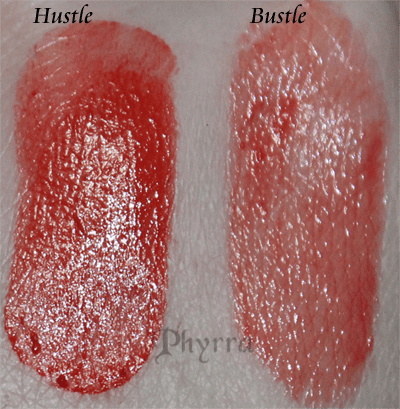 Bustle
sheer peachy coral with just a little bit of white to make it creamy- sort of like the warmer ALG version of Soft.
My Take
Sheer reddish coral.
High Jinks
a pretty deep pinkish red with an overlay of gold shimmer.
My Take
Raspberry red with gold shimmer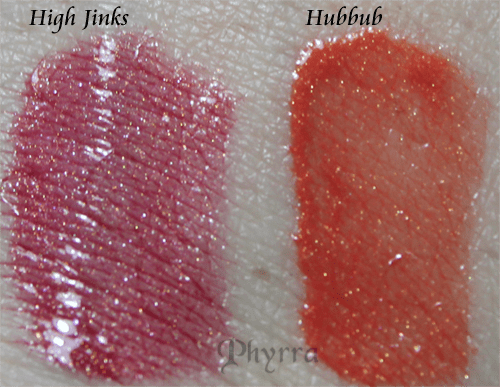 Hubbub
a creamy peach- a little on the sheer side with golden glimmers.
My Take
Reddish peach with shimmer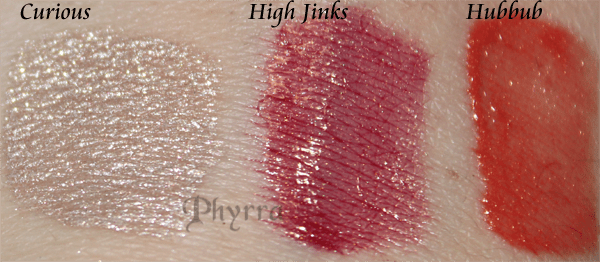 Color Cream Curious
This isn't on the site yet but it's a cream eyeshadow prototype. It's a cream to powder shadow.
Wearing Doubloons on the lid, Scout deeply in the crease, Mazel Tov on the browbone, and Sinner along the lower lash line.
Price
$4.00 Eyeshadows
$8.99 Beach Bum Trio
$4.50 Amplifying Lip Glaze
$4.95 Black Label
$4.75 Liquid Gloss
$4.50 Kisser Slicker
I love all the shadows. I love all the complexities of each shade. I bet they'll be fun to layer over a black base.
Mayhem and Concerto are my favorites from the lippies.
What are your favorite colors? Do you see any must haves?
Products sent for consideration. All opinions are my own.