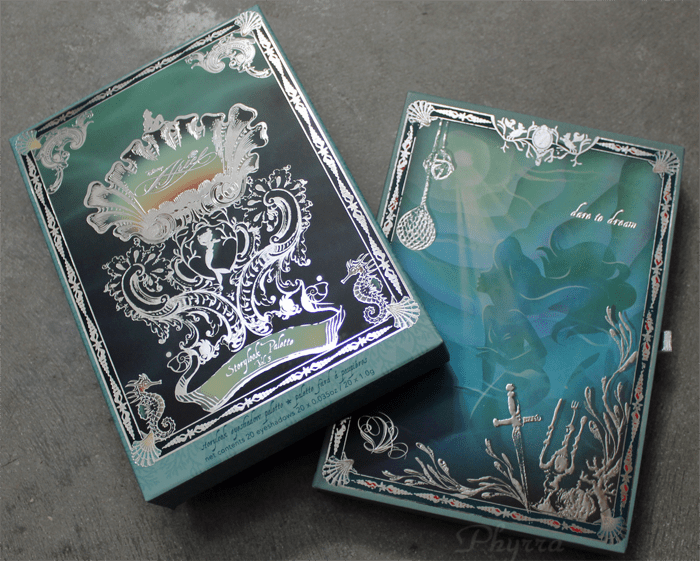 Soooo, I meant to have this review up sooner for you. It's the Sephora Disney Ariel Storylook Palette Volume 3. I've lusted after the previous Sephora Disney palettes, but this was the one that pushed me into finally purchasing one. I think these Disney Princess themed palettes are super cute. The other two princesses that have palettes are Jasmine and Cinderella.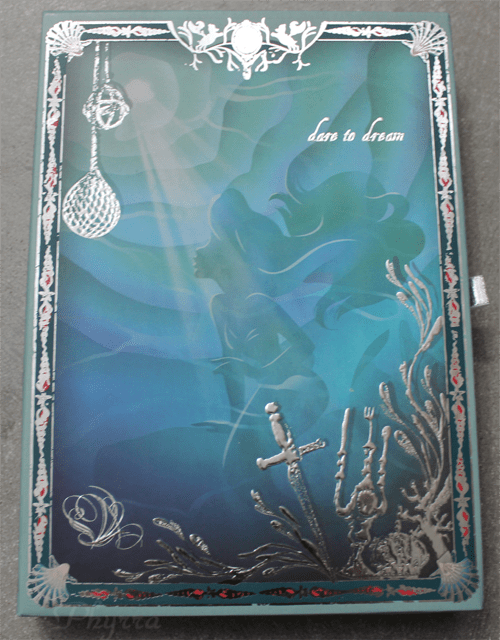 The palette packaging itself is gorgeous. It's made of a stiff, heavy cardboard and really looks like a storybook. The artwork on the packaging is beautiful. It says 'Dare to Dream.'
The colors and ingredients for the palette.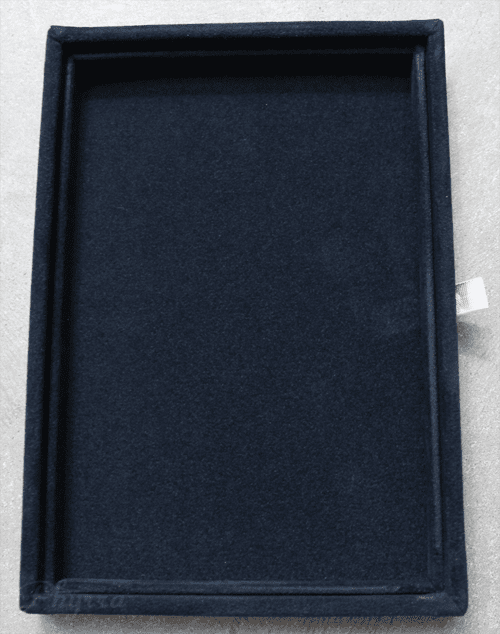 The bottom of the palette is dark blue and velvety. It reminds me of the Urban Decay 15th Anniversary Palette.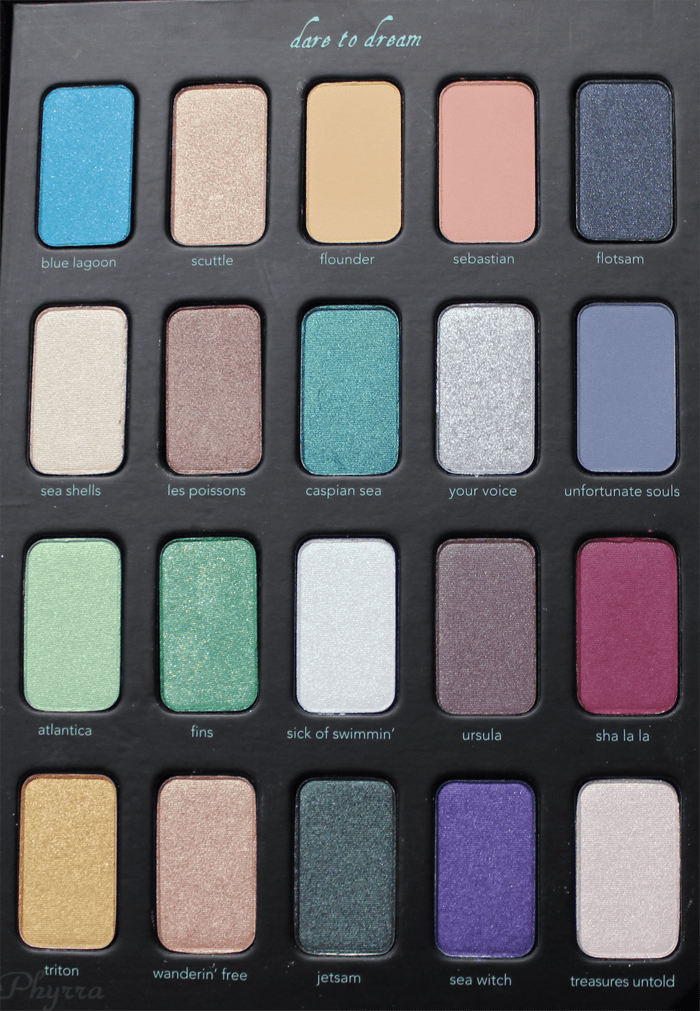 The colors look so pretty in their pans!
I swatched all of the colors on my hand with Gosh eyeshadow primer for a base. I tried to group brights together and neutrals together when swatching.
Flotsam
deep blue charcoal
My Take
Blackened violet
Jetsam
deep teal with dark iridescent glitter
My Take
Blackened green
Unfortunate Souls
matte lavender grey
My Take
grey matte
Caspian Sea
shimmering rich turquoise
My Take
Rich teal blue-green with gold iridescence
Blue Lagoon
shimmering blue
My Take
Bright turquoise blue
Sick of Swimmin'
shimmering opalescence
My Take
White with blue iridescence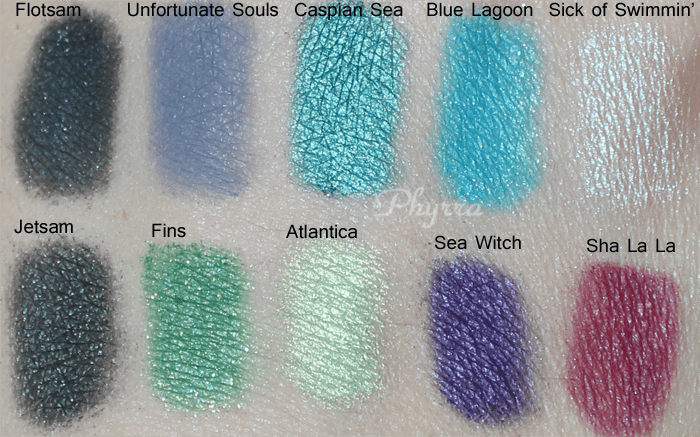 Fins
glittery mermaid green
My Take
Grass green with micro-glitter
Atlantica
shimmering sea foam green
My Take
Light pearly green
Sea Witch
pearly violet
My Take
Rich purple
Sha La La
matte dark fuchsia
My Take
berry matte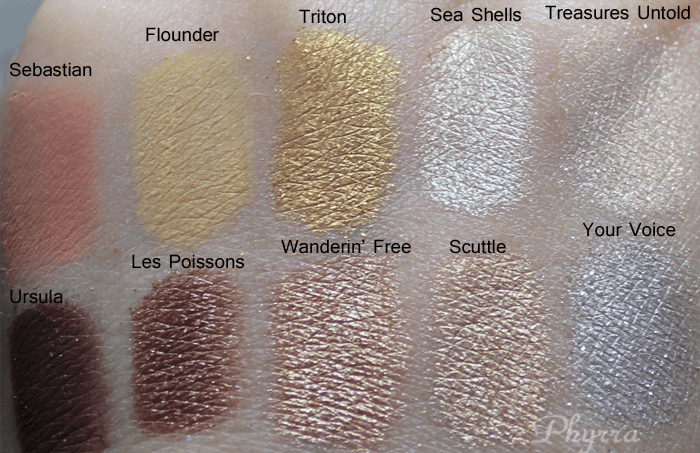 Sebastian
matte coraly pink
My Take
peachy orange matte
Flounder
matte nude
My Take
yellow beige matte
Triton
shimmering gold
My Take
Yellow gold metallic
Sea Shells
shimmering ivory
My Take
white  with gold iridescence
Treasures Untold
opalescent pale pink
My Take
White with gold and pink iridescence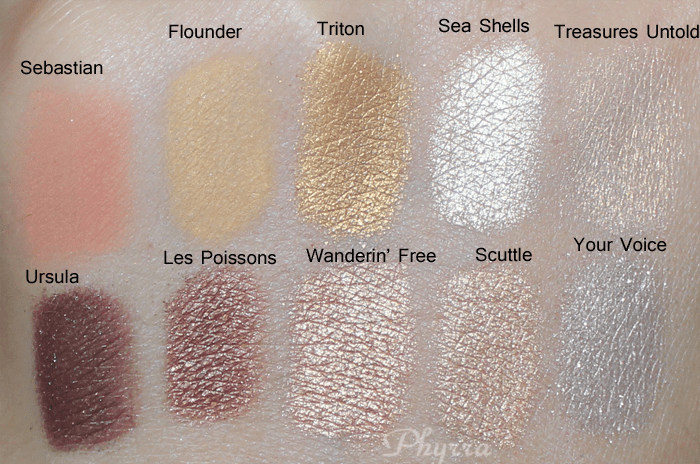 Ursula
pearly purple
My Take
Brown with purple tones, not my favorite
Les Poissons
disty satin mauve
My Take
milky chocolate brown pearl
Wanderin' Free
shimmering pink champagne
My Take
beige gold with bronze iridescence
Scuttle
shimmering pinky beige
My Take
light beige gold
Your Voice
glistening silver pearl
My Take
silvery white with silver micro-glitter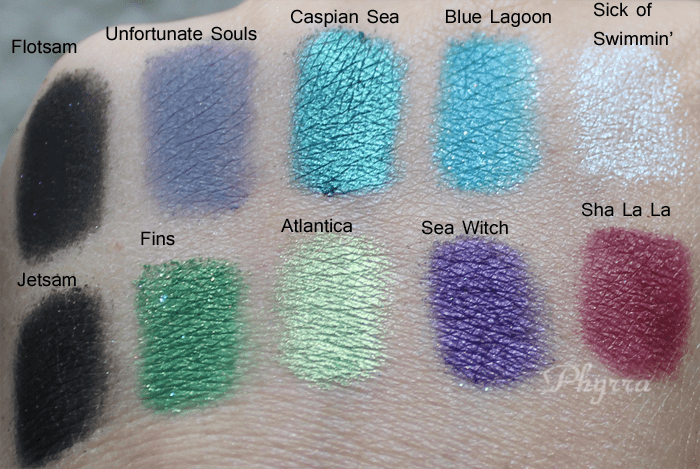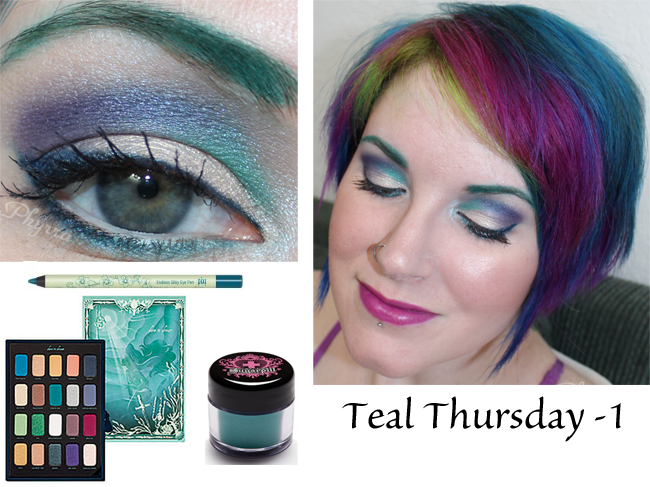 Personally, I love this palette. There are some so so shades in it but I bought it for the packaging, theme and Sea Witch. You can create a variety of different looks from neutral to brights with these 20 shades.
My favorite shades are:
Sea Witch, Caspian Sea, Blue Lagoon, Sick of Swimmin', Sha La La, Triton, Wanderin' Free, Treasures Untold, Fins
This palette is sold out online but it is still available in stores.
Of the Disney Princess palettes, this was the one I just had to have.
Who's your favorite Disney Princess? Are any of these palettes must have for you?
Last Updated on