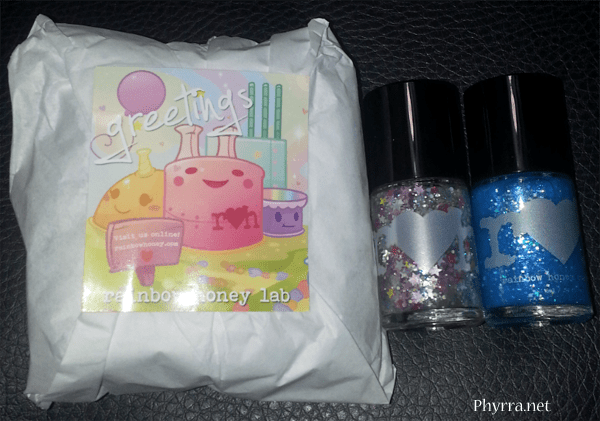 Recently Rainbow Honey was celebrating their 2 year anniversary so I purchased two polishes and the Rainbow Honey Mini April Mystery Bag.
Rainbow Honey Mini April Mystery Bag
Availability
RainbowHoney.com
Price
$10 per polish
$10 per mystery bag
All My Stars
a glitter top coat filled with multi colored stars. I love it and plan on wearing it over a black or dark blue. It's one of the 2nd Birthday polishes.
Bubble Beam
iridescent flakes and glitters pair up with multichromatic flakes and shimmer in a bright blue jelly base. Swatch is 2-3 coats with 1 coat over black on accent. Pair it up with darker blues for a duochrome pop!
April Mini Mystery Bag
Cameo 18 5 ml polish
a neon take on cameo pink
Stellar Treat 5 ml polish
a cosmic confection full of tiny tars, glitter and shimmer
All Your Base 5 ml polish
formulated with vitamin E for healthy nails, this one belongs to you! It's a base coat
Rose Nectar Rollerball 1ml
floral and sweet come together for this perfume
Rose Nectar Lip Balm .15 oz
formulated to nourish and protect your lips with Maracuja oil and Vitamin E
Sparkling Agave Pigment 1 gram
make your spring looks sparkle with Rainbow Honey's new line of cosmetic pigments
10 nail art studs (gold)
2 disposable eyeshadow applicators
I loved this so much that I just subscribed to the Mini Mystery Bag. It's $10 a month.
Have you tried Rainbow Honey? What subscription services are you subscribed to?
Last Updated on