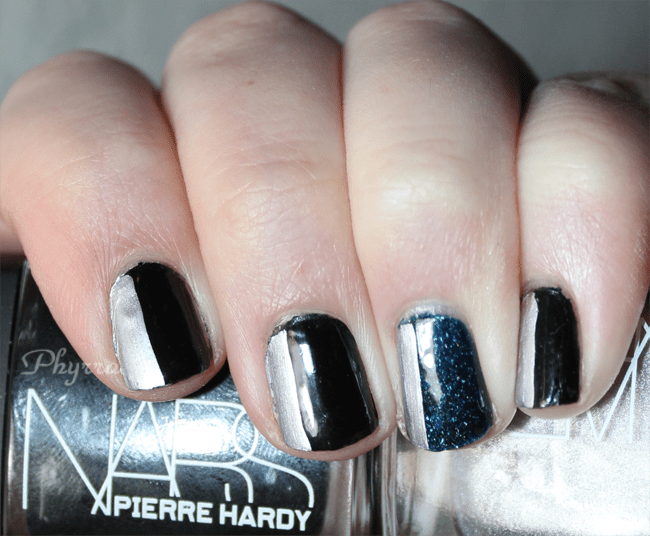 I wanted to share my mani with you today. I used the Pierre Hardy for NARS Venemous duo. I also used an accent nail of piCture pOlish Hope.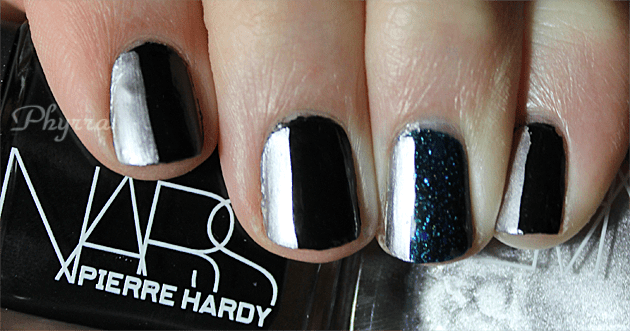 Venemous Duo
Gunmetal – gorgeous silver metallic
Black – pigmented black creme with blue undertones
Hope
a dark teal green/blue jelly holo (scattered) with a subtle smattering of cobalt glitter designed to come alive with a little shake of the bottle.
To me, Hope is a very dark teal blue (LOVE) with silver and cobalt glitter. It looks great with black.
I really like the formula on the Venemous duo. The black was easy to apply and very pigmented. To me it has beautiful blue undertones, though they're not really apparent in pictures.. I only used the Gunmetal as a stripe down the side of the nails, so I don't know if it would be brush strokey on the full nail, but i like its finish.
I used Cult Nails Get it On Base coat with Wicked Fast Top coat.
I'm really happy with how this mani turned out!
Have you tried the Pierre Hardy for NARS nail polish duos? Have you tried piCture pOlish?