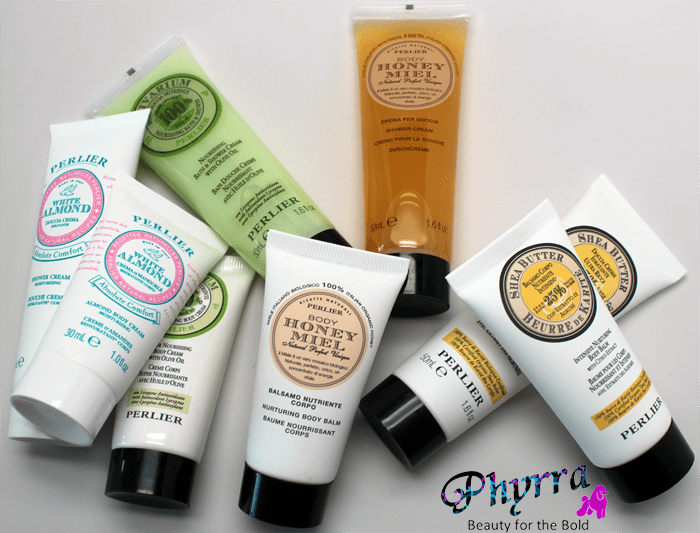 A while back I had the opportunity to try out the Perlier 8 Piece Try Me Travel Set, thanks to iFabbo. I already loved the Perlier Lemon Sorbet Crackling Ice in my shower this summer, as it's perfect for cooling off, so I expected to enjoy this set, too. Let's take a look!
Pr sample.
Price
$19.95 on HSN.
The Website Says
Learn to lavish yourself with wonderfully scented, moisturizing, silky-feeling-skin products.  Each mini is moisture-rich and divinely scented. Too many superlatives? Not for this set — and certainly not for you. When you lavish yourself with these products, it's easy to learn to love the experience.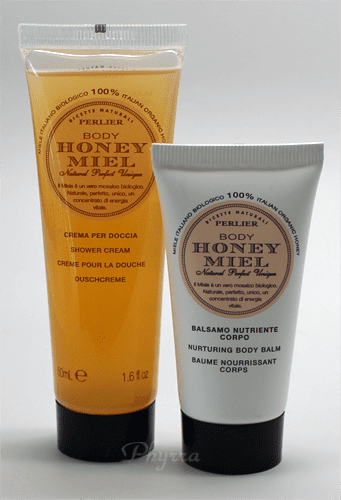 Honey Body Balm Mini – 1 0z

Helps moisture-nourish the skin
Helps improve the appearance of the skin
Honey scent
Honey Shower Cream Mini – 1. 6 oz

Cleansing formula formulated with honey and other key ingredients
Formula helps moisture-nourish the skin
Honey-scented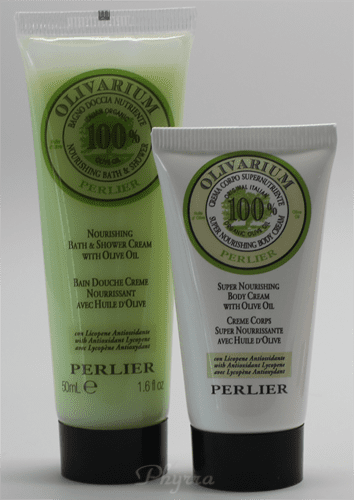 Olivarium Bath & Shower Cream Mini – 1.6 oz

Key ingredients include 100% organic Italian olive oil
Olive oil in formula comes from century-old trees cultivated without the use of chemical treatments
Helps create a delicate, herbal-scented bathing experience
Olivarium Body Cream Mini – 1.0 oz

Formula contains 100% organic olive oil, tomato lycopene and other key ingredients
Complex delivers a moisturizing effect to the skin
Clean, herbal scent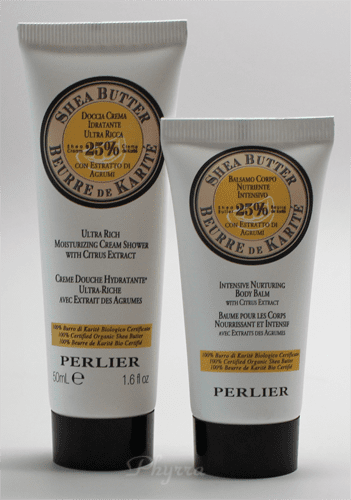 Shea Butter with Citrus Extract Shower Cream and Body Balm Mini – 1.6 oz and 1.0z

Perlier uses a proprietary process that allows pure shea butter to be extracted and recondensed
Together with other ingredients, formula helps hydrate the skin
Scented with soft citrus notes including lemons, limes and oranges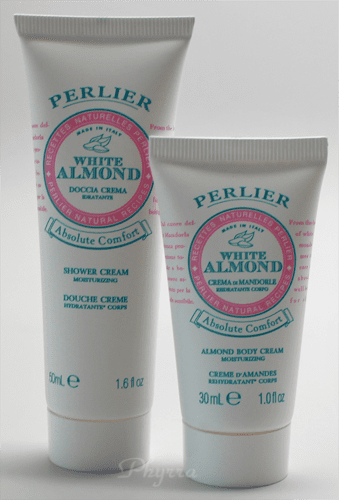 White Almond Body Shower Cream and Body Balm Mini – 1.6 oz and 1.0 oz

Formula cleanses, hydrates, helps protect skin and optimizes firmness in the skin
Scented with soft Italian almonds from Sicily, considered by some to be the best Italian almonds
This is a great introductory set to the brand. Each shower gel is 1.6 oz and each body balm is 1.0 oz, so you can figure out which scent and formula you like the best. The sizes are perfect for travel! You could even fit them in your carry on bag on the plane. With the squeeze tube packaging, it's easy to make sure you get every last drop of product out of these.
My personal favorite is the Honey set. While I can't wear honey perfumes as they turn to baby powder on my skin (not a scent I relish), the Honey Miel shower gel smells good enough to eat. The rest of the scents were ok, but not to my taste. I really disliked how perfumey the White Almond scent turned out to be with my body chemistry. I do realize that scents and body chemistry are very personal, so what I may like, you may hate, and what you love, I may not like.
The body balm doesn't really have much of a scent to me. It's very moisturizing without being greasy on my skin. I really like it.
None of the scents from the shower gel or body balm linger, which I appreciate it because it means I can wear other fragrances without having to worry about how they might layer or interact
If you're looking to try out products from Perlier, I definitely recommend the Perlier 8 Piece Try Me Travel set. I think you'll love it!
What do you think of Perlier? Do you have a favorite scent or product from them?