Saturday night I had a pool party to attend. I'd spent most of the morning and afternoon on Youtube on Saturday watching Goss videos with Ray (oh how I wish I had found Goss years ago!). I always struggle with my mascara, so I turned to Youtube to try and improve my skills. I saw this awesome video by Goss on how to make the most of your lashes, so I decided to try it out. I need to practice the technique more but I like the results.
Another useful video that I watched was Goss's video on using a metal comb to apply mascara. I used the Furless Must Have Pro Lash/Brow Groomer PRO1E  with ONLY Lumene Blueberry Curl Mascara on it. I need to practice this technique more. It's similar to using the Pop Beauty Peak Performance Mascara, but I think it gets better results because you're using such a small amount of product.
I decided I needed to try out my new products that I'd purchased from Performance Colors. Oilslick is a duochrome dark gray blue-black with earthy undertone tones and flashes of aqua sparks. It's a shimmerstick, aka a cream eyeshadow, that dries down to a waterproof and smudgeproof finish. I also gave Performance Colors Lite n' Smooth oil-free matte finish foundation a try. I picked up the color Snowie. I applied it using a beauty blender sponge, which I don't typically do, but I liked the results. I'll be reviewing the Performance Colors products for you.

How to Achieve the Look
1. Apply Urban Decay Anti-Aging Eyeshadow Primer Potion to the lid and under the eyes. Line the upper waterline with NARS Larger than Life Eyeliner in Via Veneto.
(I always tell you how bad my allergies are, you'll see by Step 2 that even an excellent waterproof liner will migrate from my upper waterline to my lower waterline. Thankfully it didn't migrate to my contacts and cloud my vision.)
2. With a a push brush, apply Sugarpill Bulletproof to the roots of the lashes, both above and below.
3. Apply Performance Colors Shimmerstick in Oilslick to the lid, lower lid, and crease. Blend it out in the crease. Line the lower waterline with Via Veneto.
4. Blend a bit more Oilslick into the crease. Use Urban Decay Walk of Shame to blend out the edges of Oilslick.
5. Add mascara.
6. Highlight at the inner corner and under the brows with MAC Fairylite. (you can sub BFTE Glistening).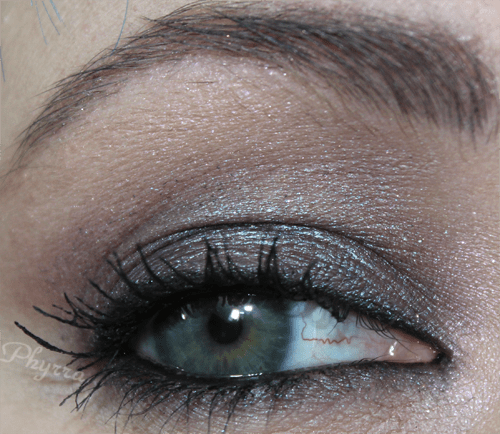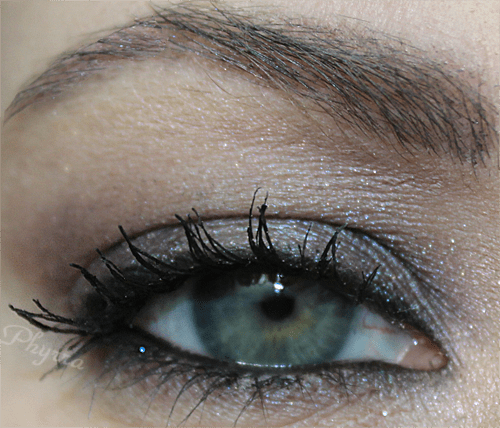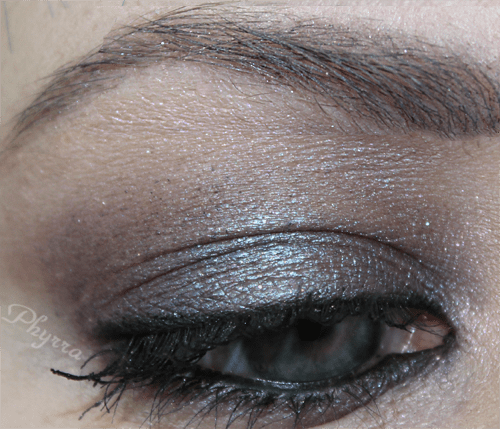 Eyes
Urban Decay Anti-Aging Eyeshadow Primer Potion
NARS Larger than Life Eyeliner in Via Veneto – upper and lower waterline
Sugarpill Bulletproof – upper lash line at the roots (above and below them
Performance Colors Shimmerstick in Oilslick – lid and crease, blended out, lower lid
Urban Decay Walk of Shame – to blend out the edge of Oilslick
MAC Fairylite Pigment – under brows and at the inner corner of the eyes
It Cosmetics Tightline Mascara primer (next time I'm going to try Jesse's Girl Waterproof Liquid eyeliner as the mascara primer, per Goss's video)
Lumene Blueberry Curl Mascara
Anastasia Lash Genius
Face
Pixi Line Relax Serum

– t-zone
Performance Colors Lite n' Smooth Foundation in Snowie – applied with beauty blender
bareMinerals Stroke of Light Eye Brightener

– under eyes
tarte Park Avenue Princess

bronzer – to lightly contour
MAC Azalea Blossom – blush
NARS Multiple Luxor

– highlight
Too Faced Candlelight Glow Duo

– highlighter
NARS Light Reflecting Loose Setting Powder

Lips
Urban Decay 24/7 Glide-on Lip Pencil in Ozone
Hard Candy All Glossed Up Lip Crayon in Cupcake
I really love the color match for Snowie. It works very well with my skintone. Applying the cream foundation, I used the tiniest bit and dabbed it on all over. It took longer than if I had applied liquid foundation with a brush, but I liked the results. It's supposed to dry to a matte finish, and I think it did, but I still used setting powder on it. I need to try it without setting powder to see how long it wears. After 8.5 hours of wear last night it looked good from afar, but with my 12x Magnification Vanity Mirror

it looked like the foundation had settled in my pores where I didn't use primer. I think I need to try for an even sheerer application and maybe go back over it with my creme foundation brush after I apply it with a beauty blender.
I didn't have any creasing after 8.5 hours with the UDPP Anti-aging primer potion and Oilslick shimmer stick. The UDPP Anti-Aging primer is made of win. Love this stuff!
What do you think of my tutorial with Oilslick? Have you tried Performance Colors?